With less than 10 days to go before Christmas, probably pretty much everyone has jumped into celebration mode. As you ponder HOW to celebrate, we encourage you to check out our calendar at the bottom of this newsletter as well as one last reminder to visit local community calendars such as found in the FAYETTEVILLE FREE WEEKLY and the FAYETTEVILLE FLYER. In a rush and want to find an extraordinary blues event this holiday season? Check out the article below about the awesome event planned to celebrate the 10th anniversary of Brick Fields weekly Blues Therapy. They have moved homes a few times over the years, but this special celebration is being held at the Fayetteville Public Library's new event space. You will find all the details in the article below!
Our Bound For Beale IBC Fundraiser is now officially less than a month away. T
icket sales continue to pick up. Remember, reserved table seating is limited. Be sure and visit the link below to order your tickets while you can still grab your favorite seats for you and your friends! For anyone who may not know, the Meteor Guitar Gallery once again has a full bar available for your celebration pleasure! Read on below for all the information and
the ticket link.

As you wrap up your holiday shopping, please consider setting Ozark Blues Society as your designated charity through AmazonSmile. Information
can be found below to help you
navigate the sign up process
.
Not seeing articles and calendar listings for your favorite artist? Do remember, this is YOUR newsletter! Please consider sharing dates that are not included in the community calendars we use to compile our newsletter. You may send information, feedback, and suggestions our way. Just click on Sandy's email address below.
We appreciate our readers and want
to see
your ideas included!
Brick Fields

CELEBRATION!

Come celebrate 10 Years of NWA's beloved and longest running weekly music event. Blues Therapy has taken place every Wednesday night in NWA since 2012! Join the family and come get your therapy on!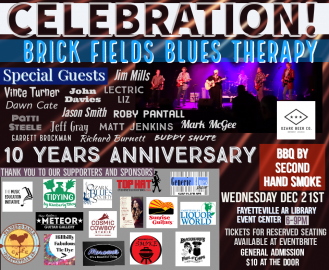 When: Wednesday, December 21st Where: Fayetteville Public Library Event Center.
Featuring the multi-award winning Brick Fields Blues Therapy Group and special guest: Jim Mills, Vince Turner, Dawn Cate, John Davies, Jason Smith, Lectric Liz Lottman, Patti Steel, Jeff Gray, Matt Jenkins, Roby Pantall, Richard Burnett, Garrett Brockman, Mark McGee, Buddy Shute and more.

DINNER: Second Hand Smoke BBQ will have plate meals available for purchase.

Beer available by Ozark Beer Co.

Wine available from Liquor World

Doors open at 5PM Show starts at 6PM-9PM. Food and Drink will be available.

General Admission $10

Join the family and come get your therapy on!

IBC Fundraiser

Bound For Beale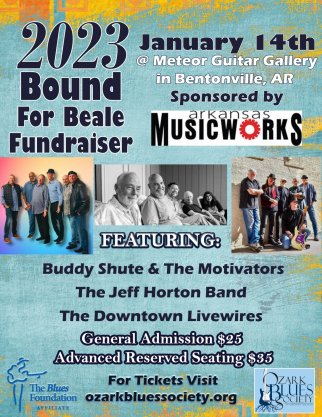 Ozark Blues Society is proud that we have been able
to offer above average sponsorships to the acts representing Northwest Arkansas
at the International Blues
Challenge each year.
It may sound repetitive, but it's true, we can't
do it without your help! Please mark your calendar and plan to come out
and support our fundraising efforts while cheering on our IBC bound act, the Downtown Livewires.
The fundraiser will also feature our 2022 Best
Self-produced CD winner, Buddy Shute and the Motivators,
as well as our 2021 Challenge winner, the Jeff Horton Band.

The date is set for Saturday, January 14, 2023 at the Meteor Guitar Gallery in Bentonville

If you want to grab one of the limited, reserved table seats, consider jumping in soon while choice seats are still available.
Tickets for this fundraiser are $35 for reserved table seating, and $25 for general admission. To grab your spot, click the link HERE:
And don't forget, the 2023 International Blues Challenge is being held in Memphis January 24-28th. If you have never been to the IBC, perhaps this is your year to go and root for The Downtown Livewires as they represent Northwest Arkansas. For information on IBC, including links to hotel rooms and tickets, visit:
Support Ozark Blues Society

Holiday Shopping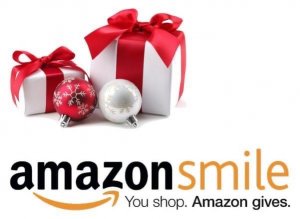 holiday shopping, remember you
can
sign up for AmazonSmile
Just locate "AmazonSmile"
on the drop-down menu on your computer, or open the pop-up menu on your phone and select
"Gifting, Registry & Charity", then select Ozark Blues Society of Northwest Arkansas, Inc. and you are good to go!
LIVE MUSIC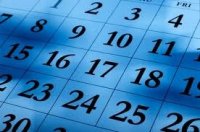 Please enjoy the following listings comprised
of bands, venues, and/or organizations that support Ozark Blues Society. Always check
with individual venues for event details
and schedule changes. Submit weekly listings by emailing: SANDY
12.
16
Tony Redman at Mojo's Pints and Pies on Garland in Fayetteville

Edward Simons at the WAC in Fayetteville

Keith Nicholson at JJ's Grill and Chill in Bella Vista


Asleep at the Wheel and the Cate Brothers at The Auditorium in Eureka Springs
12.17
12.18
Martina McBride "The Joy of Christmas" at the WAC in Fayetteville

The Ton3s/Funk Factory at George's Majestic Lounge in Fayetteville
12.20
Vince Turner at JJ's Grill and Chill on Steamboat in Fayetteville

Jazz at the Undercroft Bar in Bentonville

Richard Burnett at JJ's Grill and Chill in Bella Vista
12.21
Brick Fields Blues Therapy 10th Anniversary Celebration at the Fayetteville Public Library in Fayetteville

Ben Harris at Six-Twelve Coffeehouse and Bar in Fayetteville




Vince Turner at JJ's Grill and Chill in Bella Vista
12.23
1/23/2023 Ana Popovic at The Meteor Guitar Gallery in Bentonville


04/28/2023 Tedeschi/Trucks Band at Simmons Bank Arena in Little Rock


Please Submit Dates for Regional Blues Artists and Group Events HERE
December 16



Today's show features music performed by Clara Smith and Jelly Roll Morton

any of the creation of the blues, although I have written many of them even before Mr. Handy had any blues published.
I heard them when I was knee-high
Jelly Roll Morton

Blues Education Supporters
Thanks to the following for their support of blues education.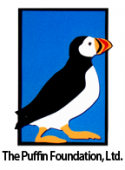 Check Out these regular local radio programs

"The Generic Blues Show" hosted by Paul Kelso airs every Friday night at 9pm on KUAF 91.3FM
Rockin' Hog Radio presents "Sunday Morning Blues" from 8am to 10am every Sunday
LINK
Get Involved with the Ozark Blues Society

Annual membership levels begin at $15 and give you so much in return, including meeting new friends while enjoying the best blues artists in the area.
By being a member of The Ozark Blues Society of Northwest Arkansas, you are helping to support the Arts and to preserve the Original American Art Form known as The Blues.
Membership Benefits Include:

Weekly E-newsletter
Opportunities to win tickets to events
VIP seating at events (when available)
Discounts on OBS merchandise
Social networking – meeting other people who also love the blues
Opportunities to volunteer on OBS committees and at events
Ability to attend board meetings and vote on upcoming organizational issues and elections
Visit our Website to renew or join! Ozarkbluessociety.org