Can you feel the energy building?
No? Perhaps you have not been part
of a band's preparation before they head to Memphis....to play in iconic clubs on Beale St...and compete in the 2023 International Blues Challenge!
Well...
if you have missed out on the excitement before, you are in luck this year! You have the opportunity to join the Downtown Livewires along with their friends and fans at the Meteor Guitar Gallery in Bentonville tomorrow (Saturday) night as they share the show they will take to Memphis a little over
a week from now. They will be joined
by Buddy Shute and the Motivators
(Best Self Produced CD entry) and
the Jeff Horton Band (2022 IBC challenger.)
It will be an awesome night of blues!
Read on below for all the information and
the ticket link.
A couple new news articles this week. Check out today's Ozarks at Large radio show on KUAF to hear an interview with members of our Best Self-produced CD entry, Buddy Shute and band. Also, check out the article on a cool program coming up next weekend at the downtown Fayetteville Juke Joint Project. You will find more information on both of these events in the articles below.


Always remember, this is YOUR newsletter! Please consider sharing dates that for your favorite artists that are not included
in the community calendars we use. We would also love to have a local live blues music reporter to share stories for the newsletter. Many bands have time challenges in submitting information and this would be a great way for fans to show them some love! Please send questions, information, feedback, and suggestions our way. Just click on Sandy's email address below.
We appreciate our readers and want
to see
your ideas included!
TODAY!

Check out KUAF's

If you have a chance today, check out Ozarks at Large and give a listen to the Ozark Blues Society's entry to the 2023 Best Self-Produced CD competition. Buddy Shute and Steve and Brenda Baskin had the pleasure of being interviewed by Kyle Kellums and Tim Dennis.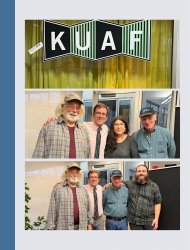 They played some of their songs and talked about Saturday's Bound for Beale event at Meteor Guitar Gallery. Tune into Friday's Ozarks at Large and give a listen!! The show is aired at noon and again at 7:00pm on 91.3 FM Or find the live stream HERE https://www.kuaf.com/show/ozarks-at-large.

Special Event

in Fayetteville at the Juke Joint Project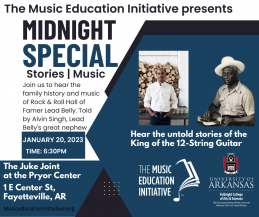 Coming up on January 20th, the Music Education Initiative in partnership with UA's Pryor Center are offering an event to celebrate the 134th birthday of Blues and Folk legend, Lead Belly at the Juke Joint located in the Atrium of the Pryor Center. Lead Belly's great nephew, Alvin Singh, will present stories, music, history and answer questions. Don't miss this fantastic program!

IBC Fundraiser

Bound For Beale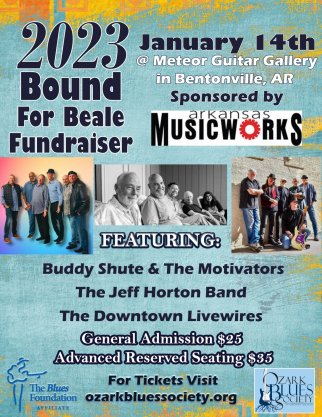 Ozark Blues Society is proud that over the years we have been able
to offer above average sponsorships to the acts representing Northwest Arkansas
at the International Blues
Challenge each year.
It may sound repetitive, but it's true, we can't
do it without your help! Please mark your calendar and plan to come out
and support our fundraising efforts while cheering on our IBC bound act, the Downtown Livewires.
The fundraiser will also feature our 2022 Best
Self-produced CD winner, Buddy Shute and the Motivators,
as well as our 2021 Challenge winner, the Jeff Horton Band.

The date is set for Saturday, January 14, 2023 at the Meteor Guitar Gallery in Bentonville

If you want to grab one of the limited, reserved table seats, consider jumping in soon while choice seats are still available.
Tickets for this fundraiser are $35 for reserved table seating, and $25 for general admission. To grab your spot, click the link HERE:
And don't forget, the 2023 International Blues Challenge is being held in Memphis January 24-28th. If you have never been to the IBC, perhaps this is your year to go and root for The Downtown Livewires as they represent Northwest Arkansas. For information on IBC, including links to hotel rooms and tickets, visit:
LIVE MUSIC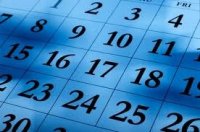 Please enjoy the following listings comprised
of bands, venues, and/or organizations that support Ozark Blues Society. Always check
with individual venues for event details
and schedule changes. Submit weekly listings by emailing: SANDY
1.
13
The Hardtops for Happy Hour at George's Majestic Lounge in Fayetteville


Mildenhall/Flipoff Pirates/Fight Dreams at the Meteor Guitar Gallery in Bentonville
1.14
1.17
1.18
Brick Fields Blues Therapy at Moranos in Fayetteville

Ben Harris at Six-Twelve Coffeehouse and Bar in Fayetteville
1.19
Northwest Arkansas Jazz Society's monthly jazz jam at Levi's Gastrolounge in Rogers

Richard Burnett at JJ's Grill and Chill in Bella Vista
1.20
1/23 Ana Popovic at The Meteor Guitar Gallery in Bentonville


1/27
Chick Corea Afro-Caribbean Experience at WAC in Fayetteville

1/30 Fayetteville Jazz Collective at George's Majestic Lounge in Fayetteville

2/25 Larkin Poe Blood Harmony Tour at George's Majestic Lounge in Fayetteville

3/24-3/25 Taj Farrant with Nathan Bryce and Loaded Dice at the Meteor Guitar Gallery in Bentonville

04/28 Tedeschi/Trucks Band at Simmons Bank Arena in Little Rock


Please Submit Dates for Regional Blues Artists and Group Events HERE
January 13



Today's show features music performed by Lowell Fulson and Putney Dandridge



"[King] played with a raw ferocity that appealed equally to fellow bluesman and younger rockers. He was one of the first black electric bluesmen to cross over to white audiences, and one of the first to adapt his playing to Sixties funk and soul backings, on classics like 'Born Under a Bad Sign'."

Kirk West

Blues Education Supporters
Thanks to the following for their support of blues education.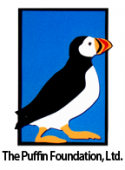 Check Out these regular local radio programs

"The Generic Blues Show" hosted by Paul Kelso airs every Friday night at 9pm on KUAF 91.3FM
Rockin' Hog Radio presents "Sunday Morning Blues" from 8am to 10am every Sunday
LINK
Get Involved with the Ozark Blues Society

Annual membership levels begin at $15 and give you so much in return, including meeting new friends while enjoying the best blues artists in the area.
By being a member of The Ozark Blues Society of Northwest Arkansas, you are helping to support the Arts and to preserve the Original American Art Form known as The Blues.
Membership Benefits Include:

Weekly E-newsletter
Opportunities to win tickets to events
VIP seating at events (when available)
Discounts on OBS merchandise
Social networking – meeting other people who also love the blues
Opportunities to volunteer on OBS committees and at events
Ability to attend board meetings and vote on upcoming organizational issues and elections
Visit our Website to renew or join! Ozarkbluessociety.org