Well...not quite yet actually, but almost! As I write this on Friday morning, the International Blues Challenge is just days away. By this time next week, acts who successfully navigated the two nights
of quarter-finals have been announced and they will be prepping for the Friday night semi-finals. The whole IBC week
is full of activity. If you have never been,
I can report it is energizing and exhausting all at the same time. IBC is definitely an event every blues lover should have on their bucket list to attend!
And don't forget to support the Blues Foundation. You can join and sign up online HERE! They rely on the support
of blues lovers world wide
to help fund their programs and events. And there
are perks!
Blues Foundation members get to vote for the Blues Music Awards AND get
free admission to the awesome
Blues Hall of Fame Museum.
A big
shout out to our members
and friends who came out to the
Bound for Beale fundraiser to support OBS and the Downtown Livewires as they journey to Memphis. We welcomed two new members, Jeffrey and Richard, at the Fundraiser. Thank you both! Perhaps you didn't get a chance to join at the fundraiser? Remember you can visit www.ozarkbluessociety.org and sign up today!
We have a couple new articles this week. Northwest Arkansas is so rich with opportunities for not just live music, but also events that offer insight into the history of music. Read on below for information on an event tonight as well as some in the next few weeks. And don't forget to check out the upcoming events listed at the end of the calendar. There is something there for everyone!
Always remember, this is YOUR newsletter! Please consider sharing dates that for your favorite artists that are not included
in the community calendars we use. We would also love to have a local live blues music reporter to share stories for the newsletter. Many bands have time challenges in submitting information and this would be a great way for fans to show them some love! Please send questions, information, feedback, and suggestions our way. Just click on Sandy's email address below.
We appreciate our readers and want
to see
your ideas included!
TONIGHT!

in Fayetteville at the Juke Joint Project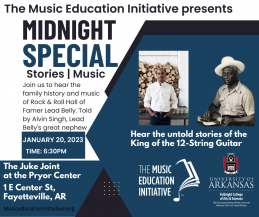 Coming up on January 20th, the Music Education Initiative in partnership with UA's Pryor Center are offering an event to celebrate the 134th birthday of Blues and Folk legend, Lead Belly at the Juke Joint located in the Atrium of the Pryor Center. Lead Belly's great nephew, Alvin Singh, will present stories, music, history and answer questions. Don't miss this fantastic program!

Jake Hertzog Band

in Fayetteville at the

Join your friends as they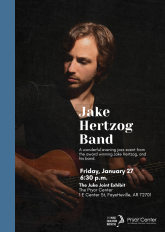 gather at the Juke Joint Project in Fayetteville on Friday, January 27th as Dr. Jake Hertzog and his band will deliver some fantastic Jazz.
Dr. Jake Hertzog is a critically acclaimed guitarist, composer and educator whose career to-date has spanned ten albums as bandleader across jazz, rock and classical new music styles. Hertzog's many projects have included the Jake Hertzog Trio with Harvie S and Victor Jones — a jazz/rock group that has released five albums to wide acclaim and radio success and headlined venues such as The Blue Note in New York and Salo Jazz Festival in Finland. Hertzog's rock group "The Young Presidents" has been featured on Vh1 and MTV as well as radio stations around the world. He also produced a documentary film about the making of their album "Coalition," in collaboration with Grammy-winning producer Rob Fraboni (Rolling Stones, The Band). As an educator, Hertzog has been an artist-in-residence and guest clinician in colleges and conservatories in the U.S., Europe, Latin America and India. He created the instructional series "Hey Jazz Guy" for Guitar Player magazine and contributed over 30 articles to the publication. He currently serves as Jazz Area Coordinator as Assistant Professor of Guitar at the University of Arkansas.
UA Department of Music

Black Music Symposium

The U of A Department of Music
will host its highly anticipated
annual Black Music Symposium Feb. 1-5, which is dedicated to educating and exploring the music contributions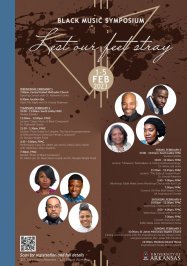 "This year's theme, 'Lest Our Feet Stray,' aims to invoke a spirit
of remembrance of Black music genres that were integral to the survival of Black Americans during slavery, the Jim Crow South
and the Civil Rights Movement,"
said Grammy Award-winning educator Jeffrey Allen Murdock, who is the symposium's founder.
"Throughout the week, the symposium will feature lectures that support the theme by exploring the ways in which Gospel music and Black Art Song are related to the experiences of Black musicians as well as social movements," said Murdock, who is also the U of A's director of choral activities, an associate professor of music and conductor of the university's renowned Inspirational Chorale.
"We're so excited to share this series of events with the community and to welcome all to experience this amazing celebration of Black music, history, culture and contributions," he added.
The symposium will conclude with a community workshop and concert with Grammy-winning Gospel artist Kurt Carr.
All events are free and open to the public, unless otherwise noted. Lecture, concert and Kurt Carr Workshop ticket packages are available; register online.
LIVE MUSIC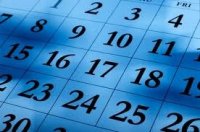 Please enjoy the following listings comprised
of bands, venues, and/or organizations that support Ozark Blues Society. Always check
with individual venues for event details
and schedule changes. Submit weekly listings by emailing: SANDY
1.
20
1.21
School of Rock at the Meteor Guitar Gallery in Bentonville
1.23
Ana Popovic at The Meteor Guitar Gallery in Bentonville
1.24
1.25
Brick Fields Blues Therapy at Moranos in Fayetteville

Ben Harris at Six-Twelve Coffeehouse and Bar in Fayetteville

Jim Mills at JJ's Grill and Chill in Bella Vista
1.26
1.27
Brick Fields Band for Happy Hour at George's Majestic Lounge in Fayetteville

The Jake Hertzog Band at The Juke Joint Project in Fayetteville

*SOLD OUT*

Chick Corea Afro-Caribbean Experience at WAC in Fayetteville

Feeling Americana Live at the Meteor Guitar Gallery in Bentonville

Keith Nicholson at JJ's Grill and Chill in Bella Vista
1.28
1/30 Fayetteville Jazz Collective at George's Majestic Lounge in Fayetteville

1/30 The Music of Sam Cooke- The King of Soul at the WAC in Fayetteville

2/1-2/5 "Lest Our Feet Stray" UA Department of Music Symposium in Fayetteville

2/18 Arkansas Black Music and Film Expo at George's Majestic Lounge in Fayetteville


2/25 Alex Lopez and Crystal Shawanda at the Meteor Guitar Gallery in Bentonville

2/25 Larkin Poe Blood Harmony Tour at George's Majestic Lounge in Fayetteville

2/26 Benefit for Ocie Fisher at George's Majestic Lounge in Fayetteville

3/24-3/25 Taj Farrant with Nathan Bryce and Loaded Dice at the Meteor Guitar Gallery in Bentonville

04/28 Tedeschi/Trucks Band at Simmons Bank Arena in Little Rock


Please Submit Dates for Regional Blues Artists and Group Events HERE
January 20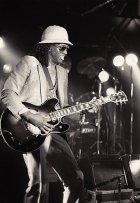 Today's show features music performed by Johnny Guitar Watson and Luther Tucker



"When my brother Stevie and I were growing up in Dallas, we idolized very few guitarists. We were highly selective and highly critical. Johnny 'Guitar' Watson was at the top of the list..."

Jimmie Vaughan

Blues Education Supporters
Thanks to the following for their support of blues education.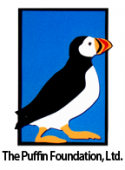 Check Out these regular local radio programs

"The Generic Blues Show" hosted by Paul Kelso airs every Friday night at 9pm on KUAF 91.3FM
Rockin' Hog Radio presents "Sunday Morning Blues" from 8am to 10am every Sunday
LINK
Get Involved with the Ozark Blues Society

Annual membership levels begin at $15 and give you so much in return, including meeting new friends while enjoying the best blues artists in the area.
By being a member of The Ozark Blues Society of Northwest Arkansas, you are helping to support the Arts and to preserve the Original American Art Form known as The Blues.
Membership Benefits Include:

Weekly E-newsletter
Opportunities to win tickets to events
VIP seating at events (when available)
Discounts on OBS merchandise
Social networking – meeting other people who also love the blues
Opportunities to volunteer on OBS committees and at events
Ability to attend board meetings and vote on upcoming organizational issues and elections
Visit our Website to renew or join! Ozarkbluessociety.org