Looking Forward

...Looking Back

This week has been one of looking forward. Looking forward to a bit of a getaway for spring break, but in planning that there became a need to look ahead and watch the weather. My time away in Hot Springs is about done, though I am still watching one last round of storms. As I prepare this newsletter, I am also looking forward as the OBS board of directors puts the final touches on planning our annual meeting new month. The looking back element has been a bit more challenging. Just a few days ago, we learned that the NWA music community lost a sweet soul, and former president of OBS, Bob Coleman. Our board also just found out we are losing a valuable member of our team due to relocation. We bid best wishes to Ed Eaves and his wife, Ina, as they head off on new adventures.
This week we have a new article about
a pyrotechnics for production workshop being held in Siloam Springs. Read
on below for all the details. We
also bid farewell to OBS past
Don't miss the returning articles this week about
the return of an exciting blues music
event in Eureka Springs as well as the info about the upcoming OBS annual meeting
Always remember, this is YOUR newsletter! Please consider sharing dates that for your favorite artists that are not included
in the community calendars we use. We would also love to have a local live blues music reporter to share stories for the newsletter. Many bands have time challenges in submitting information and this would be a great way for fans to show them some love! Please send questions, information, feedback, and suggestions our way. Just click on Sandy's email address below.
We appreciate our readers and want
to see
your ideas included!
In Memorial

The Ozark Blues Society Board of Directors sends condolences to the friends and family of our past President, Bob Coleman.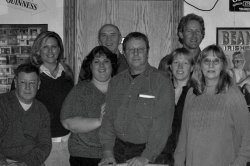 OBS Board of Director 2007

Pres: Bob Coleman

Introduction to Pyrotechnics

Workshop

The Music Education Initiative
has teamed up with
Shows Live FX
in Siloam Springs to offer
a workshop for those who would like to grow their expertise in the production trade using
pyrotechnics. WHEN: Saturday, March 25th, 11-1

Siloam Springs, AR 72761


(no sign up required for this drop in program)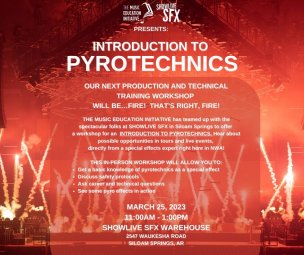 Eureka Springs

Great news! A spring blues party is coming to Eureka Springs June 1-4, 2023. Follow our newsletter for more information when the date gets closer, or for more info and to buy tickets, visit: EurekaSpringsBluesParty.com
Mark Your Calendar

for the OBS

2023 Annual Meeting

Join us on Wednesday, April 5th
for our Annual Meeting and board elections. The meeting is open to all who are interested, however, you must hold a current OBS membership in order to vote. You may join or renew at the meeting!
The positions
of President and Treasurer are
up for election this year. Our nominating committee is
recommending the re-election of Liz Lottmann for President and Bruce Barton for Treasurer.

LIVE MUSIC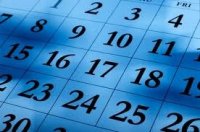 Please enjoy the following listings comprised
of bands, venues, and/or organizations that support Ozark Blues Society. Always check
with individual venues for event details
and schedule changes. Submit weekly listings by emailing: SANDY
3.
24
Nace Brothers for Happy Hour at George's Majestic Lounge in Fayetteville

Taj Farrant with Nathan Bryce and Loaded Dice at the Meteor Guitar Gallery in Bentonville
3.25
Valli K jazz at Six-Twelve Coffeehouse and Bar in Fayetteville

Taj Farrant with Nathan Bryce and Loaded Dice at the Meteor Guitar Gallery in Bentonville

Buddy Shute and the Motivators at Rowdy Beaver Tavern in Eureka Springs

Introduction to Pyrotechnics Technical Workshop at ShowLive SFX in Siloam Springs
3.28
3.29
Brick Fields Blues Therapy at Moranos in Fayetteville

Ben Harris at Six-Twelve Coffeehouse and Bar in Fayetteville
3.30
3.31
Ultra Suede for Happy Hour at George's Majestic Lounge in Fayetteville
4.01
Elizabeth Bainbridge Jazz Duo at Sassafras Winery in Springdale

Jeff Horton Band at Good Vibrations in Rogers

Tao of Lucy at at the Meteor Guitar Gallery in Bentonville

Fujita at the Momentary in Bentonville

Buddy Shute and the Motivators at New Delhi Cafe in Eureka Springs



4/7 Brianna Thomas Sextet at Starr Theater WAC in Fayetteville

4/14 The Pinoy Rockstars at The Meteor Guitar Gallery in Bentonville

4/23 Rebirth Brass Band at George's Majestic Lounge in Fayetteville

4/28 Tedeschi/Trucks Band at Simmons Bank Arena in Little Rock


5/16 Emily Nenni @ The Meteor Guitar Gallery in Bentonville

5/17 Black Joe Lewis at George's Majestic Lounge in Fayetteville

Please Submit Dates for Regional Blues Artists and Group Events HERE

Today's show features music performed by Sleepy John Estes and
B.B. King



* Someday Baby Blues

"
It ain't but the one thing, t
hat give a man the blues.
He ain't got no bottom
in his last pair of shoes.
But someday baby,
you ain't worry my mind any more.
"
Sleepy John Estes

* Some quotes using lyrics from the featured artist may be shared occasionally to increase knowledge of those artist's work

Thanks to the following for their support of blues education.
Please check back for updates
Listen and enjoy these weekly radio and streaming blues shows

Get Involved with the Ozark Blues Society

Annual membership levels begin at $15 and give you so much in return, including meeting new friends while enjoying the best blues artists in the area.
Your membership support of Ozark Blues Society of Northwest Arkansas helps us pursue our mission to preserve the Original American Art Form known as The Blues, supports live blues performances, and provides educational programs for all ages.
Membership Benefits Include:

Weekly E-newsletter
Opportunities to win tickets to events
VIP seating at events (when available)
Social networking – meeting other people who also love the blues
Opportunities to volunteer on OBS committees and at events
Ability to attend board meetings and vote on upcoming organizational issues and elections
Visit our Website to renew or join! Ozarkbluessociety.org