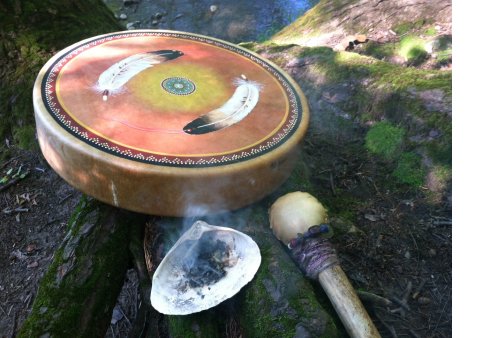 The purpose of a Vision Quest is to pull away from the world and relax enough to self-reflect and see the real wonderful you and have time and space to explore to know you more, connect to nature, the land and spiritual guides and teachers, and your highest self to call for a vision for the rest of your life, and hear your true self speak.
Are you moving through a big change this year? Are you preparing for a new phase of your life or work? Come for a powerful weekend of ceremonies, journeys, transformation, and rebirth with Shaman Janet StraightArrow.
A person goes on a Vision Quest when they are ready to rebirth their life in a new way. This rite of passage is a carefully developed retreat offering guidance and support to help you move through transition and new beginnings.
Pause and get off the track of your life to go inside to discover new levels of your true voice, needs, and choices accessing your inner wisdom as a gift you give yourself. Awaken clarity, life purpose, and joy as we break through illusions, fears, and ego. This is a gentle yet powerful life-changing weekend.
On May 1, we begin the journey with weekly emails to support your inner process as preparation. Janet is available for check ins and private sessions to prepare for the weekend helping you integrate the process before, or after the weekend.
The physical retreat is held for three days, Friday through Sunday, July 21-23. at our private retreat space at a farm in Accord, NY.
Janet StraightArrow has been leading quests and spiritual Shamanic retreats for over twenty-two-years in the northeast and mid-Atlantic states.
After holding several primitive eight day Vision Quest camping retreats on sacred land, Janet found people needed a shorter experience and the opportunity for more comfort.
She found a perfect location to offer both camping and an indoor sleeping space keeping the nature of the quest. We have been using this space for 6 years with great appreciation and success.
Janet developed a way for the experience to be full and powerful for everyone beginning with regular emails to help you prepare spiritually and personally. See testimonials below to have a sense of others experiences with Janet.
The Vision Quest brings out my gifts and abilities and serves my life-purpose to be a guide on your journey. People come from many traditions and walks of life and we join in a circle of Universal love and healing. Having fun is a bonus. Feeling safe is essential.
Explore more about me on my website and ask any questions in a discovery call with me. 973-647-2500 Email me.