As we exit the Independence Day holiday week, it seems, when looking at the community music calendars, we are off and running with plenty of outdoor music options. This week, our live music calendar features a variety of music at some of the most popular outdoor music venues. Though our newsletter focuses on blues events, Ozark Blues Society believes in supporting local music series, venues, and partner artists, even when they are presenting other music styles. To help you find the best options, y
ou will once again find the article below with
quick access to some of the area's summer music series and venues.
Returning this week is the article about an upcoming fundraiser being held to raise funds to support Clare Starr's family. Clare was a gifted artist who in the past shared his music as part of our Blues in the Schools.
You will also find the
continuing article for the weekly
Blues History feature from Big Train and the Loco Motives. Read on below for more information and to access these great blues
history presentations.
Perhaps you are not seeing your favorite blues artist or venue listed in our calendar?
We compile listings from local community calendars for our partner artists and venues throughout the area. Remember, artists and fans alike may send us blues event listings that may not appear in the community calendars. Just email SANDY
to share
listings that include
performances occurring from next weekend through the following weekend.
It's always important to say, this is YOUR newsletter! Please send questions, information, feedback, and suggestions our way. Just click below to email Sandy.
We appreciate our readers and want
to see
your ideas included!
Recently the NWA music community lost a sweet soul with the passing of Clare Starr.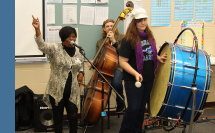 Clare helped OBS present one of our early Blues in the Schools events at McNair Middle School in Fayetteville. His creativity and passion will be missed.
Please consider attending the upcoming fundraiser at George's Majestic Lounge to offer support to Clare's family.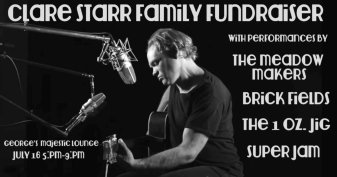 Weekly
Blues History
Presented
by
Big Train and the

LIVE MUSIC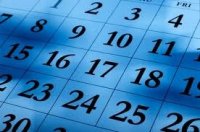 Please enjoy the following listings comprised
of bands, venues, and/or organizations that support Ozark Blues Society. Always check
with individual venues for event details
and schedule changes. Submit weekly listings by emailing: SANDY
7.
07
Buddy Shute and the Motivators for Happy Hour at George's Majestic Lounge in Fayetteville

Elizabeth Bainbridge Jazz Duo at the Inn at Carnal Hall in Fayetteville

Blew Reed and the Flatheads at Good Vibrations in Rogers

Cole Birmingham Band for Railyard Live Series in Rogers

Sting Tribute at the Meteor Guitar Gallery in Bentonville
7.08
Phenomenal Whitney Houston Tribute for Railyard Live Series in Rogers

Long Live: The ERAS of Taylor Party at the Meteor Guitar Gallery in Bentonville
7.09
Moriah Bailey for Mountain Street Stage Music Series at the Fayetteville Public Library in Fayetteville
7.10

7.11
Fall Out Boy/Bring Me the Horizon/Royal and the Serpent/Carr at the AMP in Rogers

Forte Quintet at the Lady Slipper in Bentonville

Vince Turner at JJ's Grill and Chill in Bella VIsta
7.12
Brick Fields Blues Therapy at Moranos in Fayetteville

Ben Harris at Six-Twelve Coffeehouse and Bar in Fayetteville
7.13
Ashtyn Barbaree for Gully Park Concert Series in Fayetteville

Modeling/Handshake Saints/The Misdemeanors/Drew Rogers for Railyard Live Series in Rogers

Richard Burnett at JJ's Grill and Chill in Bella Vista
7.14
Full House for Happy Hour at George's Majestic Lounge in Fayetteville

King Cabbage Brass Band at George's Majestic Lounge in Fayetteville

Elizabeth Bainbridge Jazz Duo at Levi's Gastrolounge in Rogers

Foreigner/Loverboy at the AMP in Rogers

Mariachi Quetzal: Nueva Era for Railyard Live in Rogers
7.15
Keith Nicholson at JJ's Grill and Chill in Springdale

Flat Five Jazz Combo at Sassafras Springs Winery in Springdale

Snoop Dogg/Wiz Khlifa/Too $hort/Warren G/Berner at the Amp in Rogers

Bad Habit at the Meteor Guitar Gallery in Bentonville

Brothers Osborne at The Momentary in Bentonville
7/20 RESCHEDULED: Funk Factory will play a rescheduled Kidz Night for the Gulley Park concert series in Fayetteville

7/21 Samantha Fish/Jesse Dayton at TempleLive in Fort Smith
7/22 Fayetteville Jazz Collective Big Band for North Forest Concert Series at Crystal Bridges in Bentonville
7/28 Stanton Kessler and Horacecope at Crystal Bridges in Bentonville
Please Submit Dates for Regional Blues Artists and Group Events HERE

Today's show features music performed by Victoria Spivey, Elvis Presley, and Otis Redding
To Listen, Click



"Truth is like
the sun. You can shut it out for a time, but it ain't goin' away."
Elvis Presley

Listen and enjoy these weekly radio and streaming blues shows

Get Involved with the Ozark Blues Society

Annual membership levels begin at $15 and give you so much in return, including meeting new friends while enjoying the best blues artists in the area.
Your membership support of Ozark Blues Society of Northwest Arkansas helps us pursue our mission to preserve the Original American Art Form known as The Blues, supports live blues performances, and provides educational programs for all ages.
Membership Benefits Include:

Weekly E-newsletter
Opportunities to win tickets to events
VIP seating at events (when available)
Social networking – meeting other people who also love the blues
Opportunities to volunteer on OBS committees and at events
Ability to attend board meetings and vote on upcoming organizational issues and elections
Visit our Website to renew or join! Ozarkbluessociety.org
Thanks to the following for their support of blues education.
Please check back for updates