Grab your favorite beverage and find a comfortable chair, we have a newsletter chock full of new articles and information. The don't miss articles start off with information about tonight's downtown Fayetteville Start Up Crawl. Tickets are available at the gate and for those wishing to wander and hear the music without the beer sampling or special VIP activities, there is no cost. Read on below to learn more how the Juke Joint Project is partnering with the event. Another very important article this week is a reminder that in addition to the sign up for our blues challenge, we are also accepting entries to the Best Self-Produced CD Competition. Want to know more? Check out the article below to find out how to enter. Also this week we reveal the winners of of the Walton Arts Center
ticket giveaways...and you can also enjoy a review of the Sam Cooke - King of Soul show submitted by our winner! Wow! In addition to all this we have the r
eturning articles about our upcoming Blues Challenge and the
weekly
Blues History feature from Big Train and the Loco Motives. Read on below for more information and to access these great blues
history presentations. So much news!

Perhaps you are not seeing your favorite blues artist or venue listed in our calendar?
We compile listings from local community calendars for our partner artists and venues throughout the area. Remember, artists and fans alike may send us blues event listings that may not appear in the community calendars. Just email SANDY
to share
listings that include
performances occurring from next weekend through the following weekend.
It's always important to say, this is YOUR newsletter! Please send questions, information, feedback, and suggestions our way. Just click below to email Sandy.
We appreciate our readers and want
to see
your ideas included!
Live Music kicks off the

NWA Startup Crawl

In Fayetteville

Friday, September 8, Fayetteville's
Start Up Junkie will host their 5th Start Up Crawl in and around the Fayetteville square.
This year, the Music Education Initiative (MEI) will join them in their adventure. Drawing on artists from the Arkansas Arts Council's, Artist On Tour program, MEI's Juke Joint Project is pleased to feature the Tim Anthony Trio.
The trio will share their wonderful music, as part of the Startup Junkie Startup Crawl in the atrium of the Pryor Center in Fayetteville beginning at 5:30PM.
The trio consists of:
Tim Anthony,
Bill Williams, and
Alvis Diaab. The Music Education Initiative is also excited to
introduce Chyrell Stanley, a 19 year old, aspiring Bluesman, born and raised in Rogers, AR, right here in NWA!
Chy, as he is sometimes called, is a former student of the Arkansas Arts Academy and 2023 graduate of Rogers High School. Now, he pursues his journey and dream to play guitar for people to enjoy. That journey is now filled with his love for playing the Blues! To find out more about the Startup Crawl, check out their info page HERE! Sounds like a good time!
For more information about the Music Education Initiative and the Juke Joint Project, visit their website HERE
Wow! What a week! Our ticket winners not only learned they won, but they have already attended the performances! One more round of applause for the generous donation of these tickets by the Walton Arts Center. Ozark Blues Society appreciates the support from such an amazing community partner.
"See it All" Allman/Frankenreiter concert - Serita Long
The Music of Sam Cooke- The King of Soul - Conan McCann
Congratulations to both winners!
Conan McCann agreed to write a review for the newsletter which you will find below.
Performance Review

Walton Arts Center Show Sam Cooke-King of Soul

Submitted by: Conan McCann

Sam Cooke-King of Soul

On Thursday, September 7, 2023,
I enjoyed "The Music of Sam Cooke: The King of Soul," featuring Bradd Marquis, at the Walton Arts Center.
I liked the show, along with the
rest of the enthusiastic audience,
who hooted, hollered, and
applauded in appreciation.
The show was mostly familiar hits
by Sam Cooke, sung in a similar way by Mr. Marquis, but with his own style, starting off big with a rousing version of "Twistin' the Night Away."
Mr. Marquis has a warm and welcoming stage personality, and charmed everyone, easily getting everyone to sing "I love you" as backup to a very extended "You Send Me." Mr. Marquis also looked very classy in his shiny red suit in the first part of the show, and in the second part a shiny black suit. The biggest surprise was a soul version cover
of Bob Dylan's "Blowing in the Wind," which Sam Cooke had also done back in the day.
Between the songs, Mr. Marquis wove in the story of Sam Cooke's life story, from his humble beginnings to his rise to fame and fortune, which Mr. Marquis said was due to his entrepreneurial spirit and ambition, with the second part of the show emphasizing Mr. Cooke's involvement with the civil rights movement. We also found out how Mr. Marquis found out about Mr. Cooke (via Mr. Marquis's grandparents). Throughout all of the excellent show, Mr. Marquis was backed up by a band of six musicians, and three backup singers, one of whom was his pregnant wife.
Overall it was a very good two hour show, ending on a positive and upbeat mood. I'd recommend it to all fans of soul music. Keep an eye out for it, because I'm sure it will be be back at the WAC someday!
2023

Best Self-Produced CD

Competition

We haven't spoken of this aspect of our annual Blues Challenge, but it kicked off a couple weeks ago and the competition closed in a couple weeks on September 23, 2023.

The winner of our regional competition will be announced at our Blues Challenge on October 14, 2023. The winning artist will be awarded a $100 cash prize by OBS and their CD will be submitted to the Blues Foundation's 2024 Best Self-Produced CD competition. Please read on for rules and information on how to submit your entry or visit our website:
To enter the 2023/2024 Best Self-Produced CD competition, artists need to submit 5 copies of their CD. At least one member of each entering act, must be an active member of Ozark Blues Society. Please review the rules above to make sure your entry qualifies for the Blues Foundation competition. Submissions not meeting eligibility will not be returned. Submissions may be mailed or dropped off in Bentonville or Fayetteville. Please email Sandy at: SMCCANN1680@GMAIL.COM to make arrangements for drop off.
From the Blues Foundation....
Best Self-Produced Official Rules:
Entries for the Best Self-Produced CD are permitted by Blues Foundation Affiliated Organizations only.

Each Affiliate is permitted one entry.

The CD entered may be recorded and performed by an act other than is entered in the current year's International Blues Challenge.

Compilations are not eligible.

Only CDs released between November 1, 2022 and October 31, 2023 are eligible for consideration as The 2024 Best Self-Produced CD.

While we encourage a competition at the Affiliate level to determine the CD it will sponsor for Best Self-Produced CD, we do not require one. If an Affiliate does not conduct a competition to determine who it will sponsor but instead appoints a CD, that CD may not include a board member or officer of the sponsoring Affiliated organization.

A performer who has previously been nominated for a Blues Music Award (formerly the W.C. Handy Blues Award) shall not be eligible for this competition. A CD issued in the name of an otherwise eligible performer which also includes the contributions of a Blues Music Award nominee may be ineligible, depending on the extent of the contribution. Please contact The Blues Foundation directly to confirm eligibility.

A CD on a record label that has been previously nominated for a Blues Music Award (formerly the W.C. Handy Blues Award) shall not be eligible for this competition.

Judging for the Blues Foundation competition will take place in three rounds. Judges will remain anonymous in order to protect them from outside influences and represent a cross-section of professionals from the blues radio and print industry. The final results will be announced at the finals of the International Blues Challenge on Saturday, January 20, 2024 held at the historic Orpheum Theatre in Memphis, TN. Finalists do NOT need to attend the IBC.
Evaluation Criteria*:
Judges will evaluate each submitted CD on the following characteristics. The criteria considered are listed in order of importance.
(1) Blues Content
(2) Musical Performance
(3) Audio Quality and Production Value of the Recording
(4) Professionalism and Visual Appearance of Cover Art and Design
(5) Credits and Liner Note Information.

* These same criteria are used by OBS for judging
Spread the Word!

Calling All Blues Musicians

Registration is now open for our 2023 Blues Challenge. You can find all the information you need as well as the link to enter the registration process on our website. Please remember, at least one member of each act must be a member of Ozark Blues Society as an active membership is required to register. Registrati
on runs through September 30
, 2023. To access the information about the challenge and to register, visit our website: www.ozarkbluessociety.org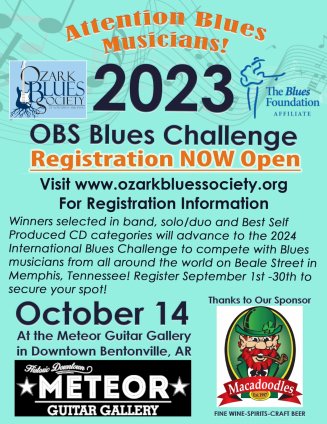 Weekly
Blues History
Presented
by
Big Train and the

Thank you Big Train Blues for permission to access and share these presentations! Find these weekly videos and more when you visit, like and follow Big Train and the Loco Motives
at BIGTRAINBLUES.COM
HEY BLUES FANS - Here's the latest episode of "This Week In The Blues" for the week of September 3 through September 9, 2023.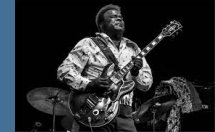 Some of the highlights include blues pianist Memphis Slim, blues guitarist Freddie King, and blues drummer Frederick Below, Jr.
Watch this week's YouTube episode HERE
If you like blues history, Jimbo "Big Train" Madsen does a daily blues history post on the
Big Train and the Loco Motives
Facebook Page. You can f
ollow their page
HERE
They post a new episode each week. Jimbo says, "we'll see you then!"
LIVE MUSIC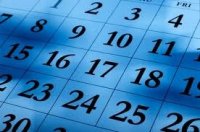 Please enjoy the following listings comprised
of bands, venues, and/or organizations that support Ozark Blues Society. Always check
with individual venues for event details
and schedule changes. Submit weekly listings by emailing: SANDY
9.
08
9.09
Jeron Marshall at the Music Depot in Rogers

The Mixtapes for Railyard Live in Rogers

Alvvay with Julia Jacklin at the Momentary in Bentonville
9.10
Scythian: Ukraine to Appalachia at the WAC in Fayetteville
9.11

Tenacious D/Dave Hill at the AMP in Rogers
9.12
Forte Quintet for Jazz at the Undercroft at the Undercroft Bar in Bentonville

Keith Nicholson at JJ's Grill and Chill in Bella Vista
9.13
Brick Fields Blues Therapy at Moranos in Fayetteville

Ben Harris at Six-Twelve Coffeehouse and Bar in Fayetteville

Steel Wheels- Benefit for Folk School of Fayetteville at George's Majestic Lounge in Fayetteville

9.14

Jason Aldean/Mitchell Tenpenny/Corey Kent/DeeJay Silver at the AMP in Rogers

Haus of Untz for Railyard Live in Rogers
9.15
Full House for Happy Hour at George's Majestic Lounge in Fayetteville

Elizabeth Bainbridge Jazz Duo at Sassafras Winery in Springdale

Keith Nicholson at JJ's Grill and Chill in Springdale

Oreo Blue at the Music Depot in Rogers

Sabor Kolombia - Espiritu Libre at Railyard Live in Rogers

Taj Farrant with Nathan Bryce and Loaded Dice at the Meteor Guitar Gallery in Bentonville
9.16
Shawn Holt at the Music Depot in Rogers

Ultra Suede for Railyard Live in Rogers

Bellwether Sirens at the Meteor Guitar Gallery in Bentonville
9/17 Tauk Moore at George's Majestic Lounge in Fayetteville


9/21 Songwriters in the Round at the Meteor Guitar Gallery in Bentonville

9/22 Metal Night at the Meteor Guitar Gallery in Bentonville

9/22 Brandon Santini at the Music Depot in Rogers

9/22 Monte Montgomery at the WAC in Fayetteville

9/23 Valarie and Wallstreet at the Music Depot

9/22-9/24 Format Festival at the Momentary in Bentonville

9/26 Queens of the Stone Age/Viagra Boys/Jenny Beth at the AMP in Rogers

9/27 SOLD OUT The Beach Boys at the WAC in Bentonville

9/29 Blew Reed and the Flatheads at The Music Depot in Rogers

9/29 Koe Wetzel/Tanner Usrey/Wade Brown at the AMP in Rogers

10/5 Shinedown with Papa Roach and Spiritbox at the AMP in Rogers

10/6 Rina Sawayama at the Momentary in Bentonville

10/6 ODESZA/TOKiMONSTA/QRTR/OLAN at the AMP in Rogers

Please Submit Dates for Regional Blues Artists and Group Events HERE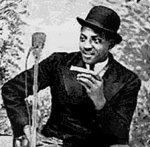 Today's show features music performed by Sonny Boy Williamson II and Guitar Shorty



"Jimi told me the reason he started setting his guitar on fire was because he couldn't do the back flips like I did."
Listen and enjoy these weekly radio and streaming blues shows

Get Involved with the Ozark Blues Society

Annual membership levels begin at $15 and give you so much in return, including meeting new friends while enjoying the best blues artists in the area.
Your membership support of Ozark Blues Society of Northwest Arkansas helps us pursue our mission to preserve the Original American Art Form known as The Blues, supports live blues performances, and provides educational programs for all ages.
Membership Benefits Include:

Weekly E-newsletter
Opportunities to win tickets to events
VIP seating at events (when available)
Social networking – meeting other people who also love the blues
Opportunities to volunteer on OBS committees and at events
Ability to attend board meetings and vote on upcoming organizational issues and elections
Visit our Website to renew or join! Ozarkbluessociety.org
Thanks to the following for their support of blues education.
Please check back for updates