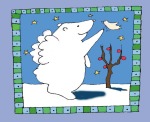 WELCOME DECEMBER
Winter Bear by Jill Bear-donsky

Hi Creative Ones,  


Sincere December wishes in whatever climate of mind this finds you. I think winter is a good enough reason for a little extra self-nurturing. I give you permission to put a hot pad under your desk and over your feet, buy a new paint brush or pen or journal (don't you LOVE new journals?), send yourself a cybercard scheduled for a week from now, buy a special new mug - your hot drink WILL taste more special - I've tested this a number of times, or take just a moment where a breath in and a breath out gives you a space - a dose of relaxation between the rush of the holidaze . Mentally step inside that space and ski on the mouth of a smile or frown you've doodled in your head- take a ski-lift up to the curl on your head. Or order yourself a great new book to snuggle up with by good light -see Amy Wallen's Moonpies and Moviestars on the sidebar. Self-nurturing, as the Muses will tell you, fortifies your creative stamina.

"Both underrated and underused, the act of nurturing ourselves for the intention of self-expression is one of the secrets to an enchanting surge of creative brilliance.   The explanation is mysterious - it has something to do with the fact that, if we generously take care of  ourselves, we will be more effortlessly inclined to want to express and share ourselves with others."  ~Muse Song, From The Nine Modern Day Muses  book

Breathe-Relax your Shoulder-Now relax your other shoulder-Loosen your tummy- relax your shoulders again, they look really tense from here -and if someone bugs you- When you talk to them, look slightly above their eyes, rather than directly into them like Jim does to Dwight on The Office.

December Acronym from Leah Ocean:

Deliciously
Enticing
Creative
Endeavors
Manifest
Beautiful
Empowering
Rewards

The Kaizen-Muse Creativity Coaching site is up for those of you interested in being coached or being trained. The training continues to unfold in exciting ways. Please explore and ask questions.

Here's a  story that you can print out and read by the fireplace under good light if you like:
A Beat by Jill Beat-donsky

I was sitting in the sun at my favorite café, shooing away sparrows with poor boundaries,  thinking as I was drinking my double cappucino with a cloud of perfectly steamed milk on top. I was thinking  that my life...my work...my relationships... my thinking ...had moved into a syncopated beat ... a beat- beat- beat. It was a pleasant beat... a beAt... a beat... a beAt...With slight variation...but pretty much the same beat on the whole and perhaps … a little  ... monotonous. I  wondered how I got this beat. Did it just start following me around? And what do I do with it? Should I walk to it,or around it, or simply let it go on?
Then something dawned on me....
story is continued where there's more space and a picture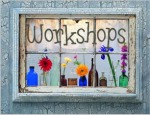 CLASS AND WORKSHOP SCHEDULE

Classes and workshops get people who want more creativity in their lives started, inspired and supported. We often need just a little structure and motivation anda group of like-minded souls led by a muse-possessed soul can make action and creative habits more possible. For details beam yourself here


CREATIVE WRITING WORKSHOP
DECEMBER 21, 2006 7-9 pm
Book Works, Flower Hill Mall, Del Mar

ANNUAL DREAM BOARD WORKSHOP AND DINNER
SATURDAY JANUARY 20, 2007 at the Ridgeback Ranch in Ramona CA  2pm - 7pm
Gourmet comfort food, wine, doorprizes and more.

KAIZEN-MUSE CREATIVITY COACHING CERTIFICATION TRAINING- On the PHONE and ON-Line
JANUARY 16 - APRIL 18th, 2007
Find out more about how to add another stream of income and joy to your life by becoming a certified creativity coach. The small step method of Kaizen meets up with the Muses' playful practicality in this 14 week accelerated coaching training designed to train professionals to liberate the creativity of others. Training takes place in teleconferences and through email discussion groups.

THE MUSE IS IN RETREATS: REPLENISHING YOUR CREATIVE SPIRIT
MAY 18- 20, 2007: and/or OCTOBER 12- 14 2007 retreats
.See details in the article below.

See classes with Laurel Aston below under Kaizen-Muse
____________________________________________
WANT TO FIND OUT MORE ABOUT CREATIVITY COACHING? Creativity Coaches in training are now taking clients for low cost sessions. Don't miss this opportunity to explore moving forward in a way that respects the resistant nature of the creative person and the non-linear nature of the creative process unlike life coaching or self-berating tactics. Break through blocks, self-sabotage, procrastination, frustration in not getting to your dream, fear and low self-confidence with Kaizen-Muse Creativity Coaching - Every phone call is a designed experience one small step at a time. For an  e-letter on what Kaizen-Muse Creativity Coaching is and whether it is something that might help you stay true to your dream, please email  info@themuseisin.com 
 ____________________________________________________________________

Beam yourself here for updated classes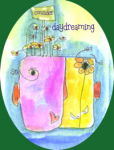 DECEMBER PLAY: Prompts and Putterings
Writing, Thinking, or Just Loitering Prompt:

Click  "That would be here" and you'll see some cool art. Your mission, if you're not just loitering, is to NOT look at the titles of the paintings but give them your own titles. And THEN for extra credit, use the titles you came up with as titles for a piece of writing. Short cut: Or just use the titles THEY came up as writing prompts or combine all the words adding more for your writing. Titles of paintings and photos are great inspiration for writing whether it be poetry, prose or somehow making the title work in a journal entry.  . Here's what I came up with one of their titles called Walking with Light:
I'm walking with light.
Yesterday I walked with darkness.
I think I like the light better.
I can read the signs.
I can see the poinsiettas, the snow flakes, the sky.
I can duck when pigeons fly at me.
I can read the signs.
Pigeons. When pigeons are flying at you
isn't it a sign that's time to go inside
and read by the fire? Under good light?

Your turn. Please Send me what you write, I'd love to see it.  

Speaking of the weather, what weather system describes your mood today? Are you blustery? balmy?  partly cloudy? bright? 42 below zero? Write a poem, haiku, weather report, run-on sentence or story about yourself in third person using the weather as your mercury rising. And/or use pastels to depict your inner weather system and then depict its opposite. Optional: Crayons, acrylics, charcoal, clay, beets, and melted chocolate. Here's my weather poem.

it's 50 below
She really has to go

inside.
She's standing out here freezin'
can't think of one good reason

to go inside.
the temperature's bizarre
She cannot start her car
but it's beautiful

outside.
Actually it's not true
It's right at 62
She lives in California
and she's writing this

inside.

As someone recently said, I lower the bar when it comes to sharing my writing, making it easier for others to share theirs. So write about the weather or your titles and send it/them to me or come to my writing workshop December 21, 7-9 p.m in Del Mar (low in the 50s, high in the 70s) at Book Works in the Flower Hill Mall.  inside.

DECEMBER POEM by Nicky Pitman
 
Red is her color, she wears it with style –
From her high-heeled shoes to her bright lipstick smile.
And she does the same thing – year after year –
She sweeps in at the end, always bringing good cheer.
She dances and prances - she's a dashing-dear vixen,
Bringing out the best in us all, is what she's a-fixin'
Miracles and wonders and love be her things –
In light and in laughter, they're the gifts that she brings.
And to her it don't matter what you believe –
Whether you light a menorah or hang up a wreath.
She simply wants everyone to feel a part –
Of all of the magic in spirit and heart.
She loves to catch snowflakes on the tip of her tongue –
She says that's the secret to staying forever young.
With friends, in the evening, she loves to conspire,
Always singing and laughing, keeping warm by the fire.
Each year she comes around to help us remember,
The special gift that she is – thank you, December.

That would be here
DOORWAYS TO THE IMAGINATION: Guided Imageries for Creative Thought
JUST IN TIME FOR THE HOLIDAYS:

"Your CD is a treasure beyond compare. More than just another tool in my creativity kit, it is a blessing--your voice, script, the music. Brava.I've already started recommending it to my network " ~Paula Graham, author, artist, creative spirit guide

Experience guided imagery with the  Doorways to the Imagination CD.
Give the gift of creative inspiration and relaxation with this narrated CD accompanied by evocative musical backgrounds designed to return us to intuitive ingenuity, a flow of spontaneous ideas, and vibrant imagination.

Doorways to the Imagination: Four Guided Imageries for Enhanced Creativity on one CD.   To order write "Doorways Order" in the subject of an email, include your address or visit here.
Read more about guided imageries in healthcare here:
More about Doorways to the Imagination

KAIZEN MUSE CREATIVITY COACHING
KAIZEN-MUSE CREATIVITY COACHING:
The next 14-week Kaizen-Muse Creativity Coaching certification training program runs from January 17th to April 18th, 2007. 

Check out the new website . 
Congratulations to newly certifed Kaizen-Muse Creativity Coaches:
Laurel Aston www.sparkingart.com
Marta Luizm www.primalhealing.com
Karen Cowles karen@choosetothrive.com 

Classes with Laurel Aston, Muse Group Facilitator & Kaizen-Muse Creativity Coach
Mountain View, CA, Sparking Art Studio
Thursday evening, January 11, 7 - 9:30 pm, or
Thursday evening, January 18, 7 - 9:30 pm
MUSE JOURNEY – 2007 Introductory Class
Laurel Aston, Muse Group Facilitator & Kaizen-Muse Creativity Coach
Three different formats for taking the Muse Journey series will be presented, along with sample activities representing the expressive arts approach used in this class. RSVP to Laurel,. for more information.

Mountain View, CA, Sparking Art Studio
MUSE JOURNEY – 2007 Studio Session (Winter/Spring)
Thursday evenings, 7 - 9:30 pm, OR daytime class...
February – May (12 classes with a two-week break in between)
Laurel Aston, Muse Group Facilitator & Kaizen-Muse Creativity Coach
To read testimonials and find out more about the Muse Journey programs at Sparking Art Studio, please visit .
more here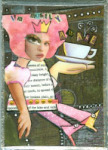 Good-bye for Now

If you're an artist and not subscribed to Robert Genn's bi-weekly letter, let me know -I will send you a subscription ON ME for the holidays. That's my promise.  Thanks for joining me this month. May the rest of your December be filled with joyful noises, peace on earth and mercy mild, hot chocolate, and fa la la la la la la la la (whatever the heck that is)... Hey! Writing or art prompt... what IS fa la la la la la la la la? Go. Hope to see you or hear from you soon and before you deck your halls, shuffle .

Be Well,
Jill
"I feel that there is nothing more truly artistic than to love people". Vincent van Gogh

"The bond that links your true family is not one of blood, but of respect and joy in each other's life." ~Richard Bach
 
Because the world is round it turns me on.
Because the world is round – Ah – love is old, love is new,
Love is all, love is you. ~Lennon/McCartney________________________________________________
(c) 2006 Jill Badonsky  - All the contents of this newsletter are copyrighted. Please do not duplicate without written permission. Carry on.
Picture: Mixed Media by Jill Badonsky
Click here and play.. then send to someone
MoonPies and Movie Stars by Amy Wallen
Preorder Amy's book for your own holiday treat... you deserve it. I highly endorse this book for any of my readers because Amy is as crazy as I am and her writing is fabulous.

"To read MoonPies and Movie Stars is to take a delightful and exhilarating journey, kind of like being on a tour bus guided by Eudora Welty on speed."
—Mary Gordon, author of Pearl

"With a pitch-perfect ear for comic dialogue and a fine sense of the absurd, Amy Wallen writes herself a place on the porch swing of great Southern writing."
—Janet Fitch, author of White Oleander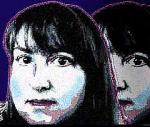 Jen's Blog
More blogging from Jen. It's just good reads and inspires other bloggers. I eventually blog wrong but I'm okay with that and will practice.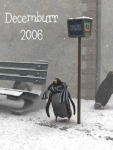 Holiday Ha ha.
I'm putting this in because it's a good example of a creative principle: looking at what everyone else sees and thinking something different... and okay, because I laughed out loud when I read it. Thanks to Ozmo.

Three men died on Christmas Eve and were met by Saint Peter at the pearly gates. "In honor of this holy season," Saint Peter said, "you must each possess something that symbolizes Christmas to get into heaven." 
 
The first man fumbled through his pockets and pulled out a lighter. He flicked it on. "It represents a candle," he said.  "You may pass through the pearly gates," Saint Peter said. 
 
The second man reached into his pocket and pulled out a set of keys. 
He shook them and said, "They're bells." Saint Peter said, "You may pass through the pearly gates." 
 
The third man started searching desperately through his pockets and finally pulled out a pair of women's panties. St. Peter looked at the man with a raised eyebrow and asked, "And just what do those symbolize?" The man replied, "These are Carol's." 
 
Have some cheerfor the holidays.

Holiday Differences
In the old days, it was not called the Holiday Season; the Christians called it 'Christmas' and went to church; the Jews called it 'Hanukkah' and went to synagogue; the atheists went to parties and drank. People passing each other on the street would say 'Merry Christmas!' or 'Happy Hanukkah!' or 'Look out for the wall!' if they were atheists.   ~Dave Barry