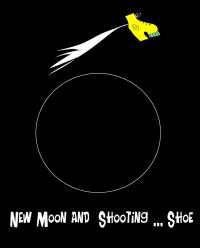 Waxing into an "Albert" Moon
"It is spring, moonless night in the small town, starless and bible-black." ~Dylan Thomas

Today at 9 am pacific/ 12pm eastern is a new moon. Let's say just to be different, it's a new moon in Albert. Albert is the Modern Day Muse who encourages us to think differently. Some of the ways he delivers this influence are by 1). encouraging us to break rules of conformity in the interest of innovation, novelty, amusement and ingenuity 2). giving us different perspectives, attitudes and genres with which to see things differently 3). encouraging imaginative associations beyond the obvious and suspending judgment for ideas that may enter into the absurd. (Sometimes the absurd can be ingenious, other times it's just silly which at least can be entertaining - consider the ingenuity and silliness of Stephen Colbert.)

For the new moon, what associations can you make to "blank sky where the moon usually shines"? How would you fill in the blank if you had moon-spacefill duties? What blanks in your life do you need to fill in one little moon-phase at a time? How much light do you need in order to begin?
Can you toast to the beginning of a new phase, to the absence of light, to the street without shadows in the middle of the night?
Associate away in a new-moon brainstorm. Watch moons fly by reflecting your brilliance, your lunacy, the art of who you are. Invent a lunar forecast that works with your current phase of life or creative passion. Predict what will develop for you as this new moon waxes.(Or just clean your ears in the next few days).

The nothing-at-all moon brings to mind a creative thinking block called "All or nothing at all thinking." Examples include: "Either I write this perfectly or I'm not writing it at all," "Either this painting is great or it sucks," "If I don't have all the materials, the space and the alignment of the planets that I need to get started I have to wait," "Either I participate in and follow every single step of this program or I'm not doing it right and need to quit," "Either I have a big block of time to work on my creativity or I don't work on it at all," "OMG, I have an entire full moon to create in the next two weeks. I'm overwhelmed therefore I shall watch American Idol and read the gossip about it all week long instead." Go David Cook. (ignore that).
Kaizen-Muse Creativity Coaching Solution: Wax a bit in a more realistic direction. All or nothing at all thinking is unrealistic, confounding, an avoidance strategy, a deliberate - though sometimes subconscious gesture of self-sabotage, a lot of pressure, and it is the Anti-fun. Give yourself permission to just do your creative passion no matter the quality, the time allotment, the amount or type of supplies you have, the angle of the sun, the barking dog, or your loud, persuasive inner-critic. Ramble about imperfectly. Be a 5% crescent - expect just 5% progress, satisfaction, success rather than your usual 100% or for some of you: 305%. When you lower your expectations notice how the pressure wanes. And with lowered expectations we can freely play, practice, explore, experiment, act and do all the things that make us full with the timeless creative flow. Then waxing toward excellence just happens naturally like the tides.
PS. Don't moon a werewolf.
Experience the liberation, learn more about the Muse Albert and about Kaizen-Muse Creativity Coaching by joining us in a complimentary call on Thursday, May 8, 5pm pacific time, 8 eastern. Sign up by beaming yourself here.

For more about classes and workshops, click here.

April's Muse Flash in case you missed it- I'll wait while you catch up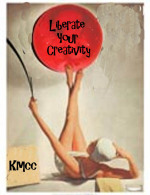 Kaizen-Muse Creativity Coaching
Become a Certified Kaizen-Muse Creativity Coach and add a stream of joy and income to your life. The next training begins June 14. sign up a month early and SAVE $100.

KMCC teaches individuals how to enjoy the process of life by thinking, acting, and solving problems more creatively. This model of coaching supports the notion that fulfillment comes when we train the mind to be more positively resourceful and when we authentically share our gifts by exploring and expressing the unique potential of the self in the present moment.
What makes this model successful is careful attention to what brings up resistance for the individual not only in the creative process, but also in the process of being coached. Lowering pressure in both of these spheres liberates action, motivation and inspiration. Individuals and organizations are assisted in working past the following creative blocks: fears of success, of failure, of wasting time and resources, of being judged, of of inadequacy; self sabotage; procrastination; immobilizing perfectionism; overwhelm, self-doubt and comparison; not making or finding the time for creative interests; difficulty returning to creative endeavors previously enjoyed.

This Training is For You If:
~You are interested in becoming certified for the rewards, joy and income that has been proven to come with being a KMCC coach.
~You are interested in adding the principles of KMCC to your life coaching practice,healing practice or to your life in general.
~You would like to finally get to your own creative passions through an intensive training that also liberates KMCC students from fear, frustration, doubt, self-criticism, overwhelm, procrastination and stifling perfectionism.

Visit www.kaizenmuse.com to sign up for a complimentary session with a KMCC coach or join us on the call on May 8 and win two free sessions.
KMCC grads are also offering discounted 4-pack sessions to individuals ready to move from creative frustration to creative fulfillment. Please email info@themuseisin.com and include your creative passion and what seems to be standing in your way.
To find out more about the KMCC training, click the link below or visit www.kaizenmuse.com.
KMCC respects the non-linear nature of creativity, the natural resistances, fears and sensitivities that a person approaching a creative-process experiences. KMCC utilizes powerful concrete methods necessary to make progress within the realm of this elusive process.

The next Kaizen-Muse Creativity Coaching Training begins June 2008. Email info@themuseisin.com to apply.
KMCC Training Information (pardon the technical difficulties)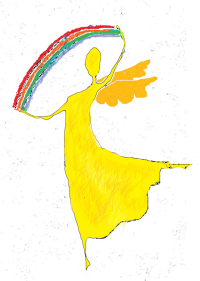 Body Blissmas Opens Its Doors to New Members
On this New Moon consider new possibilities. Here's one: Make your health your work of art. Live vibrantly. (okay, that was two).

"Every year the earth renews itself - a magical, yet completely natural, process. What if we took a little time to do the same thing for ourselves?"

Body Blissmas and a Happy New Rear begins again this August and this time you have the option to join anytime during the year. Find out how women are increasing their creative abilities AND losing weight by changing to a healthier lifestyle with tools, reminders and support that make both easier. Nurturing yourself isn't a luxury: it's essential. Our bodies and brains work better when we care for them well.

Body Blissmas's novelty of a creative approach inspires follow-through wellness habits. Vibrant wellness releases more energy and time to be creative. Learn to obsess over your creative passion not over food and notice how you cultivate confidence, a sense of deserving, and a return to a self you forgot. Body Blissmas is especially designed for the rebellious, resistant, and cranky.

What is Body Blissmas and a Happy New Rear?
Body Blissmas is a creative, playful, wellness program whose mission it is to improve every dimension of well-being through creative thinking, intuition, imagination, play and creative expression. The program works through delivery of daily emails, weekly teleconferences, monthly guest speakers, 24/7 access to mind sculpting guided imageries, creativity workshops and a membership website that catalogs motivators, reminders, recipes, creativity prompts, member's creative expression, references, readings, helpful links and the support, humor, and inspiration from fellow Blissmas members. You participate as much or as little as you desire.

What Solutions does Body Blissmas Provide?
• A non-deprivation oriented nutrition plan that elevates food's sacred and sensual experience. Imagine eating foods you love and still losing weight. In this plan you must eat in order for weight loss to happen. It is a plan you can follow for the rest of your life.
• This life-style change results in long term wellness, weight loss and a peaceful relationship with food vs ineffective short term weight loss.
• You are provided with a steady diet of tools that make creativity and staying with your creative passion easier. Within the prescription of these tools is a compassionate, imaginative approach that is unprecedented by any other weight loss, wellness OR creativity program.
• Connection with a creative group of fabulous women who share discoveries, expressions, creative personalities, support and humor as much or as little as they desire. Connection to those with similar creative interests is vital to the strength of our spirit, and the consistent support of desired changes from this group over time makes those changes easier.

Do you qualify for Body Blissmas? Click and find out. See "Who Qualifies"

Want to use your passion for creativity to shift your lifestyle to one of wellness and weight loss in addition to feeding your creative abilities? Find out more about this one-of-a-kind program by joining Jill Badonsky at one of these complimentary phone calls. Your questions will be answered and you will learn three of the secrets to Body Blissmas success, (including that Happy New Rear part).
Wednesday May 14, 5 pst (8pm est)
Monday May 19, 3 pm pst (6pm est)
Tuesday May 20, 10 am pst (1pm est)
Click the link at www.bodyblissmas.com or send a blank email to jillbadonsky-318356@autocontactor.com for any of the above dates.

Sign up at the Club Level by June 1 and receive one of the books that Blissmas is based on, The Schwarzbein Priniciple.
Sign up for the V.I.P. level by June 1 and receive a $50 gift certificate to Amazon.com.
Sign up a friend anytime and receive a Jill Badonsky Art Print and a $25 gift certificate to Amazon.com. Have your friend send your email to info@themuseisin.com and tell us they signed up because of you. (Having a friend in the program with you makes the journey easier).
Sign-up now by emailing info@themuseisin.com with Blissmas Interest in the subject line.

For some of the things the current Blissmas Babes are saying about Body Blissmas click here.


See more answers about the Body Blissmas Program here

Blissmas Babe, Caitlin Kelley
Over thirty women have been participating in Body Blissmas since January. Women from all walks of life, with varied interests and creative passions, as well as every body type. Their level of involvement in their journey to wellness varies according to the individual. Caitin Kelley is one of them. She has lost 25 pounds during the Blissmas program and agreed to share a bit of who she is creatively:

1. What is your favorite way to express yourself creatively?
Through my architecture. I am really blessed that I have a profession that gives me the freedom to create and supports me well. Visit Caitlin's architecture site: www.caitlinkelleyarchitect.com

2. How did you get into this?
I started creating architecture when I was about 3 years old building houses for my teddy bear. I would scrounge up boxes and take them out into the yard then deconstruct them, cut them up and re-compile an entire estate with roads, landscape, house, and anything else I could imagine. My teddy bear had more houses than any other teddy bear on the block. He was a true real estate mogul.

3. What are other ways do you express yourself creatively?
I love to write music for the piano and of course play it. I love painting, collaging and writing, taking photographs.

4. What creative accomplishments are you proud of?
I am really proud of designing the first LEED Certified Green Marina in the world. See it at www.caitlinkelleyarchitect.com I'm also very proud of a piece of music I composed and recorded for my son.

5. What other things would you like to do creatively?
I'm feeling very drawn to sculpt. In a way, architecture is like sculpting. But I want to create freer forms that have no limitations (or building codes). I'm also wanting to write and I'm currently working on a book about the transformation I have gone through after the death of my son.

6. How do you work through creative blocks, challenges or discouragement?
I allow myself down time. When things aren't happening I go watch Ellen Degeneres. I record her every day so even though I don't watch her every day, I have something to watch when I need to. Her lightness of being and humor relieve me and help me not to take myself so seriously. I have come to recognize that I need a lot of time and space to percolate, and when I give myself permission to lull, the creativity comes pouring out of me and I get a lot accomplished. I try not to force my creativity, because it usually doesn't work. I have to create under pressure as it is with deadlines and client expectations, so being gentle with myself knowing that it will all come together in perfect timing works best for me. As for discouragement, I remind myself that when I feel this way it is only my ego telling me I'm not good enough, and I know that's not true. So I very seldom feel discouraged because to me it is a waste of time and I would rather be spending my time nurturing myself than beating myself up.

7. What's your favorite part of the Body Blissmas program?
I'm really enjoying the rich tastes of my food. Adding the fats back in and creating luscious recipes with all natural ingredients has made cooking such a delight. I love getting creative with my food and making it as colorful as possible. I live alone, so mealtimes have become this amazing ritual and play with my food. We have a grand time. I even light a candle to dine by once in a while.

8. What's a quote that inspires you that you would like to share?
"Why would you want to walk on water when you can dance on earth."

9. If you made up a quote yourself, what would you say?
"If you own who you are without limitations there is no limitation to who you can be."
10. What is something else you would like to share about yourself?
I practice a beautiful energetic healing technique called "Frequencies of Brilliance". It is very powerful work that heals on the physical, emotional, mental and spiritual levels. I have experienced deep healing within myself with this work and I really love giving sessions and sharing this work. Feel free to contact me if you want more information. caitlinkelley@cox.net

Note from Jill:
I was lucky enough to experience a Frequencies of Brilliance session with Caitlin. It was a profound and relaxing release of energy that returned me to the sacred motivation of staying true to myself, I felt effortlessly charged with a deep sense of nurturing down to a cellular level. I highly recommend it to anyone wanting to feel a centered, powerful reunion with your authenticity.
Visit Caitlin's Frequencies of Brilliance Site

Ken Dow, Executive Connector (of Dots),
Ken is the Director of of the Kaizen-Muse Creativity Coaching Coalition and a Certified KMCC Coach. This from Ken:
Muse-lings will be familiar with the evocative sentence completion exercise, where you write freely beginning with a sentence like, "If today was perfect I would..." You can put a fresh twist on this technique by working with a line out of a song. Thanks to the
many lyric sites
available online, it's easy to find something suggestive. Start with more poetic types like Leonard Cohen, Joni Mitchell or Bob Dylan – they offer more potential phrases per song. When you come across a line that intrigues or energnizes you, switch it to the first person if necessary. For example, "And she leads
you
to the river" becomes "And she leads
me
to the river..." Who is she? How do I know her? Why is she leading me there? What will we do? Voila! You're off and writing.
Love music? Get 4 creativity coaching sessions with Ken – at no risk – for just $199.50. If you're not satisfied, you'll get a full refund.

Building Business with the Muses and Rena Tucker, Kaizen Muse Creativity Coach
MUSE FLASH: Muse Albert Empowers YOU to Do Business YOUR Way, with WILDLY Successful Results!

The more I work with coaches and creatives, the more I appreciate the paradox of how much they LOVE the artistic and service parts of their work while disliking and/or avoiding the "business" activities which will bring them more clients/customers and allow them to do even MORE of the work they love!
Well, friends, I have some VERY good news for you: Relief is close at hand with the help of Muse Albert. I've observed that success really boils down to only 20% skill/knowledge and 80% ATTITUDE/THOUGHT!

The following exercise is designed to support you in reinventing the way you THINK about the "business" parts of your work so that you can enjoy more ease, pleasure and success in ALL parts of your business.
EXERCISE: Identify your "rules"...so you can break them!
Quick List: What rules have you made up or adopted for yourself about business. (For the purpose of this exercise, the term "rule" means ANY thought or dictate that limits your freedom and/or enjoyment.)
Examples:
Accounting is hard.
I must keep regular hours.
I'm not good at marketing.
I can't spend any money until I earn it.
Here are some writing prompts for you to fill in with anything and everything you can think of:
1. _____ is boring/not fun/a waste of time.
2. _____ is hard for me.
3. I'm just not good at _____.
4. I must always be (or appear to be) _____.
5. I can't _____ until _____. (Be sure to include any "rules" you ave about feelings such as happiness, peace or success in this one!)

After you've finished your list, look it over and see which "rules" you'd like to KEEP because they work for you, and which ones you're going to DUMP because they just don't serve you anymore. If some fall under both categories, be more conscious about using them accordingly. Continue to add rules to your list, then choose to dump, keep, or use when applicable.

Lastly, I leave you with one small question to ponder as you run your business during the Albert Moon: "What would make this task easier and more fun?"
Next month: We'll be doing some "serious" work on having more FUN in your business with the Muse Bea Silly!

Wishing you much ease, innovation, fun and success,
--Rena
Click for more on The Modern Day Muses

Yes, You May
Take MAY and use each letter as the first letter of a poem, saying, or run-on sentence. Example:
Mindfully I took my arrow and shot it into the
Air aiming for the
Yellow of the sun but knowing it would land in the white of my dreams.

Door illustration is from The Awe-manac: A Daily Dose of Wonder. Due out December 4, 2008 just in time for the holiday, the new year, and to save your life. Watch for (and pardon)a continuing barrage of self-obsessed excitement as its impending release draws near. Or just draw. Albert example: What if you thought about Still Lifes differently?

For Writing Classes in San Diego: http://www.sandiegowriters.org/

Listen to Jill interview columnist, playwright, environmental activist, Pam Grout and author . Find out her secret to prolific publishing, staying disciplined, finding joy in the process AND using breathing exercises to lose weight. Just $25.