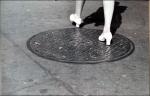 However, don't fall into openings in the road. Thank you.
Openings for Possibilities
Dear ,

The word April is from the Latin word "aperire" which means "to open." So here we go - creative associating, randomly and intentionally to open your mind to a different way to view April and the world of thinking differently.

"We all operate in two contrasting modes, which might be called open and closed. The open mode is more relaxed, more receptive, more exploratory, more democratic, more playful and more humorous. The closed mode is the tighter, more rigid, more hierarchical, more tunnel-visioned. Most people, unfortunately spend most of their time in the closed mode." ~John Cleese

"Creative experiences can be produced regularly, consistently, almost daily in people's lives. It requires enormous personal security and openness and a spirit of adventure." ~ Steven Covey

Open a bottle of Anti-Aging Potion called Awe-vanced Inner Messages briefly described in The Awe-manac) explained in length on the next free Kaizen-Muse Creativity Coaching call THIS Thursday, April 9th, 2009 at 5 p.m. pacific (8 p.m. eastern). Sign-up here.

The Awe-manac lists April as Dog Consciousness Month. Hear a recording from yours truly about how "Dog Consciousness" can change how you view your life. It's only around 12 minutes long... I think.

Yours Truly,
Jill Badonsky
www.themuseisin.com

CLICK HERE TO SIGN-UP FOR THE MONTHLY CREATIVITY COACHING CALL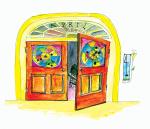 Every wall is a door. ~Ralph Waldo Emerson
Openings
1). Open this link and make a piece of Bread Art. For every piece of Bread Art made, money goes to Feeding America.

2). Open to the idea that you can create yourself as vital, dynamic, funny and amazing over age eighty.

3). Be open to the fact that ANYTHING can be considered an art gallery and then attend it's opening.

4). Writing or/and Art Prompt
Open your dictionary to page 356 and pick a word,
open a near-by book to page 42 and pick a phrase,
open a recipe book and choose two ingredients and one verb (like stir),
open your imagination and add three adjectives,
open your eyes and look around your room and add three nouns,
open your innovation and add three verbs (e.g. not run, hop, or swim but verbs like conspire, meander, fold).
Open your journal and combine all these words and add more if needed to concoct a poem, prose, a speech, a letter, a journal entry, a how-to article. Extra credit: Begin with the unfinished sentence: "When I opened my window...."
Open your willingness and send me what transpires. my result posted here.. add yours to the comments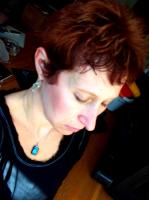 Laura Hegfield listening for an idea
Kaizen-Muse Creativity Coach Spotlight: Laura Hegfield
Laura Hegfield is a certified Kaizen-Muse Creativity Coach and SoulCollage Facilitator dedicated to assisting clients in discovering YoUnique solutions to creative obstacles. Laura applies all she has gleaned in her varied areas of experience and study to gently guide artists in all genres and those just beginning to open to their own creative potential, as they gain trust in their broken or perhaps, still wet wings and learn to fly.

"Laura is gentle, wonderfully intuitive, and delightful. The kind of coach you look forward to talking to." ~Jill Badonsky
Reveal Your Sacred Spark & Realize Your Creative Dreams
...breath by breath...moment by moment...step by step.


Schedule of Events
Practicing KMCC coaches are looking for clients interested in this dynamic model of coaching at dramatically reduced costs. If you want to experience what it's all about, email me for a referral: info@themuseisin.com

Thursday, April 9, 2009 5pm PT, 6pm MT, 7pm CT, 8pm ET
Free Kaizen-Muse Creativity Teleconference
Anti-Aging Potion Number One
Sign-up here Creativity Tips

Thursday, April 16, 2009 7-9 pm
Drop-in Creative Writing Workshop- all welcomed
Playing with Words to Liberate Creative Juices and Eager Ideas. No critique.
Giovanni's Italian Restaurant, Encinitas $10

Friday, May 1, 2009
Keynote at ZNE Con!! See you in Pleasanton, CA
Coaching, Courage and Creating
More Info Here

Wednesday Evenings May 20 - August 5, 2009 5-7 pm PT/ 8-10 pm ET
Modern Day Muse Facilitator Training Teleconferences
12 teleconferences will take you through your own creative journey busting through fears, procrastination, overwhelm and self sabotage with the help of Jill's Muses and Seena Frost's SoulCollage(R). You also will learn to facilitate workshops and creativity coaching groups based on Jill Badonsky's The Nine Modern Day Muses (and a Bodyguard) .
For more information or to sign-up email info@themuseisin.com.

Wednesday Evenings August 19 - December 2, 2009
Become a trained as a Certified Kaizen Muse Creativity Coach
For more information click here.
Training with Jill Badonsky and UCLA Psychologist and Author, Robert Maurer.
Enrollment is limited.

Free Teleconferences Monthly. Watch for them in the Muse Flash.

The Muse is IN classes webpage
Brought to you by Original Thought
This free monthly e-zine is dedicated to the pursuit of thinking different for originality, for inner-peace, and for creative expression.




There's a manhole cover...
There's a manhole cover floating like a ufo,
covering the sun like a blanket…
I'm wondering what it's doing at that height,
who plucked it from the street and flung it
neither west nor east
but into the sphere of birds songing,
into a black eclipse,
into the clouds making themselves
over and over
until the thunder in this dream
becomes a song track for the wondering what
I'm doing at this height.
Who plucked me from the street
and flung me neither east nor west
but into a sphere of unseeing …?
…and who will fall into the hole left open in the street?
~jill badonsky