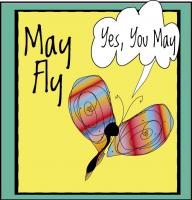 May I have permission to play with my creative fire?
GPS for Creativity
Dear ,

A few weeks ago, I upgraded my tattered cell phone to a Raspberry... wait, no.. a Blackberry. And not only THAT but it has a GPS on it.. a Global Positioning System. People up in a satellite help me find where I'm going plus they know where all the best hang-outs are. Have you experienced a GPS? How about a person helping you from an arial view? Oh, you must. My life just got sort of exciting. Sort of.

With my GPS I found a remote, arty wifi cafe when I was in Oakland, California and without a bit of anxiety I was navigated back to the Thrifty Car Rental. I typed in "compliment" and it directed me to this guy who told me he liked my posture. Amazing. It was also fun to make a wrong turn every now and then to hear the navigation Muse patiently say.. "Re-navigating." I think I did detect a note of impatience around the 15th time I did that, but it could be my imagination.

Then I wondered what it would be like to have a GPS for our creativity and I figured it would sound something like this. Click here!

This Thursday, May 7th 5 pm PT, 6 MT, 7 CT, 9 ET
This month's Free Call of the Muse is about the Kindness-Creativity Connection. Another anti-aging potion from The Awe-manac will be presented in experiential form, Kaizen-Muse Creativity Coaches will be standing by to offer free coaching sessions to lucky winners, and I'll do a short creativity coaching session with someone on the call. You must be present to be present. Please join me. Sign up Here.

Maybee,
Jill Badonsky
www.themuseisin.com
subliminal message: vote Adam Lambert on American Idol

CLICK HERE TO SIGN-UP FOR THE MONTHLY CREATIVITY COACHING CALL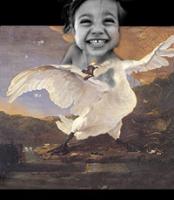 SoulCollage: I am the one who is no longer an ugly duckling
Two Wonderful Creativity Trainings Coming Up
May 20th - August 12, 2009
Teleconferences and On-Line Playground
A Journey with the Modern Day Muses
Learn how to facilitate groups based on the book: The Nine Modern Day Muses (and a Bodyguard) through 12 teleconferences, art-filled emails, and a festive on-line community. Or simply take the journey to awaken and soar with your own creative self. There is no block these Muses cannot obliterate. Beam yourself here for more information.

August 26 - November 12, 2009
Kaizen-Muse Creativity Coaching Certification Training
Get trained and certified as a KMCC through teleconferences and active involvement in a rich, Internet community, observations of coaching sessions with Jill, and practice coaching with classmates. More information both here and here and in your intuition.

A testimonial for KMCC from Chris Dunmire, the creative genius masterminding the Creativity-Portal.

Visit Creativity-Portal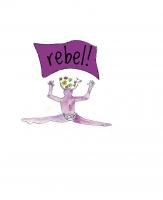 maybellion
Making the Most of Your Rebelliousness: A Quick Tip
"The reasonable man adapts himself to the world; the unreasonable one persists in trying to adapt the world to himself. Therefore all progress depends on the unreasonable man." ~ George Bernard Shaw

"Disobedience, in the eyes of anyone who had read history, is man's original virtue. It is through disobedience and rebellion that progress has been made." ~ Oscar Wilde

Thanks, Oscar and George for those thoughts. But what happens when man AND woman rebel against themselves?
Being creative, in a sense, means rebelling because we are inventing something new rather than just accepting what's already out there.
As a creativity coach I frequently see the creative person set up time and intention to do something creative and then rebel against themselves by aimlessly surfing the Internet or watching TV passively for hours.

Here's a tip that works for me:
Take your calendar and actually write in it:
9-11 am Aimlessly Scan the Internet Googling such things as Chicken Mole', Edible Journals, How old Holly Hunter is, and the History of Safety Pins
6- 10 pm Have My Brains Sucked Out by Watching TV

and then... REBEL!!!! Instead of doing those things, spend some time, EVEN IF IT'S JUST 5 MINUTES, working on your creative passion. Rebel in the right direction. Tell yourself not to do something creative.. and DO IT ANYWAY.

Creativity Prompt:
May 6, 1851 Dr. John Gorrie patented a 'refrigerator machine'
What if you had to limit your subject for writing, art, photography, or music to your refrigerator? What refrigerator adventure would you write about? What photos would you take? What sketch would you make? What poem would you channel? What butter would you sculpt? Can you Photoshop something into your fridge.. like a landscape? space? or the family reunion?

Links for Fun
Creative Advertising from The Netherlands
The Voca People... Yikes!
Spread Random Laugher!
More Laughter
Visit The Awe-manac Blog for regular prompts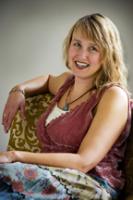 Jill Allison Bryan
Kaizen-Muse Creativity Coach Spotlight:Jill Bryan
Jill Allison Bryan is a certified Kaizen-Muse Creativity Coach who delights in helping people experience their own "Mid-life Oasis"TM. By creating an "oasis" of personal creative fulfillment, Jill believes we can infuse our daily lives with the same energized yet relaxed feeling of a rejuvenating vacation. Creativity coaching helped Jill to rediscover her own oasis as a singer/songwriter, and has made her a passionate champion of this life-changing process.
"With Creative Oasis Coaching ™-
you can create your own Mid-Life Oasis™ -
because it doesn't have to be a crisis!"
Jill Allison Bryan's Hangout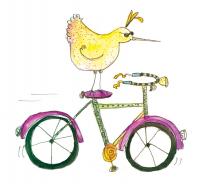 Navigating to "Cool"
bye now
Get GPS'd: If you find yourself checking email, watching TV or otherwise occupying yourself away from your creative call, hear your Muse say "Recalculating route" and then notice yourself showing up to your writing, your painting, your music, your triple axles, your garden art, your photos of being captive, your gourmet gazpacho, yourself.


Without further dew,
Jill Badonsky, Creativity Liberation Fighter
Founder Kaizen-Muse Creativity Coaching
and floating among the icons at www.themuseisin.com

The Muse is In Classes


Schedule of Events
Practicing KMCC coaches are looking for clients interested in this dynamic model of coaching at dramatically reduced costs. If you want to experience what it's all about, email me for a referral: info@themuseisin.com

Thursday, May 7, 2009 5pm PT, 6pm MT, 7pm CT, 8pm ET
Free Kaizen-Muse Creativity Teleconference
Anti-Aging Potion Number Two: Kindness
Sign-up here Creativity Tips

Thursday, May 21, 2009 7-9 pm
Drop-in Creative Writing Workshop- Playing with Words to Liberate Creative Juices. Word play, no critique. All levels. Giovanni's Italian Restaurant, Encinitas $10

Wednesday Evenings May 20 - August 5, 2009 5-7 pm PT/ 8-10 pm ET
Modern Day Muse Facilitator Training Teleconferences
For more information or to sign-up email info@themuseisin.com.

Wednesday Evenings August 19 - December 2, 2009
Become a trained as a Certified Kaizen Muse Creativity Coach
For more information click here.

Free Teleconferences Monthly. Watch for them in the Muse Flash.
Last Month's Muse Flash

The Muse is IN classes webpage
Brought to you by Original Thought
This free monthly e-zine is dedicated to the pursuit of thinking different for originality, for inner-peace, and for creative expression.
Please copy things ONLY IF you have a link or give verbal credit to Jill Badonsky and www.themuseisin.com. Thanks for honoring this and not having Karma spit all over you. That just is NOT pretty.



House Flies
I'm at the intersection of wonder and mischief,
So I roam down both.
When I take wonder, I wonder where I am, how I am.
I wonder who opens the curtain just before the show begins.

When I take mischief I run into trouble.
Trouble knows me well and directs me to
peculiar routes, dark streets, deceptive avenues until
realization magnetizes and grounds me
I am inspired to return to wonder, away from mischief.

On wonder, street lights expose dark places where the unspoken speaks and clouds clear like curtains opening..
and I realize that I can open the curtains and wait and trust that I can shine and fly and wander on wonder until the street lights turn to stars.

Badonsky Art
all art by Jill Badonsky unless otherwise noted.