LIKE us & post a beer comment...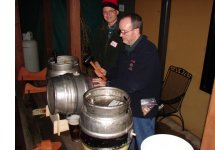 If firkins, spiles, keystones, shives and stillage stir your blood, you might want to click over to our Atlanta Cask Ale Tasting page pronto. This year's awesome celebration of real ale takes place on January 29, 2011, and we've expanded the event to around 25+ casks split between the patios of 5 Seasons Sandy Springs and Taco Mac Prado. Proceeds benefit the Atlanta Humane Society.
Head to the ACAT website here.
Photo: Owen Ogletree seals up empty firkins at the conclusion of last year's Atlanta Cask Ale Tasting.
ACAT Sponsors: Peak Organic Brewing, All About Beer, 5 Seasons Sandy Springs, Taco Mac Prado, Atlanta Humane Society and Brewtopia LLC.
Georgia Microbrewery News
Atlanta Brewing / Red Brick - A collaborative brew between Taco Mac's beverage director Fred Crudder and Atlanta's Red Brick Brewing comes to the Taco Mac chain in early October. "We brewed a single-hop steam beer on Friday the 13th of August and called it Fred Brick," announces Crudder. "It's hopped with Liberty and also has some Georgia-grown oats."
SweetWater - Taco Mac will also be one of the major on-premise retailers serving SweetWater's new rye ale called Crank Tank -- a beer to raise awareness of the charity bike ride Spin For Kids to benefit Camp Twin Lakes. October beers of the month at your local Mac include Terrapin Rye, Hopsecutioner and Pumpkinfest -- with glassware giveaways each Thursday.
Terrapin Beer Company recently flew in a huge shipment of fresh, wet hop cones from Yakima, Washington for their spicy, herbal, limited-release beer named So Fresh So Green Green. This beer will be available in 22 ounce bottles and released at the brewery's 9/25/10 Hop Harvest Fest. This ale includes a staggering quantity of juicy, wet Cascade hops fresh from the vine. Terrapin's Sunray Wheat now becomes a summer seasonal to be replaced on shelves this fall with Pumpkinfest -- an "Oktoberfest meets Grandma's pumpkin pie" 6.1% ABV beer made with pumpkin, cinnamon, ginger, all-spice, clove and a complex array of tasty malts and hops.
Jailhouse Brewing has scheduled a fall release of 22 ounce bottles and draft of their new seasonal called Smokey -- a lightly smoked version of the microbrewery's popular wheat beer. Also look for the Jailhouse beers in Atlanta-area Taco Mac locations. Tours and beer sampling at the Jailhouse run Wednesdays from 5-7 PM and Saturdays 2-6 PM in historic Hampton, Georgia -- just 40 minutes south of Atlanta.
Owen's Real Ale Report from Bath, UK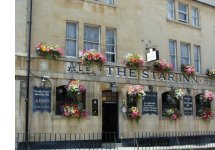 Owen Ogletree was invited over to the UK during the summer of 2010 to help judge "Champion Beer of Britain" at the August Great British Beer Festival in London. Before the judging experience, Owen was able to sneak in a side trip to the lovely, historic town of Bath -- about a one hour train ride west of London. Owen's photo album features all of the personable cask ale pubs and the tiny Abbey Ales Brewery he visited while in Bath.
Next Southern Brew News Cover Preview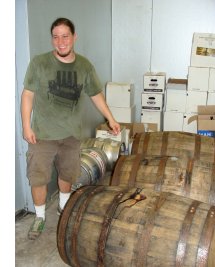 Be sure to pick up a copy of the new issue of Southern Brew News (due at the end of the month). Here's a snippet of Owen's cover story For the Love of Craft Beer...
It seems clear that the current surge in craft beer in the United States is a creative, artisanal phenomenon of colossal magnitude, and the Southeast stands as one of the most promising craft beer frontiers. SBN asked several southeastern pro brewers to describe how they fell in love with great beer and why craft beer is so amazing. Their responses form a varied, heartfelt and fascinating look into the backgrounds and mindsets that motivate these innovators.
Subscribe or see back issues of SBN online.
Photo: Wayne Wambles, brewer for Tampa's Cigar City, in his barrel aging room.
New Brewpub Coming to Atlanta's L5P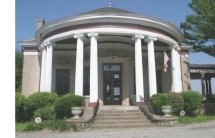 Atlanta homebrewer Bob Sandage will soon get his long-standing wish of owning a brewpub. Renovations are well underway in the 110-year-old Wrecking Bar building on Moreland Avenue near Little Five Points that Sandage purchased last March. Relocating a few homeless guys who had become attached to the majestic, yet derelict structure made up the first step in transforming this dilapidated Atlanta landmark into a beautiful new destination for fresh beer and food. Sandage wants the Wrecking Bar brewpub to open in early 2011, with the beer being made in the rear warehouse by Chris Terenzi (past brewer for the old U.S. Border Cantina brewpub in Alpharetta). Chef Daniel Butler, with culinary experience at Cakes & Ale, Shaun's and Sound Table, has signed on to develop an ingenious food menu and take charge of the Wrecking Bar's kitchen.
Dogfish's Calagione on "the tube"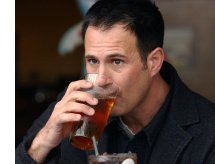 Sam Calagione of Dogfish Head Brewery is set to star in a new Discovery Channel show called BREWED, which will be "exploring the culture, history and variety of beer." Sam will join archeologist and beer expert Pat McGovern as they travel to recreate the recipes of "ancient ales" that have been discovered at sites around the world from Egypt to Peru. He'll go to Rome to research old Italian beer recipes as inspiration for a new restaurant in New York with Mario Batali. A visit to New Zealand introduces the idea of making the "first tomato based beer," and so on.
"Beer has always been my passion. It is so much more than what you see in the glass. I'm excited to share the diligence, daring and creativity that we pour into our work," said Sam. Brewed is produced for Discovery Channel by Zero Point Zero Productions, which produced "No Reservations" and "Diary of a Foodie." --Beer Business Daily
Porter Cask Ale Fest - Head to Atlanta's Porter Beer Bar on Saturday, September 25 to sample 10 cask ales from around the country. Call Molly at the Porter for more info (404-223-0393).
5 Seasons Oktoberfest - Make your way to any location of The 5 on Saturday, September 25 for amazing German food, live music and plenty of Festbier.
Terrapin Hop Harvest Event - Saturday, September 25 at 5 PM brings a special hoppy tour and celebration at Terrapin in Athens, Georgia. Hops will be harvested and discussed, and special hoppy brews and casks will be featured.
Hotoberfest in Atlanta - October 2 - http://www.hotoberfest.net/
World Beer Festival - October 9 in Durham, NC. Click here for details.
Decatur Craft Beer Festival - October 16, Decatur, GA http://decaturbeerfestival.org/
Aromas in Athens announces two exciting beer events for fall. Check out their Pumpkinfest on October 13-15, with all the best fall and pumpkin-themed craft beers available on draft. Get a room in Athens for the night and don't miss the second annual Aromas Cask Ale Festival on Sunday, November 7. Around 16 special cask-conditioned ales will be served on gravity tap inside the pub and out in the parking lot all day. It'll be "firkin" amazing.
BREWTOPIA EVENTS' FULL INTERACTIVE BEER CALENDAR is always available - featuring the best beer happenings around the Southeast and beyond.
New Taco Mac - Charlotte, NC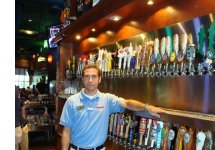 From Taco Mac's Fred Crudder -- "Taco Mac has just opened its first store in Charlotte, North Carolina. If you are in the area, stop into our South Park location. There are 140 beers on tap featuring many homegrown beers from the Carolinas. There are also 18 table taps at 6 different tables where you can pour your own beers. Modern technology locks and unlocks the draft lines to allow customers (over 21 only, of course!) to serve themselves and pay by the ounce. Beers featured are our beer of the month, SweetWater 420 and Olde Mecklenburger Copper (brewed in Charlotte) at each table."
Brick Store to Unleash Vintage Beers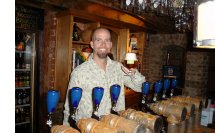 The Brick Store's Dave Blanchard announces, "We should be opening our vintage beer list during the first week or so of October. It'll feature a jaw dropping collection of 450-500 vintage ales and lambics from Europe and the United States. We are extremely excited to present these ever-changing beers to our guests and even more excited to try them ourselves! This is the new frontier in the continuing evolution of the Brick Store Pub."
Photo: Dave Blanchard, Brick Store co-owner, upstairs in the pub's Belgian bar.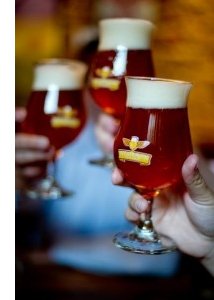 Earlier this month, Georgia celebrated its newest beer company -- Wild Heaven Craft Beers -- with a launch party at the Brick Store Pub. Wild Heaven contract brewery is the brainchild of Nick Purdy, founding publisher of award-winning Paste magazine, with recipes developed by brewmaster Eric Johnson of Athens' acclaimed Trappeze Pub.
"Our goal is nothing less than to brew the finest beer in the South," says Purdy. "Wild Heaven Craft Beers' core portfolio will be high-end beers, and the demand for quality brewing is taking off. Our place in the market is to make beer that appeals to the adventurous craft-beer lover."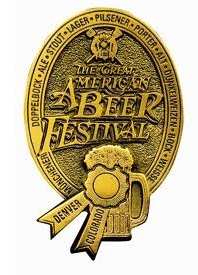 Winners were announced this weekend at the 2010 Great American Beer Festival in Denver, Colorado. Talented Southeastern craft brewers were among the proud winners...
GOLD: Rosemary Swamp Fox, Moon River Brewing Co., Savannah, GA.

BRONZE: Beer Gone Good,

Terrapin Beer Co., Athens, GA.

SILVER: Humidor India Pale Ale,

Cigar City Brewing, Tampa, FL.
SILVER:

River Falls Red Ale,

Thomas Creek Brewery, Greenville, SC.
GOLD:

Bourbon Barrel Aged Sexual Chocolate Imperial Stout,

Foothills Brewing, Winston-Salem, NC.
BRONZE:

Foothills Oktoberfest,

Foothills Brewing, Winston-Salem, NC.
SILVER:

Yazoo SUE,

Yazoo Brewing Co., Nashville, TN.
SILVER:

St. Charles Porter,

Blackstone Brewing Co., Nashville, TN.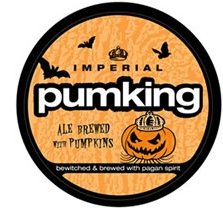 Southern Tier
Imperial Pumking
(brewed with pagan spirit)
Pumking is an ode to Púca, a creature of Celtic folklore, who is both feared and respected by those who believe in it. Púca is said to waylay travelers throughout the night, tossing them on its back, and providing them the ride of their lives, from which they return forever changed! Brewed in the spirit of All Hallows Eve, a time of year when spirits can make contact with the physical world and when magic is most potent. Pour Pumking into a goblet and allow it's alluring spirit to overflow. As spicy aromas present themselves, let its deep copper color entrance you as your journey into this mystical brew has just begun. As the first drops touch your tongue a magical spell will bewitch your taste buds making it difficult to escape.
8.8% abv • 12.7ºL • Imperial Pumpkin Ale • 22 oz / 1/2 keg / 1/6 keg. www.southerntierbrewing.com