LIKE us & post a beer comment...
GIVE BREW-FEST TICKETS THIS SEASON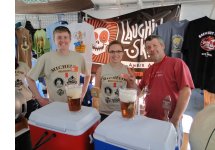 Tickets for the Athens Area Humane Society's 16th annual Classic City Brew Fest in Athens, Georgia are on sale now. This fest is scheduled for Sunday, April 10, 2011 at the Foundry Park Inn & Spa and Melting Point.
What better holiday gift for the beer lover in your life than tickets to this long-running, intimate, gourmet beer festival? Tickets are only $39.95 and will go fast! Purchase tickets online, print out the confirmation and stick it into a holiday card this season!
Sample from almost 250 of the best beers from around the planet -- including around 10 special cask-conditioned ales. There will also be live Bluegrass music from Athens' popular Buttermilk Revival. 21 and up -- no children or pets please.
Head to the BrewFest website to purchase tickets and see complete details.
CCBF Sponsors: Athens Area Humane Society, Terrapin Beer Company, Five Points Bottle Shop, Michelob Brewing, Trappeze Pub, All About Beer Magazine and Foundry Park Inn & Spa.
Owen's Georgia Microbrew Report in SBN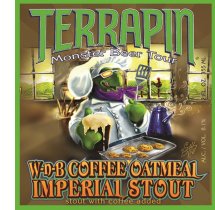 Grab a copy of the current Southern Brew News to read Owen's story on the state of Georgia's four production microbreweries (Red Brick, SweetWater, Terrapin and Jailhouse). Also included in the feature, a blind tasting panel held at Athens' Trappeze Pub provides tasting notes and top picks regarding a wheat beer, hoppy beer and black beer from each of the four breweries.
Click here to access the story and entire issue online.
1/5/2011 - CASK ALE AT COPPER CREEK in Athens, GA. Arrive at 6 PM to see what special house brew is being served from an authentic English firkin.
1/13/2011 - Chops & Hops beer bistro in Watkinsville, Georgia plans a Terrapin/Stone beer dinner where chef Richard Miley plans approximately eight courses with alternating beers from Terrapin and Stone (including two cask ales). Call 706-310-1101 to reserve spots at the dinner.
3/5/2011 - SweetWater's Brew Your Cask Off - SweetWater has invited 80 special guests to roll up their sleeves, channel their inner brewer, and create a one of a kind cask! Attendees will enjoy a plethora of real ale created by the brewery's retailers, a few celebrities and media folks, homebrewers and charities. Click here for details.
4/10/2011 - Classic City Brew Fest - One of the Southeast's longest-running and favorite beer events. Click here for tickets and the whole scoop.
BREWTOPIA EVENTS' FULL INTERACTIVE BEER CALENDAR is always available - featuring the best beer happenings around the Southeast and beyond.
Brick Store Vintage Beers on Display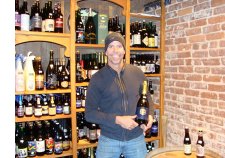 On your next visit to Decatur's renowned Brick Store Pub, take a stroll upstairs and to the right to peek into the pub's beautiful new vintage beer display vault. Pictured here is co-owner Dave Blanchard in a corner of the upstairs cellar. Owners Tom Moore, Mike Gallagher and Dave Blanchard have done a remarkable job in cellar-aging some prize ales from around the world that are now up for sale on the pub's vintage list.
Owen Visits Stone Brewing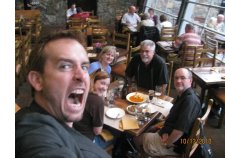 Owen Ogletree, The Beer Wench, and Dean & Gail Graves made a recent pilgrimage out west to Stone Brewing in San Diego. Stone co-owner Greg Koch took this intense photo during our dinner and beer sampling in the Stone World Bistro & Gardens.
Aside from making world-class ales, Greg and the guys at Stone also offer a most attractive, appealing and relaxing venue in which to enjoy local cuisine alongside the amazing brews. After dinner and beer, take a walk through the luxurious gardens behind the bistro. www.stoneworldbistro.com
Here's Owen's new beer video featuring "Dr." Bill Sysak, Beverage Supervisor of Stone Brewing's World Bistro & Gardens.
Lucky Devil Brewing - Atlanta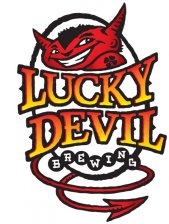 December brings a name change for the guys at 5 Seasons Prado in Sandy Springs. The brewpub is splitting away from the 5 Seasons group and becoming Lucky Devil Brewing. Owner Dennis Lange explains, "This name change will bring new energy, but the concept, menu, beers and friendly faces will remain. Keep your ears open for the official 'Grand Re-opening' party date, and don't be afraid of our new sign - your Hopgasm is awaitin'."
Stop by soon to sample the brews and show Dennis and brewer Kevin McNerney your support.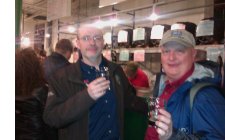 Owen Ogletree and Mark Hall flew up to Boston last November to experience cask ales from 15 U.S. microbrewers alongside 15 UK casks at the Haverhill, MA New England Real Ale Exhibition. These guys run a top-notch cask ale fest just like a typical event put on by CAMRA in the UK. It was an impressive evening filled with fine cask beers and friendly folks.
Click here to see Owen's NERAX video featuring Steve Bramley from Castle Rock Brewery in Nottingham, UK (brewers of this year's Champion Beer of Britain - Harvest Pale Ale).
Access the NERAX website here.
Moccasin Bend's "Man Cave" Brewery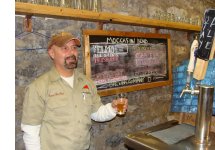 Pictured to the right is Chris Hunt of Chattanooga's Moccasin Bend Brewing Company. Chris basically brews up small batches of imaginative homebrews in his brewery "man cave" in an old warehouse basement just outside of downtown and runs a tasting room and pub there where locals and regulars stop in to chat and sip. If only we could do this in Georgia! Visit Chris soon to enjoy some draft, cask and nitro versions of his creative brews.
Moon River Takes GABF Gold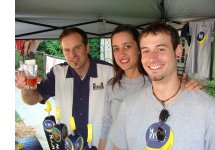 With its scrumptious Rosemary Swamp Fox IPA, Savannah's own Moon River Brewing brought home a coveted gold medal from this year's Great American Beer Festival in Denver. The beer hit pay dirt in the "Herb & Spice or Chocolate Beer" category and beat out 90 other entries. In addition to the normal amounts of Centennial, Chinook and Brewer's Gold hops, Pinkerton dry-hops this version of Swamp Fox with fresh rosemary. Delightful herbal, piney aromatics complement the beer's assertive citrus hoppiness. This exceptional ale makes occasional appearances at Moon River's cask tappings each Wednesday.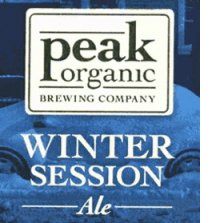 Peak Organic Winter Session Ale
From our friends at Peak...
"This winter wheat beer uses dark malting to provide subtle toasty notes. We then single-hop and dry-hop this beer with Citra hops from our friend Brad's farm. Interesting pineapple notes from the Citra hop provide a stark contrast to the toasty notes in the body. An engaging and sessionable Winter Seasonal."
ABV: 5% IBUs: 62
Suggested Food Pairings: Turkey and dressing, roast chicken, pork chops and pumpkin pie.