LIKE us & post a beer comment...
Don't Miss BEER BINGO on June 12!

Taste 12 world-class beers and try to match each beer to a set of styles at our upcoming Beer Bingo. It's a great party, enjoyable beer education, and our beer limerick hints are hilarious! Everyone gets a prize - including t-shirts, gift packs, brewery tour passes, and chances at free tickets to the Atlanta Cask Ale Tasting and Classic City Brew Fest! CLICK HERE to purchase Beer Bingo tickets today - just 15 spots remain at only $19.95 each.
Attendees will enjoy a coffee imperial stout, pear cider, American barleywine, IPA, double bock, abbey dubbel, cascadian dark ale, imperial dunkel weisse, cream ale, American amber ale, Oktoberfest lager and a rare English-style mild ale! Come join us!
Plan to hang around with us after the event to enjoy dinner at 5 Seasons and see what brewer Crawford Moran has on tap! Attendees get 10% off their dinner tabs.
Sunday, June 12, 2011 - 3:00-5:30 PM
5 Seasons Westside
1000 Marietta St NW, Atlanta, GA
A benefit for Project Safe Women's Shelter. This event involves NO gambling. Hosted by Owen Ogletree and The Beer Wench. 21 and up. No tickets will be mailed - your name(s) will simply be on a guest list at the door.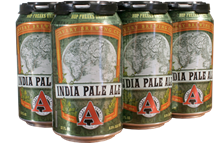 Tasting notes from Owen Ogletree and Mark Hall of six India Pale Ales that were served at last April's Classic City Brew Fest in Athens...
AVERY INDIA PALE ALE - Our favorite IPA of the bunch, this rich ale sports a dark gold color and light head of white foam. There's an amazing aroma of pine, citrus, resiny hops and mild fruit in front of a backdrop of sweet wort. Harmonious hop flavor and bitterness lead to a pleasing, resiny finish that lingers on the tongue. An impressive use of hops.
SIERRA NEVADA TORPEDO - This gorgeous, orange/amber beer shows off aromas of citrus, malt, caramel, tropical fruits and a slightly earthy tone. Expect nice hop bitterness with hints of pine and pineapple. Sweet malt creates a moderately full body.
21st AMENDMENT BREW FREE OR DIE IPA - This selection is deep golden in color and quite clear. A nose of malt, wort, herbs and pine resins gives way to flavor notes of deep malt, fruity esters and a hint of bitterness. Hop flavor seems restrained but pleasant.
BUTTERNUTS SNAPPERHEAD IPA - A luscious head of creamy foam tops this attractive amber/orange ale. Aromas of caramel, butterscotch and malt are present, along with tastes of fruit, butter, toffee, sweet cake icing and very mild hops.
SOUTHERN TIER IPA - Thick, creamy, off-white foam boasts great head retention on this deep golden ale. Clean, citrusy hop oils highlight the aroma, and moderately sweet notes of malt are well balanced by an appealing hop flavor. Bitterness is restrained.
NEW BELGIUM RANGER IPA - Mild fruity esters emerge in the subtle aroma, while beautiful hop flavor and bitterness dance on the palate. There are also toffee malts hints, restrained esters and a mellow hop character. An elegant brew.
6/1/2011 - COPPER CREEK CASK ALE - Athens, GA. 6:00 PM. Sample the monthly cask offering at the Athens brewpub.
6/2/2011 - 5 SEASONS CASKS - Westside and North locations tap casks at 5:55 PM. Atlanta, GA.
6/15/2011 - DOGFISH HEAD TAKEOVER - Aromas in Athens, GA. 7:00 PM. My Antonia, Namaste, Palo Santo, Sah'tea, Festina Peche, Chateau Jiahu, Black & Blue, Aprihop, Midas Touch, and an extra special keg - all on tap at once! Also mark your calendars for the July 9 annual Funky-Fest at Aromas.
Sunday 6/12/2011 - BEER BINGO - Taste 12 amazing beers and try to match each beer to a set of styles. It's a great party and enjoyable beer education! Everyone gets a prize - including a chance at four free tickets to Atlanta Cask Ale Tasting!

Click here

to purchase Beer Bingo tickets today - only 30 spots available at only $19.95 each. 5 Seasons Westside, Atlanta, 3:00 PM. A benefit for Project Safe Women's Shelter.
Sunday, 8/14/2011 - BARK & BEER - Join us at Ashford Manor in Watkinsville, Georgia for a delightful afternoon (4-7 PM) of free beer tasting to benefit the Athens Area Humane Society (AAHS). A $10 or $20 AAHS donation is suggested. There will be 30+ amazing craft beers to sample, music and an informal dog show with prizes (mutts are welcome). Bring the dog, the family, lawn chairs and a designated driver. AAHS will have animals for adoption.
BREWTOPIA EVENTS' FULL INTERACTIVE BEER CALENDAR is up and better than ever - featuring the best beer happenings around the Southeast and beyond.
What's Missing in Your Daddy's Beer?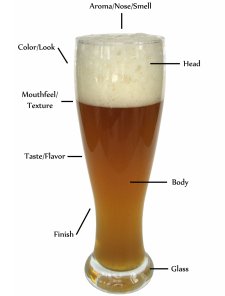 By Owen Ogletree
In America of the 18th and 19th centuries, beer styles were diverse, flavorful and robust. George Washington crafted a black porter from molasses in his own small brewery at Mount Vernon, Thomas Jefferson produced an aromatic beer flavored with spruce and berries, and America housed thousands of small breweries and taverns. U.S. citizens loved hearty, Old World styles of lager and ale -- beers colorful, varied, zestful and rich enough to delight the senses and sustain the body and soul.
Then came the dark days of Prohibition. Breweries closed across America, putting thousands of people out of work and leaving beer lovers depressed and dry. Following the repeal of Prohibition, only a handful of breweries reopened. Later, World War II caused a shortage of metal for brewing equipment, and barley rationing forced the handful of American breweries to manufacture only very light beers with cheap ingredients such as corn and rice.
Light, yellow, fizzy, watery, virtually flavorless lager beers dominated the American market from 1950 through much of the '80s. Americans had lost their taste for flavorful, robust beer styles.
CRAFT BEER REBIRTH
This all changed in the 1990s, when an American craft beer movement gained momentum and created a brewing renaissance in our country. The number of American breweries shot from seven in 1970 to close to 2,000 today, and Americans are once again purchasing and appreciating delectable, personable styles of beer.
But light, fizzy, standard lagers still make up the huge majority of beer sales in the United States, and a surprising number of people seem stuck in the bland beer landscape of 40 years ago. When drinking only yellow, standard American lagers, what exactly are these consumers missing?
Consider the idea of only eating cheap white bread the rest of one's life -- no whole wheat, no multi-grain, no sesame seeds, no sourdough, no rye, no pumpernickel -- just white, doughy, flavorless, nutrition-less fluff -- not a very appetizing prospect. Yet, millions of American beer drinkers stick to light, standard lagers (the "white bread" of the beer world) and miss out on the immense diversity of over 100 world beer styles available today.
A DIVERSE CANVAS
Light, yellow lagers offer hardly any color variation, but the vibrant canvas of today's other beer styles includes amber ales; copper-hued pale ales; orange-tinted, German-style lagers; cloudy, luminescent wheat beers; and black porters and stouts with gorgeous ruby highlights. Barley malts can be dried to a light straw color, caramelized to a brown hue, and even burnt -- producing shades and flavors of chocolate and espresso beans.
Standard American lagers are filtered, heavily pasteurized and carbonated with an excess of artificial carbon dioxide gas. Their white, anemic heads possess very little staying power and dissipate quickly. Compare this to the thick, long-lasting, creamy, luxurious and colorful stands of foam on many craft beers such as Oktoberfests, Belgian-style strong ales, Hefeweizen wheat beers, India pale ales or ebony-colored imperial stouts.
Sniff a light American lager and note the extremely mild notes of rice or corn. There's not much else. But craft beers offer an amazing range of tantalizing aromatics. Wheat beers smell of clove, bubblegum and vanilla; Belgian white ales waft aromas of coriander and orange peel; pale ales send out waves of pine and grapefruit; British-style bitters and brown ales offer bouquets of toffee, flowers and fruit, and Belgian-style ales often impart a huge variety of fruity fragrance nuances. In addition, coffee and chocolate lovers appreciate the dark malt, espresso and cocoa aromas often found in black ales and lagers.
Typically made from one variety of light malt and either corn or rice, American lagers provide very little in terms of malt flavor. In stark contrast, some craft beers contain more than 6-10 types of malt and grain. Sip an English strong ale for a mouthful of caramel and toffee malt notes; experience the toasty, dark bread complexities of a classic German bock; or savor the burnt grain, bitter chocolate character in a dry stout.
THE NOSE KNOWS
In beer, hop flowers provide spicy aromatics and bitterness to balance the sweetness of malt. Anyone attempting to pick up any hop character in a standard lager will face a difficult challenge, but classic Czech pilsners, English ales, and American pale ales, IPAs and Double IPAs showcase pine, citrus, floral, honey, and woody characters of a wide assortment of hops.
Yeasts used in American light lagers carry out fermentation without adding noticeable aromas or flavors. Fruity fermentation compounds produced by hundreds of other yeast strains impart aroma and flavor notes that make many styles of beer intensely enjoyable and complex. For example, the raisin, plum and ripe cherry character of a Belgian double ale arises solely from special yeast during fermentation -- no fruit is used.
Life seems too short to restrict one's self to white bread or light lagers alone. With frequent sampling of new flavors, taste buds possess the remarkable ability to evolve and appreciate new sensations over time. Branch out and experience the diverse, exciting and fascinating world of craft beer.
- Published originally in Athens Magazine.
Y'all Love Craft Beer Stores?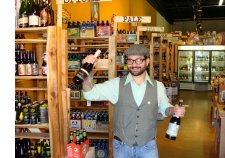 From Owen's current Southern Brew News cover story...
The Southeast forms a flourishing, prosperous frontier in today's explosive growth of craft beer sales and awareness, and the local proliferation of retail stores specializing in craft beer plays a major role in this renaissance.
Rich Carley of the popular Charleston Beer Exchange states, "We love it when a customer comes in for the first time, only drinks U.S. macros, doesn't know what to make of the place, and a few weeks later they're going home with growlers of 11% double IPA! We've done a lot for spreading the love of craft beer in the Southeast and have made growlers a booming and exciting part of craft beer culture in the region."
Only ten years ago, the idea of package stores around the Southeast focusing on craft beer, top quality imports and draft beer "to-go" via "growler" jugs seemed like an impossible fantasy to many beer lovers, but as a love of artisanal beer styles continues to sweep the Southeast, new stores are opening at a record pace. This article serves as a survey of a few of the top craft beer specialty shops in the region.
Grab the current copy of Southern Brew New to read the entire article or subcribe here. Photo: Eddie Holley of Ale Yeah! Craft Beer Market in Decatur, Georgia.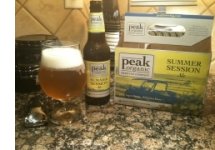 Peak Organic Summer Session Ale
From the guys at Peak Organic in Maine... "A hundred year rain and the predicted end of the world! We all deserve to celebrate with some beers crafted for warm weather and endless smiles. We are proud to welcome back Peak Summer Session - a summer beer for hop lovers. Brewed with local organic wheat and fermented at colder temperatures, Peak Summer Session has a fascinating mouthfeel and a crisp, dry finish. It's single hopped and dry hopped with Amarillo hops, so this beer is loaded with citrusy, grapefruity flavors on the nose and front palate."
Owen Ogletree adds, "This crisp, hoppy, low alcohol beer is a quaffable joy - very reminiscent of citrusy English golden ales served on cask in many pubs in the UK these days. If you love hops, you must try this beer."