Follow our craft beer adventures...
- See BEER TICKERS Film on October 14 at Eagle & Lion Brewpub

Owen Ogletree will host a special, free screening of the extremely enjoyable UK documentary Beer Tickers: Beyond the Ale on Sunday, October 14 at 5 PM at Eagle & Lion brewpub in Griffin, Georgia. Come see the film and learn about the hobby of tasting thousands of different cask ales that's sweeping the UK. Eagle & Lion will be pouring six excellent, English-style casks as well as bottles of the acclaimed Thornbridge Jaipur IPA (featured in the film). Make plans to be with us!

- Busy October for Atlanta Craft Beer Lovers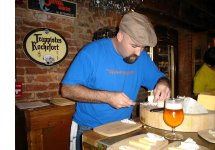 Exceptional events at Brick Store this October include a Hop Harvest Fest on the 13th, rare cellared beers on draft for the start of Atlanta Beer Week on the 19th, the Decatur Day of Atlanta Beer Week on the 22nd, "New Belgium vs. Old Belgium" with New Belgium brewer Peter Bouckaert on the 24th, meet and greet with the brewer of Mother Earth on the 25th with a late night with owners and brewers from Left Hand and Stone that evening, and finally a special Bell's and Sweetgrass Dairy beer and cheese collaboration party on the 27th.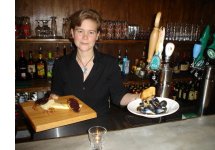 Atlanta's Porter Beer Bar also announces a slew of happenings for October. Sunday, October 21 brings a Belgian brunch with five different Struise beers on draft including four different vintage Pannepots. On October 22 look for five barrel-aged beers from B. United including port-aged Cuvee Angelique. The Mikkeller vs. Evil Twin celebration on October 23 pits six beers from each Danish brother against each other. Peter Bouckaert meets the public on October 24, and a truly epic beer and cheese pairing takes place on October 25 with 14 mouth-watering match-ups.
- Oktoberfest at Kurt's in Atlanta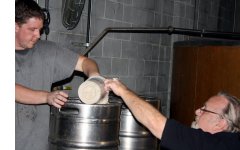 Kurt's German Bistro has teamed up with Atlanta's award-winning Red Brick Brewery to create their own brew especially for the bistro's annual Oktoberfest Celebration with a cask of beer that will be ceremonially tapped on October 3rd around 6 PM. On hand for the tapping will be Southern Brew News' Owen Ogletree, Don "Dr. Brewski" Beistle and styles columnist Larry Johnson.
Kurt says, "This will be a celebration like none other - with Bavarian music by Sherri & Larry, our Oktoberfest menu, lots of beer and other festive promotions!"
- SweetWater Danktoberfest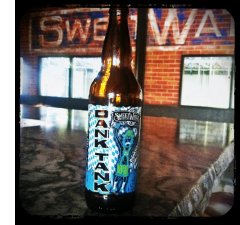 SweetWater's first true lager, a high gravity Oktoberfest-style brew, promises to straighten your schnitzel.
Just in time for a fall release, the boys at SweetWater have created the first true lager style beer to come from the South's second largest craft brewer. Danktoberfest, a high gravity Oktoberfest-style brew, is the latest creative brain-child to come from the brewery's infamous Dank Tank series.
This full-bodied lager delivers a malty taste and bready aroma, packed with zesty hops and big alcohol warmth. Weighing in at a whopping 8.5% ABV, Danktoberfest is brewed with German Pilsner, Munich, Cara Munich, Aromatic and Dark Munich malts and German Perle and Hallertau Mittelfruh hops. Danktoberfest will be packaged in 22-ounce bottles and hit shelves in select locations starting the first week of October. Samples will also be available on draft at SweetWater's tasting room on select tour dates. Fans should act fast and save some for the cellar - Mr. Dankenshnitzel won't last long.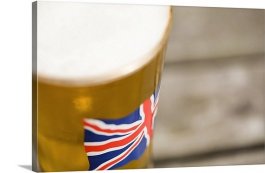 Proud of British Beer is a short film produced by the Society of Independent Brewers (SIBA). It features brewers, both large and small, hop and barley growers, maltsters and industry suppliers. The film highlights what is great about the new surge in craft cask ale in the UK and sheds light on concerns that continued increases in beer taxes are harming this indigenous British industry. Pubs, which are an integral part of the fabric of British society, are closing at the rate of 29 per week, and this cannot be allowed to continue. Click the photo to view the short video.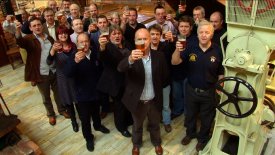 - West Virginia's Bramwell Oktoberfest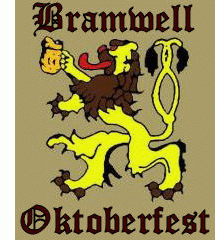 Join Owen Ogletree, The Beer Wench and Larry Johnson (from Southern Brew News) on October 6 at the delightful experience that is the 17th annual Bramwell Oktoberfest. Stroll through the scenic streets of this beautiful old coal millionaire's town, sip regional craft beers and listen to the best Bluegrass tunes from local bands.
Bramwell, the "Home of the Millionaires," is located near Bluefield on the Virginia/West Virginia Border near I-77 south. Tucked beneath Pinnacle Rock State Forest in a horseshoe bend of the Bluestone River, the tiny town is a hidden enclave of Victorian splendor amid the once-mighty Pocahontas coalfields.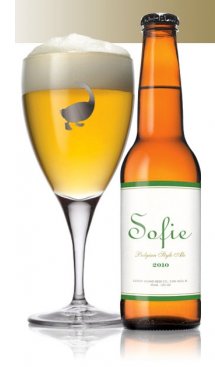 Goose Island Sofie
Belgian-Style Ale
Fermented with wild yeasts and aged in wine barrels with orange peel, Sofie is a tart, dry, sparkling ale. A subtle, spicy white pepper note, a hint of citrus from the orange peel and a creamy vanilla finish make Sofie an intriguing choice for Champagne drinkers and beer drinkers who are fond of Belgian Saisons.
Style: Belgian Style Farmhouse Ale
Alcohol by Volume: 6.5% International Bitterness Units: 25 Color: Champagne
Hops: Amarillo
Malts: Pilsner, Wheat
Head to the Hotoberfest website to snap up some of the last few tickets for this big Atlanta event coming up on October 6 in historic Fourth Ward Park - and be sure to check out the VIP tent that will offer tons of special brews for elite, VIP ticket holders.
- Ticket are going quickly for our next Atlanta Cask Ale Tasting

ATLANTA CASK ALE TASTING (Saturday, January 26, 2013) allows attendees to sample almost 40 rare, cask-conditioned real ales from the USA & UK, take home a free Peak Organic pint glass and vote for "People's Choice" cask - all while experiencing one of the Southeast's most highly regarded craft beer events! Delectable food from 5 Seasons and Taco Mac will also be on sale! A benefit for the Atlanta Humane Society. Click here for tickets and full details.
- Follow Brewtopia Events on Facebook!

CLICK HERE and "like" Brewtopia Events on Facebook to see live photos and posts as we sip, quaff and sniff craft beer around the world.
COMING UP...
Owen and The Beer Wench head to Yorkshire in England to sample real ales from several new start-up breweries.
Hear from us on all the exciting new brewpubs in Vienna, Austria!