Advent ~ Awaiting Love
Advent as defined by the dictionary, is "The coming or arrival, especially of something extremely important; eg the advent of the computer."

In the Christian calendar, it is a season of quiet preparation that anticipates the birth of Divinity incarnate within one human baby, and thence, within all human hearts.

Whatever your faith perspective, mythologically this is an event in human spiritual evolution. We reach a moment, in history or in life, when we follow some guidance that leads us right to a place of trusting vulnerability, and Love itself comes to abide within our tender, newborn hearts. God in us. Emmanuel.

In preparation for Advent in our lives, we can clear a space the best we can to soften and open the heart. For me, a 10-day fast began the month, and I continue with daily morning prayer and yoga before breaking fast. It has made room for a devotional joy that overflows my heart.

In seeking one-pointedness with daily morning prayer time, suddenly many unexpected wealths, joys, and loves, pour into my lap. Why would they not, when Love itself abides with me? Yet, the gifts are not my goal. When they are, when they have been, they melt, like manna in the afternoon sun. Not lovers, family, friends, but Love itself, God within, fills the soul.

Paramahansa Yogananda (1893-1952) taught often about Kutastha Chaitanya, "The projected consciousness of God immanent in all creation. In Christian scripture, the 'only begotten son,' the only pure reflection in creation of God the Father," "perfected within Jesus" and tasted in meditation and prayer, through the various states of Samadhi, union.

Whatever your asana, meditation, or dharma practice may be, I wish you this season the pure nectar of Samadhi, the union that is love Itself resident in your heart. May you taste Advent come to the manger within your heart.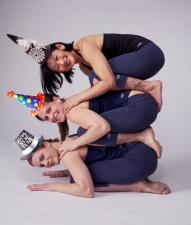 AcroYoga New Year's Eve!
We turn over a new year with inward and outward peace and a pure heart of intention for presence and possibility for the new year, for ourselves and everyone we affect in our lives.

Let's do it together! Chanting, rituals, games, and lots of AcroYoga fun! Celebration with champagne toast and tasty nibbles at midnight. All levels welcome.

Feel free to dress up or down, doll up or not. Feel free to bring your own nibbly and bubbly contributions for the midnight hour. Register online below or by phone, and for the Facebook event page, click here:
https://www.facebook.com/events/128973400591751/

Feb 1-3: Winter Wonderland
To paraphrase Ecclesiastes, there is a time to escape Winter, and there is a time to revel in Wintertime!

Fireplace, hot cocoa, cider, vinyasa flow, restorative yoga, partner thai massage! Cozy mealtimes, morning smoothies before practice! Daily yoga, AcroYoga and Slackline Yoga class, with indoors and outdoors second class options. Winter snow play and hikes in the crisp fresh air, or indoor yoga plus add-on option: massage, henna, astrology readings, anyone?

We limit weekend retreats at the beautiful Wagging Tail Yoga Studio in Bethel, New York, to 10 students, though we stretched it to 11 for the Fall Foliage weekend.

We are nearly full and already anticipating a delicious time together. See webpage for all details and to register. Discount price ends next Friday, December 28. Friends discount of $25 each if two register together.


Essential Oils 101
Mother Nature's pharmaceutical treasure trove lives hidden in the lifeblood of plant essences in our Garden of Eden which Earth miraculously still is, despite our worst. Essential oils purely distilled from plants' lifeblood in Certified Pure Therapeutic Grade products bring these powerful resources into our lives. Among the millions of applications for essential oils, here are a few practical uses at school and work.

Classrooms: Teachers may fill small spray bottles 3/4 full with water, and add 7-10 drops of any of the following.

1) Peppermint: mental acuity, alertness, energy. Use on exam days and to combat sluggishness.
2) Lemon: cleansing, clearing, immunity boosting.
3) Lavender: peaceful, healing.
4) Peace & Calming: Young Living blend for calm.
5) On Guard: doTerra blend refreshes; protects.
6) Thieves: Young Living immune protection.

Some teachers use lemon oil or the Peace and Calming blend to wipe down the desks in the morning and at recess. Mist the room with Peace and Calming or Lavender before the children come back from recess so that they can calm down when they sit down and ease right back to their studies.

Purify by doTerra or Purification by Young Living make superb cleansing disinfecting solutions for the home, the classroom, the yoga studio.

In a study by Dr. William Dember of the University of Cincinnati, a group of students who inhaled peppermint oil before a computer test scored 28% higher than the control group who used no oils.

Similar studies have shown diffusing Lemon essential oil resulting in as much as 54 percent fewer test errors, and as much as 33 percent fewer errors with Jasmine. Many others, as Rosemary, Sage, Cedarwood, have also been shown to clarify the mental faculties.

For headaches, not only proprietary blends but simple oils as Lavender, Clove, and Peppermint, inhaled or placed on temples or back of the neck, have brought relief for many.

And Peppermint is well known for curbing appetite and freshening the breath, super refreshing and useful for anyone needing to ease up on their holiday feasting!

Bonus Tip ~ what single oil can:
(a) boost the immune system,
(b) increase energy,
(c) help with relaxation, and
(d) aid in brain function?

Answer: Lemon oil, among the simplest, least expensive essential oils, when CPTG (Certified Pure Therapeutic Grade), can do all the above, and more.

Restorative Yoga Teacher Training
Ever want to luxuriate in giving or receiving Restorative "Spa" Yoga treatments for yourself and those in your life? Now you can. My highly successful Mother Mary Restorative Teacher Training CEU module returns to Pure Yoga Eastside this winter for a 30-hour, 2-weekend immersion, during which 10 days trainees will receive free membership to Pure East and West in order to take as many Restorative and other Yoga classes as they can.

See the full description and register online or contact: laina.jacobs@pureyoga.com or myself with any questions.


Wintertide Schedule
Delighted as ever to be offering Teacher Trainings, Retreats, Workshops, and Ongoing Classes. My Website always lists my events, and here is a snapshot in addition:

Events:
Dec 31 ~ AcroYoga New Year's Eve!
Feb 1-3 ~ Winter Wonderland Weekend
Feb 16 ~ Valentine Restorative Workshop
Feb 22-Mar 3 ~ Mother Mary Training
May 11 ~ Mother's Day Weekend Restorative

Weekly Classes ~ Pure Yoga
M~Slow Flow Meditate, East
T~Restorative, East
Th~YinYang, West
Th~Vinyasa 1/2, East
F~Chakra Slow Flow, West
F~Restorative, East

Weekly Classes ~ Om Factory
Flight School in Union Square
M~5:30 Acrobatic Flying Basics
M~7:15 Jedi 1 Flying Series: January "Spinners!"

Calm Abiding ~ Meditation
After lo these many years of life's ups and downs, I return time and again to my life's central truth: Everything falls in place when I'm connected to God. Nothing tastes like life when I am not.

Lovelier still, God's radiant face appears to me on every path I walk, by any name, that aims at truth or clarity, peace or love. I am reassured that God awaits patiently, munificently, in every temple, every chamber of the heart where you or I might seek to encounter Light and Love.

Morning prayer and meditation before yoga have brought me such joy, energy, and centeredness to my day. It need take no more than five or ten minutes, it may be lengthy when leisure allows. I include in this Advent issue three simple links for three classic paths for devotional prayer and meditation, from traditions East and West.

First, Shamatha or Calm Abiding Buddhist meditation. This is one I was first introduced to in Jason Brown's Zenyasa classes, and thence, Thic Nat Hahn's writings.

One of my favorite authors, Tara Brach, writes wisely from a western psychologist and Buddhist meditation teacher's perspective. Her book "Radical Acceptance" holds a permanent place of honor on my shelves.

Contemplative ~ Centering Prayer
Contemplative prayer, also known as Centering prayer, is the ancient Christian meditation tradition of the desert fathers, regaining popularity today. Like Eastern meditation, it is the practice of simply Being Still in the Presence of God. I say simply, but as meditators well know, it is not so simple to do, which is why communities offer such great inspiration and support.

Daily Devotionals
Morning prayer and sacred readings center me in 5 minutes. I prefer my little paper devotional to the many online versions.

Credits; Reply; Forward; Privacy
Thanks to the organizations whose photos I've used for their products. Thanks for the title pic by Mario Covic, to Ocean Defender Hawaii, and Back to Earth Artworks collections for nature photos, and to Megan Jolly for this flying pic.

Your email privacy is sacred to me; I do not share email lists. Please feel free to Reply or Forward, Unsubscribe, or to Subscribe if you received this via a Share.

Peace! Namaste ~ A sparkling 2013 to you!
Mary


A Yogi's Christmas
"To meditate and prepare your mind for the holy occasion of Christmas, that you may experience within yourself the birth of a new consciousness of universal brotherhood and love for all living creatures, is to really celebrate Christmas."
~ Paramahansa Yogananda

SRF Christmas Letter
~ "We are suffused with the faith that we, too, can live in the consciousness in which Christ lived - fearlessly, joyously - not ruled by circumstances or the ego's infatuation with delusive desires and attachments. To anchor our lives in selfless love and truth is to awaken awareness of our eternal connection with Spirit even while living in this world."
~ 2013, Sri Mrinalini Mata, Self-Realization Fellowship, CA

NY Yoga Passbook
I work for two fabulous studios with a myriad of fantastic yoga styles, but I do advocate still, for those who seek yoga adventures, this $75 value of 425+ free passes to yoga, dance and Pilates mat over a calendar year. Gift idea.

Garden State Yogi Book
Yoga gift idea #2: this charming and accessible dude-book-on yoga is a personal memoir of a New Jersey college boy who stumbled willy-nilly into yoga and cured himself of colitis, against unlikely odds of doctors' prognoses.

Master Cleanser: 101 Book
No question that doing the 10-day Master Cleanse during Advent enhanced the lightness and brightness of my meditations and practice. No question, too, the Cleanses in my fourth year are more pleasurable and transformative each time. The focus, energy, clarity in joints, muscles, skin and vision, come without discomfort, including no menstrual cramps in any month that I have done the Cleanse.

In encouraging a student just beginning the Cleanse, I found this guidebook for him and read it before wrapping it. I heartily suggest it for anyone starting the Cleanse, in addition to Stanley Burroughs' book "The Master Cleanser."

Valentine Restorative
February 16, come and give yourself the Valentine of me and my loving restorative team pampering you on restorative props and re-aligning your loving chakras through mantra, yantra, scent, music, and guided meditation.

Pre-register to ensure a spot; anticipate my aromatherapy gift party favors for every guest!

Mother's Day Restorative
Saturday May 11: welcome, fathers, daughters, sons, too! All who need some tender loving care, come refill your cup! Specially selected aromatherapy gifts for all registered guests.

Privates Packages: Pure
Pure Yoga offers several holiday packages through January 1st, including 3-pack privates for $360, limit to two per customer, open to members and non-members.

I do not have openings for new private yoga clients, but I do take private restorative and Thai sessions, as schedule permits. If privates at your home or mine are preferable, you may arrange these with me directly as well, as time allows.

2013 YogaSlacker Women
12 months of the Ladies of Yogaslackers, of whom I am one, engaged with nature in the au naturel, geared to encourage and inspire girls and women of all ages to rejoice in healthful beautiful power.

All proceeds go toward creation of the first ever all-girls slackline festival in summer 2013.