Power & Love: In Balance
I remember a T-Shirt I loved as a girl that said Strong and Gentle. A boy I admired wore it: I felt he held both qualities in equal balance. I remember the sweetness and strength of my dad's arms, carrying a sleeping child to bed. I remember my parents' murmured voices sealing the day as their children, in safety, slipped into sleep.

Power has always held greatest strength underpinned with softness and grace. Martin Luther King and Mahatma Gandhi illustrated this in our own time.

This February, I muse on the marriage of Chakras 3 and 4 ~ power & love ~ manipura sustaining anahata; the fire upholding the air; the gold illuminating the emerald light.

In early February, thanks to a minor knee surgery, for several days I experience a reverse retreat regimen. Instead of Ashtanga practice before breaking fast and then a full teaching day on the run, I awaken my body with a hot nourishing meal, and then rehabilitate it slowly, carefully, interspersed with rest, through the day. Each step and every knee bend is taken with conscious intent and celebrated like a toddler's successful first steps.

It is a restorative retreat regimen I'm living in, lo, 17 years into my practice, and after 10 of years teaching yoga full-time, including restorative teaching and training! This deliberate nourishing and love of a recovering, healing regimen exemplifies the fire beneath the heart, the rest that restores the fuel. It is still austerity, discipline, the third niyama, "tapas" which means "to burn": it is a concentrated effort of redirecting focus into nurturing and strengthening.

I invite any of you on a restorative or recovery journey to rejoice in that great tapas, that fiery discipline that yields love and self-acceptance. Use the "bija," seed sound for fire chakra: "Ram" (pronounced Rum) to fan your solar fuel. Follow with the loving heart chakra bija: "Yam" (pronounced Yum) to open to the gift the grace of healing.

Restorative Valentine Workshop
Just in time to receive my rehabilitated knee back into service, come enjoy my two hour Valentine Restorative this Saturday, February 16, from 4:30-6:30 at Pure East.

With luscious oils to balance each chakra, hands-on nurture from me and my loving assistant team, healing meditations and mantras, and a special gift for this event for each student.

Open to all ages and all levels, yogis and non-yogis. Can be a great introduction to yoga. Can also be a great reward for you hardworking yogis that don't relax enough, or don't treat yourself to massage often enough. Savasana, Meditation, Rest, Thai yoga massage inspired touch ... Mmm, Salon bliss in a yoga studio. Happy Valentine from Mama Mary.

Restorative Teacher Training
Deepen your own restorative practice; blend restorative poses into your own practice; blend it in your private sessions or in group classes in gyms or studios; give a full-on Restorative retreat or workshop. Whatever your goals, explore the tools and your own gifts that allow you to channel the maximum healing potential within this powerful practice.

This two-weekend, gentle training gives you the restorative experience first, then guides you into being able to offer it to others. At Pure East; all props provided, training includes free membership to Pure East and West during the ten days of the training, to allow you to attend Restorative and any other classes as your schedule permits.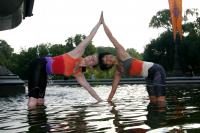 Classes, Workshops, Jams
Regular classes resume, after 5 days' rest from a knee fix. In addition to Pure Yoga and Om Factory classes, I list workshops below, and linked at sidebar bottom right.

SLACKLINE SERIES ~ Brooklyn Boulders:
Sundays ~ Feb 17, March 10, May 5

RESTORATIVE BLISSFESTS ~ Pure East:
VALENTINE'S 2/1; MOTHER'S DAY 5/11

Om Factory Flight School AcroYoga:
WINTER JAMS ~ Sat Feb 23, March 9, 23
MONDAY Acrobatic Flying Basics 5:30
MONDAY Acrobatic Flying Jedi 1 Flows 7:15

PURE YOGA New York:
*Varying Membership & Day Pass Options
M-Slow Flow Meditation 10:30 East
T-Restorative 12:30 East
Th-YinYang 11:00 West
Th-Vinyasa 5:30 East
F-Chakra Slow Flow 10:30 West
F-Restorative 5:30 East

Privacy
As always, I respect your privacy and do not share email lists. You may Reply, Forward, or Unsubscribe at any time.

Forward; Reply; Subscribe
If you received this via Forward, you may Subscribe to get it directly each month, and of course you can Unsubscribe any time! This is one way I feel a heart connect with students, fellow teachers, family and friends near and far, on the yogic path whether it is on a yoga mat or a mountainside or a commuter train....

Om shanti, peace, may your hearts be on fire this month, an at peace too.

OMmmmary


Still Small Voice
"And, behold, the Lord passed by, and a great and strong wind rent the mountains, and brake in pieces the rocks before the Lord; but the Lord was not in the wind: and after the wind an earthquake; but the Lord was not in the earthquake: And after the earthquake a fire; but the Lord was not in the fire: and after the fire a still small voice."
~ 1 Kings 19:11-12, KJV

Power in softness always spoke to us throughout history, whenever we stilled ourselves to listen. Restorative and meditation practice are sometimes just the hexagonal STOP sign we need to pause, sit still, or lie still, and listen for the small voice that comes after the wind, the earthquake, and the fire.

Hearts On Fire
"And he said unto me, My grace is sufficient for thee: for my strength is made perfect in weakness."
~ 2 Corinthians 12:9, KJV

"In the same way, the Spirit helps us in our weakness. We do not know what we ought to pray for, but the Spirit himself intercedes for us with groans that words cannot express."
~ Romans 8:26, NIV

Softness, openness, willingness to receive, held tenderly over the candle flame of ardent desire ~ my February recipe for opening both your fire and heart chakra unto the divine winds. Try it. Be prepared to receive.

Slackline ~ Surprise!
I was surprised - at how much I disliked the slackline, the first time I touched it. How impossible! How undignified and ridiculous. The line felt out of control and humiliating!

That was three or four years ago. When I tried it last year with a different perspective, it was an exciting, and therefore accessible, challenge. Where might that apply in our lives?

Where might I need more stillness, center, focus in my life? Might something as simple as a slackline help me to center, the way that a yoga mat clears my soul for me? Hmm...

Might you be surprised at yourself? Would you like to be? Will you believe me, that you will surprise yourself? Come and see.

Spring Weekend Retreat!
Winter Wonderland ~ Power In Balance Weekend was just as magical as our Fall Foliage retreat at Wagging Tail Yoga Studios in the Catskills!

It is always spectacular to see folks' eyes light up as they rediscover their inner playful child. Something about a nature escape, and the fun exploration of balance and Yoga, sparks up hearts in my peeps!

Here is Margaret. See also Ora, Flavia, Becky, Pamela, Beverly, Karen, in album on linked page.

Details TBA, but you may save the dates May 17-19 for my spring retreat! All levels; so you can dabble, or specialize ~ Yoga, AcroYoga, Slackline, Relaxation!... Spaces limited!

Photo Thanks & Credits
Lots of photo thanks this issue to my iPhone5! Photo models: Chris Martucci, Ora Ramat, Zach Pierhoples, Margaret Chan, 2012 Restorative TT's, Wagging Tail Yoga Studio, Rincon sunset with Lesley, Kim & Chris, restorative bride-to-be-Maria.

Thanks to photographers, including Maria's mom, myself, Chris Martucci, Amanda Nash, Anita Vasan, Shelley Rotner.