In Praise of Fuzzy Slippers
This March, as late winter clamps its tenacious jaws on the Northeast, I find so many bedraggled New Yorkers on their bolsters in my Restorative and Yin classes, hungry in body and soul for something they instinctively want in a quieting, grounding practice. We soothe their senses, calm their breath and body, guide them to the green pastures and still waters of their own souls. Yes, we use Yoga to restore their souls.

On this my first full day off in months, I sing praise to fuzzy robe and slipper days: sleep-in, plan-nothing, go-nowhere days! They are an essential part to our finding balance in our lives. They are restorative poses for our calendar; they are like journaling or meditation for our week.

And yet, I'm the first to admit I perversely manage to schedule them away. Sometimes it feels like I need a complete grounding, like my meniscus knee surgery last month, to recognize how precious - and rare - the rest days are! Perhaps that's what our winter storms have been too; a communal "stay put, rest" day call for so many of us.

Here's to honoring our fuzzy slipper days, without waiting for weather or health to remind us. And may we all this Passover/Easter find some sweet spring pastures in which to restore our souls!

May 17-19 Retreat
One way I restore my balance is seasonal weekend retreats to the countryside, on a 100-acre estate of grass & field, woods & garden, sweet house with fireplace, outdoor firepit, slackline tree park, and a gorgeous, fully equipped yoga studio to play in all weekend. My teaching team plus a dozen yogis of all different experience levels, come to explore the theme of balance in our lives, and our bodies. To support the exploration we offer 8-10 class options between Friday evening to Sunday morning, including: Restorative, AcroYoga, Vinyasa, Slackline, Meditation, and Thai Yoga. The Spring Retreat includes a nature walk/herb talk led by Chuck Ramat.

Early bird prices until April 15. There is a Friends discount for two signing up together. See details and online registration options at link below. Come taste Nature in the Catskills with me this Spring! Let us restore....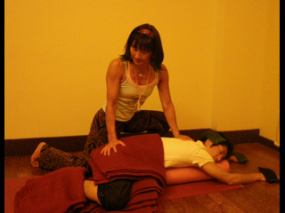 May 11 Restorative
Mother's Day is May 12th. On Saturday, May 11th, come celebrate Mother Nature's resplendent generosity: treat yourself to a delicious restorative chakra balancing with me and my team of lovingly trained assistants. Let us nurture you, with systematically chosen scents, music and mantra, my guided meditations, and Thai yoga inspired touch.

This event's special gift is dōTerra® Oils' Wild Orange (Citrus Sinensis), suitable for Aromatic, Topical, and Internal use. An info card comes with each gift. Here is an excerpt from the Primary Uses ~

Wild Orange is used for: "Anxiety; Colds; Digestion; Energy; Fear; Insomnia; Menopause; Slimming/Toning; Uplifting; Water Purification; Withdrawal."

Is there someone you wish to give a Mother Mary spa yoga experience to? Sign them up! ... Space limited.

May 5 Slackline
For those who wonder why anyone would care to walk or stand or kneel or sit or arm balance on a 1" webbing ~ I'm totally with you! The first time I tried it, I fell off so ignominiously, I gave it a wide berth for 3 years, assiduously avoiding all offers to try it at festivals and retreats where it was available.

Then I felt interest again, at an advanced partner acrobatic training, when a flyer mentioned that using her focus and core and breath on the line helped her to find balance in partner acrobatics.

I am now, since last June, one of 59 certified YogaSlacker teachers worldwide. And indeed, the practice, as I now know, though I am still a beginning practitioner, helps you to refine balance in EVERY aspect of your life: be it climbing, surfing, dancing, or that endless juggle of work and family, relationships and spiritual seeking.

Try it with a certified YogaSlacker and see for yourself! I share a monthly Sunday Slackline Series with Adi Carter, my teacher, at Brooklyn Boulders. See the Facebook Event page for monthly Sunday schedule! Next one with Adi is April 28; with me May 5. See you on the line!

Spring Schedule
For links to the studios and events, see sidebar bottom Links. My website Home page will always be updated for schedule, as well.

Workshops/Retreats:
May 5 ~Slackline BKB
May 11 ~Restorative Love
May 17-19 ~Power In Balance Weekend

Yoga Classes at Pure Yoga:
Eastside ~
M-10:30-12 Meditation Slow Flow
T-12:30-1:30 Restorative
Th-5:30-6:30 Vinyasa Level 1/2
F-5:30-6:30 Restorative
Westside ~
Th-11-12:30 YinYang
F-10:30-12 Chakra Slow Flow

AcroYoga at Om Factory Flight School, Union Square:
M-5:30-7 Acrobatic Flying Basics
M-7:15-8:45 Jedi 1 Flying Series: April ~ Great Wall Flows

Thai/Restorative Semi's & Privates
While I have a full roster of yoga clients for some years now, I love having ad hoc Thai and Restorative sessions and they are a great treat for yourself and/or a friend, as my schedule permits.

Restorative may be a private or a semi-private duo, in your home or mine. Thai is a private and again, at your home or mine. Reach out for rates and to schedule; Pure members may choose to have sessions onsite at East or West as my schedule permits.

See the pertinent tab on my webpages for more information on either modality; you're likely to have tasted both, however, if you've been visiting my classes!

Physiatrists & PTs
In my Yoga practice, all is healing, especially more and more so with experience and practice. Yoga is thus a great complement for my acrobatic and outdoor adventures, which push the edges of risk and which each have their occupational hazards.

Each time I exercise a judgment call that occasions an injury, I reap rich new rewards in healing knowledge, often from physical therapists, sports therapists, and my newest acquaintance, the physiatrist (Physical Medicine & Rehabilitation, or PM&R).

At sidebar left below I list a few practitioners and facilities that I have found helpful over the years; a very personal list and by no means comprehensive. This link here is for the Facebook page of NY Rehabilitation and Wellness, my Physiatrist's office. Do check for insurance coverage at each facility; they vary as to whether they are in networks or not, which insurance covers them or not.

Faith & Vision; Free Lululemon Vinyasa
This morning, despite the nippy 30's Fahrenheit temperatures, Lululemon Eastside at 85th Street and Madison packed in a sweaty, blissfully game crowd of yogis & yoginis joining me in their Sun(day) Salutations 9:30 free Vinyasa series this month with Pure Yoga Eastside.

We chanted to Lakshmi, manifester of creativity and abundance, and invoked with her the spirit of Demeter and Ceres, those Greek and Roman goddesses who also personified abundance fecundity. And we chose to manifest through our dedicated practice whatever vision we chose to create into being with Spring's flowering.

I invite you to do that on your mat, this spring. I offer three messages to nourish your seeds of intention:

"Purity is the alignment of energy. Doesn't matter what anybody else thinks about anything. It only matters what you think about it."
― Abraham (Esther Hicks)

"Now faith is being sure of what we hope for, being convinced of what we do not see."
― Hebrews 11:1

"One sees clearly only with the heart. Anything essential is invisible to the eyes." (On ne voit bien qu'avec le cœur. L'essentiel est invisible pour les yeux.)
― Antoine de Saint-Exupéry, The Little Prince

Photo Thanks
Thanks this issue for pics from: Grace Yoga, Keoni Movement Arts, Back To Earth Artworks, Amanda Nash, Andrew Eisner; and to my many friends that appear in the photos, at Wagging Tail Yoga, at Brooklyn Boulders, in Central Park, in Rincon Puerto Rico and at Pure Yoga. Also especially thanks to Chris Martucci, Hiroki Tada, Linda Mittel, & Jake Brenner for appearing in the photos.

Privacy; Reply; Forward
Your email privacy is sacrosanct with me; I do not share email lists. You may Reply or Forward or Share at any time; you may Unsubscribe or Subscribe at any time!

May all abundance manifest in thee and for thee and from thee, this Spring & in every spring of every day of thy life! So bless the good maha Mother all that you may wish to create.

Om Shanti ~ mighty peace to you!
Mary

Animal Love ~ Karma Clicks
Flora, who gave me one of the sweetest teaching compliments I've encountered ~ "I'm a better person because of your classes" ~ shares with me a "daily click for karma" link that I'd featured in the past and forgotten about.

It takes a second to do a daily click on this website, which prompts a donation from a corporate sponsor to The Animal Rescue Site.

You can click once per day to donate, to this and eight other charities that you may choose to click for, listed in the top menu bar, including The Hunger Site, The Literacy Site, Breast Cancer Site, and more.

Thanks Flora!

Thailand Calls... June Grace Yoga Thai Bliss Retreat
My love for AcroYoga and YogaSlackers is at least 80% about my admiration for my esteemed colleagues who lead these practices and whose lives and art take Yoga to a level of, well, Grace, that reminds me of how joyous our options really are.

Melissa Smith, founder of Grace Yoga, is one of these yogini, and her June 10-16 Thailand retreat may be calling you ... or not. I've been invited to be a resident Thai practitioner, which would fulfill a long held desire to visit Thailand. I've declined thus far because I do not have that airfare in my travel budget. If 6 referrals from me sign up, however, Grace Yoga will cover enough of my airfare, that I would pick up and go! And I would be giving 3 Thai sessions/day for the 4 days we are at Om Waters.

Since there is no way of knowing if I would or would not be going, if you do sign up, please do so because it truly calls to you! And please give my name as your referral. Take a look! And maybe it is just a seed planted for a future trip!

Keoni Movement Arts: Yo-Dan-Nastics; & Special Students Classes
My longtime actor and yogi friend Paul Keoni Chun inspires me with his ability to follow his vision passionately, epitomizing the quote I love from Frederick Buechner:

"Vocation is the place where our deep gladness meets the world's deep need."

His non-profit organization Keoni Movement Arts offers weekly Friday "Yo-Dan-Nastics" classes fusing his three lineages of yoga, dance, gymnastics, and he offers them "dana" ie by donation.

KMA also runs 12-week Friday eve series of movement arts classes for special needs students, taught by Keoni and his team of volunteer students. See link for info on these and more.

My Sports Therapist MD
New York Bone and Joint Specialists on East 64th Street have a full MD and PT staff, that can refer you to their radiologists, neurologists, physiatrists, physical therapists... often on the same visit.

Dr. Leon Popovitz is friendly, cheerful, positive, knowledgeable, and took care of my meniscus arthroscopic surgery with such grace and ease I dare to call the whole experience a pleasure.

Hence, the knee smile! The dimples are the two surgical incisions; the bandage is just for show!

My Physiatrist MD
Dr. Jason Fritzhand is a physiatrist, a term new to me ~ I include in Links the official definition page for PM&R. Here, an excerpt:

"Physiatrists, or rehabilitation physicians, are nerve, muscle, and bone experts who treat injuries or illnesses that affect how you move....

"Rehabilitation physicians are medical doctors who have completed training in the medical specialty of physical medicine and rehabilitation (PM&R)."

"Specifically, rehabilitation physicians:
* Diagnose and treat pain
* Restore maximum function lost through injury, illness or disabling conditions
* Treat the whole person, not just the problem area
* Lead a team of medical professionals
* Provide non-surgical treatments
* Explain your medical problems and treatment/prevention plan."

More info on PM&R's are at the first of the LINKS section.

STAR Phys Therapy
Bright, upbeat, and fully comprehensive, this PT facility in midtown has plenty of space and stations and PTs to take care of all your needs; I found them extremely helpful, and in my insurance network! A doctor's PT prescription will be needed.

Recovery Phys Therapy
With 8 Manhattan locations, and 3 in Glendale NY, Larchmont NY, and Millburn NJ, Recovery is an extremely personable, friendly team with over two decades' experience, headed by director Gerald (Jerry) Desmond.

The entire team's dedication and attention to individual patients is exemplary. Those who enjoy a personal touch to their care will especially respond to the close-knit unified family vibe that this team of professionals conveys.