The M R Gardens Plant Wagon will be open at the Onteora Blvd. property near the corner of Floyd Drive from 10 a.m. to 2 p.m. on:
Saturday, May 4,
Saturday, May 11 &
Saturday, May 18 (if supplies last)
For specific directions, call Megan at 828.333.4151.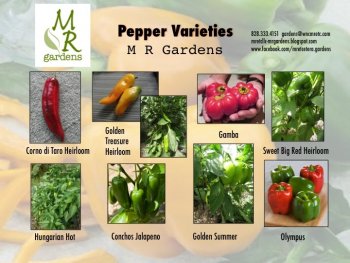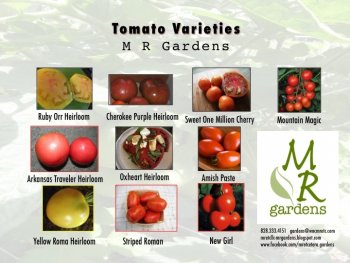 M R Gardens will also set up at the Oakley Farmers Market from 3:30 p.m. to 6:30 p.m on:
Thursday, May 9 & Thursday, May 16.
See the market website for directions.
Please check this page the day of the sales as plans may change according to the weather and plant availability.
A plant's first week in the ground
Thanks to those who took advantage of the Pre-season Prep service! Your participation in this service helps me achieve my goals of sustainability as I know all my plants will have homes if you tell me what you want before the start of the season. If I haven't already contacted you about the pick-up time, you'll be hearing from me soon.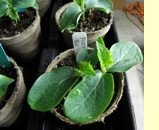 Here are some tips for their first week in the ground:
The plants are used to some wind, cold and direct sunlight, as I harden them off over a period of one to three weeks. That said, it's always good to continue to ease them into their new environment—the bare ground can be a little jolting. I suggest placing a row cover or clear plastic container with holes in it over the crops for the first week. You'll be able to tell when the plants have rooted because they perk up and show signs of new growth.
I also recommend putting a little mulch around the crops to retain moisture and cool the hot ground. My favorite mulch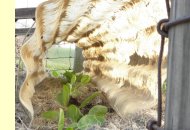 for newly planted vegetables is grass clippings. They break down quickly so that more nutrients are available for the plants, and they're not likely to host slugs like leaves might. A fertilization of seaweed plant food and fish emulsion will ensure they are getting the appropriate amount of phosphorous and enzymes for proper root growth.
Above all, make sure you water the plants daily until they have settled into their new home. One of my farmer-teachers used to say "Water the soil, not the plant." In other words, a quick splash won't do. I typically water until small puddles start to form, a sure sign that the ground is saturated. (And if you have good tilth, you'll notice the puddle will disappear in a few minutes). Good luck!
Contact me before mid-June for direct sew tutorial
A reminder: from now until June 14, I've dropped the low end of my sliding scale to $12 an hour for customers seeking tutorials on direct seeding. Some seeds may be included in the price depending on which crops you request.
I can best assess the tilth of your soil (i.e the structure) and give tips for improvement by meeting with you in person at your garden. You also have the option of a seeding lesson on-site at M R Gardens. It's much easier to achieve good tilth if you know what it looks like in established gardens now in their fifth year.
For summer crops such as squash, cucumbers, melons,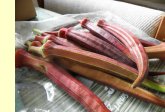 beans, okra, sweet corn and popcorn, we can make an appointment to seed between May 13 and June 14. Please contact me at 828.333.4151 or gardens@wncmretc.com.
Read more about my special on my website. I also weigh the pros and cons of direct seeding, from a plant health perspective and from a sustainability perspective, in this article.
Studies confirm therapeutic value of gardening
As I write, I can hear the laughter of a neighbor boy, on a break from grade school, as he helps his mother spread mulch in their garden. He's so proud of himself that he waves to whoever can see him on top of the great big mulch pile in his family's truck. His mom laughs with him as she calls out instructions.
Their laughter reminds me of an encouraging conversation I had the other day with new clients of my edible landscape design services. They told me how much better they feel when they are gardening, and that scientific studies had confirmed gardening's therapeutic value, as serotonin levels increase the more our hands are in the soil.
Our conversation prompted me to re-read some past articles that ran in the last few years about the benefits of bacteria in the soil. (See Discover, July 2007, and Horticulture magazine, January 2011). A 2007 neuroscientists' study showed an increase of serotonin when mice are exposed to Mycobacterium vaccae. These bacteria are found in the soil, particularly in cow dung. Serotonin of course lifts moods and helps with memory function, as well as plays a role in appetite regulation, sleep and other functions vital to a healthy life. The neuroscientists' study displays why cancer patients injected with M. vaccae report a better quality of life.
An April 2013 article in Mother Nature Network expounds on this concept by explaining how gardening strengthens the immune system and decreases the onslaught of allergies. Not only does gardening encourage a healthy balance of probiotics in the soil and in our stomach, but it also increases exposure to sunlight and the production of Vitamin D. Touching the earth is also said to reduce inflammation as negatively charged electrons flow through the body, neutralizing free radicals.
Studies also show that other common bacteria, staphylococcal, decreases inflammation when on the skin's surface, as reported in the United Kingdom's Telegraph. It's nice to see that mainstream news sites are covering the benefits of bacteria in the soil: The Washington Post (2010) and the Atlantic (2012) ran articles about the M. vaccae studies.
In my home office, laughter continues to waft through the window from the outdoors. Gardening is good for our health on all sorts of levels—and I'm glad science is confirming why many of us are drawn to the soil.
Contact Megan at M R Gardens
Earn a free plant for every one of your referrals who purchase a plant from M R Gardens. Just tell your friend to let Megan know they heard about M R Gardens from you!
Click here to read about my diverse background in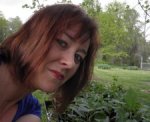 horticulture, sustainable agriculture and experiential education.
M R Gardens business values
Health
Community
Traditions
Sustainable Systems

Remember to bring used pots when picking up plants
I will gladly reuse your trays, 4-cell containers, and 3-in., 4-in. and 5-in. pots.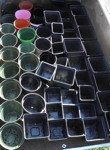 Please be sure to wash them with dishwashing soap thoroughly before you give them to me. This pre-wash decreases time spent sanitizing the containers and ensures that plant disease does not spread to my nursery. I greatly appreciate you helping to keep down labor costs associated with washing pots so that I can continue to offer a sliding scale. Contact me at gardens@wncmretc.com to let me know what sizes of pots you have.