Be Here Now
Watching late spring arrive in town, pink-white cherry petals wafting like snow, I'm struck by a line from Thornton Wilder's "Our Town" which I recently saw the seniors perform at my son's high school, LaGuardia Arts.

"Do any human beings ever realize life while they live it?—every, every minute?" asks young Emily's ghost as she revisits a day in her life, and weeps for the beauty of the ordinary moments, and out incapacity to appreciate each glorious, simple, moment, while we are living it.

Neuro-scientist Dr. Jill Bolte Taylor writes about the left-brain stroke at age 37 that temporarily rendered her unable to talk, write, read, or recall her life; nor could she feel fear, or critically judge. With just her right brain feeding live sensory perceptions of each present moment:

"I was not capable of deliberating about past or future-related ideas because those cells were incapacitated. All I could perceive was right now, and it was beautiful." Mind free from inner chatter, she entered "a feeling of deep inner peace, a bliss state free of 37 years of emotional baggage. I think the Buddhists would say I entered the mode of existence they call nirvana."

Dr. Taylor now conducts fascinating brain research on "stepping to the right": techniques to enhance our right-brain access to that non-judgmental peace. And yes, no surprise, yoga and meditation top the list.

We all have, at some time or another, experienced fleeting transcendental flashes of "here now, merely now," perhaps in the presence of nature or beauty or a spiritual awakening. I wish for you this Spring the growing capacity to drop into them more frequently, and to carry their memory into daily interactions, particularly the mundane everyday ones. Perhaps we CAN realize "every, every minute" the preciousness of life while we live it. I wish you enjoyment of increasing those moments of being here and now.

Mother's Day: May 11 Restorative
It's fast coming up, Mother's Day! And I'm a mommy inviting all of you to come to me the day before Mother's Day, and take a two-hour rejuvenating retreat from the world to just receive, and refresh your body and soul.

Recline in restorative yoga postures designed to rebalance your seven chakras. Sink deeper with nurturing Thai-massage inspired touch from me and my team of lovingly trained assistants. Inhale the healing powers of our essential oil sequences, and receive a gift oil with its full details included.

Held at the beautiful Pure Yoga Studio Eastside, Saturday May 11, from 3-5PM. Welcome to members and non-members alike. All levels: no yoga experience needed. Click link for address, rates, & to pre-register for a space. Great gift for a friend or a loved one ... including your own precious self!

AcroYoga Immersions
Here in the AcroYoga corner, I'm delighted to announce I will be assisting three AcroYoga Immersions before 2013 is out: one of each of the formats, Elemental, Solar, and Lunar.

Each Immersion is a five-day deep delving into skills, techniques, and refinement of that aspect of the practice, with a select group of dedicated students and a strong team of Level 2 trained AcroYoga teachers. It is recommended to take them in order of Elemental, Lunar, and Solar. The requirements and registration for each are available on the web pages at www.acroyoga.org.

The three Immersions I am assisting are below right at sidebar with links. They are:

*Solar in NYC 8/31-9/4 led by Chris Loebsack & Matt Giordano;

*Lunar in Lambertville, NJ 11/22-24 and 11/29-12/1 led by Chris Loebsack & Justin Caruso;

*Elemental in Salt Lake City, UT 9/27-10/2 led by Chris Loebsack.


Restorative Teacher Training Level 1
I will be offering one weekend Mother Mary Restorative Teacher Training: Level 1 at Om Factory, October 25-27, from Friday night to Sunday afternoon.

This module will provide Continuing Education Credits for Yoga Alliance certified teachers; more importantly it prepares you to confidently offer Restorative poses as: stand-alone classes, private sessions, integrated into a flow class, or even just for personal practice or to augment a personal training or other wellness regimen.

More information on timelines and tuitions will be forthcoming in May on my website and on Om Factory's site. A unique feature of this training will be a Fly & Thai portion that will be optional for trainees, with pro-rated pricing for the Fly & Thai track.

Please feel free to reach out to me for past Mother Mary TT graduates' names and contact info for references.

Classes
In addition to the special workshops, immersions, retreats and teacher trainings listed solo, here are my ongoing weekly classes:

Pure Yoga East & West:
M~Slow Flow Meditation 10:30 East
T~Restorative 12:30 East
Th~YinYang 11:00 West
Th~Vinyasa 5:30 East
F~Chakra Slow Flow 10:30 West
F~Restorative 5:30 East

Om Factory Flight School in May:
Mon~ 5:30 AcroYoga Acrobatic Basics
Mon~ 7:15 Jedi 1 Series: Buddha Flows
Privacy; Reply; Forward
I value your privacy and I do not share email addresses. These monthly ENews are my continuous outreach so the yoga flow never ends, between me, and students, fellow teachers, family and friends.

Please feel free to Forward, Reply, or Unsubscribe at any time. Also feel free to Subscribe, if you received this from a Forward.



Photograph Credits & Thanks
Thanks this issue for photos to:

Megan Jolly for studio flying pics, Hiroki Tada for restorative pics; Chris Martucci for retreat & cover photo; www.wari.cat for above 3 photos with my friends Geri, Lesley, & Sam.

Thanks also to other photo models: Chris M; Chris L, Greg, Deven; Ralph & Megumi; & Fall Foliage retreat students! I love you all!

And to my blooming spring in New York City!!!


Rabbinic Wisdom...
"If I am not for myself, then who will be for me?

And if I am only for myself, then what am I?

And if not now, when?"

~ Rabbi Hillel (Thanks Flora!)

Slackline Class May 5
Ever been curious about the slackline? Come, give it a try! It could be the most fun play you have all year! Strengthening, core toning, and incredibly focusing, the art of slackline balance is distilled through the YogaSlacker's time-tested Slackline Series as taught by one of their 59 certified teachers worldwide - moi!

Sunday 3-5Pm, May 5, at Brooklyn Boulders. Pre-register online for discount & to ensure a place; class limit is 10.
Spring Retreat: Sold Out
Sizzling Spring: Power In Balance Retreat, held in Bethel, NY upstate in the town of the original Woodstock Festival, at gorgeous Wagging Tail Yoga Studio owned by my yoga teacher friend Ora Ramat, is sold out for June 7-9; one spot for a male may remain open, and Early Bird date is May 15.

In case of an opening, you may contact me for waitlist details or to be on information list if we create another weekend in a future season.

Click below for Event listing; or go directly to my webpage www.maryaranas.com and choose "Spring Retreat"

July 13: AcroYoga 101
At Om Factory, the New York City home for AcroYoga the past seven years, we host eight AcroYoga classes a week, of all levels and styles within this sweet practice that: incorporates the wisdom of Yoga, the dynamics of Acrobatics, the loving-kindness of Thai Massage.

I encourage you to check the constantly updated online schedule for the classes appropriate to your experience. In addition, students in their first year of practice are encouraged to attend one of our monthly offerings of AcroYoga 101; I will teach one on Saturday July 13 from 6-8pm, but you can find one before then too!

AcroYoga Solar Immersion, NYC
Join Chris Loebsack and Matt Giordano in 5 days of dynamic acrobatic AcroYoga Immersion; assistants are Josh and Lizzy from DC ... and me! Right here in sunny Manhattan! Rock it East Coast!

AcroYoga Elemental Immersion, UT
Salt Lake City! Utah in September ... 5-day Elemental AcroYoga Immersion that combines both the solar & lunar elements of this joyful & deep practice! Join us!

AcroYoga Lunar Immersion, NJ
Lambertville, NJ hosts the 5-day Lunar Immersion (Thai & Therapeutics) over TWO separate weekends:

November 22-24 and November 29-December 1, led by Chris Loebsack and Justin Caruso!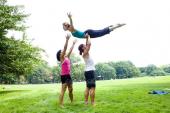 Om Shanti ... until May!
Happy Spring ... and happy May at last! Have a wonderful Memorial Day weekend and enjoy the outdoors and the sunshine this month! See you in class or on a retreat or at a training or a workshop soon!

Om namo bhagavate vasudevaya ... I bow to the holy indweller that dwells within each one of us ... and within you and within me also...

"Beauty is truth, Truth beauty ... That is all ye know on earth ... and all ye need to know."
John Keats ~ Ode on a Grecian Urn

Peace! Shalom! Shanti! Om. Treasure the day!

Mary