Sink Deep
Slackline lesson: sink your weight down where you are right now. Not the step prior, not the step ahead. The fierce power of dharma joy means breathe through THIS moment; embrace THIS challenge, not yesterday's or tomorrow's. Take joy in THIS challenge. Whatever it is for you. (See my May issue for Stephen Cope's book on dharma"The Great Work of Your Life".)

Durga, legendary warrior goddess, rides a great beast: a tiger, lion, stallion. She holds 8 weapons in her 8 hands, including a lotus blossom and the open palm Abhaya mudra, or fearless blessing palm. Her face radiates peace. I always thought of Durga's mount as representing her own strength.

But living with an injury these past six months, I realize that Durga also rides a fearsome predator, a beast capable of turning on her and ripping her to shreds. Her equipoise astride the beast is an act of focused dharma in action.

Durga will never drop her weapons nor distort her beneficent face toward the world. Her fierce, brave embrace of present dharma is embodied in two characters in recent film and literature I have enjoyed, that I share with you for summer reading & viewing:

Bhava Ram, former war correspondent Brad Willis, is the author of "Warrior Pose." I attended a recent workshop of his at Yoga Union, entitled "The Guru Is You." His tale is a fierce tiger's ride to the heights, into hell, and back to life again through love, courage, & yoga. See at sidebar.

Philippe, protagonist of "The Intouchables," the 2012 French film based on a true story, is a daredevil-turned-quadriplegic who chooses a caregiver precisely for his "pitilessness." Their pity-free embrace of life's challenges and adventures together earned the film a Best Foreign Film nomination last year.

Enjoy! Reflect on your warriors that make you laugh or smile. Breathe big, and delight in where you are walking or riding, right now, on your warrior beast! Your presence IS your present to the world; and it is the world's present back to you.

Summer Sweets
Summer Snapshot, June through August:

Spring Retreat was in Bethel NY, 6/7-6/9; with an address of Swan Lake, Catskills, how could it not be amazing? Grateful for escapes that enrich the soul.

Solstice in Time Square 6/21 exemplified the urban extreme, where "Mind over Madness" reigned triumphant!

In July I take two family vacations, so students will see my delightful subs early July and late July at Pure Yoga and Om Factory. Check for names on studio web schedules!

In August I'm back, big-time. Regular classes, plus, in AcroYoga special events:

*8/10-11 NYC AcroFest, I'm co-teaching 3 classes;
*8/17-21 I assist Adam Rinder's AcroYoga Elemental Immersion, the 1-day, 2-day & 5-day extravaganzas;
*8/31-9/4, I assist Chris Loebsack's & Matt Giordano's AcroYoga Solar Immersion.

In Pure Yoga special events:
*8/24 Restorative Cooler at Pure East: with Summer prices! Cooling and grounding, chakra-balancing two hour practice of being completely nurtured by me, my three assistants, and yourself, through restful yoga poses. My aromatherapy gift: doTerra's TerraShield, a grounding, balancing blend, and a natural insect repellent.

All events are linked at right-hand side column in this issue.

Privacy; Forward; Reply
Please know i respect your email privacy and do not share email lists. Feel free to Forward or Reply or Unsubscribe at any time. For my full workshop, class, teacher trainings, immersions and retreat schedule, visit my web page at anytime for updated snapshot on the home page, and more links and tabs to my ENews archives, and photo albums, and Aromatherapy links.

Om Shanti! Peace! Have a peaceful, fiercely courageous month ~ until my July eNews!

Joyfully ~ Mary


Ride The Tiger
Brad Willis' war correspondent adventures are an engaging enough summer read; his journey through injury, despair, and addiction, and ultimately emerging back into life and healing, are a testament to our own pure courageous presence bringing us every true present of life, so that we may then bring forth our presence, and presents, to others.

Karma & Dharma
This window past where I walk stopped me in my tracks and I had to photograph it. The following week I saw my colleague at Pure East Jonathan Drayer had also photographed and posted it!

It doesn't matter if you know, or like, the word karma ~ meaning action; or the word dharma ~ meaning mission. What matters so much more is the universal language of action expressed here directly in the world of flesh and blood, word and act. This store owner knows it & does it. Look how it has inspired me, my friend Jonathan, and all our web of acquaintances who have seen our notice of it.

The smaller sign above says: "Helping others is the rent we pay for our room on earth." ~ Muhammad Ali

Ride that tiger. Amen. Om. Help your neighbor to ride his/her tiger.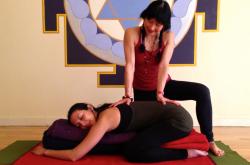 Restorative Teacher Training L1
In addition to summer special events noted in main column, I've listed my next upcoming Mother Mary Restorative Level 1 weekend Teacher Training, Oct. 25-27 at Om Factory NYC in the Fashion District location at 37th Street and 8th Avenue.

This weekend TT will be a unique offering that includes the option of 3 therapeutic Thai & Fly module hours. For more details please see the studio listing at link.

Photo Credits; Thanks
Thanks this issue for photos to: Michael St. Cole & Chris Loebsack for Central Park by Bethesda Fountain arch, Greg Franklin for bikroyoga photo, online images libraries for Durga photo, Times Square Alliance and Solstice in Times Square, Kristina Cubrilo, Michelle Velasquez and Om Factory, St. Bart's Church flower garden, Wagging Tail Yoga Studio ... and my iPhone 5 for all the rest.