Follow our craft beer adventures...
- Atlanta Cask Ale & Classic City Brew Fest Tickets Now Up for Grabs!
Tickets are NOW on sale for our two amazing, annual craft beer events. Don't procrastinate - get your tickets today...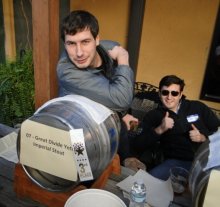 ATLANTA CASK ALE TASTING
Saturday, January 25, 2014
Sample from almost 40 rare, one-of-a-kind, cask-conditioned (real) ales from craft brewers in the USA and the UK at this exceptional festival. No other event in the Southeast offers such an extensive and impressive selection of delicious cask ales, allowing attendees to compare delicious classic styles of real ale to specialty casks with mind-blowing ingredients. Attendees also get 10% off their food purchases at 5 Seasons Brewing and Taco Mac Prado. CLICK HERE FOR TICKETS: http://www.classiccitybrew.com/acat.html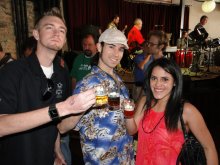 CLASSIC CITY BREW FEST
Sunday, April 13, 2014 - Athens, GA
Sample from more than 350 of the greatest and most sought-after craft beers from around the world, experience the cask ale pavilion with 20 rare, one-off real ales, and hear live bluegrass from Playing on the Planet at one of the Southeast's longest-running and most enjoyable beer festivals! CLICK HERE FOR TICKETS: http://www.BrewFest.net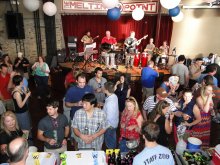 "The Cask Ale Pavilion alone is worth the price of a Classic City Brew Fest ticket!"
-- K.P., a top rater on RateBeer.
- Just What Goes Into Cask Ale?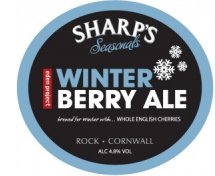 By Owen Ogletree
A few cask ale (a.k.a. "real ale") purists sometimes argue that (1) only traditional, low-gravity, UK-type ales should ever be put into a cask, and (2) no extra ingredients or flavorings should be included.
A solid definition of "real ale" goes like this... Any unfiltered, unpasteurized beer containing viable yeast cells and a bit of residual sugar that is placed in a bottle, barrel, cask or any suitable container to allow for secondary fermentation in said container to produce a natural carbon dioxide sparkle, flavor components and an eventual layer of sediment on the bottom of the container. This beer is then gently served by any means (pouring, hand-pump, gravity, etc.) that does not contribute to additional gas being dissolved into the beer.
Almost all UK cask brewers will agree with this - a definition that says nothing about the gravity of the beer, additions of any flavoring components, or styles of beer that should be treated in this manner. Many UK brewers are now conditioning stronger ales and beers with flavorings and special ingredients in casks and bottles.
THINKING OUTSIDE THE CASK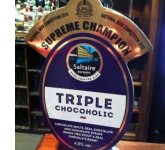 Saltaire Brewery in Yorkshire offers casks of delightful brews with blackberries, raspberries and elder-flowers. Two of the top selling real ales made by the acclaimed Marble Arch brewpub in Manchester contain chocolate and ginger. Thornbridge casks up several beers that are deemed "high in alcohol" for England. Almost every UK brewer now also uses citrusy, resiny American hops in their real ales (unheard of ten years ago). The Great British Beer Festival is loaded these days with cask ales containing chocolate, fruit, spices, damsons, wheat and exotic sugars - just to scratch the surface. I usually don't drink these beers - because when I'm in the UK, I do want to stick to classic English cask ales. But who am I to say that these breweries shouldn't make these beers, and that British people shouldn't drink them?



A few hundred years ago, English brewers were outraged at the startling new trend of adding vile, bitter, noxious flower cones from climbing weeds to their casks. Despite all the protests, many brewers insisted that these hop cones offered great aroma, flavor, bitterness and stability to their beers. Where would modern beer be today if these historic brewers never thought outside the box and refused to experiment with noxious hops in their casks?
LIGHT CARBONATION & LAYERS OF ELEGANT FLAVORS
Cask-conditioning is NOT a style, but a process. Most cask beers are pale ales, bitters, IPAs, stouts and porters, but I've had cask wheat beers and lagers that were quite tasty - thanks to the soft carbonation and wonderful palate notes from being unfiltered. Harviestoun Brewery in the UK makes a fantastic cask pilsner-type lager called Schiehallion, for example.
Sure, beer is about tradition. German brewers are famous for their rich lagers; Belgian beer makers take pride in sour lambics and strong, fruity bottled ales; while UK traditions focus on sessionable cask ales. American brewers tend to take these brewing traditions and add creative twists. If you want a fresh, traditional UK-style cask ale, take the time to travel to England and truly enjoy fresh examples in amazing pubs - I do, quite often. But is there really anything wrong with American craft brewers adding a bit of flare to their casks? It seems to be a way of making cask-conditioning their own and paying homage to this marvelous, English way of enjoying beer.
The important aspects of real ale and cask beer should center on the light, natural carbonation and layers of elegant flavors arising from the secondary fermentation of the unfiltered beer in the cask. Real ale is LIVING beer and a thing of beauty - no matter if it's a Yorkshire Best Bitter or an Imperial Stout with ginger and vanilla beans.
- Bark & Brew FREE Doggie Beer Fest
Sunday, August 25, 2013, 4-7 PM
Ashford Manor B&B - Watkinsville, GA
Sponsored by Chops & Hops and Ashford Manor B&B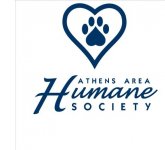 Join us at our third annual FREE mini beer fest at beautiful Ashford Manor B&B in Watkinsville, Georgia. Expect 30+ craft beers to sample, acoustic music and an informal dog show with awesome Terrapin prizes (mixed breeds are welcome to enter). Bring the pooch over for a fun afternoon! The Athens-Area Humane Society will be accepting donations, and a $10 to $20 AAHS optional donation per person is suggested. You must reserve your spot(s) at the fest through our EventBrite site.
- Craft Beer Evaluation Word Splashes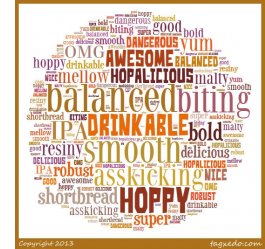 Last May, Owen gathered together 25 craft beer fans to taste and evaluate 12 hot craft brands.
Each participant described each craft beer in two words, and these words are summarized on the website as colorful word splashes. Larger words in the splash were used by participants more often.
Click the word splash to check out the results.


Brands tasted: Omission Pale Ale, Back Forty Truck Stop Honey, Goose Island Pepe Nero, Westbrook White Thai, O'Dempsey's Inukshuk IPA, Clown Shoes Eagle Claw Fist, Deviant Dale's, Sixpoint Resin, Lazy Magnolia Jeff Stout, Left Hand Milk Stout, Founders Dirty Bastard and Finch's Secret Stache Stout.
- Experience the Great British Beer Festival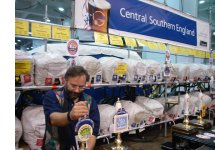 Want a grand introduction to the new craft cask ale revolution going on now in the UK? There's no better way than by attending London's huge Great British Beer Festival held each August. Imagine London's sprawling Olympia exhibition center hosting 55,000 visitors over August 13-17 enjoying more than 800 real ales, ciders, perries and foreign beers - along with loads of entertainment and food! These elegant, yet flavorful, cask ales are mostly less than 5% alcohol, and odds say that most Americans have only heard of less than 90% of the brands available at the GBBF.
Grab a round-trip ticket to London, book an inexpensive room on an easy site like Hotwire.com, purchase a subway "tube" day pass when you arrive and experience the festival and the rest of inviting London - a great city in which to eat, drink, walk and sight-see. Get a copy of England's Good Beer Guide to find the best pubs in the city. Oh yeah, if you see Owen at the fest, be sure to say HI.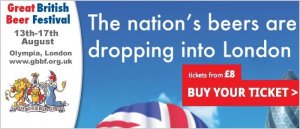 - Tie One On at Monday Night
Pop over to Atlanta's Monday Night Brewing on August 3 at 5 PM to join Owen Ogletree and The Beer Wench at Monday Night's Tie One On Fest in celebration of the brewery's second anniversary. Enjoy live music, food trucks, craft cocktails, craft beers and one-off casks - with a portion of the proceeds going to Ties That Matter charity.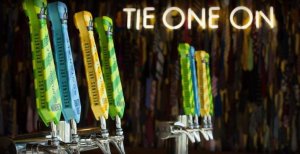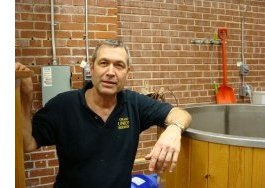 Yes Face Beer
Mark Broe, brewer and founder of the late, great Eagle & Lion cask ale brewpub, has started the Yes Face Beer Company that's currently guest brewing at the JailHouse brewery in Hampton. Be sure to ask for Mark's hoppy, flavorful and sessionable Yes Face IPA on cask and on draft at craft beer pubs in Atlanta and Athens. Yes Face is modeled after low alcohol, English-style golden ales that are loaded with great aroma and flavoring hops - this style of cask ale is all the rage these days in the UK. Seek out Yes Face and experience it here as well.
From Nick Tanner at Cherry Street Brewing Cooperative brewpub in Cumming, GA...
Here at Cherry Street we have lots going on! We have recently started a small barrel program. Picking up some Jack, Dickel, and Buffalo Trace barrels, we are aging some of our favorites for enjoyment later this year - a big Russian Imperial Stout with coffee and chocolate, Pumpkin Pie Porter ready for October, Scotch Ale, and our twice award winning Cream Ale. Yes, a Cream Ale. We figure if it's good enough for the People's Choice cask award at Athens' Classic City Brew Fest and 2nd place in the US Open Beer Championship, then it's good enough for a Jack Barrel.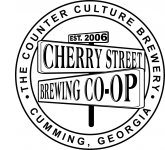 We will then begin to experiment with wild yeasts in these barrels, once the bourbon has dissipated. Also, we put together a double IPA series called Hoppy Balboa. The first beer in the series is loaded with Apollo Hops, which we then rightfully named Hoppy Balboa vs. Apollo Green. Make sure to check out our Last Tuesday Beer Bash, which is the Last Tuesday of every month where we release a new beer, have a charity sponsor and $.50 for every pint sold in the month goes to the charity. There's also live music and a pint glass giveaway. We hope everyone will come over and check us out soon.
- Owen Attends Cask Ale Summit in UK
Owen Ogletree and Nick Allen were pleased to be able to attend the 2013 Campaign for Real Ale's (CAMRA) Annual General Meeting in Norwich, England last April. We got the prize for traveling the longest distance to attend the meeting. To the right is a shot of Owen and Nick in the conference's tasting hall.
The CAMRA meeting discussed current campaigns and issues in the UK concerning protection of pubs and real cask ale.
Click here to check out Owen's photos and captions from the journey - including a log of the very best cask ale pubs in Norwich.
- Featured Beery Links & Events
- Follow Brewtopia Events on Facebook

CLICK HERE and hit the Brewtopia Events "like" button on Facebook to see live photos and news posts as we sip, quaff and sniff craft beer around the world.
COMING UP...
Owen travels next week to the classic English breweries of Elgood, Adnams and St. Peter's in East Anglia. Watch Brewtopia Events on Facebook for his photos and tasting notes.