Fall transplants at Oakley Farmers Market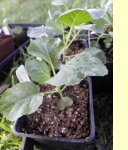 M R Gardens fall transplants are ready! I will be selling them
at the Thursday Oakley Farmers Market from 3:30 p.m. to 6:30 p.m. on
August 1, 8 and 15.
I mainly have the following fall transplants: open
-pollinated and surrey arugula, Marathon broccoli, Caraflex cabbage, Champion collards, Vates kale, Black Seeded Simpson heirloom lettuce, Flat Leaf Italian parsley, Forest Green parsley, Ruby Red Swiss chard and totsoi, an Asian green.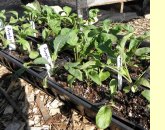 See the market website for directions. I h
ope to see you there.
If you can't make it to the market, but would like to reserve plants, please contact me directly. Note that I will be done selling plants for the season by August 15.
"Do you weed?" one of my garden coach clients once asked me.
The answer may seem obvious, but those of us versed in holistic landscape care consider this a fair question. We view our gardens as ecological systems, and the word weed "does not exist in the language of ecology," to quote George Bird, a professor at Michigan State University who writes about sustainable agriculture.

Weeds are valuable on many levels:

Furthermore, some of my clients are gardening because they want to promote life, so the last thing they want to do is destroy plants.
That all said, weeds may hog valuable nutrients and space that our crops need to thrive. Plus, a garden is not inviting if there's so little breathing room that it appears claustrophobic.
So, the short answer is yes, I do weed. In the middle of a rainy summer, I usually spend an hour a week weeding. Considering the bulk of my half-acre lot is landscaped rather than in grass, I'm satisfied with that amount. I doubt if I would want that precious time to decrease, as my fingers love dipping into the soil, loosening the roots and lifting them out. In small doses, it's a calming yet enlivening activity.

I appreciate clients sensitive enough to be hesitant about removing any plants from their property, but the more we garden, the more we appreciate the cycles of life. The rich nutrients of a decomposing plant will fuel the life of another. The space that opens up in the place of the one we remove makes room for a lush, healthy, hopefully edible or native plant.
Nevertheless, I'm always incorporating techniques to prevent weeds from sprouting in the first place. Some hallmarks to my garden system are:

No-till beds. If seeds don't rise to the surface of the garden then they are less likely to germinate.
A constant layer of leaves or grass clippings next to my crops. In beds that currently have no vegetables, I sow a cover crop. Nature abhors a vacuum, so bare ground will quickly be colonized.

Mulched paths. When I start any new garden, I always surround it with 3-foot paths—typically a heavy layer of wood chips on top of landscape fabric or plastic. I'm also experimenting with clover paths.

Proactive weeding. I try not to let weeds with abundant seed heads bolt in or near the garden. While I appreciate that some deep rooters, like dock and dandelion, are bringing nutrients from deep soil layers up to the surface, both these plants are prolific seeders, so they usually don't stay for their full life cycle in my garden.
I encourage clients to develop a weed management philosophy for themselves as I consider it to be unique to each person. For example, when I see a weed, I ask myself several questions... Read the rest of the article on my website.
Blight resistant varieties; Green tomato recipes

If you made it through this very wet season without tomato blight, then you are very lucky. N.C. Cooperative Extension posted warnings that late blight was spotted in Western North Carolina the first week of July and even earlier than that in the Piedmont. Read this Extension factsheet to learn more about the disease.
I am glad to see that the Mountain Magic variety in my garden held up well. I plan to offer more blight resistant transplants such as this one in the future.
Sometimes the pest solution is picking the green tomatoes off the vine soon after the disease shows on the leaves but before the fruits have been infected. In addition to fried green tomatoes, I've been trying a sweet Green Tomato Pie and Green Tomato Chutney this season. Green tomatoes (not to be confused with tomatillos on the left in the picture below) mix well with apples, ginger, raisons, apple cider vinegar, coconut sugar, mustard seed, cinnamon and other similar spices.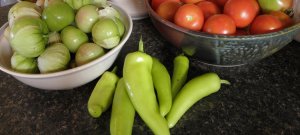 Contact Megan at

M R Gardens

M R Gardens is on the outskirts of Oakley in Asheville, NC

828.333.4151

Earn a free plant for every one of your referrals who purchases a plant from M R Gardens. Just tell your friend to let Megan know they heard about M R Gardens from you!

Click here
to read about my diverse background in horticulture, sustainable agriculture and experiential education.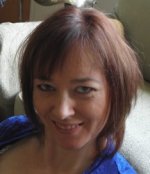 M R Gardens business values

Health

Community

Traditions

Sustainable Systems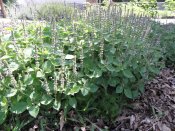 Pick the kinds of culinary and medicinal herbs you need in whatever amounts you want at an affordable price. The following are currently available: tulsi tea, thyme, oregano, rosemary, chives, basil, chamomile, and catmint. Parsley should be available in the fall.

and pick up your bouquet on site at M R Gardens in Oakley.