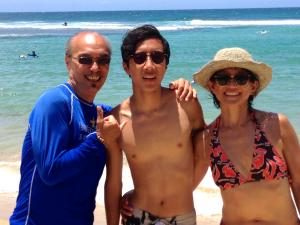 Year Of Healing
Motherhood took a year and a half to return me to my body: 9 months carrying the baby, 9 months to return to what my body was used to do. Last December, an acrobatic accident sent me on another 9-month journey in a year of recovery through knee surgery, and then through searing sciatica.

As of late September, I'm at a stable level of being able to return carefully but steadily to most or all of my former activities, and more. Grateful, awed! On the journey through injury and recovery - as with motherhood before, each so new and needing my research - I learned a great deal.

There was the first back doctor I went to, who shook his head at the MRI he ordered, and told me I would likely need surgery. There were PTs intent on working my core, glutes, hams, and quads. And chiropractors wanting to release those same overly tightened muscles. I learned great PT exercises, and I learned to dig into my psoas and to stretch out muscles and tissues to relieve nerve pressure.

I saw many people, and tried many things. A friend gave me a wise, sane book on back pain written by a back surgeon, Dr. Nathaniel Tindel: "I've Got Your Back." And ultimately, everything began to work to ease the inflammation. At its height I could not sleep, stand, or walk. My wonderful physiatrist, Dr. Wyss and inspired chiropractor, Dr. Schram, supported me on the road toward healing. Oh yes, and supportive friends and family who encouraged me to take rest breaks! Yes, I took a few days off this year!

September is my birth month. And yes, 9 months after my injury, I am reborn every morning that I wake and find my pain level between 0 to 2. I'm amazed and humbled, and I celebrate the miracle of the body-soul-spirit!

Yoga teachings postulate we have three "layers" of the human body: a physical, energetic, and idea body. We have the laboratory of our physical life in which to explore our healing from inside-out, and outside-in. Yoga gives us tools for both. So does life itself.

And the journey just keeps continuing. Happy Birthday, every day. To you, to me!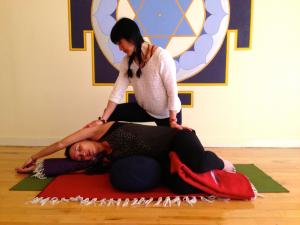 Restorative Teacher Training
Whether it is to deepen your own experience of your Restorative Yoga practice, or whether you are a yoga teacher or wellness professional and wish to be ready to share this richly healing stream of Yoga with the world, join me if you would like this Oct. 25-27 weekend at Om Factory NYC for this luscious, deeply learning weekend training.

This 14-hour foundational teacher training prepares you to teach a full Restorative sequence, which can be varied for group or private use, pure Restorative or blended classes, longer and shorter classes, general or targeted audiences.

The 17-hour option offers 3 hours of Thai and Fly experience as it applies to Restorative Yoga teaching knowledge and understanding.

Early Bird pricing ends Oct. 1st. Register online below; for questions you may email me directly. Qualifies for CEU credits for Yoga Alliance teachers.

A restored student's quote (with permission):

"Dear Mary, With much gratitude to you, Hiroki, and Alex for yesterday's workshop at Pure East. I have been practicing yoga fairly regularly for more than 10 years and never had an experience quite like your 'September Restorative Sweetness.' I learned so much, feel great this morning, and am already looking forward to your restorative workshop during the holiday season.  Please e-mail details as soon as they are known. ~ Maria"


Schedule Snapshot
*****Weekly Classes*****

Pure Yoga New York~6x

Om Factory Flight School~2x


*****Upcoming Events*****

*AcroYoga Elemental Immersion, SLC, UT: 9/28-10/1

Mother Mary Restorative Yoga Teacher Training: 10/25-27

Broadway Namaste ~AcroYoga Broadway Class: 11/2

*AcroYoga Lunar Immersion, NJ: 1/24-26; 11/29-12/1

*Assisting these 5-day AcroYoga Immersions with the inestimable Chris Loebsack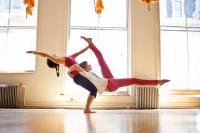 Photo Credits; Privacy
Thank you this issue for photos: Wari Om for title photo and this one with Adam Rinder, and for my portrait; Kristina Cubrilo for Restorative photo with Michelle Velasquez. Rincon Boarding House surf guruji Leo for family photo with Raul & Raphael Aranas.

Thank you for honoring me with your cyber sangha "community." I do not share emails; this is where you may hear of future workshops, retreats, trainings, special events (mine & others) and my ongoing classes and yoga recommendations.

I welcome your Reply or Forward; and of course I honor your Subscribe or Unsubscribe at any time.

Om shantih! Peace. Happy Jewish New Year. Enjoy your Sadhana, spiritual practice, this September!
Until next time, happy every new day. OMMMMary