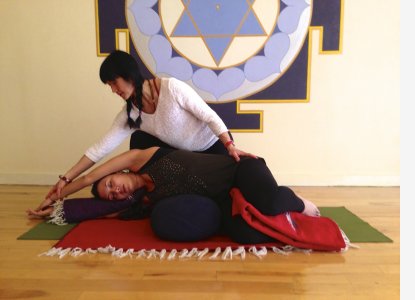 I'm fascinated by the changing leaves in autumn; I moved to Canada from Taiwan just as I turned from age 7 to 8, and I mark that vivid crossover of East & West in my life in the flaming foliage of crimson leaves carpeting the Victorian houses and streets of old Toronto residential neighborhoods.

We move through transitions every moment of our lives ~ some more significant and dramatic ~ some motivated by us, some washing over us it would seem unbidden or unsought. We play endlessly with that delightful balancing scale of acceptance and of desire, of active energy and of receiving energy.

In my two particular Yoga specialties, the balance of Yin/Yang, of night/day, of stillness/movement delight me each in their own way. My Autumn cup has been especially full of both my particular specialties; and we will see more merging of them to come.

Yoga remains the common denominator ~ giving people back who they truly are. For many of us that happens in Vinyasa or Yin/Yang or in Slow Flow Meditation. For many others, in the depths of Restorative. And for as many others, we explore our heights, our vulnerabilities, our strengths, in flying, basing, and spotting, and in the receiving and giving of the dance of Thai yoga bodywork on the ground and in the air.

Wherever you are, on or off your mat, find the sweetness and the spiciness of life and of Yoga practice. Find the special sauce that enlivens your palate and don't let anyone take it away from you. You just might find your Self.

Restorative Teacher Training + Thai & Fly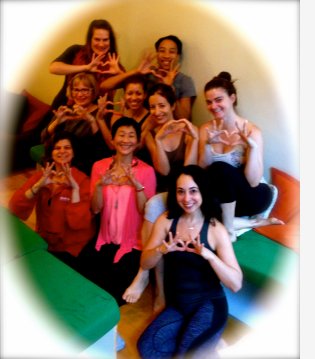 A huge round of kudos to the grads of my first Level 1 Mother Mary Restorative Teacher Training with Thai & Fly, completed this past weekend! What juicy sweetness & beautiful new skills learned!

By first learning Thai bodywork and therapeutic flight, this group of trainees demonstrated the fullest, smoothest transition to Restorative touch and movement mechanics I have yet seen in my years of Restorative teacher training! Thanks Om Factory Fashion District, our host! And thanks to Purity Organic Coconut Water for our delicious refreshment!

I am so excited, and planning more: In 2014, look for Level 1 and 2 consecutive weekends, both with Thai & Fly optional modules! Keep posted on my website and monthly ENews for dates.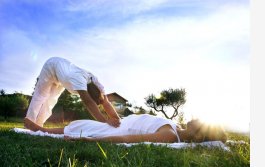 AcroYoga means "High Union" and Immersion means to saturate in the essence of that which you soak in. This season, I joyfully soak in the AcroYoga Immersion teaching path, offering these rich, nourishing, seeds, our 5-Day Immersion Curricula, around a planet direly thirsty for play, joy, love, power, community.

I experienced such joy assisting the August NYC AcroYoga Elemental Immersion with Adam Rinder. At sidebar are the Salt Lake City Elemental Immersion I co-taught with Chris Loebsack in Sept/Oct, and the Chattanooga Immersion we will co-teach in March 2014. What a way to see, and love up, the world.

I believe passionately in this practice and in its transformative power. The Elemental is the foundational level of the three AcroYoga Immersions and does not have pre-requisites to apply. It offers 1-day, 2-day, and full 5-day options, for those entering either timidly or diving explosively into the depths! If it calls to you, at any level, I'm delighted to answer questions you may have. Click on Immersions at www.acroyoga.org or keep posted with me & follow me to one soon!


Restorative Festive Treat ~ Dec. 7
3-5pm ~ Pure Yoga Eastside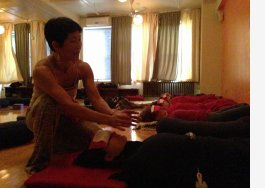 As the days get shorter, the nights longer, we light the candles within our hearts, the lights within our friendships, and our minds, to remind us of the eternal lights that cannot be quenched. Come and light the 7 jewels of candles in your own inner candelabra, your magical ladder to heaven, your peace and understanding, in this two-hour chakra balancing Restorative bliss fest. Enjoy aromatherapy, meditation, music, nurturing touch, and know that a portion of Mary's proceeds will go to feed our hungry neighbors through Food Bank for NYC. Then take home an essential gift for the season! Bring a friend and enjoy double the pleasure! No yoga experience needed.

PS Check out this National Institute of Health study. I've just given an interview on its findings: that Restorative Yoga creates weight loss by reducing cortisol, the stress hormone that builds our visceral fat stores.

Schedule Snapshot: Weekly Classes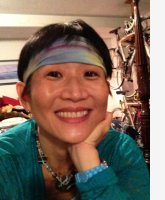 My classes at a glance:

M-10:30-12 Slow Flow Meditate, Pure East
M-5:30-7:00 Acrobatic Flying: Basics, Om Factory Flight School
M-7:15-8:45 Jedi 1~Acrobatic Flying, Om Factory Flight School
T-12:30-1:30 Restorative, Pure East
Th-11:00-12:30 Yin/Yang, Pure West
Th-5:30-6:30 Vinyasa, Pure East
F-10:30-12 Chakra Slow Flow, Pure West
F-5:30-6:30 Restorative, Pure East

Weekends are for travel, trainings, workshops, Thai clients, church, friends, family and home! And practice. Find my weekly schedule any time on my home page at my website: www.maryaranas.com
Om shanti.

Photo thanks this issue to: Wari Om of www.wari.cat for cover pic & near right flying photo with Adam Rinder, Bill Delano for Restorative and Thai class; Kristina Cubrilo and model Michelle Velasquez, for Restorative pose; AcroYoga International for outdoor Thai; Michael Sivanataraj St. Cole for me and Chris in Central Park; my iPhone for the rest!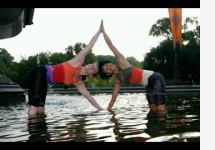 I watched in awe as Diana Nyad, at 64, became the first swimmer in the world to cross from Cuba to Florida, in what was her 5th attempt over 35 years ... a 53-hour crossing, with a support team with her all the way, but letting her do her swim.

That she would finish, at 64, a dream she held and failed to reach at age 29 and 4 times since, is awe-inspiring. Here, some of her nuggets of inspiration for when we face our own daunting waters:

1) Never, ever give up
2) You never are too old to chase your dreams
3) It looks like a solitary sport, but it's a team
And ... "My motto this year is 'find a way.'" ~ Diana Nyad

Where do you find this helps? ... Oh ... college apps ... city commutes ... family transitions ... new haircuts ... menopause ... health ... creating peace ... creating community ... creating sanctuary ... life!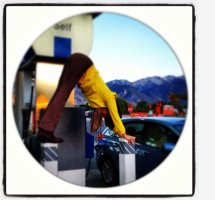 Utah mountains ring us around, and our intrepid eclectic crew of playmates rocked it out in the SLC Elemental Immersion! They grew & learned so much, & we played so much, in 5 days! Thanks for hosting us, local AcroYoga teachers Amy Olson, Kimberly Smith Preston, & Aerial Arts of Utah! See Chris Loebsack enjoying a stretch with the Utah mountains in back of us, while refueling our car!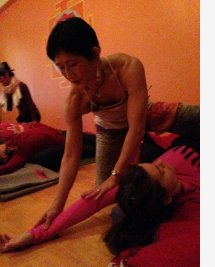 I honor your privacy and do not share email lists. I only wish to send you monthly ENews if you desire; Unsubscribe anytime; or Reply or Forward as well!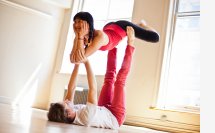 Know someone in a Broadway company? Lululemon teams up with some favorite teachers for free 11:30-12:30 yoga classes on Broadway's 2-show Saturdays, to give our theater pros added juice!

This Sat. Nov. 2 it's my turn, with 4 assistants, to offer up AcroYoga to New York's Broadway community! Whether you have friends who are techies or door security or ASMs or hoofers, send 'em! Email me for the Invite-Only Facebook Event link, to send to any friends you have in the Broadway community so they can join us!