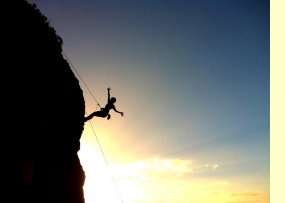 At weekly Centering Prayer, our leader sounds the singing bowl and we sit in silence 20 minutes, resting in God's presence. The bowl sings and we do two circles of walking meditation, then sit again another 20 minutes. The bowl sounds again, to begin our sharing and reading time.

This silence is so sacred and blessed in our urban lives. A dozen souls, one shared peace.

And I marvel each time when I enter it from a different doorway: it is all one place!

Where I go in Yoga Meditation is the same place I go in Centering Prayer, Yoga Nidra, or prayer in the Spirit.

It is deeply familiar to the trance state my hypnotherapist led me to in November, where I healed

my body of sciatica.



In this place, everything is abundantly simple. There is only "out there" and "in here." Out there we share, we give and receive as best we can. In here we rest in God. We are held in an endless, eternal embrace of love. It is all one place. It is our source.

And yes, we also can feel it on the ocean, or in physical movement, in a human or creature face or embrace. Ultimately, Yoga's goal is the same as all faith paths: to have the boundless grace of God flowing, uninterrupted, through every living breathing moment of our lives.

I wish you peace, I wish you flow, I wish you glow. Inside and out.


Events & Classes~Calendar

H

ere is my early 2014 workshop/retreat/immersion/training calendar at a glance, plus weekly classes below that.



Workshops, Retreats, Trainings, Immersions:
2/7-9 ~ Shakti Radiance, Woman Warrior Retreat, Bethel, NY
2/15 ~ Valentine Restorative Feast ~ Pure East NYC
3/7 ~ First Friday AcroYoga Jam with Class ~ Om Factory NYC
3/22-26 ~ AcroYoga Elemental Immersion ~ Chattanooga, TN
4/4-6 ~ Restorative Teacher Training L1 ~ Pure East, NYC
5/24-28 ~ AcroYoga Lunar Immersion ~ Om Factory NYC

Weekly Classes at Pure Yoga NYC:


Mon ~ 10:30-12:00 Slow Flow Meditation, East




Tues ~ 12:30-1:30 Restorative, East




Thurs ~ 11:00-12:30 YinYang, West




Thurs ~ 5:30-6:30 Vinyasa 1/2, East


Fri

~ 10:30-12:00 Chakra Slow Flow, West


Fri ~ 5:30-6:30 Restorative, East



Weekly Classes at Om Factory NYC:
Mon ~ 5:30-6:45 Acrobatic Flying Basics USQ


Mon ~ 7-8:30pm Jedi 1 Acrobatic Flows USQ




Fri ~ 7:30-9:15pm AcroYoga Flows Fashion District




Fri ~ 1st Fridays of Month 9:30-11:30 Acro Jam Fashion District



Find my Web Calendar anytime at a glance: www.maryaranas.com


February: Women's Retreat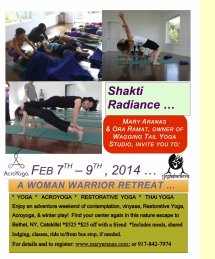 Shakti Radiance: Feb 7th-9th, our Woman Warrior Weekend Retreat at Wagging Tail Yoga in Bethel, NY, is near capacity, with one to two spots remaining.

Check out this Yoga Sampler weekend in the warmth of wise women, exploring our inner balance of power, beauty, abundance, and creativity through Vnyasa Yoga, Restorative, AcroYoga, Thai, and Meditation ... and enjoying delight, rest, and rejuvenation while we are at it!

Details at my website retreat page. Join us if it feels right!


February: Valentine Treat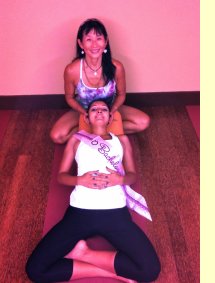 Valentine Restorative Feast:
Sat. Feb 15 from 3-5PM. I'd go if I wasn't leading it already!

Priced $5 less than our usual winter workshop, receive two hours of: deeply healing restorative poses; nurturing Thai-inspired hand-on touch to deepen your poses; chakra-tuning meditations for all 7 chakras; aromatherapy tuning of each chakra; plus a Wild Orange aromatherapy oil gift to take home, along with a descriptive & prescriptive gift card!

Give your own beloved precious self this gift. Say to yourself "I love and approve of myself." Mmmm love you. See you!


April: Restorative Training!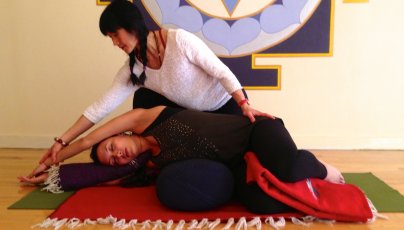 Yes! The Next 2014 Mother Mary Restorative Teacher Training is ON!

April 4th-6th at Pure Yoga Eastside:

Kick it off with Mary's Fri. eve class; add a delish Restorative class each day; learn some Thai & Fly; plus a full Restorative sequence that will serve you for at least your first year of Restorative teaching.

Oh yes, plus my Level 1 & 2 Training Manual, a 16-Hour Yoga Alliance CEU certificate, and 10 days of complimentary Pure membership.

Open to Yoga teachers, and other fitness or wellness instructors or providers, as well as to students and practitioners desirous to deepen their own practice and experience. No prior experience required; all levels welcome; we will meet you where you are at! See more here.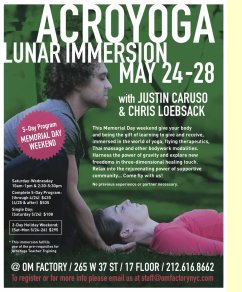 Come learn the softer side of AcroYoga in this rich, 5-day NYC Lunar Immersion I am assist teaching in May!

Emerge stronger than ever basing therapeutics to your partners in the air, through the art of therapeutic flying and transitions.

Unleash your Thai Massage ninja skills for healing, whether you are a body-worker, yoga teacher or into healing arts. No experience or partner needed.

See: 1 and 2 Weekend-day and full 5-day immersion options!

Dahn Yoga Belly/Intestinal Pumping is an efficient and powerful daily kriya, or purification ritual. It is done standing with legs hip width apart and knees slightly bent, tailbone tucked. I even do it around town, keeping me warm and tuned up walking in the frigid New York winter!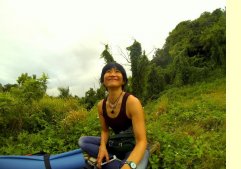 Similar to Bhastrika, but not tethered to the breath, it is strong pumping of the transverse abdominals outward and inward, in sets of 100's. Twice a day sets, say 300 or 500 before breakfast and again before supper, will improve digestion and circulation, and build a strong core.

Proceed with caution if you are new to Kapalabhati or Bhastrika practices; and regnant women can skip this one!

Your best bet with all kriyas ~ do it with the supervision of a qualified instructor before making it your own practice.

Patanjali's 4 Keys To Peace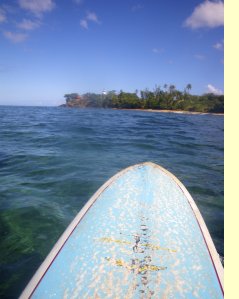 Yoga Sutra I.33 from Patanjali says:"maitri karuna muditopeksanam sukha duhkha punyapunya visayanam bhavanatas citta prasadanam"

"By cultivating attitudes of friendliness toward the happy, compassion for the unhappy, delight in the virtuous, and disregard toward the wicked, the mind-stuff retains its undisturbed calmness."

Just as my mantra "Earth water, air, space" calmed my citta, or "mind-stuff" on the surfboard, Father Patanjali coaches us on life surfing in the pithy verse above. The Happy, Unhappy, Virtuous, Wicked: they abound in our lives.

Identifying them and apply the right "key" to them in our mind and heart, maintains the mental peace and spiritual equilibrium that keeps us out of the jellyfish and coral, and our views on the horizon, on our aims, and with the power underneath us.

March: Chattanooga AcroYoga Elemental Immersion!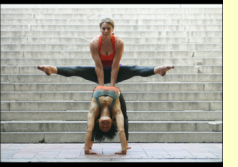 This March 22-26, I am immensely excited to co-teach the Chattanooga AcroYoga Elemental Immersion with Chris Loebsack!

Hop aboard for a 1-day or 2-day weekend or the whole 5-day immersion!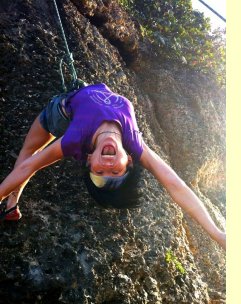 Thanks in this issue go to these photographers and models:

Richard Baimbridge for sunset climb pics; Ryan Martin for surf; Michael St. Cole for Chris Loebsack's Tittibhasana on my Dhanurasana; bride-to-be Maria and her mom for Restorative pic 1; Michelle Velasquez model and Kristina Cubrilo for Restorative pic 2, Wagging Tail Yoga, Chris Martucci and our retreat students; AcroYoga, Justin Caruso and Chris Loebsack for Lunar Immersion pic. And anyone I missed!

Please Forward or Reply at any time. Your email privacy is sacred to me, and I do not share lists. You may also Subscribe or Unsubscribe at any time.

See you on the mat, on retreat, at training, on the subway, on Facebook, on a bike path!

Maha shanti! Live every breath. Love whenever and however you can. What else, after all, is there? Namaste, OMMMMMaryin