NCES was excited to kick-off Cohort II of the National Institute for School Leadership's Executive Development Program in January. The intensive 26-day program will bring the cohort together for two-days per month with a focus on instructional leadership. Cohort II was made possible through support of the Neil & Louise Tillotson Fund, the NH Department of Education and local school districts.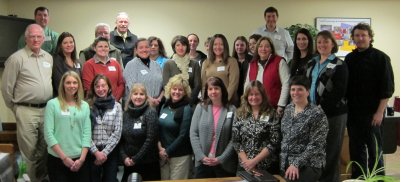 The cohort is compromised of (left-right): Bridget Gagne - Stark Village School, Courtney Vashaw - Profile School, Cheryl Pinette - Hillside School, Lisa Lavoie - North Country Charter Academy, Jen Corrigan - Gorham Middle High School, Gerri St. Gelais - Milan Village School, Lori Langlois - NCES, David Covill - Pittsburg School, Kim Wheelock -Groveton High School, Jessie Lanham - Profile School, Brenda Lamarque - Edward Fenn School, Veronique Legendre - Berlin High School, Erin Silver - Stratford School, Nicole Arguin - Berlin Middle School, Shelli Roberts - Bethlehem Elementary School, Heather Zybas - Pittsburg School, Eddie Marceau - MC2 Charter School, Paul Bousquet (facilitator) - SAU 20, Dr. Carl Ladd (lead facilitator) - SAU 58, Gordie Johnk - Lafayette Regional School, Julie King - Hillside School, Jennifer Carbonneau - Littleton School, Sandra Adams - Stratford School, Angelique Brown - Groveton Elementary School, Patricia Styles - SAU 58 schools, David Backler (facilitator) - Milan Village School.





Lori Langlois
Executive Director

Instructional Strategies to Meet Common Core Writing Standards
with Fred Wolff, Ph.D.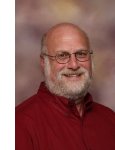 Writing Process. Writers' Workshop. Six Traits. Genres of writing. And now, Common Core Writing Standards which emphasize literacy across all disciplines! How do we blend all these concepts into a cohesive approach to writing, especially considering the limited amount of time available for writing in most classrooms? Will it mean that we have to change how we teach writing?

How do we decide what to keep and what to change? In this workshop, we'll examine the three genres of writing emphasized by Common Core, some strategies and structures for achieving the Common Core Writing Standards that incorporate process, traits, and modes.

Additionally, we'll work through a variety of writing assignments that meet the requirements of the Common Core standards and are also appropriate and engaging for students. Focus will be on grades 3-8. We will also look at what students' writing products tell us about their progress toward achieving the Common Core writing standards. Strategies will be modeled to show how teachers can conference with students to help them improve their writing.

Intended for: Teachers of Grades 3-8
Date: April 14, 2014 from 9:00 to 3:00 (check-in starting at 8:30)
Location: NCES, Gorham, NH
Cost: $125 staff of NCES member schools, $135 associates, $150 others
Registration Deadline: April 1st
Registration: Contact Lisa Blais at lisa@ncedservices.org, 800-268-5437, 603-466-5437 or online.



---
Common Core + Common Sense = Improved Outcomes for Learners with Disabilities!

with Carol Kosnitsky

If you believe "the whole is greater than the sum of its parts"... this workshop is for you!

NH districts continue to struggle with providing access to challenging curriculum for students with disabilities. It's essential that general and special educators engage in joint conversations on access to the Common Core now before we inadvertently repeat past mistakes.

Capitalizing on the collaborative expertise of content and learner specialists, this session will identify the significant instructional shifts in CCSS and the challenges and opportunities they present. Come with a colleague and leave with a plan on how to think more strategically about the roles and responsibilities general and special educators share in the education of students with disabilities.

Participants will be able to:

Identify instructional shifts in the Common Core State Standards (CCSS) and the impact they may have on students with disabilities;
Identify areas for collaboration between general and special educators on accommodations and the development and implementation of IEPs aligned to CCSS; and
Identify specific resources to assist in supporting students with disabilities in ELA and Math.
Intended for: Administrators, general and special education teachers.
Date: Thursday, May 29, 2014 from 8:30 to 3:30 (check-in starting at 8:00)
Location: NCES, Gorham, NH
Cost: $50 for Focus & Priority School staff, $125 staff of NCES member schools, $135 associates, $150 others,
Registration Deadline: April 18th
Registration: Contact Lisa Blais at lisa@ncedservices.org, 800-268-5437, 603-466-5437 or online.

---
Simply Good Ideas for Autism Spectrum Disorder

with David Freschi

Behavior Mapping

Students with behavioral challenges, especially those in the ASD and similar categories, often have serious difficulty with self-regulation and choice making. Lectures and detention don't seem to help much. This workshop will offer a variety of visual strategies to help students and staff map out choices and pathways to help clarify the steps to self-regulation and achieve success. Samples for all school ages from pre-school through high-school will be offered. Participants will have the opportunity to start to develop a Social Behavior Map for their students.
Date: Tuesday, April 15, 2014 from 3:45 to 5:45
Cost: $20 staff of NCES member schools, $25 associates, $35 others


Functional Lessons

A lot more than meets the eye – Few would doubt the necessity of learning and instruction becoming functional. For the neuro-typical student much of this will come naturally. The student with ASD and/or related challenges is going to have a much more difficult time. So called "Life Skills" training often falls far short of helping a student become independent. This workshop will offer participants some new ways to look at functional instruction and a useful model for developing a functional lesson.
Date: Tuesday, May 20, 2014 from 3:45 to 5:45
Cost: $20 staff of NCES member schools, $25 associates, $35 others

Location of sessions: NCES, Gorham, NH
Deadline: Please register no later than the Friday before each session.
Registration: Contact Lisa Blais at lisa@ncedservices.org, 800-268-5437, 603-466-5437 or online at http://bit.ly/nces_freschi

---
NH Math Teachers' Circle: Focus on Fractions When it comes to problem solving, have you ever become frustrated?

Do you struggle with "How to start?" Would you like to learn new problem-solving strategies? Would you like to increase your confidence? If you answered "yes" to any of these questions then come join a group of fellow mathematics teachers, grades 5 – 9, on Monday, March 10th from 4:00 to 6:00 at North Country Education Services in Gorham, NH. The workshop will be facilitated by professors from Plymouth State University, Larry Blaine and Natalya Vinogradova. The session will include playing a game that involves comparing fractions. The very next day you may bring to your classroom a ready-to-use game that could help your struggling students rebuild basic understanding of fractions and would allow your advanced students get challenged while working on algebraic generalization. As always, we create a friendly and fun atmosphere for math teachers to collaborate while solving challenging problems that involve insightful mathematical thinking. Participation is free of charge, but registration is necessary. To register for this workshop or to ask any questions concerning the workshop, please email to Patrick Johnston at pjohnston@plymouth.edu by March 5th. A light dinner will be provided.

Opportunities for NH Teachers & Students

Louise Tillotson Teaching Fellowship The Louise Tillotson Teaching Fellowship program strives to raise public awareness about the value of excellence in education and to retain good teachers in the North Country schools of New Hampshire. This award is made to a select few each year. Any kindergarten through twelfth-grade public school teacher who works in New Hampshire's North Country region (upper Grafton and Carroll counties and Coos County) is eligible to be nominated. Teachers in Coos County public schools are given preference.Learn more


---
Tree Seedlings for Schools It is time to order seedlings for distribution to school children! Seedlings are supplied by the NH State Nursery free for classrooms! The intent is to give children an opportunity to take a tree home, plant it and learn about how trees are used by humans, and wildlife. If you are a teacher and would like to involve your classroom in this event, contact Brendan Prusik, Coös County Forester, UNH Cooperative Extension by March 15th at (603) 788-4961 or Brendan.Prusik@unh.edu.

---
Learning Forward Academy Class of 2016 Want to learn how to deepen your knowledge and magnify your impact? Over the course of 2 1/2-years, Academy members work collaboratively to solve significant problems of practice to improve their performance and outcomes at their school, district, or organization.Learn more

---
NH History Day Plymouth State University will host the National History Day in New Hampshire state competition on April 12th. Learn more

---
UNH Future Leaders InstituteJuly 14-19, 2014 An exciting summer program for high school students looking at citizenship and ethics from both an ancient and modern perspective. This year's theme is "Money, Greed, Corruption".Learn more

---
Educating the 21st Century Learner: Reaching All Learners through Innovative Technology Keynote: Allison Mollica Date: Tuesday, April 1, 2014Location: Church Landing at Mill Falls, Meredith, NHSponsored by: Local Education Support Center NetworkLearn more

---
Self-Paced Online Tutorial for Substitute Teachers In an effort to assist schools in preparing potential substitute teachers for teaching in NH schools, the NH e-Learning for Educators, a program of the New Hampshire Department of Education, is offering a short online tutorial through OPEN NH. This tutorial costs $25.00 and provides basic knowledge and skills necessary for being an effective substitute teacher. Learn more

---