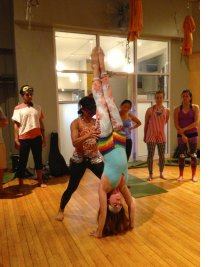 Why Yoga? Because ~ it is fun! It feels good! And it tells us, about us.
"To Teach & Delight" was Aristotle's definition of the goal of poetry, that is of art, in human society.
Our exploration of who we are, and our immense pleasure in who we are, qualifies Yoga as a path of art.
Yogis as artists: have you thought of yourself that way?
Whatever form your Yoga takes, find delight and learning in it, and rejoice in your inner artist ~ in being warriors of beauty, and disciples on the path of the artistry of life.
My Yoga Schedule: At A Glance

Weekly Classes:
Pure Yoga
New York ~ 6 classes a week
AcroYoga
Om Factory
~ 3 classes a week; plus:
Special Events:
4/20 Slackline Series, 1 Sunday per month 3-5pm, Brooklyn Boulders
5/10 Mother's Day Weekend Restorative for all, 3-5pm, Pure East
5/24-28 AcroYoga Lunar Immersion, assist, Om Factory, NYC
6/6-8 Women's Weekend Retreat, Catskills, NY
6/19-22 Wanderlust VT, assist, Stratton Mountain, VT
10/10-12 Divine Play AcroYoga Festival, Portland, OR; tickets on sale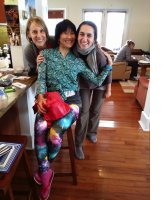 Amidst the beauty of a 100-acre farm in Bethel, NY, the town that hosted Woodstock 1969; with a gorgeous yoga studio, an animal farm, organic garden, and historic farmhouse; we share food, stories, healing meditations; Tai Chi, Vinyasa, Restorative, and AcroYoga together. Our hostess Ora Ramat welcomes retreat guests as though to our country house escape, which, of course it is! These superb replenishing retreat weekends with Ora and myself are a way to connect to our inner Goddess, explore our flow and power together with other women, and have an amazingly fun & fine time of it! Details and registration page will be up on my website within the week, so that you can pre-book your spot! Space is limited; we take 10 guests each retreat.
Slackline Series April 20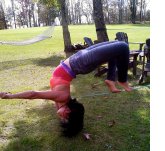 Once a month on a Sunday, come to Brooklyn Boulders and get your Slackline practice on! The techniques taught by The YogaSlackers begin low to the ground with kneeling, then standing, sitting, lying down, inverting, and adding flows, all with principles of core strength and center of gravity that will help you with any balance activities in your sports life; and great fun, too! Next date: April 20. Read about it online and Pre-Register for $5 savings.
Thank you's go out to: Wari Om, Greg Franklin, Chris Martucci, Adam Rinder, Francesca and Corey Loftus, Ora Ramat, Venny. To all students and assistants, and the ubiquitous camera phones that help us CELEBRATE each minute of our precious, embodied, soul-body lives!
Om Shanti ~ Peace ~ until next time!
OMMMMMMMary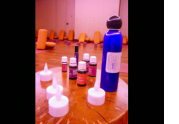 Come celebrate Mother's Day with me, on Saturday afternoon May 10 from 3-5pm. Nourish your inner child in this two-hour love fest for your senses. The Restorative poses balance your body, aromatherapy and meditations balance your soul. Reserve your spots! These do fill up!
AcroYoga Events: Dates!!!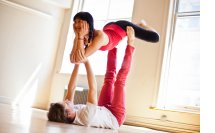 Three pre-registration deadlines to note!!!
*April 23rd for the May 24-28 Memorial Day Weekend Lunar Immersion in NY with Justin and Chris, assisted by yours truly, and many local teachers!
*Wanderlust Vermont is June 19-22; I'll be assisting Yuki and Chris in their AcroYoga classes. Buy tickets now before they rise on April 2nd!
*Tickets are on sale for the 5th Annual Divine Play Festival in Portland, OR, Oct. 10-12 weekend ~ the largest annual gathering of AcroYogis in the world! Buy tickets before July 1st, for pre-reg discount!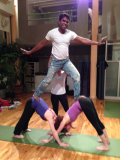 I honor your email privacy and the privilege of including me in your life's yoga practice. I do not share emails and you may certainly Unsubscribe whenever you wish or Subscribe directly if you received this from a friend.
I also invite you to Reply and to Forward!