Summer transplants for your summer garden

Thanks to those who participated in Pre-Season Prep. Your plants are almost ready and I'll be getting in touch with you very soon to schedule a pick-up date before Mother's Day (May 11). I typically like to plant my tomatoes once the Weather Channel is no longer predicting lows in the 40's in its 10-day forecast. As of right now, that could be as soon as Monday (May 5).
I'm so pleased at the high return rate of Pre-Season requests year after year, and I'm also glad that a handful of new participants are willing to give this service a try each season. Your involvement is crucial to the success of the nursery. It helps me a great deal to know which plants you need before I seed them, and I hope it encourages you to do pre-season planning, which should add some ease to your life come planting time. You've helped a local business build a solid foundation since 2011, setting up M R Gardens for returns in the long-term, which subsequently means gains for our community, our landscapes and our health.
Yet more benefits to heirlooms

I heard something interesting at the Mother Earth News Fair at the WNC Agricultural Center in mid-April. According to workshop speaker Jere Gettle, founder of Baker Creek Heirloom Seeds, lab tests have shown that dark-colored and yellow tomatoes, have more nutritional value than the typical store-bought tomatoes. He says that these heirlooms have the ability to take up a greater quantity nutrients from the soil. Gettle has collected ancient heirloom seeds preserved in indigenous communities in the far corners of the world. Since these varieties have evolved with the ecosystem over time, they have superior pest resistance.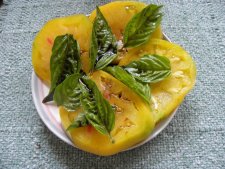 We typically don't associate pest and disease resistance with heirlooms, but in fact they do exist as the original seed collectors selected the plants that did the best despite any challenges. In fact, I'm growing an heirloom variety that West Virginia University Professor Emeritus Mannon Gallegly, now in his 90's, saved year after year due to its good blight resistance: West Virginia 63. I still have a few of these plants left if you'd like to try them.
Why I garden: My growing list

I've been adding to this list of the ways gardening has added to my life since I started my blog in 2011, and new entries still easily pop in my head. Like this one:
My diet becomes more and more diverse as I try unique and lesser-known edibles.

When I worked at a Community Supported Agriculture farm for the first time in 2003, I had barely even heard of some of the vegetables we were growing, such as kale, pac choi, celeriac and parsnips. Since then, they have become staples in my diet. I continue to try growing several vegetables new to my pallet each year. This growing season, I'm adding sorrel, radicchio, and ground cherries to my garden, as well as an oldie but goodie: Brussels sprouts.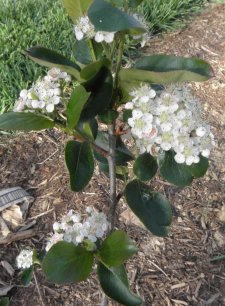 I've also planted several trees that will further diversify my diet in years to come: aronia (flower pictured above), serviceberry, elderberry, goumi, paw paw, American plum and persimmons. Most of these edibles also have medicinal qualities as well! Nutritionists are continually talking about the benefits of a diverse diet full of vegetables and fruits of all sorts of colors. As my landscape's health improves, so does my own.
Contact Megan at

M R Gardens

M R Gardens is in the outskirts of Oakley in Asheville, NC

828.333.4151

Earn a free plant for every one of your referrals who purchases a plant from M R Gardens. Just tell your friend to let Megan know they heard about M R Gardens from you!

Click
here
to read about my interesting background in horticulture, sustainable agriculture and experiential education.

M R Gardens business values

Health

Community

Traditions

Sustainable Systems


Some activities require someone by your side to really grasp them, and gardening is one. When you are shown how to set up a bed, plant the crops and harvest them, you are much more likely to remember how later. It's also important that you set up a system that fits your lifestyle, schedule, goals, personality and work style, so that you stick with the activity over time. In addition to working with you a few days your first season, I can provide you a garden plan specifically for you, as well as spreadsheets, timelines and growing tips to make your life in the garden manageable.
Read more here
.

I serve individuals, families and business owners who want to improve their properties and the well-being of their customers with edible gardens. Using primarily edible and native plants, I tailor designs to the client's unique needs, with the goal of creating an aesthetically pleasing, therapeutic and useful area that raises quality of life and property value. I incorporate themes of traditional design (such as texture, levels, line, unity, balance, simplicity, color, and ease of maintenance) with the principles of permaculture design (such as microclimates, useful vegetation, and the smart use of the sun's and the gardener's energy). I aim to create a vision, alongside the property owner, that is both extraordinary and practical, so the landscape can realistically be implemented and maintained. Read more here.
Work trade for

plants, produce or

education

Gain new skills, try out something new, learn about my unique approach to gardening, or just enjoy the physical activity in the outdoors. As we work together, tidbits of information seep into conversation that you otherwise might not think to ask me. In return for your work, you can choose between seedlings, produce, or a tutorial on something in particular you want to learn about.
Read more about all the opportunities
at M R Gardens this year.

Hungarian Hot


Golden Summer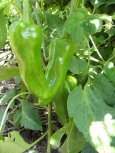 Corno di Taro