No I am not in the white on the human Slackline; that's fellow YogaSlacker Raquel Hernandez-Cruz. I am in black on the right side, the 2nd Slacker from the end holding up our end of the line for Raquel to skate her Slackasana flow.

There are times we ride the spotlight, and there are times we can feel the immense power of holding a line: the visceral immediacy of co-creating beauty, through connected teamwork. And it's ... Wow.



Have I mentioned that Slackline is one of the most difficult skills for me personally that I have ever done? Do you find sometimes that you are drawn to the piercing challenge, every bit as much as you are drawn to the skills that come easily to you? That is the enticement of the growth edge!




Slackline Yoga rides a balance point between comfort and fear. We all walk that line. Too much safety and we stagnate. Too rash a move, and we pay the price. Skate the edge ... there is grace.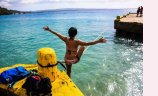 That metaphor is the enticement that draws me back. Surfing the Edge ... our own personal edge, not another's ... creates the exciting growth vector that makes life juicy and full of learning. And though some may like a prescription, we cannot give one, nor get one. There we are: constantly playing with finding our own growth edge! Enjoy!

And: watch for Slackline Yoga coming SOON to Om Factory!

I began Jeff Galloway's Run-Walk-Run practice this Spring while healing from a year with a sports injury. And talk about growth edge: I'd always resisted, even decried running, as hard on joints and "too slow" compared to human-powered wheels. That simply means it did not come naturally to me. And that's a clue. Maybe that is your Rx. If it calls to you, and it is not easy for you, but then it still calls to you; well, that might just be your growth edge!

First I ran: in my apartment, on the roof, by the East River, in Central Park. Now I frequently run from point A to point B, like the biped animal we are, happy & mobile on the earth's surface. Getting places faster, if also a bit warm and glowing, and in need of a shower or a towel off! If you've been concerned about beginning running because of strain or injury on the body, I encourage you to look at Galloway's method and principles. As with Yoga, I'd maintain the Hippocratic oath: First, Do No Harm.

With the City as running track, Krishna Das and Sista Shree make great soundtracks. This week's fave: Om Namo Bhagavate from fellow AcroYogi David Lurey's Global Bhakti Project. And ... so do your own affirmations and meditations, in the trance high of a run!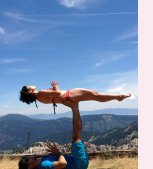 Meditations I like while running this month:

Life IS a holiday ...

I shall speak ill of no-one and no thing today ...

I shall be the one to reach out & make that overture I am waiting for ...

To see your partners smile, is far more important than accomplishing the skill or feat you think you need or want ...

Today is the day of my amazing good fortune ...

ACROYOGA EVENTS:
8/1: First Fri

AcroYoga JAM

9:30-11:30PM, Om Factory Fashion District
8/23-24: 3rd Summer NYC AcroFest,

Circus Warehouse

, NY
9/13: Wanderlust 108, Prospect Park, Brooklyn, NY
9/20-21: AcroYoga Weekend,

Inner Spirit Yoga

, E.Northport, LI
9/27: AcroYoga Workshops, All That Matters, Wakefield, R.I.
10/10-12:

Divine Play

AcroYoga Festival, Portland, OR
11/1-3: AcroYoga Weekend, All That Matters, Wakefield, R.I.

WEEKLY YOGA CLASSES:
Pure Yoga New York Classes:


Monday ~ 10:30-12:00 Slow Flow Meditation,

Pure East


Tuesday ~ 12:30-1:30 Restorative, Pure East




Thursday ~ 11:00-12:30 YinYang, Pure West




Thursday ~ 5:30-6:30 Vinyasa 1/2, Pure East




Friday ~ 10:30-12:00 Chakra Slow Flow, Pure West




Friday ~ 5:30-6:30 Restorative, Pure East



Om Factory AcroYoga

Classes

:
Friday~ 7:30-9:15pm AcroYoga Flow Open Level ~ Fashion District
1st & 3rd Fridays of Month ~ 9:30-11:30pm AcroYoga JAM ~ Fashion District
1st Mondays~ 5:30-7:00 Solar (Acrobatics) Open Level ~ Union Square
1st Mondays~ 7:15-8:30 Lunar (Therapeutics) Basics ~ Union Square

The answers I gave recently for my Om Factory faculty poll read like my personal Edge Rx, so I share them below...

Blurb: "Became a mom at 36 and then discovered Yoga. Began teaching Yoga at 42, AcroYoga at 48, Slackline Yoga at 52. Learned to surf and climb at 52. Recovered from a serious lower back sports injury at 53, through mind-body exploratory therapy. Began running and hooping at 54. What's next? Excited to discover."

A Fun Fact about yourself:
"Self, son, and husband are all Actors' Equity Association members. Recently passed written motorcycle test; to join husband & son in earning motorcycle license."



Your Favorite pose and why:
"Hangle Dangle, which is Visvamitrasana upside down on a partner's extended leg. I love the delicious stretch, and I love the arm reach and dristi up toward the sky, and face and heart turned out toward the world!"

A Yogic quote you like:
Paramahansa Yogananda ~


(1) "

Kindness is the light that dissolves all walls between souls, families, and nations."


(2)

"Do not think of yourself as the body, but as the joyous consciousness and immortal life behind it."


In the AcroYoga corner: New York City's 3rd Annual summer AcroFest weekend is on its way!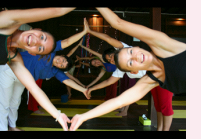 Two full days, August 23-24. Sign up now - limited space - for this amazing extravaganza of teachers from near and far, at the glorious Circus Warehouse, and with giant Sunday Park Jam to end finish the weekend!

Wanderlust 108: 9/13 Brooklyn

Northport , L.I. AcroYoga 9/20-21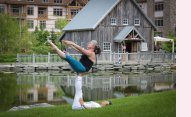 Deepen and heighten your AcroYoga practice, with fellow Level 2 teacher Linda Mittel and myself in Flying Higher: AcroYoga Weekend at Inner Spirit Yoga Center in East Northport, Long Island on September 20-21.

Come one, come all! Partners and experiences are welcome, and not necessary! You will have plenty of both by Sunday evening!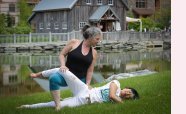 NY Elemental Acro Immersion 8/30

Photo credits: John Suhar Photography, Ali Kaukas, Chris Martucci, Lindsey Britt, Jonny Nobleza, Deven Sisler.



Please feel free to Reply or Forward!

I value your email privacy and I do not share email lists.

Om Shanti! Skate your Edge!

Love, Mary