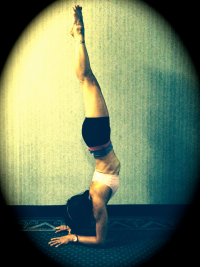 Pincha Mayurasana ~ Peacock Feather ~ describes the long pointed sweep of the body up towards the sky in a forearm-stand balance.

While I have alignment to work on, this month I found my upwards sweep.

The precise two mantras I intone as I sweep up are open the hips and open the heart.

For me this is a fiercely emotional practice, at once frightening and freeing. I have descended with damp eyes from the internal discipline and courage it takes for me to do those two simple actions: open the heart, open the hips.

On a physical level I understand this as an instructor: if I close the hips, the torso pikes; if I close the heart, the shoulders bunch. A balance is not sustainable in either of those self-protecting reflexes.

As I come down I am quaking and trembling, and not with physical strain. One cannot sustain peacock feather without touching their own openness and vulnerability. There is surrender to the forces of life, like the golden leaves that tremble in autumn breezes. This August I discover there is no panache, no freedom, without willingness to be open to woundedness.

Rabbi Leonard Schoolman taught an interfaith group I attended years ago why God tells us to lay His words "over" our heart: so that when our hearts break open, His words will fall in. If you seek the Divine, you may well need to be willing to soften, yea, to break open, your heart. And see what falls in! With grace, with plumage, with panache.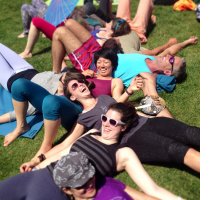 With the successful launching of my cosmopolitan offspring off to college, I am picking up my travel skirts to teach in farther reaches, beginning modestly with days and weekends in Long Island and Rhode Island.

Below are a few booked dates for the fall, mostly AcroYoga full-day and weekend intensives. Visions of Canadian cities and more training and teaching trips beckon on the horizon for next year.

MY UPCOMING ACROYOGA EVENTS OUTSIDE OF NYC:

9/13: Wanderlust 108 ~ Prospect Park, NY ~ free AcroYoga demos
9/20-21: E.Northport, LI, Inner Spirit Yoga ~ Flying Higher Weekend
9/27: Wakefield, Rhode Island, All That Matters ~ 2 Sat. Workshops
10/10-12: Portland, OR ~ Divine Play 5th Annual AcroYoga Festival
11/1-2: Wakefield, RI, All That Matters ~ AcroYoga Weekend

Weekly Classes IN New York City ~

Pure Yoga New York, East & Westside ~
Mon 10:30-12 Slow Flow Meditation, Pure East
Tues 12:30-1:30 Restorative, Pure East
Thur 11-12:30 Yin/Yang, Pure West
Thur 5:30-6:30 Vinyasa 1/2, Pure East
Fri 10:30-12 Chakra Slow Flow Meditation, Pure West
Fri 5:30-6:30 Restorative, Pure East

Om Factory, Union Square Flight School & Fashion District ~
Mon 7:15-8:45 AcroYoga Lunar ~ Basics, Flight School Union Square
Fri 7:30-9:15 AcroYoga Flows ~ Open level, Fashion District

Peace before Perfectionism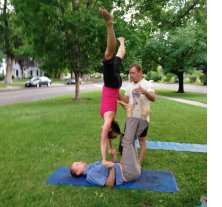 I stayed an extra day and night in Reno, NV after Wanderlust Tahoe, where this loving wise community of Yogis taught me something I have since been pondering with deep effect for all of life.

"We feel it is more important that our partners are happy than that we achieve success in a targeted technique."

I've tried that concept on for size in yoga and human relations, and found it powerful and transformative. Test drive it for yourself and see what happens!

Thanks this issue go to Wari Om, Tamar Melen, and Raul Aranas, and to AcroYoga.org.

'Puja is a ritualistic form of worship that has been used throughout the temples of India for thousands of years. The word "puja" comes from two Sanskrit words which together translate as "to create purification of the mind and to acquire virtuous qualities while removing bad qualities or karma."'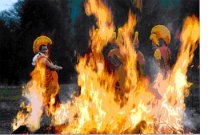 There are times of our lives when we are purged by fire. We know we will emerge refined even as the flames embroil us with intense sensation; and we exult that at least those flames tell us we are truly alive.

There is great healing, too, in the purging of water. Tears, baptisms, waterfalls, rivers, rainstorms, bathing of every kind, renews and rebirths us symbolically and physiologically. When you undergo your gifts of growth and evolution, welcome the purging of fire and water both; be excited for what emerges!

Exciting end-of-summer sales on private yoga packages at Pure are offered through this weekend! Contact Sonja Rzepski.

These are transferable, can be spread over time, and are equally good for Pure members and non-members, first-time yogis and long-time yogis.

Use them for any Pure teacher in any of their myriad specialties, whether it's to fine-tune your handstand with Matt Giordano, take a Restorative with Dana or myself, a Yoga Nidra with Yogi Charu, Karen or Shakti or myself, or even treat a friend to Thai Massage. Create your own sessions ~ Thai and Fly with Matt or Taylor or myself, Yin/Yang or Flow/Restore with Sho, Stephanie or Jon... Use your imagination! Buy this by Sunday ~ today!

Forgive the brevity of this issue; I am in the midst of a NYC Elemental AcroYoga Immersion and last weekend was the 3rd Annual NYC AcroFest. I'm also in voice-over studies and motorcycle driver license studies while planning my teaching weekends. Much activity, less time to report on them!

Your privacy is of paramount importance to me. I never share email lists, and you may always Unsubscribe at any time. You are also of course welcome to Forward or Reply!

Much Shantih, Peace to you!
Happy Labors of Love!
Ommmmmary