Thanksgiving Restorative 11/15
Join me and my team of loving assistants this soon upcoming Saturday November 15th from 2-4pm at Pure Yoga Eastside in New York for my two-hour "spa yoga" or "nap yoga" Thanksgiving Restorative treat.
Surrender into gentle, healing, Restorative yoga poses over bolsters and blankets, as we balance all 7 chakras with aromatherapy, mantra, yantra, soft music, and our hands-on nurturing Thai bodywork infused touch. Great for friends and family; all levels and ages, no experience needed.
10% of all my proceeds will benefit Food Bank for NYC for their Thanksgiving meals programs. Pre-register to ensure we have prepared enough space and aromatherapy Wild Orange take-away gifts for you! Register online or call Pure East: (212) 360-1888.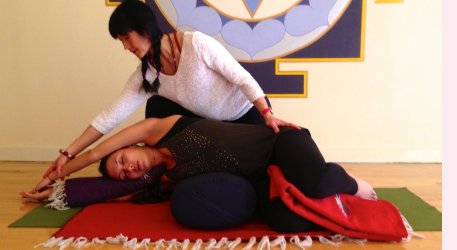 How often do we equate happiness with whether life has handed us a candy apple or smashed a raw egg upon our windshield of life, so to speak?
As my husband and I move through our 6th and 5th decades of earth time, more people we know encounter family or life circumstances that strongly resemble ~ or okay, are ~ eggs on windshields.
Of course, tricks and treats can and do surprise us throughout our lives. And when we realize we are not in control, that the precious illusion we sometimes drive entire years under the influence of, is just an illusion ~ that's where we choose our response to the Boo element of life.
And when we realize that every moment is a free gift? Our response can be a psychic throwing up of our hands. And just as possibly, our response can be a joyous celebration of every single moment. Freed from the illusion of control, what if our whole mandate is to enjoy each best day? A blossom? A blue sky? Laughter among friends? Beer, fries, hugs? That cat arching up against you to be petted? What are you waiting for, my friend?

Happy Trick and Treating, happy yogis!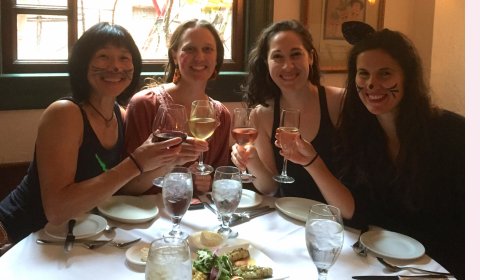 Upcoming Events:
11/7: 1st Fri JAM ~ Om Factory Fashion District, 9:30-11:30pm, NYC
11/15: Restorative Thanksgiving Feast ~ 2-4pm, Pure East, NYC
12/13: Restorative Holiday Bliss ~ 4-6pm, Pure West, NYC
Pure Yoga NYC Weekly Yoga Classes:
Pure Yoga East Side ~ 203 E.86th St. (3rd Ave)
Monday: 10:30-12:00 Slow Flow Meditation
Tuesday: 12:30-1:30 Restorative
Thursday: 5:30-6:30 Vinyasa 1/2
Friday: 5:30-6:30 Restorative
Pure Yoga West Side ~ 204 W.77th St. (Amsterdam Ave)
Friday: 11:30-12:30 Restorative
Om Factory Weekly AcroYoga Classes:
Friday: 7:30-9:15pm AcroYoga Flow Open Level ~Fashion District
1st Friday/Month: 9:30-11:30pm AcroYoga JAM ~Fashion District
Private Sessions by Appointment:
Thai Yoga * Restorative Yoga * Meditation * AcroYoga * ISHTA Yoga
Stay on my ENews list to know of future retreats, trainings, workshops or immersions monthly, as I schedule them!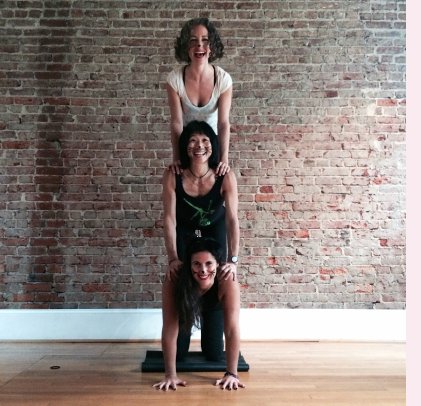 Life changing books for me this year, and life changing authors,

all

the time:
Dr. Masaru Emoto: A special prayer of thanks and blessing for this scientist's life work, and his passing this week into the greater energy realms:
The Hidden Messages In Water
Marianne Williamson:
Enchanted Love
Louise Hay:
You Can Heal Your Life
Judith Hanson Lasater & Ike K. Lasater:
What We Say Matters

on
Non-Violent Communication as a healing mode in the planet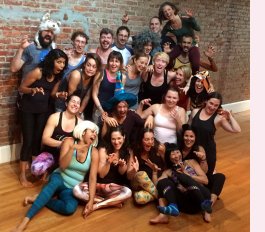 Thanks this issue to: Wari Om Photography (Park with Adam Rinder) Kristina Cubrilo (bolster with Michelle Velasquez), Ryan Martin (me with ocean), AcroYoga teachers Katie Capano, Jen Leisch, Elizabeth Burris; and the delicious AcroYoga Elemental Immersion students at Epic Yoga, including kittycat Lauren Danelle.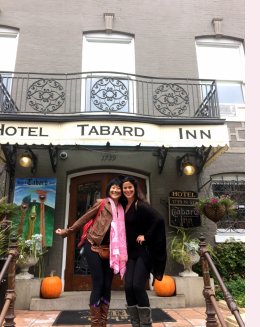 Surf your own eternally available, ever-present wave of abundance, creativity, passion. It means launching joyfully into this one day: your best, first, last, of all your days, each and every day. Inspired? Support my fellow YogaSlackers & AcroYogis Raquel Hernandez-Cruz & Sam Salwei, as they trek across the planet spreading love and expansion in the PeaceLoveCar. Check it out!
Because e
nergy flows where attention goes! Check out Ryan Martin's surf photography, and my favorite annual surf, climb, slackline, & AcroYoga retreat in Rincon, PR with Adi Carter & Kadri Kurgun!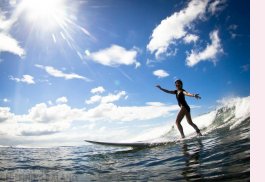 I value your privacy and do not share email lists. Please Reply or Forward, Subscribe or Unsubscribe anytime! These come to you monthly to keep us cyber-connected, and let you know of new and upcoming scheduled events I am partaking in or leading, that may be of interest to you or your friends.

Maha shantih!
Peace! Love ~ Mary