NHSTA Fall Conference
In November, I had the opportunity to spend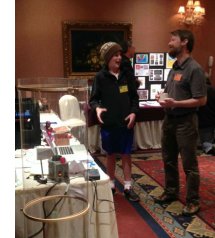 time at the fall conference of the NH Science Teachers Association in Meredith. NCES shared some exhibit space with White Mountain Science Inc (WMSI) in order to showcase highlights of our work with the region's STEM Resource Partners - the 40 educators involved in our Math Science Partnership project. More to come on the STEM Resource Partners in future issues, but I wanted to note how impressed I was with both the organization of the NHSTA conference and the general buzz for science among attendees - even at 7:00 AM on a Monday morning! NHSTA also offers a spring conference and summer institute that you may want to consider checking out.
Science & Engineering Expo
Speaking of science, I believe NHSEE is still seeking volunteer judges for the NH Science and Engineering Expo. That event takes place on March 19th in Concord. There is a small group of folks exploring the idea of regional North Country STEM fair for next year. We would like to hear from local folks who are or have been involved with the NHSEE event or have experience with a regional science fair.
Accessing $100m worth of STEM related ebooks and videos
I recently learned about a cool and free STEM resource. Teachers with a verified Edmodo account (also free) can access high-quality content perfect for sparking and supporting an interest in technology, learning to code, and a range of STEM careers from the O'Reilly Media catalog. Starting in January, students can sign up for access as well. Learn more about Safari for Schools and the ConnectED opportunity here: https://www.safaribooksonline.com/connected/
Business and Education Symposium
Speaking of careers, the North Country Charter Academy organized an event sponsored by the Mountain View Grand that gathered business and school leaders from the region in November. The event included a panel discussion. Fourteen panelists responded to questions posed to them by the moderator, Dr. Paul Ezen, former Deputy Commissioner of Education for the State of New Hampshire. The session intended to highlight current needs in the workplace and efforts underway in schools to better prepare students for college and careers.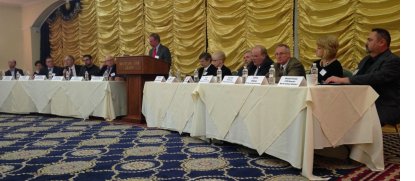 Panelists: Christopher Diego, General Manager, Mountain View Grand Resort; Judith McGann, Superintendent Lin-Wood School District; Jerry Hite, Manager, Haverhill Hannaford; Thomas White, Vice President of Operations, New England Wire Technologies; Chad Crane, General Manager, Berlin City Auto Group; Brien Ward, Attorney at Law; Paul Pinkham, HR Manager, Burndy; Scott Howe, CEO, Weeks Memorial Hospital; Carmen Menard, AVP Branch Manager, Passumpsic Bank; Robert Butson, North Country Work Place Education Program; John Dyer, Director of Community and Corporate Affairs, White Mountains Community College; Alan Smith, Director, Hugh J. Gallen Career and Technical Education Center at Littleton High School; Lisa Perras, Director, Arthur T. Paradice Career and Technical Education Center at White Mountain Regional High School, and Roland Pinette, Director, Berlin Regional Career and Technical Education Center at Berlin High School.
North Country Work Place Education
And last, for this month, but certainly not least, I want to extend an invite to principals, school counselors, ELO coordinators and others who may potentially be involved with internship opportunities in North Country schools to learn about the North Country Work Place Education program serving Littleton, Lisbon and Profile Schools. Bob Butson, director of this program, will share his insights after several years of experience working with these schools and over 50 businesses to provide on-the-job skills and competencies to students. This will take place at NCES following the North Country principals' meeting as part of the NC CIA session on Wednesday, January 7 2015 from 10:30 - 11:30. Please RSVP if you plan to join us.
Lori Langlois
Executive Director
---
Enhancing Classroom Skills for Scientific Practice through Real World Investigations
Are you interested in developing your skills to support students as science practitioners? A series of workshops is being offered to support K-12 teachers in developing the understanding and skills necessary for implementing the Science and Engineering Practices as listed in the Next Generation Science Standards (NGSS).
Teachers are being asked to develop STEM skills in their students to prepare them to be college and career ready. These same skills are also emphasized in the Next Generation Science Standards and NH Frameworks, with the reasoning that to be truly scientifically literate, students must learn disciplinary content in the context of science and engineering practices. These professional development workshops are designed to strengthen science inquiry skills by engaging teachers in the process of scientific investigation and data analysis.
For more information, visit the NCES website.
The Science Process
Dates: Friday, February 6 & Saturday, February 7, 2015
Using Real Data in the Classroom: Part 1
Saturday, March 7, 2015
Using Real Data in the Classroom: Part 2
Friday, April 10, 2015
Instructors: Dr. Sarah Turtle, Plymouth State University and Jackie Wilson, Hubbard Brook Research Foundation
Cost: Free to NH educators
Graduate credit: Optional Plymouth State University graduate credit will be offered (for a fee) to those who participate in all three workshops (4 full days).
Registration will open on January 5th if seats are available (priority reserved for STEM Resource Partners participating in the MSP project). You may contact NCES in advance of the registration opening to express your interest in participating.
---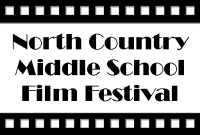 It is not too late to get involved in this year's film festival. The theme is Celebrate What's Right!

The intention is for the theme to lend itself to any content area while promoting assets of our region. Assets can be people, places, events, products, services, activities, ideas - literally anything that is worth celebrating.
Schools involved thus far are Berlin Middle, Bethlehem Elementary, Jefferson, Lafayette, Lancaster, Lisbon Regional, Milan Village, Monroe Consolidated, and Pittsburg. There can be multiple teams and advisers participating from the same school.
Films due February 11, 2015, but please register teams in advance.
Learn more.
---
What Teachers Need to Know about the ELA CCSS with Dr. David Pook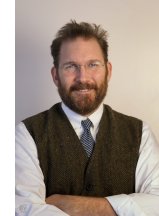 David Pook is a NH educator and an educational consultant who worked with the Council of Chief State Officers on developing the Common Core Standards for English Language Arts.
Participants will learn:
✓ what activities and assignments participants can build and deploy in "year zero" to ready their students for the challenges posed by Next Generation assessments
✓ how to translate the standards and address the demands of the CCSS while simultaneously preparing for assessments
✓ how to implement a toolkit for crafting text-dependent questions, designing close reading lessons, and generating a variety of writing prompts aligned to the CCSS.
Date: Tuesday, January 6, 2015 from 8:30 - 3:30
Location: NCES
Cost: Staff from full member schools $125, associate member schools $145, all others $175.
Registration: Register online at http://www.ncedservices.org/pookreg/ or call 603-466-5437 (between 8:00 - 4:00) or email lisa@ncedservices.org.
---
Media Literacy for Safe and Healthy Choices
A FREE media literacy curriculum training is being made possible through a grant from the NH Department of Justice, Office of the Attorney General, with support from the NH Department of Education, NH Association of School Principals, NH School Counselor Association, the NH Pediatric Society and the US Attorney for NH.
Through this statewide initiative, Media Power Youth, a NH based non-profit and expert in media literacy, will provide curricula and training at no cost to upper elementary teachers and school professionals interested in implementing the program in their schools. All educators completing training will receive professional development hours and a copy of the curriculum.*
Participants will gain:
An understanding of the basic principles of media literacy

An understanding of the influence of media relating to multiple health topics (violence, aggression, and bullying, tobacco/alcohol use, and nutrition and healthy food choices).

Familiarity with the logistics and content of the "Media Literacy for Safe and Healthy Choices" curriculum

Skills to integrate lessons into classroom time and across content areas

An understanding of how to empower youth to lead safe lives through smart use of media through classroom art and media projects

Skills to encourage personal, organizational, and community efforts to promote media literacy education and smart media consumption/use
Who: NH Upper Elementary Teachers (grades 4, 5 & 6) and other school professionals
Date: March 16, 2015, full day, exact time TBD.
Location: NCES
Cost: Free
Click here for more information and to register.
---
January 21st Gathering for Arts Educators
North Country arts educators (visual arts, music, theater, creative writing and dance) as well as school cultural activities coordinators are invited to an after-school gathering to discuss in- and out-of-school arts activities, ideas, and needs on Wednesday, January 21, at Lancaster Elementary School (snow date January 22). The gathering will start with snacks and networking from 3:30 to 4:15 and a discussion from 4:15 to 5:30 p.m., which will include a review of 2015 offerings from the Arts Alliance and its members and partners around the state, and a chance to talk about grant and collaborative opportunities.
The meeting will also be an opportunity for high-school art educators to drop off student work they would like to submit for Friends of the Arts' Annual Juried High School Art Exhibit which will run at the Silver Cultural Center in Plymouth from Sunday, February 1st through Thursday, February 19th. Please contact the Arts Alliance for details or to register at programs@aannh.org.
---
Competency-Based Assessment Learning Path
One last resource to highlight this month, the Competency-Based Learning pathway on the NH Network. There are several self-paced courses in the learning pathways section. Given many schools are in the midst of developing competency-based assessments, you may find the content helpful.
This learning pathway was developed by Rose Colby, the co-author of Off the Clock: Moving Education from Time to Competency. Rose is the NHDOE liaison for competency-based assessment. She also serves as a national advisor and contributor to CompetencyWorks.org.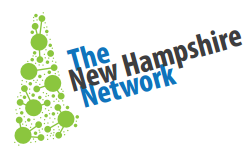 There is great content within this online course/pathway. All NH educators have access to the New Hampshire Network through their Educator Information System sign in. Need help with logging on? Visit here.
---



Opportunities for Schools from Artists in Residency





Mckendy Fils-Aime


Haitian-American poet, educator and poet offers writing workshops for students (K-12). This could include an introduction to slam poetry workshop for teachers, assemblies, open mics and workshops exploring race and identity. January 12-18, 2015.



Burlington Taiko


The powerful and energetic rhythms of Japanese Taiko drumming to students and adults in our region through workshops and assemblies. February 2015.



Asylum Quartet


Four young, award-winning, conservatory-trained saxophonists perform classical, modern, indie rock, klezmer and world music. Offering band, saxophone, music educator and general music workshops and great assemblies. March 15-20.



Marvelous Marvin's STEAM Tour


Using theater, circus arts and rhyming text to engage students in science, math and more. Interactive workshops and assemblies, K-6. April 2015.

Learn more and sign up your school by calling 323-7302 or programs@aannh.org.

Interested in arts related professional development and other arts-related opportunities for students and schools? Be sure to visit the Arts Alliance of Northern NH's website.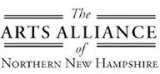 ---





2015 International Aviation Art Contest for Students



NH's Bureau of Aeronautics sponsors the statewide competition for three age categories between the ages of 6 and 17. All art contest entries must be postmarked by Friday, January 23, 2015 and submitted to 7 Hazen Drive, PO Box 483, Concord, NH 03302. Contact J. Thomas Manseau with any questions at 603-271-1094 or jmanseau@dot.state.nh.us.

Learn more



---




NH Department of Education Job Posting



The Bureau of Credentialing is accepting applications through December 12th for a position that includes working with districts on their Master Plans for Professional Development. Learn more



---
New Hampshire:
Our Story of Transformation


This publication represents NH's story—one of the successes and struggles to transform an entire education system from the bottom up rather than the top down—to promote ownership and nurture real and lasting change.



---




Presidential Awards for Excellence in Math and Science Teaching



The 2014-2015 nomination period for 7-12 grade mathematics and science (including computer science) teachers for the Presidential Awards for Excellence in Mathematics and Science Teaching (PAEMST) program is currently open.

Please consider nominating a talented teacher using the PAEMST website today. The 2014-2015 nomination deadline is April 1, 2015, and the application deadline is May 1, 2015. Applications will be available on the PAEMST website on November 1, 2014.



---
Openings at NCES for the 2014-15 School Year
Posted on SchoolSpring
---


Odysseyware provides online curriculum for grades 3-12, with customizable core, elective and CTE courses, assessment & remediation tools and much more. Odysseyware is ideal as a stand-alone curriculum or for blended learning, credit recovery, RTI, alternative and special education, ESOL, 1:1 and more.





---




ASCD eBook Collection at NCES



Educators from SAU's 3, 7 & 58 now have access to 51 professional development eBooks from ASCD. This was made possible through the Rural School Educator Effectiveness Collaborative funded by SAHE. Contact NCES for the password if it has not been made available to you by your principal or librarian.



---
Have news to share with the education community in the North Country
?
Send us your news to be featured in this monthly newsletter.
---
Contact:
North Country Education Services
300 Gorham Hill Road
Gorham, NH 03581
ncedservices.org
603-466-5437
nces@ncedservices.org
NCES is an equal opportunity employer and provider.