Gift Certificates available up until Christmas Day

Has one of your friends been talking about wanting to garden but needs a little encouragement to get started? Does your spouse need a little gardening tutorial? Do you want a fun educational activity to do together as a family?
Consider a gift certificate for garden coaching or edible landscape design - giving your loved ones support in pursuing their interests while also adding to the beauty and health of our community.
I can create a gift certificate that is personalized to their needs. Here's some examples:
$20 — Initial Intake: An in-depth interview and walk around the property to gauge the client's needs, wishes and vision. Some quick advice and gardening tidbits are included in the discussion, which typically takes about an hour.

$50 — Initial Recommendations: Following an in-depth interview with the client, I write detailed recommendations addressing the client's most pressing concerns, along with a proposed timeline and estimated budget for the landscape work.

$100 — A Day in the Garden: I provide instruction at the client's garden on his/her topic of choice. Examples are: setting up no-till gardens; prepping beds and planting; managing pests; pruning and trellising; building season extension structures; and preparing the garden for the winter. Sessions typically last two to four hours. Package includes educational materials to help the client prepare for the visit and follow up with the work. This session can be one-on-one or with a group such as a family or a handful of friends.

$Your Choice — Edible, Medicinal and Native Landscape Design: Fees vary widely depending on needs of the client and size of the property. For the gift certificate, you may contribute what you are able to, helping fund a larger project.

Contact me (Megan) at 828.333.4151 or gardens@wncmretc.com. I'll check my messages up until Christmas Day!
If you missed my last newsletter, I featured one of my latest designs, which contains several different ecosystems on a quarter-acre front yard. It incorporates many Appalachian edible and medicinal herbs as well as plants that are beneficial to others around them.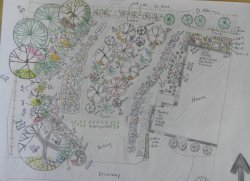 We often wait until the holidays to share with others what we always carry in our hearts. In my case, it's deep gratitude. To my clients who are giving something new a try, reprioritizing how they spend their energy to include the garden. To my plant customers who keep me excited about growing seedlings when they tell me how well my plants do. To my colleagues who lend their graphic design, editing and photography expertise. To my neighbors who I've gotten to know better through gardening. To my friends and family who support me as I continue to put more drive and focus into my work to see my vision realized.
I've quoted in my newsletters before, "It takes a village to build a business" – and that is especially true for a mission-driven business that stays true to an ethical business model while enhancing the community. Slowly but surely I continue to climb, detecting a scent of something really enticing, sensing that just around the bend I'll be on smoother terrain and able to pick up the pace. Anyone who has started a big project knows this feeling well. Thank you for being by my side as I hike up this hill, and I look forward to seeing more of you in the New Year.
Best wishes in this holiday season.
Contact Megan at

M R Gardens

M R Gardens is in the outskirts of Oakley in Asheville, NC

828.333.4151

Earn a free plant for every one of your referrals who purchases a plant from M R Gardens. Just tell your friend to let Megan know they heard about M R Gardens from you! Seedling sales start in spring.

Click
here
to read about my interesting background in horticulture, sustainable agriculture and experiential education.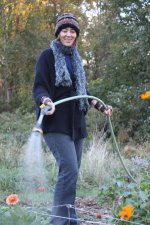 M R Gardens business values

Health

Community

Traditions

Sustainable Systems


Some activities require someone by your side to really grasp them, and gardening is one. When you are shown how to set up a bed, plant the crops and harvest them, you are much more likely to remember how later. It's also important that you set up a system that fits your lifestyle, schedule, goals, personality and work style, so that you stick with the activity over time. In addition to working with you a few days your first season, I can provide you a garden plan specifically for you, as well as spreadsheets, timelines and growing tips to make your life in the garden manageable.
Read more here
.

I serve individuals, families and business owners who want to improve their properties and the well-being of their customers with edible gardens. Using primarily edible and native plants, I tailor designs to the client's unique needs, with the goal of creating an aesthetically pleasing, therapeutic and useful area that raises quality of life and property value. I incorporate themes of traditional design (such as texture, levels, line, unity, balance, simplicity, color, and ease of maintenance) with the principles of permaculture design (such as microclimates, useful vegetation, and the smart use of the sun's and the gardener's energy). I aim to create a vision, alongside the property owner, that is both extraordinary and practical, so the landscape can realistically be implemented and maintained. Read more here.