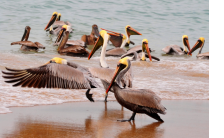 This month, I celebrate vulnerability! I have lived my entire life as stalwartly as though strong meant invulnerable. The beauty of a sweet family reunion in Mexico right on the heels of a bout of pneumonia gave me a chance to reflect on the value of Kryptonite in our superhero lives.

When we encounter our Kryptonite, it is simply the substance from our birth planet. Yet it humbles us, brings us to our knees from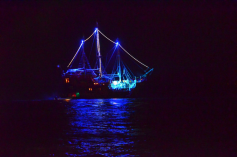 our egoic hurtling through outer space. And right there on our knees it offers us a precious gift: the option for true courage. To face down our vulnerability and go forward anyway in the face of risk.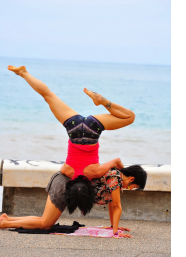 Love is risk. I loved roller coasters as a child. The moment I became a mother, I shuddered at them. Love for a child "out there" makes one so much more vulnerable, to so many more things! That is love, period. And you cannot erase that fact. Yet you do not want to shrink-wrap your heart. Opening your heart to risk lets life in. My front door is forever unchained now, as our son lives "out there" at college. Embracing Kryptonite feels like an unchained heart door.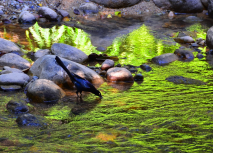 I have so much more unchaining to do.... It is a lifelong yoga path through body, breath, and life.
Vulnerability: to welcome with grace each time you recognize the shining green gemstone before you as your personal Kryptonite. Here is your gift, your opportunity for greater courage, softness and ultimately, greater true strength.
Valentine Restorative Treat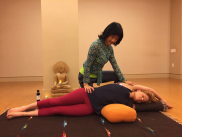 On February 14, 2015, treat yourself to a Saturday afternoon Valentine Restorative, my yummy 2-hour Chakra tuning feast of restorative yoga poses, nurturing hands-on touch from me and my loving team of assistants, aromatherapy, and guided meditations.
It is a delicious Saturday afternoon 1:30-3:30, at Pure Yoga East. There is a duet discount if you register two people together; an incentive to treat a friend or loved one to Restorative Yoga!
Click here for more info. and to pre-register to save your space.
Pure Yoga East Side ~ 203 E.86th St. (3rd Ave)
Monday: 10:30AM-12:00 Slow Flow Meditation
Tuesday: 12:30-1:30 Restorative
Thursday: 5:30-6:30PM Vinyasa 1/2
Friday: 5:30-6:30PM Restorative
Pure Yoga West Side ~ 204 W.77th St. (Amsterdam Ave)
Friday: 11:30AM-12:30PM Restorative
Om Factory ~ 265 W.37th St. (8th Ave)
Friday: 7:30-9:15pm AcroYoga Open Level
1st Friday/Month: 9:30-11:30pm AcroYoga JAM
Private Sessions ~ Pure Yoga Studio or home:
ISHTA * Restorative * Thai * AcroYoga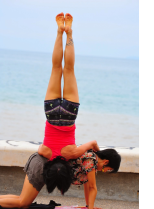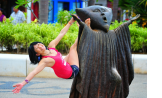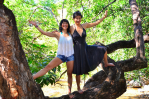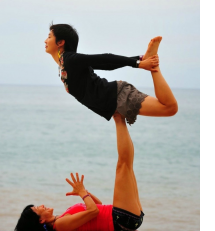 New York City will host all 3 tracks of 5-day AcroYoga Immersions in 2015. l'm delighted to assist in two and co-teach one.

The Jan. 24-28 dynamic Solar Immersion co-led by Chris Loebsack and Arianne Traverso has just a few 5-day openints left, and a waiting list for weekend and 1-day spots.
The June 27-July 1st therapeutic Lunar Immersion co-led by Justin Caruso and Chris Loebsack will be super sweet!
My Sept. 19-23 Elemental Immersion, co-led with the marvelous Katie Capano, is a perfect balance of Solar and Lunar depth!
Juicy joyfulness 2015!
Pure Yoga offers various membership options and private yoga packages. Whether for yourself, loved ones or both, ask about membership with a Yoga Consultant, about current private specials to Sonja Rzepski sonja.rzepski@pureyoga.com.
There is a HOLIDAY SPECIAL of 3 SESSIONS FOR $295 (offer lasts til Wed 12/31). Grab 'em now; regular rates increase $5 a session as of January 1st!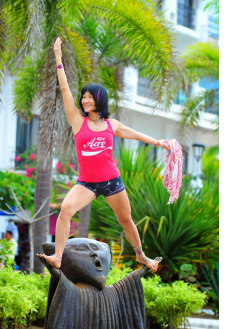 Private sessions at Pure are whatever you and your teacher choose: meditation, core work, alignment, breathwork, therapeutic sessions or more.

Members/Non-members may buy Pure privates and enjoy the deluxe facilities for the day, including the steam at West and luxurious wi-fi lounges at both!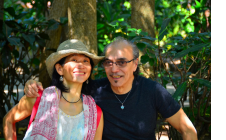 Vacation photo thanks to my brother Charles Lee and my lovely niece Monica Lee. Restorative photo thanks to my sweet assistant Megan Kelley!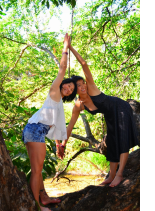 Wishing you all a healthful, beautiful New Year & 2015!
Om Shant!
OMmmmary