Yoga & AcroYoga For All . . .
Once not so long ago, Yoga in the West was a practice for the bizarre and wacky few. Today it is about as bizarre as diet soda, or more apropos, as green juice or green smoothies. It is no longer an esoteric practice for the ascetic or super-bendy. Its health and centering benefits are for everyone, all ages, levels, and walks of life. Who does not benefit from union in their body and spirit?
AcroYoga is now mainstream, too, in just ten short years! Wow! ~ Kudos to co-founders Jason Nemer and Jenny Sauer-Klein, for putting it out there!
AcroYoga was once seen as something for the rare, adventurous few. But in what universe are Acroyoga's benefits ~ community, support, play, nurturing safe touch ~ not for everyone? Who does not need higher union?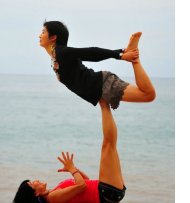 As a teacher of both Yoga and AcroYoga, I want to create a world where they are both for and available to all of us. This newsletter contains my ongoing offerings toward that aim.

In 2008 when I was accepted into AcroYoga teacher training, I felt euphoric, like an astronaut chosen for an elite mission!

I still feel euphoric, we are still the chosen, but we are not so few. And today I feel as humble as elite. I like this
quiet euphoria. Like every other Yoga teacher, privileged to live, learn, and seek union, I keep sharing the practice I love, out there for the world. Union and High Union for all.

NYC Elemental AcroYoga Immersion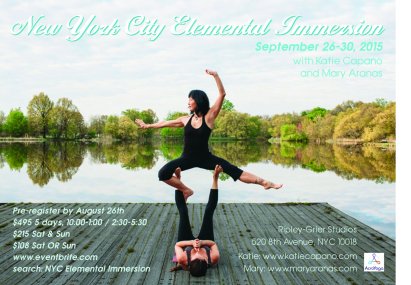 I am so excited to co-teach the 2015 NYC AcroYoga Elemental Immersion, Sept. 26-30 here in midtown Manhattan! My Philadelphia co-teacher Katie Capano and I are going to have such a blast! There is a rocking, strong and sweet assistant team joining us, and all New York AcroYoga teachers will be invited to drop in as they wish, to support, too!
This is 5 days of AcroYoga depth, balanced equally between Lunar practices (Thai massage, Therapeutic Flying, Lunar Asana) and Solar practices (inversions, strength and tightness drills, acrobatic flying). It is suitable for both AcroYoga beginners and for those deepening their practice toward the teacher training track. This Immersion satisfies one of the requirements towards AcroYoga teacher training application. For Yoga Alliance RYTs, this Immersion qualifies as 30 hours of CEU contact hours. Click here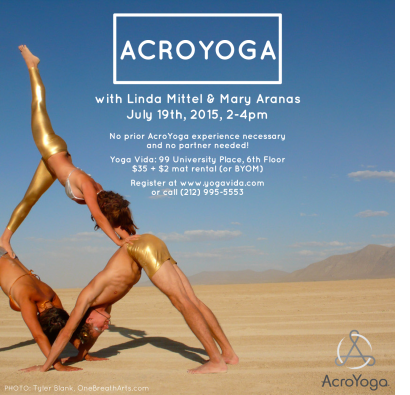 I am delighted to offer two upcoming AcroYoga workshops at the beautiful Yoga Vida studios downtown, where we are cultivating a lovely new AcroYoga studentship! The dates are July 19 and Sept 13, both on a Sunday from 2-4PM, at the 99 University Place studio. Come alone, bring a friend, come with no experience, come with some experience; it is all good! I promise yumminess, laughs, delight, and a good amount of surprise at what you can do, how much fun you can have doing it, and how wonderful people are; and how wonderful you are, too! Click here

Here at a glance is my schedule.
See it updated at any time on my website.
Upcoming Events:
July 19: AcroYoga! Yoga Vida, 2-4PM, 99 University Pl. NYC
Aug 1-2: NY AcroFest 2015, The Muse Brooklyn, NYC
Aug 22: Summer Restorative, 2-4, Pure Yoga East, NYC
Aug 20, 27, Sept. 3: Thai Me Up, Om Factory USQ, NYC
Sept 13: AcroYoga! Yoga Vida, 2-4, 99 University Pl. NYC
Sept 26-30: AcroYoga Elemental Immersion, NYC
Pure Yoga New York Weekly Yoga Classes:
Pure Yoga Eastside - 203 E.86th St. (3rd Ave)
Monday: 10:30-12:00 Slow Flow Meditation
Tuesday: 12:30-1:30 Restorative
Thursday: 5:30-6:30 Vinyasa 1/2
Friday: 5:30-6:30 Restorative
Pure Yoga Westside - 204 W.77th St. (Amsterdam Ave)
Friday: 11:30-12:30 Restorative
Om Factory Weekly AcroYoga Classes:
Fri: 7:30-9:15PM AcroYoga Flow Open Level, NYC
1st Friday/Month 9:30-11:30PM AcroYoga JAM, NYC
Private Sessions by Appointment:
Thai Yoga * Restorative * Meditation * AcroYoga * ISHTA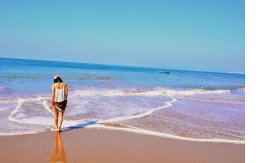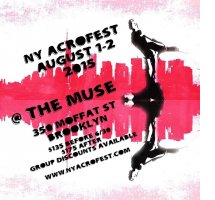 The 4th Annual NY AcroFest is August 1-2 at The Muse Brooklyn, and I am thrilled for the amazing teacher lineup, from all over! All levels and styles, no partner needed - so come!
I will teach a playful all-levels connecting and co-operation workshop.
Early Bird ends June 30. Join us!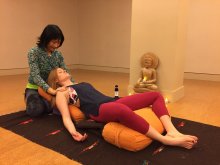 Sat. August 22nd, 2-4PM, at Pure Yoga Eastside: Summer Restorative Treat.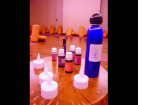 Come as you are, and be nurtur
e
d in deep, fully
supported, restful Yoga poses. Replenish your chakra ge
ms through Mary's guided meditations.

From a euphoric student
: "It's li
ke happy hour for your brain! Register here.
My loving, playful fellow AcroYogini mom, Gina Newlin and I partner up for 3 Thursday evenings in late summer to Thai massage you up by candlelight!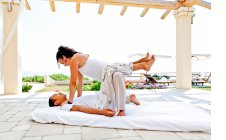 August 20, 27, and Sept. 3 at Om Factory Flight School in Union Square, come for all 3 or any week you can! We will lead 90 minutes of guided Thai massage to melt away your summer knots! No partner needed; we will supply! You will learn to give and receive!
Hold the date: October 23-25, Fall Weekend Yoga Feast in Bethel, NY in the beautiful foliage of the Catskills. We will bliss you out with flow Yoga, AcroYoga, Restorative, and Slackline Yoga!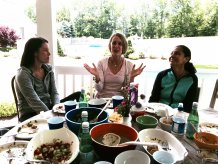 Vermont and Yoga and Music flow together beautifully! I'm briefly seen meditating here in this lovely video, edited by my yoga pal Mitch Gerbus... Clip

Thank you for photos this issue: Adachi Photography, Tyler Blank Ryan, Wari Om, Kadri Kurgun, Charles Lee, Wagging Tail Yoga, Pure Yoga, NY AcroFest.
I am always delighted to hear back from you! I honor your privacy and do not share email lists. Forward, Reply, Subscribe or Unsubscribe at any time!
Ommm Shanti!
Love, Mary