Welcome back! I hope everyone's school year is off to a great start. Though the shining sun has been beautiful, I am sure it has been a toasty start in most classrooms.
NCES was a happening place this summer. Here are few of the highlights...
4 full weeks of PSU Courses in ELA and Math
With approval of funds through SAHE, several educators took advantage of the week-long professional development opportunities offered by Plymouth State University and the Impact Center in the areas of elementary ELA, content-area writing, elementary mathematics, and high school mathematics. We look forward to seeing those participants at the various follow-up sessions that will be scheduled over the course of the year.
STEM in Action: High Altitude Balloon Challenge
Planning and designing for a high altitude balloon launch and recovery was what six educators and twelve high school students from throughout northern New Hampshire gathered for at NCES for three days this summer. The work was in preparation for a launch this fall when the shedding of the leaf canopy should increase the likelihood of finding the payload released from the balloon.
The project served as both professional development for teachers and hands-on STEM experience for students. Shortly after the participants arrived, they were assigned a task by the project facilitators from White Mountain Science, Inc. of Bethlehem. The task, working from a helium-filled balloon, plan and design how to launch and retrieve the balloon's payload carrying instrumentation to collect data, including photos or video, from the edge of space. Read more
Front row: Nick Sullo – WMSI Instructor, Sarah Clemmitt – Gorham High School, Jack Greene – Profile School, Asher Merrill – Profile School, Jack Lettre – Gorham High School, Amelia Martin – Gorham School, Morgan Staples – Gorham High School, Sarah Clark – Berlin High School, Curtis Wyman – Woodsville High School, James Lemieux – Gorham High School, Laney Hadlock – Littleton High School, Karin Anderson – Lakeway Elementary School, Nicole Piette – Littleton High School. Back row: Kevin Briere – Profile High School, Steve Roberts – WMSI Instructor, Bill Church – WMSI Instructor, Carter Merrill – Profile High School, Keri Wade – Gorham High School, Nicholas Wade – Gorham Middle School, Lucie Kinney – Berlin High School, Michael Thompson – Haverhill Middle School, Thomas Sullivan – Berlin High School.
Learning-Focused Relationships for Mentors
We missed the opportunity for a group photo, but thanks to a partnership with Berlin School District, NCES was able to offer a two-day training with co-author of Mentoring Matters, Bruce Wellman. Over 20 educators participated.
New NCES Staff
We are pleased to announce a few new staff members to the NCES team. Joining us are:
Zachery Preston - School Psychologist
Laurie Rathman - School Psychologist
Valentine Tyrina - English Speakers of Other Languages Teacher
Kristen Wadell - Speech Language Pathologist
We wish everyone a smooth and productive start to the 2015-16 school year.
Lori Langlois
Executive Director
lori@ncedservices.org
---
Differentiated Instruction Workshop
Differentiated Instruction: A Practical Approach is a hand-on interactive workshop to learn the essential principles of DI and the phases of planning a differentiated lesson. This includes learning how to use a practical approach template to develop a class unit, consider pre-assessment formats, how to collect data and honor the multiple intelligences of students. You learn DI tools and how to explain DI to your students. Ways to integrate technology will also be a part of this workshop. Ideally participants should bring their favorite lesson plan that you'll differentiate. Please bring a laptop or iPad if possible. Applicable for K-12.
Instructor: Corey Henderson
Date: Thursday, October 1, 2015 from 8:30 to 3:00
Location: NCES
Cost: Staff from full member schools $65, associate member schools $75, all others $90 (includes refreshments and lunch)
Registration: Online registration, call 603-466-5437 (between 8:00 - 4:00), or email lisa@ncedservices.org.
---
50% Tuition Waiver for Online K-12 Engineering Education Program for Teachers
Interested in certificate in engineering education? For educators employed in a school with membership in NCES, two 50% off tuition waivers are available on a first-come, first-serve basis (via email to lori@ncedservices.org) for this exciting program recently launched by Tufts Center for Engineering Education and Outreach.
Tufts Online K-12 Engineering Education Program for Teachers

The Online K-12 Engineering Education (OKEE) Certificate Program empowers teachers to bring hands-on engineering to their students through courses that give teachers the chance to learn engineering content and innovative teaching practices. Offered completely online and asynchronously, the graduate-level program (4 courses over 18 months) provides teachers with a kit of materials to engage in open-ended design projects at their kitchen table to build their engineering knowledge. Designed for working professionals, the courses leverage classroom experience and tasks participants with assignments to try with their own students.

Visit okee.tufts.edu for more information, application instructions and
upcoming webinars. Contact okee@tufts.edu with any questions.
---
STEMFEST with UNH College of Engineering and Physical Sciences Outreach
Berlin and Gorham area schools will host several North Country schools on September 25 & 26th for STEMFEST. The UNH College of Engineering and Physical Sciences will bring approximately a dozen of its students involved in STEM outreach to lead workshops and activities for students and teachers. For more information, contact Brooks Payette, Communications & Outreach Coordinator, College of Engineering and Physical Sciences at Brooks.Payette@unh.edu
Tied into the event will be an opportunity for administrators in the region to meet the NHDOE's new Director of STEM Education, Dr. Eric Feldborg. Contact Lori Langlois for more information about the meeting time and location.
---
North Country
Schools to Participate in Young Women in Engineering Conference
Students from Berlin High School, Lisbon Regional School, and Whitefield School will travel to Claremont, NH on October 7th for the second annual Young Women in Engineering event. Up to 200 students in grades 7 through 10 are expected to participate in STEM challenge activities. Last year's program featured civil engineering, hydro-electric engineering, and bio-medical engineering projects.
Presidential candidate Hillary Clinton recently met with participants from last year's event and encouraged them to follow their STEM aspirations.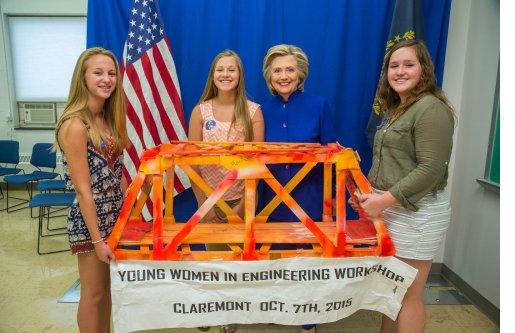 Read more of the story from the Union Leader and the Sentinel Source
---
Discounts at SERESC for NCES Members
NCES, in partnership with SERESC, is pleased to announce that we are able to offer discounted rates for NCES consortium schools for select workshops. To receive the discounted rate, you must register via NCES by SERESC's early bird registration date.
Problematic Absenteeism and School Refusal: Overview, Assessments, Strategies, & Interventions
Monday, Sept 21, 2015
More details
Problematic Absenteeism including School Refusal: A Case Study Approach
Tuesday, Sept 22, 2015
More details
Presenter: Dr. Christopher Kearney
Target audience: School administrators, school psychologists, clinical psychologists, community health and mental health providers, school nurses, school based clinicians, guidance counselors.
Location: SERESC, Bedford, NH
NCES member discount if you register by the Sept 10th early registration deadline (no discount after that date). Register via NCES by email or phone and NCES will process the registration with SERESC.
NCES full member schools: $100
NCES associate member schools: $125
NCES consortium schools w/o membership: $150
Registration: Call 603-466-5437 (between 8:00 - 4:00) or email lisa@ncedservices.org.
---
Support the work of
North Country Education Services


Your tax deductible gift helps support the mission of the organization and provide opportunities for educators and students throughout the North Country.

---
North Country Superintendents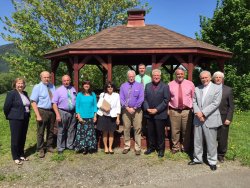 Corinne Cascadden - SAU 3, Dr. Donald Laplante - SAU 23, Robert Mills - SAU 7, Karen Conroy - Assistant Superintendent SAU 58, Dr. Marion Anastasia - SAU 36, Michael Kelley - Designee to the Superintendent - SAU 58, Paul Bousquet -SAU 20, Dr. Carl Ladd - Interim Superintendent - SAU 58, Pierre Couture - SAU 35, Harry Fensom - former SAU 36, and Dr. David Bickford - SAU 84. SAU 9, 68 & 77 superintendents are not pictured.
---
2016 North Country Middle School Film Festival

NCES is excited to announce that the six annual "Celebrate What's Right" film festival for grades 6, 7 & 8 will take place on Saturday, March 19, 2016 at the Rialto Theatre in Lancaster.

Films from last year are available on the NCES YouTube channel.



---
Mental Health First Aid Offered by NAMI NH


This is a free 8 hour training course designed to teach members of the public basic first aid skills needed to help a person who is experiencing a mental health problem or crisis. The evidence behind Mental Health First Aid demonstrates that it makes people feel more comfortable managing a crisis situation and builds mental health literacy — helping the public identify, understand and respond to signs of mental illness.


There are two (2) classes running this fall within Coos County

Saturday, October 24th, 2015 at the Androscoggin Valley Hospital (AVH)
Saturday, November 14, 2015 at the Upper Connecticut Valley Hospital (UCVH)

To register, contact Sandy Alonzo at 603-915-1801 or Salonzo.naminh@gmail.com. Registration is required.



---

TechWomen Ambassadors Week

The NH High Tech Council's TechWomen/
TechGirls committee is planning to host TechWomen Ambassadors Week for 9th grade girls for the North Country Schools. The theme is "Inspiring Girls to Explore STEM Careers". This one-day, two-hour event will take place in each region of the state during the week of November 16th, 2015. TechWomen Ambassadors representing various high tech industry sectors including aerospace, robotics, biotech, computing, engineering, green tech and more will participate in the events offering their expertise and demonstrations. If your high school has an interest in participating, please contact Carol Miller, committee chair at 603-271-2591 or email Carol at carol.miller@dred.nh.gov




---




Manufacturing Week 2015

The Department of Education, and its partners, NH Manufacturing Extension Partnership, NH Division of Economic Development, and NH Community College System, have organized NH Manufacturing Week for October 5-9, 2015. Register your school now to participate in manufacturing plant tours.

Learn more


---
Mineral Identification Workshop for NH Science Teachers



This workshop is designed to teach entry level Common Mineral Identification. It is sponsored by the Capital Mineral Club, the NH Geological Survey and the Geological Society of NH. Participants will receive a certificate of attendance for 3.5 contact hours.
Location: SERESC, Bedford, NH
Details and registration.


---
North Country Jobs in Education


Visit TeachNorth.org for education related jobs in the North Country.



---
Coos Networks


Coös NetWorks supports people of the region, the cultural and natural resources, future community and economic development of the region. This network is comprised of people who share a common passion for the greater Coös Region. If you're one of those people, please consider joining today.



---
Stay Informed with NHDOE Key Messages



Did you know that the New Hampshire Department of Education publishes key messages each month? You can find them online here:

http://education.nh.gov/key/index.htm



---


Odysseyware provides online curriculum for grades 3-12, with customizable core, elective and CTE courses, assessment & remediation tools and much more. Odysseyware is ideal as a stand-alone curriculum or for blended learning, credit recovery, RTI, alternative and special education, ESOL, 1:1 and more.




---
Contact Information
North Country Education Services
300 Gorham Hill Road
Gorham, NH 03581
ncedservices.org
603-466-5437
nces@ncedservices.org
NCES is an equal opportunity employer and provider.