Sean O'Brien name North Country Champion for Children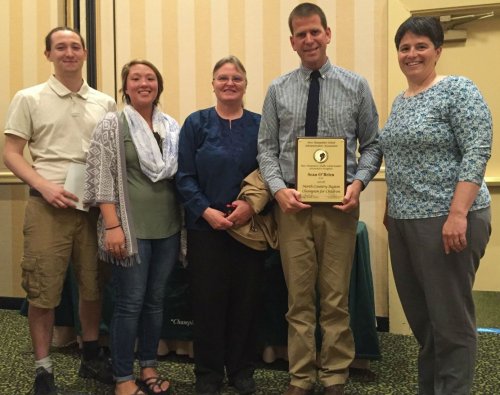 Zephyr Morrison, former YLTA student, Lynn Tilden (SAP at Lisbon Regional), Kelly Renaud (SAP at White Mountains Regional), Sean O'Brien, and Lori Langlois.
Sean O'Brien was recognized by the North Country School Administrators Association on Friday, May 6, 2016 as the North Country's Champion for Children. O'Brien, working in Profile High School's Student Assistance Program, is also the Executive Director of ADAPT, a Plymouth-based non-profit working in prevention, intervention, and after care programs that address the needs of youth ages 5 to 21. However, it is his efforts in working with student leaders throughout the North Country region on substance abuse prevention, school culture, and youth leadership that the award recognized.
Several years ago O'Brien founded the North Country Prevention Youth Council. Through the support of the North Country Health Consortium, that council has evolved into the North Country Youth Leadership through Adventure program referred to as YLTA. This group, representing student leaders in ten North Country high schools, convenes on a weekly basis to work on local and regional efforts for the prevention of substance use through dialogue and experiential activities.
Sean is highly respected by his peers. In one of the recommendation letters for this award, school counselor Matt Saladino of Gorham wrote:
Sean's willingness to share his experiential education background and vast knowledge of leadership training has impacted my teaching allowing me to engage my students on a deeper level. Sean is one of the most respected educators and facilitators I have worked with in my fifteen years of education. He has impacted my students, my school and my own teaching in a way that I could have never imagined.

I had the privilege of presenting the award on behalf of the regional superintendents. The North Country is very fortunate to have Sean in impacting the lives of students. He has proven to be resourceful, seeking out funding, in-kind support, and other resources to make programs and events happen to benefit students. But there is more than that which makes him a true champion for children, and that is how students regard him as a champion. When you talk with students involved with the Youth Leadership through Adventure work, it's clear that Sean's efforts are making a positive impact.
While at a recent regional middle school conference at Highland Center that high school students were facilitating under Sean's guidance, I was chatting with a few school counselors about how the conference going. The conversation quickly turned to Sean and how good he is with middle and high school students, with one person saying "You really need to have that AGF". I gave a puzzled look and asked what that was. The counselor responded, "You know, the AGF, the Awesome Guy Factor". The AGF is certainly a fitting description of Sean. I felt honored to present the North Country Champion for Children Award to the awesome, yet very humble guy, who is doing great work on behalf of all the schools in the region.

North Country Scholars Recognized
I had the great privilege to be a part of the ceremony to recognize the region's top students. For each of the last 11 years, NCES has partnered with the North Country School Administrators Association to recognize the valedictorians, salutatorians, and outstanding Career and Technical Education students from the North Country. To hear of the achievements and learn about the students' future aspirations is impressive. We have much to be proud of in these graduates. You can learn more about the event and the students at ncedservices.org/scholars.

Front (l-r): Jenna Randall, Groveton Salutatorian; Cassady Brown, Groveton Valedictorian; Rebecca Peters, Lisbon Valedictorian; Elyssa Gay Anneser, Profile Salutatorian; Janessa Corrigan, Gorham Valedictorian; Isabelle Branham, Mount Washington Valley Career & Technical Center Outstanding Student; Ivory Blanchette, Paradice Regional CTE Outstanding Student; Tyler Quinten Welch, WMRHS Co-Salutatorian. Middle: Chelsey Caron, Berlin Salutatorian; Brianna Zavala, Colebrook Valedictorian; Michael Hastings, Colebrook Salutatorian; Jack Greene, Profile Valedictorian; Kiana Newton, Gallen CTE Outstanding Student; Danielle Martin, Woodsville Salutatorian; Christopher Sarkis, Woodsville Valedictorian; Melissa McKinnon, Pittsburg Valedictorian; Anastasia Dawn Maher, WMRHS Co-Salutatorian; Emma Antoine-Portinari, WMRHS Valedictorian. Back: Kayleigh Eastman, Berlin Regional CTE Outstanding Student; Trevor Labrecque, Berlin Valedictorian; Nolan Nightingale, Lisbon Salutatorian; Taran Morrison, Lin-Wood Salutatorian; Thor Bartlett, Lin-Wood Valedictorian; Kyler Phillips, Kennett Valedictorian; Cierra Favreau, Littleton Salutatorian; Marissa Hood, Littleton Valedictorian; Colin J Carlson, Pittsburg Valedictorian. (Missing from photo: Ava Jackson, Gorham Salutatorian and Kathryn Lees, Kennett Salutatorian). Photo courtesy of Edith Tucker.
More Recognition of Excellence
At the June 11, 2016 EDies, Lancaster Elementary will be recognized as the 2016 NH School of Excellence for K-8 and White Mountains Regional High School for the high school award. To catch a glimpse of the excitement when the students learned about the selections, check out these clips: Lancaster and WMRHS. Congratulations to the students, staff, and administrators for their hard work paying off!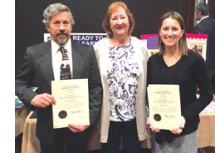 There are also two North Country educators nominated for Teacher of the Year for 2017. Both are from Brown School in Berlin. Susanne Styles is a first grade teacher and Randy Messineo works in special
education. Congratulations to both of them and we wish them well in the next round.
A Cool School...of Fish
I recently learned about a project at Bethlehem Elementary School from fourth grade teacher Bryan Smith. The students are raising Eastern Brook Trout to release into the Ammonoosuc River. Students learn across all curriculum areas. Tank set up starts in December and includes lessons on heat energy, conduction, Insulation, temperature, volume, oxygen and ph. The eggs are delivered in early January and the students learn about structure, adaptation and habitat conservation. Students watch the eggs hatch and learn about natural selection and mutation. Every year there are even a few two headed trout. Students get to see the entire process and feed larger trout during their visit to the Twin Mt. Hatchery. They also learn about structure and anatomy through trout dissection.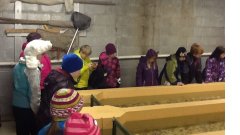 After raising the trout through the spring, students release the fry into the Ammonoosuc River. During this trip students spend the day learning about indicator species and complete a macro-invertebrate study. The macro-invertebrate allows the students to judge the water quality based in the number and types of macro-invertebrate they find. students also made observations on erosion and changes occurring in the river. This spring the students released approximately 350 trout fry.
The trout eggs and training are provided by the State of New Hampshire. Contact Judy Tumosa for training information at Judy.tumosa@wildlife.nh.gov.
Wishing everyone an enjoyable summer!
Lori Langlois
Executive Director
lori@ncedservices.org
---
Planning and Conducting Science Investigations in the Elementary Classroom
The goal for this 2-day workshop is to experience science activities and field investigations that will get you excited to teach science, using NGSS as a guide. We will provide a variety of materials that can be modified for different classrooms and grades. Many of the activities featured can provide opportunities for students to demonstrate their understanding of science concepts as well as develop the skills needed to meet CCSS in math and ELA. We will also feature data sets that teachers can use to develop assessments to show student competency in core science areas.
Teachers will participate in the process of science by:
learning how to ask scientific questions;

designing and carrying out investigations;

analyzing and interpreting data;

constructing explanations; and

engaging in argument from evidence.
We will conduct a full scientific investigation from "start" to "finish," and explore using Google Sheets and other tools for graphing and data analysis.
Dates/time: July 28 & 29, 2016 from 8:30 to 2:00
Cost: Free to NH educators

Instructors: Dr. Sarah Turtle, Plymouth State University and Jacquelyn Wilson, Hubbard Brook Research Foundation
Location: NCES, Gorham, NH
Register: Online or email lisa@ncedservices.org or call 603-466-5437 between 8:00 - 4:00 M-F to register
---
Intro to LEGO MINDSTORMS for Educators
With a history dating back to the mid 1990's, MINDSTORMS is a well established robotics kits for upper elementary through middle school and beyond. The current version of the MINDSTORMS kit is based on the EV3 programmable brick, a very durable unit with four inputs, four outputs, and plenty of computing power for a very wide range of science and engineering design projects. This workshop will give the participant everything from a "getting started" experience through intermediate topics in programming, structures, and mechanisms.
Who is this workshop for? Beginner/Intermediate teachers interested in using MINDSTORMS in classroom projects, after school clubs, and FIRST LEGO League competitions.
More details
Instructor: William Church, White Mountain Science Inc.
Dates/Time: Friday, July 15, 2016 and Monday, July 18, 2016 from 1
0:00 to 4:00
Cost: Free to NH educators

Location: NCES, Gorham
Register: Online or email lisa@ncedservices.org or call 603-466-5437 between 8:00 - 4:00 M-F to register
Note:
Space is limited to 8. Each participant will have the opportunity to use the MINDSTORMS kits over the weekend (July 16,17) for further exploration.
---
This one-day astronomy workshop is presented in partnership with Dr. Douglas Arion, Director of the Carthage Institute of Astronomy, and the Appalachian Mountain Club, and will give you tools to connect your students to the environment around them and the very biggest of the 'big picture'. The program will be hands-on, with fun activities to take back to your classroom that will engage youth, bring them science and math content, build team skills, and link materials from multiple disciplines into one integrated approach.
ACTIVITIES:
building a model solar system to scale
building miniature planetarium projectors
building a Galileoscope kit to take back to your school
a presentation on links between astronomy content and life on earth
hands on use of apps and software tools for astronomy
Date/Time: Monday, June 20th, 12:00 (Noon) to - 6:00 PM workshop, with optional night sky viewing and more hands-on activities in the evening.
Location: AMC Highland Center, Crawford Notch
Cost: FREE! Lunch, snacks, coffee, dinner and your own Galileoscope kit to take back to your classroom with you!
Register: Online, email lisa@ncedservices.org or call 603-466-5437 between 8:00 - 4:00 M-F to register
---
Math and ELA Summer Institutes for Rural Educators
This summer, the NH Math Impact Center and the National Writing Project of New Hampshire, both based at Plymouth State University, will be offering week-long institutes for North Country educators.
Participants will receive a stipend of $100/day for participation and lunches and light breakfast will be provided. Preference will be given to those who attended the 2015 summer institutes or a workshop during the school year, but new participants are welcome.
Institutes offered:
Dates: July 25-29, 2016 from 9:00 to 3:00 daily
Literacy in the Content areas (grades 6-12)
Dates: August 1-5, 2016 from 9:00 to 3:00 daily

Mathematics grades k-4
Dates: August 8-12, 2016 from 9:00 to 3:00 daily



Mathematics grades 5-8
Dates: August 15-19, 2016 from 9:00 to 3:00 daily



Location: NCES, Gorham, NH
To sign up for any of these workshops, please register with Plymouth State University by filling out this online registration form.
---
Registered Behavior Technician

TM

Training
A decision was made to hold off on offering the RBT Training this summer at NCES. Once a local BCBA is lined up to handle the supervision requirements, NCES will revisit making this training available.
---
The date is not set yet, but NCES plans to hold a 504 workshop in mid to late September for those who are responsible for overseeing 504 plans. Jeanne Kincaid from Drummond Woodsum Law Firm will present the workshop. Stay tuned for the date and time.
---
Free Materials from the NCES Library

NCES is in the process of dissolving its media center/resource library. It has not made sense to invest in updating the media now that there is so much digital content freely available. Our other materials simply are not borrowed much and the decision has been made that the space would better be utilized for smaller break-outs for meetings and workshops.
We gave first dibs to school librarians of full member schools over the past month or so. There is plenty left. And if anyone still has a VCR, we have a lot of VHS tapes ranging from Disney movies to philosophy!
There are a few items that we are not giving away, like our North Country Heritage Collection, but most are first come, first serve. Offer does not apply to Lego, Vernier probes, STEM kits.
If you plan to come in to "shop around", please call 466-5437 or drop an email to Lisa at lisa@ncedservices.org to make sure it someone will be here to help you. Through the school year we are open until 4:00 and in the summer until 3:00.
---
June 7th is NH Gives Day

---

Employment Opportunities at NCES

Speech Language Pathologist (2 days/wk)
Teacher of the Deaf and Hard of Hearing (PT)
COTA (1/2 day/week)

Apply here

---



Energy & Climate in NGSS for Teachers of Grades 4-12



The Vermont Energy Education Program is considering a professional development opportunity for North Country teachers. NCES is trying to help assess the potential interest of teachers in this project. Learn more here and email Cara Robechek with your interest at cara.robechek@veep.org.


---
Watershed Ecology Institute at Stratford School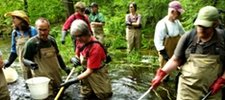 What is a watershed, how do you locate it, and how do you study what lives there? Join fellow teachers and natural resource specialists for a journey into the wonders of the aquatic world. Go into the field to learn data collecting protocols for water quality, macroinvertebrates, and fresh water fish (including an electrofishing field trip!). Once back in the classroom, learn how to use ArcGIS online accounts (free to all NH educators) to map, analyze and share data within and between watersheds. Share curriculum ideas and hands-on experience to learn how to use ArcGIS Online in your classroom to study watersheds.

Goodies: All NH teacher participants will receive a stipend.
Cost: Free for non-credit; ~$220 for 1 credit undergrad or grad through Keene State College
Date/Time: July 18-20, 8:30am to 4:30pm
Location: Stratford Public School, 19 School Street, North Stratford, NH

For more information:
Judy Tumosa, judy.l.tumosa@wildlife.nh.gov, 603-271-0456


---

Frost Place Summer Poetry Programs

Conference on Poetry | July 10 – 16
Poetry Seminar | July 31 – August 5

To learn more about these programs and the fellowships offered, visit frostplace.org or contact frost@frostplace.org.



---



Student Summer Camps in the North Country

WMSI Camps
Robot Camp, July 25-29
Maker Camp, July 11-15
Game Design Camp, June 20-24
Inventors Camp for Girls, July 18-22


Young Makers Camp, June 27-July 1


Learn more



Northern Forest Canoe Trail


5-day outdoor trips for ages 10-14


Learn more



WMCC STEM Camp


STEM camp, June 20-24


Learn more



AMC Teen Wilderness Adventure
See below!



---
AMC Teen Wilderness Adventure

The Appalachian Mountain Club is offering three deeply discounted programs for Coos youth aged 11-18 this summer. All three trips are now open for enrollment. On all AMC trips, gear (everything but personal clothing), food, and transportation is all included in the fee. Partial and full scholarships available.

Learn more

---


Looking for events in the North Country?

Check out NHPR's North Country Events Listings

---
North of the 44th

North of the 44th placemakers pledge to...
Share resources and passion to strengthen the region.

Highlight what is inspiring and right in the region while recognizing that challenges exist.

A

ttend to relationships and networks to build trust, optimism and a common sense of purpose across the region.
Practice Asset-Based Thinking and building from strength in daily work and life.

E

mphasize inclusion, reaching beyond traditional barriers of age, class and education.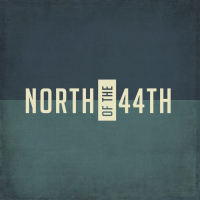 ---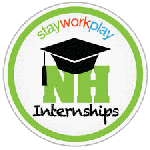 ---
Brain Building Moments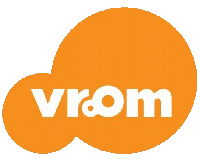 Every parent has what it takes to be a brain builder. Share the Vroom website and app with all the parents and caregivers of children under age 5.

Join Vroom today




---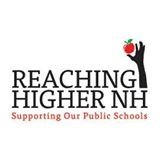 Supporting public education in New Hampshire.

Learn more



---
North Country Jobs in Education



Visit TeachNorth.org for education related jobs in the North Country.


---
Coos Networks


Coös NetWorks supports people of the region, the cultural and natural resources, future community and economic development of the region. This network is comprised of people who share a common passion for the greater Coös Region. If you're one of those people, join today.


---


Stay Informed with NHDOE Key Messages

Did you know that the New Hampshire Department of Education publishes key messages each month? You can find them online here:

http://education.nh.gov/key/index.htm



---





Support NCES with a tax deductible donation




Your tax deductible gift helps support the work of the organization in being a leader in providing professional development and educational services, facilitating partnerships and fostering collaborations that benefit member schools, advocating for resources for teachers and students, and continuously creating opportunities that enhance education in the North Country.



---
Contact Information
North Country Education Services
300 Gorham Hill Road
Gorham, NH 03581
ncedservices.org
603-466-5437
nces@ncedservices.org
NCES is an equal opportunity employer and provider.