Classical Conferences and Meetings in 2016

2016
NJCL—National Junior Classical League
July 25–30, 2016
Indiana University
Bloomington, IN
Representatives: Connor Hart and Donald Sprague
ICC—Illinois Classical Conference
October 7–9, 2016
Adlai E. Stevenson High School
Lincolnshire, IL

TFLA—Texas Foreign Language Association Fall Conference
October 13–15, 2016
Renaissance Austin Hotel
Austin, TX

CAAS—Classical Association of the Atlantic States
October 20–22, 2016
The Heldrich Conference Center
New Brunswick, NJ

CAMWS SS—The Classical Association of the Middle West and South Southern Section
October 27–29, 2016
Courtyard by Marriott-Decatur and Conference Center at the invitation of Emory University
Decatur, GA

CAES—Classical Association of the Empire State
October 28–29, 2016
Union College
Schenectady, NY

TCA—Texas Classical Association
October 28–29, 2016
Baylor University
Waco, TX

ACTFL—American Council on the Teaching of Foreign Languages
November 18–20, 2016
Boston Convention and Exhibition Center
Boston, MA
2017
AIA/SCS—Archaeological Institue of America and Society for Classical Studies Joint Annual Meeting
January 5–8, 2017
Sheraton Centre Toronto Hotel
Toronto, ON

CANE—Classical Association of New England
March 17–18, 2017
Philips Exeter Academy
Exeter, NH

The 52nd International Congress on Medieval Studies
May 11–14, 2017
Western Michgan University
Kalamazoo, MI
Representatives: Adam Velez and Laurel Draper
ACL—American Classical League
70th Annual Institute
June 29–July 1, 2017
Grand Valley State University
Grand Rapids, MI
Carpe Diem
Dame Judi Dench celebrates her 81st birthday with a carpe diem tattoo!
In this version, it's carpe vinum!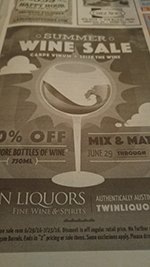 ---
Classics Prof Doubles as Sheriff
Timothy Winters, coauthor of Homer: A Transitional Reader and classics professor at Austin Peay State University in Clarksville, TN, also serves as a volunteer deputy sheriff. Winters attributes both teaching and policing to the commitment to service imparted to him by his parents.
---
Latin-Inspired Fabric
The mother of a former Latin student enthused about the Latin-inspired fabric she found and which she used to cover an ottoman. The fabric is filled with various Latin phrases and sayings you'll readily recognize. Feel free to download the images and share them with your students as a great way to kick off the new school year. Have them find as many as they can. They can then discuss them Latine or translate them and discuss them Anglice.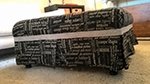 ---
Maecenas
A clever person, most likely classically trained, made a $500 donation to Chicago's The Hypocrites in the name of Maecenas. The theatre company has twice (in 2014 and 2015) produced All Our Tragic, an innovative 12-hour show, which combines all 32 Greek tragedies, the works of Aeschylus, Sophocles and Euripides, into a single narrative that spans over 75 years.
Victor Americanus
Congratulations to 15-year-old Josiah Meadows of Athens, Georgia. He is the first non-Italian to win the Latin competition called the Certamen Ovidianum in Sulmona, Italy. (Sulmona is Ovid's home town.)
---
Congratulations to SALVI and the Paideia Institute
The Wall Street Journal celebrates the active Latin movement and the great work of SALVI and the Paideia Institute.
---
Classical Collegiality


An article in the Chronicle of Higher Education praises the collegiality between high school and college classicists.
Editor's Note: Judith Hallett is the coauthor of A Roman Women Reader: Selections from the Second Century BCE through Second Century CE.
For the fall webinar series TBA, watch Facebook, Twitter, and the August issue of eLitterae for the announcement.
---
What Equipment Do I Need for B-C Webinars?

To participate in Bolchazy-Carducci Publisher sponsored webinars you will need high-speed internet access, computer speakers/headphones, current web browser, and the link to the webinar virtual meeting space, which is provided in your webinar invitation.
Webinars Make for User-Friendly Professional Development

Participation is free. All webinars provide opportunity for participants to ask questions. Learn lots—attend as many presentations as you can. Bolchazy-Carducci Publishers provides documentation for your participation. You can share this with your supervisors. Many webinar presenters provide handouts, etc.
Bolchazy-Carducci Publishers provides eTextbooks on a variety of eBook platforms. Bolchazy-Carducci textbooks are available through VitalSource,

GooglePlay

,

Chegg

, Copia, RedShelf, Adams Book, Follett,

MBSDirect Digital

, and ESCO. Each eBook platform offers a variety of tools to enhance the learning process. eBooks have the same content as our traditional books in print.
eBooks are purchased from the eBook provider. For direct links to purchase Bolchazy-Carducci eTextbooks, visit the title's product page on Bolchazy.com. Just above the product description there is a list of the eTextbook providers and a direct link to purchase the eTextbook. Some eBook providers sell directly to schools—check with your school to make these purchases.
You can read eBooks on a Mac, PC, iPhone, iPad, Android, or a variety of eReaders. Review the eBook providers specifications.
The eyeVocab software leverages human memory for distinctive affective images* presented in isolation to radically improve the speed, depth, and permanence of second language vocabulary acquisition. Images are drawn from classical art, both western and eastern, from photojournalism and historical photography, great book illustration, and other sources.

*Learn how images are chosen.

Far more than a set of electronic flashcards, the multimodal vocabulary program facilitates a significantly deeper learning and retention. Students will readily master the frequent Vergil and Caesar vocabulary for the AP® Latin Exam and thereby devote far more of their study time and energy to reading and discussing De Bello Gallico and the Aeneid.

eyeVocab programs correspond to the following B-C books.

Caesar: Selections from his Commentarii De Bello Gallico
(Mueller) (218 words)

Vergil's Aeneid: Selected Readings from Books 1, 2, 4, and 6
(Boyd) (162 words)



Vergil's Aeneid: Books I–VI


(Pharr) (292 words)

Latin for the New Millennium Level 1

(423 words)





Introductory rate for each of the AP® Latin programs is $14.95. The LNM 1 and LNM 2 introductory rate is $24.95 per program. For site licenses, contact Miles Becker at sales@eyeVocab.com.




Click on each title to learn more.
The Pompeiiana Newsletter created and edited by Bernard Barcio ran from 1974 through 2003. The newsletter offered a place for Latin students to publish comics, stories, games, and articles, and was a beloved resource for Latin teachers. In 2008, Barcio granted Bolchazy-Carducci Publishers the rights for all of the Pompeiiana Newsletter. B-C is proud to serve as curator for this archive and has made the issues available for teachers, students, and friends of the classics. Check out http://pompeiiana.blogspot.com/
Each fall, Bolchazy-Carducci mails its Roman Calendar to Latin teachers across the nation. If you're not on that mailing list, send a note TODAY to info@bolchazy.com. Put Roman Calendar in the subject line and provide us the USPS address to which you wish the calendar to be sent. The calendar is also available in a digital format.
Preview Bolchazy-Carducci Titles

Preview Bolchazy-Carducci titles before you purchase using Google Preview.
---

Downloadable Products
iPodius - Bolchazy-Carducci Publishers online shop for: audio, software, video, and a treasure trove of teacher-created materials in the Agora.
---
BCP Facebook Fan Page
Become a FAN of Bolchazy-Carducci Publishers, visit our Facebook Fan page for the latest news from BCP.
---
BCP Blog
Visit the BCPublishers Blog for BCP news and information.
Check out What Makes The Other Middle Ages an "Other" Text?
---
BCPublishers on Twitter
Follow us on Twitter

---
AP® is a trademark registered and/or owned by the College Board, which was not involved in the production of, and does not endorse, this site.
These products have been developed independently from and are not endorsed by the International Baccalaureate (IB).
Trust you are enjoying summer and gradually checking off all those to-do's and to-enjoy's on your list!
Four years ago, our founder and president Ladislaus "Lou" Bolchazy left us after a short bout with stomach cancer. This issue recalls his enthusiasm for Lucretius. B-C published a translation of Lucretius's De rerum natura in keeping with Lou's commitment to taking on some special titles as a service to the profession and the classics community. Ordinarily, Marie Bolchazy's "Book Buzz" reviews do not cover B-C titles. However, given the special connection between
G.B. Cobbold's translation Lucretius: The Nature of the Universe and our beloved Lou, we make an exception.
Enjoy the remainder of your summer break. Zap us an email or give us a call if you need anything as you plan for the start of school.
All best,
American Classical League Institute Report

The 69th Annual Institute/92nd Meeting of the American Classical League took place at the University of Texas in Austin, TX, June 26–28, 2016. Vice President Allan Bolchazy and editors Don Sprague and Laurel Draper represented Bolchazy-Carducci Publishers. Some 280 attendees took daytime temperatures in the 90s combined with high humidity in stride.
Exhibitors displayed their wares in a nice, open, light-filled room at the San Jacinto Center that provided plenty of space for folks to move around in. Sherwin Little wisely made sure that registration and break refreshments took place in the same room.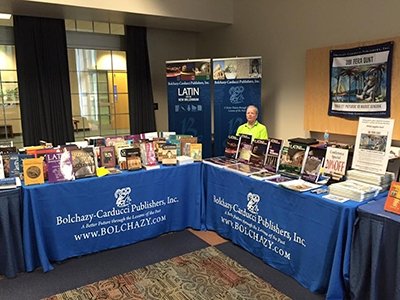 Editor Don Sprague at the epicenter of B-C's five-table display.
Ian Hochberg, Latin teacher at St. Stephen's & St. Agnes School in Alexandria, VA, who serves on the National Latin Exam Steering/Writing Committee, as NLE representative to the ACL Finance Committee, as chair of the ad hoc Committee on ACL Constitutional Revision, and on the ACL group adapting the ACTFL world readiness standards for the classics, joined editor Don Sprague for a presentation entitled "How Latin for the New Millennium Addresses the Five Standards: An LNM Editor's Perspectives and a Teacher's LNM Best Practices."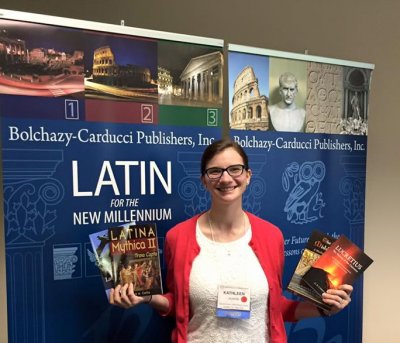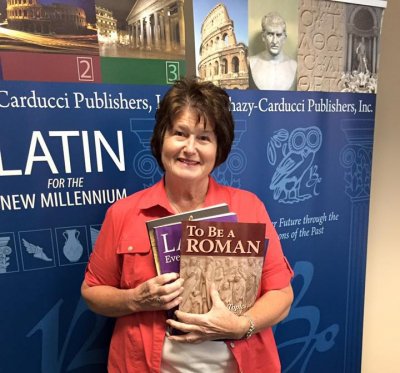 (Top) Kathleen Durkin of Garden City High School, NY was pleased to win a set of B-C's new titles: Latina Mythica II, Latin of New Spain, The Other Middle Ages, and Lucretius: The Nature of the Universe. (Bottom) The other drawing winner was Nancy Yust of St. Theodore Guerin High School, Indianapolis, IN won a set of B-C resource titles: Classical Mythology and More, To Be a Roman, The Roman Map Workbook, and Latin Everywhere, Everyday: A Latin Phrase Workbook. (Unless noted otherwise, photos by Allan Bolchazy.)

One of the annual highlights of the Institute is the Meritus/Merita Award presentation at the banquet. B-C author Rose Williams received the Merita Award while B-C author (Farrago Latina: A Teacher Resource and, with Marianthe Colakis, Excelability in Advanced Latin) Gaylan DuBose received the Meritus Award.
Rose gathered her Latin student/daughter Laro McKenzie Sims (whose photo of Juan de Onãte, Conquistador appears on the cover of Rose's Latin of New Spain), and Laro's husband Clint and their daughter Clara Rose along with Nick Young, LeaAnn Osburn, Mark Ducar, and B-C's Don, Laurel, and Allan to join her at the banquet table.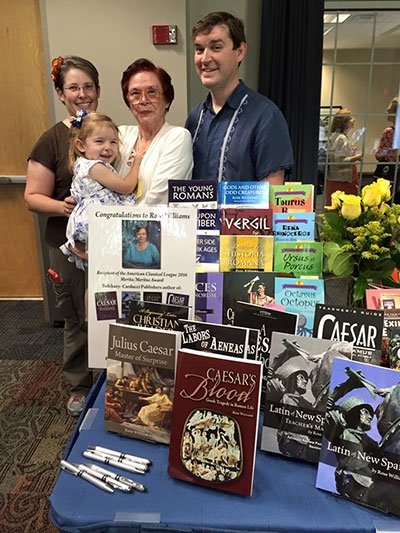 B-C prepared a special display for the book exhibit that included all of Rose's books, a poster, and a bouquet of yellow roses. Rose is flanked by her family members Laro McKenzie and Clint Sims and daughter Clara Rose (note her middle name!).
In Rose's acceptance speech, she thanked her family and B-C, and then in her inimitable "ever the teacher" manner proceeded to explain who the Yellow Rose of Texas really was. Emily West, the Yellow Rose of Texas, was kidnapped by Mexican cavalry and was traveling with General Antonio Lopez Santa Anna when Sam Houston's forces attacked. According to legend, Santa Anna was caught unprepared since he was "distracted" by West when Houston attacked. The Texans readily won the Battle of San Jacinto in 18 minutes.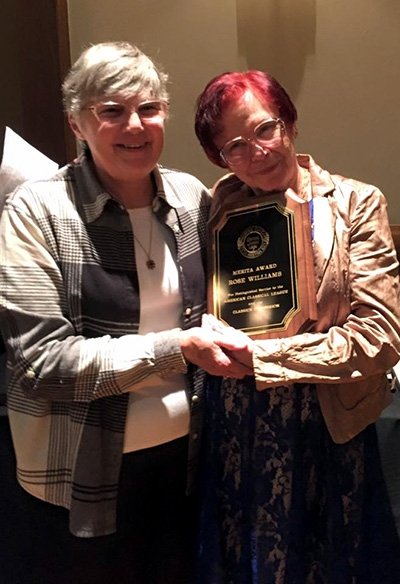 ACL President Kathy Elifrits congratulates Rose on being honored for her service to the profession.
Gaylan DuBose was recognized for his 50+ years teaching Latin and over two decades of mentoring NJCL officers at the state and national level. Gaylan recounted a time when he and current ACL president Kathy Elifrits, dressed in costume for a NJCL event, elicited comments from some strangers ("lay people" as Gaylan put it) in an elevator. Kathy claimed that she didn't recall that story but spoke fondly of their work together with NJCL events.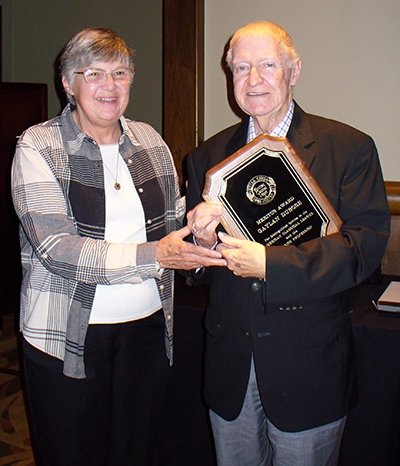 Gaylan Dubose, 2016 Meritus Award winner, and ACL president and award presenter Kathy Elifrits pose for ACL newsletter editor Nick Young's camera.
Ginny Lindzey, former student of Gaylan's and Latin teacher at Dripping Springs TX High School, won the Norman Goldman costume award for her Roman attire. Ginny also chaired the institute's resolutions committee. She and her committee creatively presented the resolutions, in Texan fashion, that is, in the format of a certamen. This proved a fitting tribute to the spirit of the institute and Texas and to the hard work of all those who contributed, especially the ACL's Sherwin Little and Dawn Carlin, to the gathering's success.
Resources & Teaching Tips

Some Romans sold themselves into slavery when they were unable to pay their taxes.

√
Excavations Reveal Much about Gladiators
Excavations
of Roman Carnuntum in Austria uncover a school for gladiators provides insight into this significant component of Roman life.

√
Interactive Map of Roman World
Click on a province name on the interactive map and the pop-up provides information about the province. Color-coding identifies client states, imperial provinces, and senatorial provinces.

This charming piece presents the Greek tragedies in the form of clever vase paintings. The vases along with the overview of Greek tragedy provide students an engaging overview for Latin class enrichment or for certamen prep.
√
Oldest Library in the World
For those interested in helping students develop a greater understanding of Muslim culture and its contributions to intellectual development, share this piece on the library at al-Qarawiyyin University, Fez, Morocco. Also of note, the donor who established the library in 859 was a woman.
For those using Latin for the New Millennium, this article complements the scholarly essay "Exploring Roman Libraries" by T. Keith Dix in Review 7, LNM 1, the "Connecting with the Post-Ancient World" essay "Universities in the Middle Ages" in Review 2, LNM 2, and the scholarly essay "Exploring the Muslim Influence in Spain" by Francis Oakley, also in Review 2, LNM 2.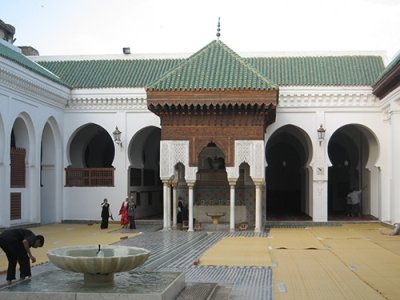 Courtyard, al-Qarawiyyin University, Fez, Morocco (Creative Commons 3.0).

The Vatican Library, begun during the Renaissance, is slowly digitizing its holdings. Recently, its famed "Vatican Vergil," donated in 1602, has joined the ranks of manuscripts and other documents available in digital format.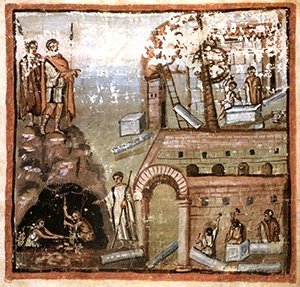 Image from the "Vatican Vergil" shows Aeneas and Achates looking at the bustling construction of Dido's Carthage (Wikimedia Commons: Public Domain)

This TED talk provides some scientific explanation for some of the mythic creatures described in Homer's Odyssey.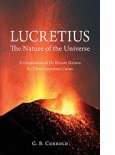 Lucretius: The Nature of the Universe
by G.B. Cobbold


My interest in this book developed from three sources:
Lucretius was my late husband Lou Bolchazy's special author when he was working on his PhD. Lou believed in Lucretius's ideas and quoted him often.

I read The Swerve: How the World Became Modern by Stephen Greenblatt, a riveting tale about the discovery of Lucretius's poem, De rerum natura, which had been lost for more than a thousand years. When I was reading The Swerve, I sometimes felt that I was hearing Lou actually talking to me.
Lucretius's ideas have influenced so many notable individuals, e.g., Darwin, Freud, Galileo, Einstein, and Jefferson. Since Lucretius had an impact on so many great thinkers, surely it is worthwhile for us to read his material ourselves. And now that De rerum natura has been translated into this English edition, his ideas are more accessible than ever before.
Nobody I know has ever said that it was easy to read Lucretius's De Rerum Natura. It's difficult to read the original Latin, but it also is somewhat difficult to read his work in an English translation (though G.B. Cobbold does an excellent job rendering the Latin into English), as I did. As a matter of fact, I will admit that it was a challenge for me to read Book I, in which he describes atoms and the void, and Book II, in which he describes the atoms in motion. These two books are the most technical of his material, but it is fascinating that so much of what he covered in these books is still considered accurate, even though his writing predates the microscope by 1,500 years. Of course, the De rerum doesn't align perfectly with our modern understanding of the world. Lucretius wrote that inhabitants in certain parts of the world were black because their skin was burned black. Concerning the origin of maggots—he wrote that they are created when atoms are shifted out of their original positions and linked together in a way that they produce them. But he is arguably the father of the scientific method. As an example, he made the case that in a systematic inquiry, there is no room for dogmatism. In nearly every section of the book, Lucretius offers many hypotheses regarding various aspects of the nature of the universe.

I found the rest of the translation easier to read. Following the teachings of the Greek philosopher Epicurus, Lucretius sets out to convince his readers that they should not fear death and can conquer that fear through rationality. He makes the case that one's spirit is mortal. He also supports the idea that there is no punishment after death. Whatever hell there is happens while we are alive. As one can surmise, these ideas were in conflict with the later teachings of Christianity.
Readers will be interested in Lucretius's views regarding lovers. To a lover, "a vicious nonstop gossip is 'vivacious,' a woman with blown-up bladders for breasts is 'the epitome of motherhood.'" That is to say, love is blind. Lucretius shows a sense of humor as well. In discussing why the gods would aim thunderbolts at empty deserts instead of striking down those involved in ghastly crimes or particular enemies, he writes, "A waste of energy surely. Are they training for something, or working on their upper arm strength?" The section on the plague in Athens describes the catastrophe in horrifying detail; it is the last section of the book and so the reader is left with a bleak vision.
It is my opinion that this work is best not read all at once but a little at a time so that the reader can reflect on each section. Those who do take the time to read the text in its entirety will be rewarded to know that they are following in the footsteps of great thinkers.
Marie Carducci Bolchazy, EdD
President, Bolchazy-Carducci Publishers
---
Editor's Note: Check out Marie's review of The Swerve in the November 2014 issue of eLitterae. Both Cobbold's translation and Catto's Lucretius's textbook are included in this month's special discount.

eLitterae Subscribers Special Discount

Special 34% Discount



This offer is valid for up to (5) copies, prepaid, no returns.
Discount is not available to distributors or
on products distributed by Bolchazy-Carducci Publishers.
This offer expires 08/20/16.
(Please note that there will be no adjustments on previous purchases.
Offer is non-transferable and subject to change without notice.)
Enter coupon code eLit0716
on the payment page. The special

eLitterae offer pricing will be charged at checkout.