Classical Conferences and Meetings in 2016

2016
NJCL—National Junior Classical League
July 25–30, 2016
Indiana University
Bloomington, IN
Representatives: Connor Hart and Donald Sprague
ICC—Illinois Classical Conference
October 7–9, 2016
Adlai E. Stevenson High School
Lincolnshire, IL

TFLA—Texas Foreign Language Association Fall Conference
October 13–15, 2016
Renaissance Austin Hotel
Austin, TX

CAAS—Classical Association of the Atlantic States
October 20–22, 2016
The Heldrich Conference Center
New Brunswick, NJ

CAMWS SS—The Classical Association of the Middle West and South Southern Section
October 27–29, 2016
Courtyard by Marriott-Decatur and Conference Center at the invitation of Emory University
Decatur, GA

CAES—Classical Association of the Empire State
October 28–29, 2016
Union College
Schenectady, NY

TCA—Texas Classical Association
October 28–29, 2016
Baylor University
Waco, TX

ACTFL—American Council on the Teaching of Foreign Languages
November 18–20, 2016
Boston Convention and Exhibition Center
Boston, MA
2017
AIA/SCS—Archaeological Institue of America and Society for Classical Studies Joint Annual Meeting
January 5–8, 2017
Sheraton Centre Toronto Hotel
Toronto, ON

CANE—Classical Association of New England
March 17–18, 2017
Philips Exeter Academy
Exeter, NH

The 52nd International Congress on Medieval Studies
May 11–14, 2017
Western Michgan University
Kalamazoo, MI
Representatives: Adam Velez and Laurel Draper
ACL—American Classical League
70th Annual Institute
June 29–July 1, 2017
Grand Valley State University
Grand Rapids, MI
NJCL - National Junior Classical League
July 24–29, 2017
Troy University
Troy, AL
What Greek God/Goddess Are You a Mixture of?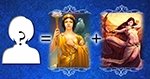 Yes, another one of those Facebook items!
---
Classical Tattoos
Our good friend, Rick LaFleur, a.k.a. Dr. Illa Flora, regularly sends out postings of matters classical. If you'd like to receive emails like this, let him know. Here's an interesting sample.

Glancing at the cover of the August 11, 2016, Rolling Stone magazine (yes, I subscribe!!), I spotted (and am apparently among the last of Americans to do so!) singer-songwriter/actor Jared Leto's Latin tattoo, emblazoned just below his right clavicle:

PROVEHITO IN ALTUM!

I was of course myself most captivated by the relatively rare singular future imperative form, from proveho, provehere (Eng. "vehicle" is a derivative), meaning freely "(Thou shalt) venture forth onto/into the deep," i.e., advance fearlessly toward your goal whatever the perils.

Thanks to Jared Leto, whom you might have seen in the not-so-Great 2004 film Alexander (with Colin Farrell as Alexander the Great), this bit of Latin has gone viral !! Folks are even posting exotic scripts you can use in creating your very OWN tattoo (DISCLAIMER: I am NOT recommending this!)

Here's some background on the phrase's history as the motto of Memorial University College, Newfoundland, and its first use in a sixteenth- century Latin translation from the Greek New Testament (Luke 5:4)

Not sure if Mr. Leto was fully aware of all this, but Latin tattoos are always good for "business"!! (Think of Angelina Jolie's quod me nutrit me destruit, but that's a different story . . .)
---
Latin in Scotland
Like all good Latin teachers, Mark Pearsall (Glastonbury High School, CT), always has a keen eye on the lookout for something related to Latin. So, while on holiday in Scotland, he posted the following photographs on his Facebook page and graciously permitted us to print them here.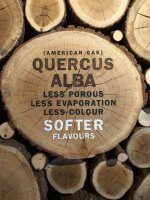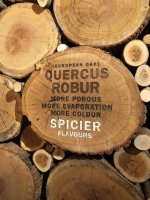 Classical Bloomington
Bloomington serves as the county seat for Monroe County, Indiana. In the 1910 census, Bloomington was the mean center for the then population of the United States. At the center of the city is the county courthouse whose architectural style is rooted in the architecture of the Greeks and Romans. Around the square a classicist readily finds the popular Greek restaurant "The Trojan Horse," a crafts and specialty boutique "Athena," and a used bookstore "Caveat Emptor."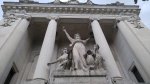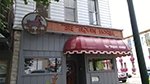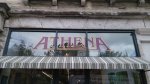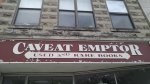 Bolchazy-Carducci Publishers provides eTextbooks on a variety of eBook platforms. Bolchazy-Carducci textbooks are available through VitalSource,

GooglePlay

,

Chegg

, Copia, RedShelf, Adams Book, Follett,

MBSDirect Digital

, and ESCO. Each eBook platform offers a variety of tools to enhance the learning process. eBooks have the same content as our traditional books in print.
eBooks are purchased from the eBook provider. For direct links to purchase Bolchazy-Carducci eTextbooks, visit the title's product page on Bolchazy.com. Just above the product description there is a list of the eTextbook providers and a direct link to purchase the eTextbook. Some eBook providers sell directly to schools—check with your school to make these purchases.
You can read eBooks on a Mac, PC, iPhone, iPad, Android, or a variety of eReaders. Review the eBook providers specifications.
The eyeVocab software leverages human memory for distinctive affective images* presented in isolation to radically improve the speed, depth, and permanence of second language vocabulary acquisition. Images are drawn from classical art, both western and eastern, from photojournalism and historical photography, great book illustration, and other sources.

*Learn how images are chosen.

Far more than a set of electronic flashcards, the multimodal vocabulary program facilitates a significantly deeper learning and retention. Students will readily master the frequent Vergil and Caesar vocabulary for the AP® Latin Exam and thereby devote far more of their study time and energy to reading and discussing De Bello Gallico and the Aeneid.

eyeVocab programs correspond to the following B-C books.

Caesar: Selections from his Commentarii De Bello Gallico
(Mueller) (218 words)

Vergil's Aeneid: Selected Readings from Books 1, 2, 4, and 6
(Boyd) (162 words)



Vergil's Aeneid: Books I–VI


(Pharr) (292 words)

Latin for the New Millennium Level 1

(423 words)





Introductory rate for each of the AP® Latin programs is $14.95. The LNM 1 and LNM 2 introductory rate is $24.95 per program. For site licenses, contact Miles Becker at sales@eyeVocab.com.




Click on each title to learn more.
The Pompeiiana Newsletter created and edited by Bernard Barcio ran from 1974 through 2003. The newsletter offered a place for Latin students to publish comics, stories, games, and articles, and was a beloved resource for Latin teachers. In 2008, Barcio granted Bolchazy-Carducci Publishers the rights for all of the Pompeiiana Newsletter. B-C is proud to serve as curator for this archive and has made the issues available for teachers, students, and friends of the classics. Check out http://pompeiiana.blogspot.com/
Each fall, Bolchazy-Carducci mails its Roman Calendar to Latin teachers across the nation. If you're not on that mailing list, send a note TODAY to info@bolchazy.com. Put Roman Calendar in the subject line and provide us the USPS address to which you wish the calendar to be sent. The calendar is also available in a digital format.
Preview Bolchazy-Carducci Titles

Preview Bolchazy-Carducci titles before you purchase using Google Preview.
---

Downloadable Products
iPodius - Bolchazy-Carducci Publishers online shop for: audio, software, video, and a treasure trove of teacher-created materials in the Agora.
---
BCP Facebook Fan Page
Become a FAN of Bolchazy-Carducci Publishers, visit our Facebook Fan page for the latest news from BCP.
---
BCP Blog
Visit the BCPublishers Blog for BCP news and information.
Check out What Makes The Other Middle Ages an "Other" Text?
---
BCPublishers on Twitter
Follow us on Twitter

---
AP® is a trademark registered and/or owned by the College Board, which was not involved in the production of, and does not endorse, this site.
These products have been developed independently from and are not endorsed by the International Baccalaureate (IB).
Tempus fugit! That famous Roman maxim surely held true this summer. Not only did August fly by but many schools have been in session for some weeks! Parts of Indiana began on July 28th; Georgia opened its classrooms August 1st. Horrescō sciēns! Someone from Massachusetts like me shudders at the thought of beginning classes before Labor Day. Indeed, it was pure coincidence back in 1977 when I was commencing my teaching career at Loyola Academy in Wilmette, IL that I learned school started in late August. I had been planning to visit friends in Indiana but quickly adjusted those plans.
All of us at Bolchazy-Carducci Publishers wish you a successful school year. We encourage you to take advantage of our complimentary Roman Calendar, to check out our exhibits at classics conferences across the country, and to join us for a free webinar some Tuesday afternoon. Each month's eLitterae provides a link to the Roman Calendar, another to the webinar schedule (we are finalizing a couple additional offerings), and a roster of upcoming conferences. Lynne West will rejoin us in September with her monthly "Tech Tip."
We're here to serve you and your students. Let us know how we can be of additional help.
National Junior Classical League
2016 Report

On July 26th after B-C's shipping masters Mike Frazier and Rene Vela loaded the car with boxes of books, banners, and display shelving, Connor Hart and Don Sprague braved the wicked traffic of Tristate 294 and the annoying construction and monstrous trucks of Interstate 65 en route to Bloomington, Indiana where we exhibited July 27th–29th at the National Junior Classical League's national convention at Indiana University.

The following afternoon they spent setting up the tables and banners. The B-C tables enjoyed prime real estate as they faced the entrance into the exhibit area. The B-C and LNM banners flanked each end of the display beckoning students and teachers alike to check out the B-C wares.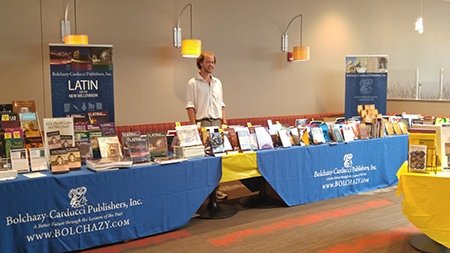 Social media and editorial assistant Connor Hart mans the B-C booth.
Traffic was steady, interest strong, and sales frequent. Mirroring national enrollments, folks from VA, TX, MA, and GA constituted the majority of teacher customers. As students learned that they were welcome to visit the exhibit space entitled "Teaching Materials," student traffic increased. It's so very edifying to witness the enthusiasm of students as they check out the B-C titles. Hot titles at the convention included Classical Mythology and More, Ubi Fera Sunt, Roman Map Workbook, Latina Mythica I and II, and the kiddy books by Marie Carducci Bolchazy and Rose Williams (I Am Reading Latin Series/Stories).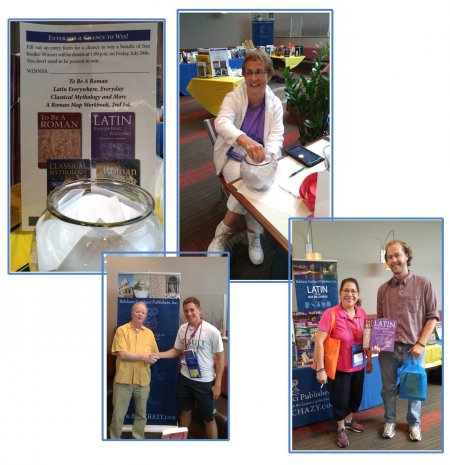 The NJCL Book Drawing // Geri Dutra, retired NJCL administrative secretary, graciously pulled the winning drawing entry. // The winner himself, Carlos Cerda, who has helped establish a JCL chapter at Strake Jesuit, hopes the Latin program will grow there. // Mother of the winner, Elizabeth Cerda, who home schools her children and believes strongly in the value of Latin with Connor thanks Connor on behalf of her son.
NJCL proved a great opportunity for Connor, our social media guru, to experience the fruits of his labors. Ruth Osier, Brookfield, WI, whose class entry won Martia Dementia, stopped by to redeem her prize—a $100 gift certificate for B-C materials. She shared with Connor in real time how much her students enjoyed participating in the contest. Matthew Moore, who was the Roman Calendar winner for the month of June, also stopped by and chatted with Connor. (Editor's Note: Learn how Ruth Osier employed Martia Dementia as a class project. Check out the April 2016 issue of eLitterae.)

Check out this eLitterae's "Classics Tidbits" to see how downtown Bloomington provided several photos.
Resources & Teaching Tips

National Geographic has provided an excellent piece on the Olympics that discusses customs that have fallen into desuetude.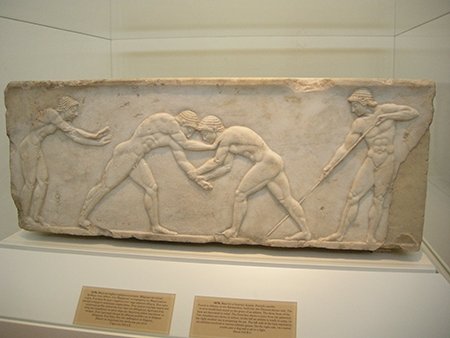 Base of a funerary kouros, ca. 510 BCE, from Kerameikos cemetery, Athens. Saiko, Creative Commons 3.0.
√

Michael Phelps vs. Leonidas of Rhodes
Phelps's gold medals in Olympiad XXXI make him the all-time winner. Have students search various reports on this achievement and share them in class to see how they differ. Students can also develop an inventory of the various facts culled from the popular press articles like this one from the Washington Post.
√ "Ice Breaker" for the Latin Classroom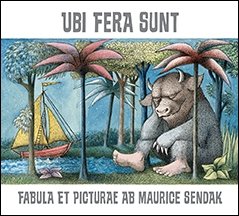 Here's a video of Richard LaFleur, a.k.a. Dr. Illa Flora, reading his Latin translation Ubi Fera Sunt of Maurice Sendak's classic children's book, Where the Wild Things Are, at a recent book-signing at Books and Beans in Little Switzerland, NC.
An Interview with Author Dale A. Grote


DES: Please share with us both how your interest in the Synoptic Gospels came about and your experiences teaching them.
DAG: I have to confess that the word "synoptic" was just a curious sound to me until I was drafted into teaching a survey course in western religious thought early on in my academic career. Having no idea where to begin, I decided that the class should read and discuss the texts themselves. (What other approach would a classicist take?) It was then that I learned how the first three gospels shared a literary interdependence. I used this to build the daily classroom agenda. Over the couple of years that I taught the class, I developed a fairly comprehensive body of materials, discussion topics, and a sense of what kinds of historical help the students needed to get their minds engaged in the text. So how does this turn into a Latin book?
The motivation to convert it into a Latin text was the result of dashed expectations. No one else seemed to be writing the book I wanted to use: an intermediate text with accessible Latin for students who'd grown weary of participles and weren't ready for the more challenging classical authors. As my retirement started to loom, I figured I'd best do it myself. I wanted lots of doable Latin about a topic sure to stimulate interest. The Vulgate of Mark, supplemented with the parallel passages from Luke and Matthew seemed just right.
DES: Discuss for which groups/courses you believe The Vulgate of Mark with the Synoptic Parallels works well.
DAG: It's a Latin book pitched toward students emerging from a year of college-level Latin or two years of high school or home school Latin. I'm a college professor and the book developed from my own classroom experience, but as I wrote the book I also had in mind Christian-based homeschool consortiums.
DES: Which of the gospel passages have been your students' favorites? Which are your favorites?
DAG: That's a tough question. There are some passages that really convey how mysterious the disciples found Jesus to be. When Peter witnesses the transfiguration of Jesus with Moses and Elijah, all he thinks about is where the three will stay the night! Others are the beautiful and evocative parables. Jesus's agricultural analogies of the kingdom of God are striking. Still others are just hard to understand and generate agitated discussion. For example, Jesus says he cloaks his teaching in parables when speaking publicly to prevent some people from converting and being saved. This is hard to understand, let alone accept. Students have a lot to say about it, as you can imagine.
DES: Explain the criteria you apply when deciding to compose a note to accompany the Latin readings.
DAG: I didn't set out with a thesis in mind or a point I was trying to prove when I wrote the commentary. Mostly they represent issues that came up during classroom discussions over the years. But my general pedagogical approach was to say only enough to get the wheels turning, or, to switch metaphors, to clear the underbrush of historical and grammatical questions so that the students can get to the texts themselves and ask their own questions.
DES: How did you come to study Latin and Greek?
DAG: It was partly aesthetic. Greek texts are beautiful, aren't they? Mostly, I think I got tired of being told by others what Plato said, or what Virgil is really like. I wanted to see things with my own eyes and make my own decisions.
DES: What do you enjoy most about teaching Latin and Greek?
DAG: I probably just enjoy explaining things. Being able to unravel a problem that students are having and showing them the way out is very rewarding to me. If I weren't teaching classics, I think I'd be teaching something else: small engine repair, needlepoint, or whatever.
DES: What advice would you give someone starting out as a new Latin and/or Greek teacher?
DAG: In every class, start where your students are. That is, find out what they want to get out of several years of hard work before you say anything. Once you get them talking, the rest is easy. You can slowly build on that. Above all, be flexible. Don't panic if you didn't cover the supine by week 3 as per the syllabus. If you're inspiring them to learn and showing them how to think about language, the supine will come. Give answers only as a last resort. Try to get them to find the answers themselves by asking questions. Remember, a master gardener doesn't feed the plant; he/she feeds the soil.

Dale A. Grote received a BA in classics from Cornell College, an MA in Greek from the University of Iowa, and a PhD in classics from the University of Wisconsin-Madison. He taught at Berea College in Kentucky, and he is currently Associate Professor of Classics at UNC Charlotte. He is the author of A Comprehensive Guide to Wheelock's Latin (Bolchazy-Carducci Publishers, 2006) as well as scholarly articles on Sophocles, Aristotle, and Plato.
Editor's Note: Professor Grote is working on a syncope lesson from this text for teachers' one-time use in their classrooms. Watch for this in the September eLitterae.


Fall 2016 - Preliminary Schedule
For the fall webinar series additions, watch Facebook, Twitter, and September eLitterae for the full schedule.
Webinar Registration Form
Tuesday, October 4, 2016 6:00–7:00 pm ET


Playing Around with Plautus


Presenter: Catherine Martin, Canterbury School, Fort Wayne, IN

This webinar will give participants an overview of how two scenes from Plautus's Pseudolus (the play that was the basis for A Funny Thing Happened on the Way to the Forum) can be used with all levels of Latin. The strategies used will be applicable to other works as well. Martin will also provide pertinent background on Plautus, Roman comedy, and ancient drama in performance.

Catherine Martin has been teaching Latin (8th grade through AP® Latin) at Canterbury School in Fort Wayne, IN for the past eighteen years. She earned her BA in classics from Columbia University and just completed her MA in classics from the University of South Africa. Her master's thesis focused on the relationship of mothers and sons in Homer and Attic tragedy. On the lighter side of things, she became a fan of Plautus as an undergraduate and directed a production of The Rudens with Barnard/Columbia Ancient Drama Group. She also enjoyed a brief gladiatrix phase that involved consulting for an historical novel, presenting a paper on the Pam Greer film The Arena, and publishing a short piece in Classical Outlook.



Tuesday, November 1, 2016 6:00–7:00 PM ET


Latin for the New Millennium: Using the Aural/Oral Component
Presenters: Milena Minkova and Terence Tunberg, Professors of Classics, University of Kentucky, Lexington, KY

Let two accomplished educators and living Latin enthusiasts gently walk you through the aural/oral opportunities presented by Latin for the New Millennium, Levels 1 and 2. Coauthors, Drs. Minkova and Tunberg, will set you at ease as they provide various suggestions and strategies for implementing or enhancing the spoken Latin component of your classes. They will share with you the bounty of aural/oral activities and exercises in the LNM Teacher Manuals and demonstrate how teacher-friendly they are!

Milena Minkova and Terence Tunberg, coauthors of Latin for the New Millennium, Levels 1 and 2, are world-renowned Neo-Latinists and scholars of Latin literature through the ages. They are especially esteemed for their enthusiastic promotion of active Latin. Their celebrated Conventiculum Latinum Lexintoniense—the Conversational Latin Seminar held each summer at the University of Kentucky—has spawned a network of similar programs across the country.

Tunberg earned his BA and MA in classics at the University of Southern California, did postgraduate research and doctoral work in medieval studies at the University of London, England, and earned a PhD in classical philology from the University of Toronto, Canada.

Minkova earned her MA and PhD in Christian and classical philology from the Pontifical Salesian University in Rome, Italy and an MA and PhD in classics from the University of Sofia in Bulgaria.
---
What Equipment Do I Need for B-C Webinars?

To participate in Bolchazy-Carducci Publisher sponsored webinars you will need high-speed internet access, computer speakers/headphones, current web browser, and the link to the webinar virtual meeting space, which is provided in your webinar invitation.
Webinars Make for User-Friendly Professional Development

Participation is free. All webinars provide opportunity for participants to ask questions. Learn lots—attend as many presentations as you can. Bolchazy-Carducci Publishers provides documentation for your participation. You can share this with your supervisors. Many webinar presenters provide handouts, etc.
eLitterae Subscribers Special Discount

Special 34% Discount



This offer is valid for up to (5) copies, prepaid, no returns.
Discount is not available to distributors or
on products distributed by Bolchazy-Carducci Publishers.
This offer expires 09/30/16.
(Please note that there will be no adjustments on previous purchases.
Offer is non-transferable and subject to change without notice.)
Enter coupon code eLit0816
on the payment page. The special

eLitterae offer pricing will be charged at checkout.