In the US, there are few
young people today who haven't had an X-ray taken. Some may have relatives who received radiation treatments for cancer; others may know someone who works at a nuclear power plant. But how many of these students know the science behind this powerful source of energy? In this issue we examine some of the pros and cons of radiation with giveaways and activities that will supplement your classroom's curriculum.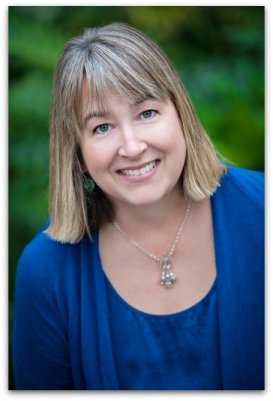 Radioactive!: How Irène Curie & Lise Meitner Revolutionized Science and Changed the World was a tricky book to write. It's a dual biography of two physicists who were lifelong pacifists, yet their work contributed to the creation of the atomic bomb. I loved the irony, as well as the parallels in their lives.
When I started the project I worried that it would be a challenge to explain nuclear physics to a 12-and-up audience. When I got into the writing I realized that readers didn't need to know much science to appreciate the story. In fact, so little was understood about atomic structure at the time Curie and Meitner were doing their work that the readers can easily follow along as the scientists make their discoveries. It's surprising to realize that in the 1930s and 40s, scientists were just figuring out how atoms interacted with one another.
I think it's exciting for kids to realize that brilliant physicists learned through experimentation, trial and error. They took chances and made mistakes. My hope was that by making these iconic female physicists fully human, they can become inspirational for the next generation of female scientists.
When writing the book, my first challenge was figuring out the structure and the story line. I started out focusing on Irène Curie and her relationship with her mother, Marie. I had done a fair amount of writing before I decided to frame the story about Irène and Lise Meitner. These two women were intellectual rivals, but they had a great deal in common. I was fascinated to learn about Irène's work behind enemy lines during World War II. When I found out Meitner did similar work for the Germans, I knew I wanted to compare the lives of these two women.
Winifred Conkling is an award-winning author of fiction and nonfiction for young readers. Her works include Passenger on the Pearl: The True Story of Emily Edmonson's Flight from Slavery and middle-grade novel

Sylvia &

Aki, winner of the Jane Addams Children's Literature Award and the Tomás Rivera Award. She studied journalism at Northwestern University and received an MFA in writing for children and young adults from the Vermont College of Fine Arts.
Andrew Handley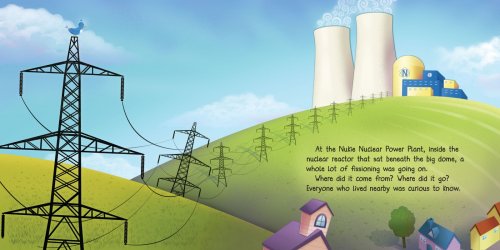 At the Nukie Nuclear Power Plant, inside the
nuclear reactor that sat beneath the big dome,
a whole lot of fissioning was going on.
Where did it come from? Where did it go?
Everyone who lived nearby was curious to know.
Andrew Handley
is a graduate of Auburn University. He works as a web designer/developer but he loves illustration as well.
by Joyce Hostetter
Encourage students to read books about radiation and its uses in medicine, energy & food production, and warfare.
Some possible activities include:
Research the ways that radiation is used in our everyday life. Prepare a written or oral report on this topic.

Ask students to write arguments for and against the use of radiation in our everyday life. Have each student prepare to debate both sides of the argument. When it's time to debate they can discover by lottery or your selection which side they must defend.

Give students writing prompts such as:
A Teen's Takes on Three Books

by Caleb Raposa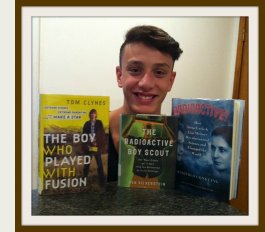 The Radioactive Boy Scout
by Ken Silverstein
Silverstein retells the story of David Hahn, a teenager from Michigan in the early 1990s who worked tirelessly to build a breeder reactor in his backyard. He accomplished this mostly free of adult supervision. This is a true tale of a motivated kid burrowing into self-taught learning and doing an impressive job of identifying the resources he required. However, this is also a story of how in pursuit of that goal, his considerations of personal safety all but disapp

ear

.
The Boy Who Played With Fusion
by Tom Clynes
Fueled by the pain of watching his grandmother die of cancer, a geeky and enthusiastic teenager embarks on a mission to build a nuclear fusion reactor in the hope of developing cancer curing medical isotopes. The book focuses on his gangly, almost alien look, his childhood which he spent messing around with rocket science, his hazmat anti-contamination suit, and of course, there's the glowing plasma sphere at the heart of his reactor which is hotter than the sun.
Radioactive!
by Winifred Conkling
This book starts off in 1943. In this year we find Irène Curie and some fellow scientists making the discovery that changed the world - the discovery of artificial radioactivity. This discovery led to her and her husband receiving a Nobel Prize. However, when she was chosen by the French Academy to receive another award, others were upset and voted to disqualify all women from the Academy. Later, Lise Meitner used Curie's discovery as a gateway for her own work of discovering the secret of nuclear fission, which led to the creation of the atomic bomb. Sadly, this discovery was accredited to a fellow male scientist, as the academy had still not changed its views on women.
Fifteen-year-old Caleb Raposa lives in Greenville, South Carolina. He is an avid reader, aspiring writer, enjoys spending time with friends, and occasionally dabbles in martial arts.
We love to hear from our readers!

You can contact us through the newsletter or individually at the following addresses and websites.

We're also both available for school visits.

Joyce

Send us an

and we'll enter your name to win one of the three books below.

Each will intrigue a young reader in your life.

If you have a book preference, please mention that. We try to honor requests.

Enter by

September 23
(Or better yet, enter right now!)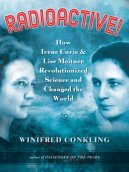 Read Carol's review of

by

(Audio CD)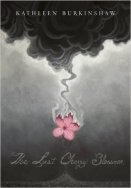 Read Carol's review of

by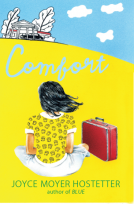 In COMFORT Ann Fay's daddy has recently returned from fighting in World War II. The family is listening to the radio when suddenly they hear an announcement about the bomb dropped on Hiroshima. That announcement heightens the war trauma that Daddy is already experiencing. He doesn't yet grasp the significance of the atomic weapon but he knows it is huge.
Read the Prologue of Comfort at my blog.
Congratulations to the winners from our Summer issue.
Linda Magliocca won The Wooden Prince.
Amy Skelding won Sophie Quire.
Monica Graham won
Amazing Literature
Projects
Winifred Conkling for being our featured author.




Andrew Handley for his illustration.

Caleb Raposa

for introducing books.

Recorded Books for Radioactive!

Sky Pony for The Last

Cherry Blossom

Joanne Hunsberger for proofreading.
We, at TALKING STORY, have decided to focus largely on writing. We'll share from our personal writing & publishing experiences and feature a guest author and also an illustrator in each issue.
Please let us know what interests you and how we can be helpful to you or your students.