Wow, what wonderful fall weather we had this year. The foliage seemed the most vibrant that I ever recall. It's hard to believe that we are already into the third month of the school year!
I'm sharing a couple of my highlights from the past month...though there were many more I could have shared. From the tour I had of the impressive Gallen CTE Center in Littleton to learning about the RoboRoach neuroscience project of GHS' advanced biology class, there are great things happening throughout the North Country related to schools!
Be sure to scroll through the entire newsletter to learn more about:
NH Educators Summit on Opiate Use: The Impact on Student Learning
NCES' Educational Technology Users Group
North Country Middle School Film Festival
Para PD series
North Country Paras Furthering Their Education

Front row: Ellen Skonberg, Kinsley Nicoll, Cynthia Wenger, Colleen Poulin, Dee Hebert, Tayla Cummings.
Back row: Ada Robbins, Sheila Rich, Matt Hunt, Kristen Rollins, Mariah Perreault, Martha Thompson,
Steve Rodgers, Connie Robinson. Missing from photo: Jessica Hyde.
Fifteen of the North Country's paraeducators have recently embarked on year-long commitment to furthering their education. Working in partnership with White Mountains Community College, NCES - with the support of the region's superintendents and special education administrators, sought grant funding to provide professional development for paraprofessionals.
We recognized that paras have shown eagerness to engage in professional development over the years, but there is often little funding allocated specifically for this group. Jane's Trust awarded NCES with the largest amount the fund grants, $150,000, for the purpose of providing free PD for the region's paras.
The group pictured above will be engaged in 6 courses over the next year. With a mix of in-person and online learning, these courses will cover the competencies required for Para Level II certification. In addition to this intensive program, NCES is also offering a monthly PD series for paras. See below for details on those workshops.
Rural Educational Leaders Network Annual Summit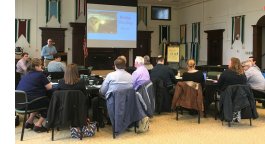 As a member of the Advisory Committee, I had the pleasure to participate in the first annual summit of the Rural Educational Leaders Network (RELN) held at Plymouth State University on October 26-27th. Focused on college and career readiness through developing school and community partnerships, this first summit brought together school leaders from the North Country and Lakes Region of NH.
The RELN was first and foremost established to foster rural schools helping to solve issues faced by rural communities. William Anton, a Vermont superintendent and former National Distinguished Principal, was the keynote and spoke about strategies his district has used to improve schools and attract families to their small rural community.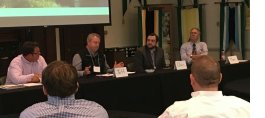 In addition to networking and working on common problems of practice, the group was able to hear from and ask questions of a panel of community and business leaders. The panel was compromised of NH business owner Jeff Woodward; CEO of Grafton Regional Development Corporation Chris Wellington; AHEAD Director of Homeownership Center, Matt Manning; and President of New England Wire, Tom White. The group also learned about Regional Educational Laboratory for the Northeast and Islands resources from Pam Buffington.
There will be two follow up sessions for the North Country and Lakes Region group before expanding to include additional regions of the state at the next summit. For more information on the RELN, contact Dr. Linda Carrier at llcarrier@plymouth.edu.
Have a great November!
Lori Langlois
Executive Director
lori@ncedservices.org
---
NH Educators Summit on Opiate Use:
The Impact on Student Learning
Offered November 16, 2016 at Mountain Club on Loon in Lincoln, NH for the Lakes Region and North Country and November 17, 2016 at SERESC in Bedford for the remainder of the state, these summits offer an opportunity for educators to engage with efforts to minimize the impact of New Hampshire's opiate abuse crisis on student learning.
November 16th summit at the Mountain Club on Loon agenda:
The day will begin a keynote address by Kevin Sabet, Ph.D, author, consultant, and adviser to international and national governmental and non-governmental administrations and organizations on on the use and abuse of drugs, and policies to reduce drug abuse and its consequences.

Following the keynote, attendees will look closer at the NH experiences in addressing opiate abuse as it affects learning.

A Berlin School District Team comprised of Superintendent Corrine Cascadden, Principal Amy Huter, and Project Aware Coordinator Bob Thompson will discuss the social-emotional impact of opiate misuse in home on early elementary schools and the strategies they are implementing in response.

The second featured speaker will be Erik Becker, Groveton High School's SAP, to speak on building protective factors in the middle and high school.

There will be a panel discussion featuring SAU 7 Project Aware Coordinator Jennifer Noyes and SAP Valerie Rella, SAU 8 Safe Schools/Healthy Students Project Manager Stacey Lazzar, a SAP from the Laconia School District, and a representative from the Life of an Athlete program.

The afternoon will include time facilitated by the respective Regional Public Health Network leads to identify regional resources and develop specific strategies to respond to the crisis in schools, districts, and regions.

Closing plenary session

Commissioner of Education Virginia Barry

NH Governor's Advisor on Addiction and Behavioral Health James Vara

Director of Program for the New Hampshire Charitable Foundation and Chair of the Governor's Commission on Alcohol and Other Drugs Timothy Rourke
This is a free summit thanks to financial support from the NH Charitable Foundation. To register for November 16th in Lincoln, click here. The deadline to register is November 4th.


Note: The registration for November 17th location is full.
---
Educational Technology Users Group
Join fellow educators who are passionate about integrating technology into the curriculum with NCES' Educational Technology Users Group. This Ed Tech Users Group is open to anyone who works with students and technology or has a stake in how that looks in their district and/or building. The goal of this group is to create a support system for one another that will allow us to share ideas and get questions answered about anything that is related to using technology in education. For example, how are you currently using Chromebooks in your schools, how does your school teach students to create short videos, what are schools using for tech standards currently and are they assessing them?
Date: Thursday, November 10, 2016
Time: 4:00 – 6:30 PM
Location: NCES Conference Room, Gorham, NH
Cost: $8.00
Questions: Call, 466-5437, or email Matt at matt@ncedservices.org
Register: Online or email lisa@ncedservices.org or call 466-5437
---
North Country Middle School Film Festival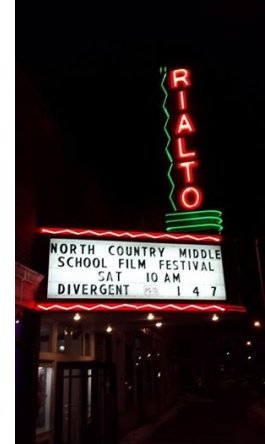 NCES is excited to announce the eighth annual North Country Film Festival.The premier sponsor for this event is North of the 44th with additional support provided by the TransCanada Corporation.
Entry into the film festival is free and it is open to students in grades 4-8 (two levels of competition). Eligible schools are New Hampshire SAUs 3, 7, 9, 20, 23, 35, 36, 58, 68, 77 & 84, as well as bordering schools in Vermont and Maine. Charter and private schools and homeschoolers from the North Country region are invited to participate as well. Other schools willing to travel to the festival may contact NCES about the possibility of being included.
New this year, there will be two levels of participation, a grades 4-5-6 competition and a grades 7 & 8 competition (can include 6th grade if a 6-8 school).
A modest stipend will be provided for the local school coordinator. This must be a person on staff at the school, but does not have to be a teacher. For films that will be created as in-class projects, there is a $150 stipend for the coordinator. For those who will supervise teams outside of the normal school day, the stipend will be $350.
We have not quite settled on the title of this year's theme. To be contacted with additional details, please email lori@ncedservices.org.
---
Professional Development for Para-Educators
Thanks to support from Jane's Trust, NCES will be offering a series of free professional development sessions one evening a month from October through May from 4:00 to 8:00 PM. The presenter will be live at NCES in Gorham with video conference locations in Madison, Colebrook, and Lisbon.
Cost: FREE and $35 stipend for the first 40 registered paras (must be employed by a NH school and for fairness sake, no shows and cancellations will be bumped to the bottom of the list for the following month)
.
Monthly topics and presenters:
Thursday, December 15, 2016 with Pat Eddy

Accommodations vs Modifications



Thursday, January 26, 2017 with Chelsea Hunnewell

Thursday, February 16, 2017 with Deborah Stewart

Thursday, March 9, 2017 with Chelsea Hunnewell

Zones Regulation: Part II



Thursday, April 6, 2017 with David Freschi

The Role of the Para in Working with Autistic Students



Thursday, May 11, 2017 with Deborah Stuart (not the same as above)

The Paraprofessional's Role in Promoting Success in Arts Classrooms
Registration for the next workshop will open at the conclusion of the prior month's session.
---
Supporting Coös Teens for Positive Outcomes
Join the research team from the UNH Carsey School present their latest findings from the Coös Youth Study on the following topics:
Strategies for reducing household chaos and enhancing adolescents' coping skills for successful transition to adulthood.

The relationship of school connection to academic achievement, mental health, and future employment prospects.

Recent graduates' reflections on their Coös high school experience in terms of preparation for secondary education and the work world.
Date/Time: Friday, November 4, 2016 from 9:30 to 3:45
Location: AMC Highland Center, Bretton Woods

Cost: Free, lunch and refreshments provided
Learn more or register here or contact eleanor.jaffee@unh.edu for more information.
---
Save the Date for CS4NH Launch Day!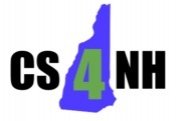 CS4NH is about expanding K12 access to Computer Science education. Computer Science, the study of the principles and use of computers, includes coding and other core concepts. Over 70% of all new STEM jobs are in computing, but only 8% of STEM graduates are in Computer Science. Less than 20% of those graduates are female. With a concerted statewide effort, we can turn these trends around in NH.
Saturday, November 5, 2016 at UNH Manchester
FREE for K-12 School Teams
Educators are encouraged to form strategic district or school team(s). A team may be within a grade group (PK-5, 6-8, 9-12) or span across PK-12. A school team consists of 3-5 school personnel which may include (but is not limited to): teacher, administrator, curriculum coordinator, technology integrator, library/media specialist, etc.
Click HERE to Apply for your School Team
For more information visit cs4nh.org or contact the NHDOE STEM Consultant, David Benedetto at David.Benedetto@doe.nh.gov
---
NHDOE Forums on How to Improve Student Learning

The New Hampshire Department of Education is hosting forums throughout the state on how to improve student learning, what our communities expect from the educational system, and how we can support our schools. The date for the North Country is Monday, November 7, 2016 from 6:00 to 7:30 PM at NCES in Gorham. A RSVP is appreciated but not required.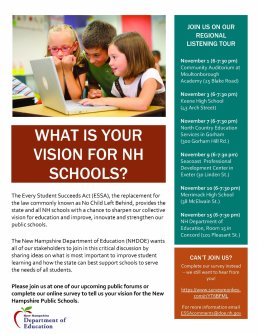 ---
Most Likely to Succeed Screening on November 21st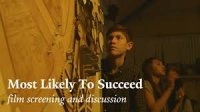 Plymouth State University will host a screening of the film Most Likely to Succ

eed

on November 21 in 144 Boyd Science Center (building #6) from 2:30- 6:00 pm. NHDOE Commissioner Dr. Virginia Barry and PSU President Dr. Donald Birx shall lead a post-screening discussion.




Note: Park at visitor lot at the Welcome Center (building 38) and take shuttle to the Lamson Library stop. Metered parking may also be available closer.

---


SAT School Day Users Group


Save the date: Friday, December 16, 2016 from 1:00 to 3:00 at NCES.



---
The Arts are Essential Conference



The 22nd annual Arts Education Partnership Conference is a professional development and networking opportunity for educators, teaching artists, parents, and school leaders.


November 11 & 12, 2016


Learn more



---
NH's Work-Study Practices



Are you familiar with the work-study practices that all New Hampshire students need to
demonstrate proficiency in order to be college and career ready?

Communication
I can use various media to interpret, question, and express knowledge, information, ideas, feelings, and reasoning to create mutual understanding.



Graduating seniors will be able to demonstrate that they can:

• Communicate effectively using multiple modalities
• Interpret information using multiple senses
• Demonstrate ownership of the work



Creativity
I can use original and flexible thinking to communicate my ideas or construct a unique product or solution.



Graduating seniors should be able to demonstrate that they can:

• Think originally and independently
• Take risks
• Consider alternate perspectives
• Incorporate diverse resources



Collaboration
I can work in diverse groups to achieve a common goal.



Graduating seniors will be able to demonstrate that they can:

• Contribute respectfully
• Listen and share resources and ideas
• Accept and fulfill roles
• Exercise flexibility and willingness to compromise



Self-Direction
I can initiate and manage my learning, and demonstrate a "growth" mindset, through self-awareness, self motivation, self-control, self-advocacy and adaptability as a reflective learner.



Graduating seniors will be able to demonstrate that they can:

• Persevere in completing complex, challenging tasks
• Use self-reflection to influence work and goals
• Engage stakeholders to gain support



Source


---
North of the 44th

North of the 44th placemakers pledge to...
Share resources and passion to strengthen the region.

Highlight what is inspiring and right in the region while recognizing that challenges exist.

A

ttend to relationships and networks to build trust, optimism and a common sense of purpose across the region.
Practice Asset-Based Thinking and building from strength in daily work and life.

E

mphasize inclusion, reaching beyond traditional barriers of age, class and education.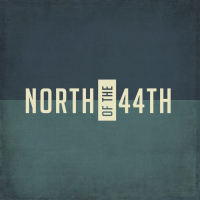 ---
North Country Jobs in Education



Visit TeachNorth.org for education related jobs in the North Country.




---








































Support NCES with a tax deductible donation




Your tax deductible gift helps support the work of the organization in being a leader in providing professional development and educational services, facilitating partnerships and fostering collaborations that benefit member schools, advocating for resources for teachers and students, and continuously creating opportunities that enhance education in the North Country.



---
Contact Information
North Country Education Services
300 Gorham Hill Road
Gorham, NH 03581
ncedservices.org
603-466-5437
nces@ncedservices.org
NCES is an equal opportunity employer and provider.