Classical Conferences and Meetings in 2016

2016
ACTFL—American Council on the Teaching of Foreign Languages
November 18–20, 2016
Boston Convention and Exhibition Center
Boston, MA
Representatives: Allan Bolchazy and Donald Sprague

VJCL-Virginia Junior Classical League 2016 Convention
November 20-21, 2016
The Greater Richmond Convention Center
Richmond, VA
Representative:
Laurel Draper
2017
AIA/SCS—Archaeological Institue of America and Society for Classical Studies Joint Annual Meeting
January 5–8, 2017
Sheraton Centre Toronto Hotel
Toronto, ON

CANE—Classical Association of New England
March 17–18, 2017
Philips Exeter Academy
Exeter, NH

The 52nd International Congress on Medieval Studies
May 11–14, 2017
Western Michgan University
Kalamazoo, MI
Representatives: Adam Velez and Laurel Draper
ACL—American Classical League
70th Annual Institute
June 29–July 1, 2017
Grand Valley State University
Grand Rapids, MI
NJCL - National Junior Classical League
July 24–29, 2017
Troy University
Troy, AL

The independent British think tank knows its Latin.
---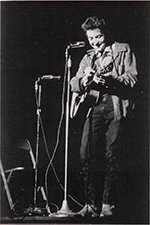 Bob Dylan in concert at St. Lawrence University in New York, November 26, 1963. Photo courtesy of Wikimedia Commons/Public Domain.

"If you look far back, 2,500 years or so, you discover Homer and Sappho. They wrote poetic texts that were meant to be listened to and performed, often together with instruments, and it's the same way for Bob Dylan," said Sara Danius, the permanent secretary of the Swedish Academy, in announcing the award. Wall Street Journal 10.13.16

Kudos to Christopher Mural of Stevenson High School, Lincolnshire, on being honored as the 2016 Farrand Baker Latin Teacher of the Year and to Marilyn Brusherd celebrated for her service to the classics community with the Illinois Classical Conference's Lifetime Achievement Award.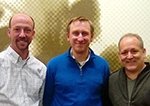 Chris Mural, 2016 Farrand Baker Latin Teacher of the Year, flanked by 2015 recipient, Matt Sparapani of St. Ignatius College Prep (left) and Will Nifong, Northside College Prep, the 2014 honoree (right). Photo courtesy of Brian Tibbets, Monmouth/Roseville High School.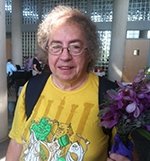 Marilyn Brusherd proudly sports her Latin-inspired t-shirt at the 2014 ICC meeting.
Congratulations to Shelly McCormick-Lane of Clear Lake High School, who was named the Texas Foreign Language Association's 2016 Latin Teacher of the Year.
Editor's Note: Help us celebrate our colleagues' honors and achievements in future issues of eLitterae. Send the 411 to don@bolchazy.com.
The Bolchazy-Carducci Publishers family mourns the recent deaths and celebrates the accomplished lives of its collaborators Dr. Rudolph Masciantonio, author of Build Your English Word Power with Latin Numbers; Dr. James Ruebel, author of Apuleius: The Metamorphoses, Book 1; and James Hillyer Estes, illustrator for Vergil for Beginners: A Dual Approach to Early Vergil Study, Ursus et Porcus: The Bear and the Pig, Octavus Octopus: Octavus the Octopus, Taurus Rex: King Bull, Rena Rhinoceros: Rena the Rhinoceros, and Gods and Other Odd Creatures.
Click on the names above to see an obituary.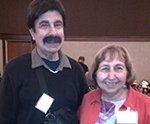 Dr. Rudolph Masciantonio poses with Dr. Marie Bolchazy following the 2013 Classical Association of the Atlantic States panel session that assessed Bolchazy-Carducci Publishers' late founder Dr. Lou Bolchazy's contributions to the classics community.
National Classical Etymology Exam deadlines
Late Registration: September 1– October 27, 2016
Administration: November 2–December 5, 2016
---
CAMWS Latin Translation Contest
[intermediate and advanced levels for high schoolers and for college students] deadline: November 1, 2016 Administration: November 28–December 9, 2016
---
National Greek Exam
Deadline: January 20, 2017 regular* Administration: February 27–March 4, 2017
---
National Mythology Exam
Deadline: January 15, 2017 Administration: February 20–March 3, 2017
---
National Latin Exam
Deadline: January 20, 2017 regular* Administration: March 13–17, 2017
---
National Roman Civilization Exam
Deadline: February 6, 2017 Administration: February 10–March 18, 2017
---
National Latin Vocabulary Exam
Deadline: January 31, 2016 Administration: February 10–March 18, 2016
---
Bernice L. Fox Classics Writing Contest
Deadline: March 15, 2017 postmark
*check online for early administration dates.
Bolchazy-Carducci Publishers provides eTextbooks on a variety of eBook platforms. Bolchazy-Carducci textbooks are available through VitalSource,

GooglePlay

,

Chegg

, Copia, RedShelf, Adams Book, Follett,

MBSDirect Digital

, and ESCO. Each eBook platform offers a variety of tools to enhance the learning process. eBooks have the same content as our traditional books in print.
eBooks are purchased from the eBook provider. For direct links to purchase Bolchazy-Carducci eTextbooks, visit the title's product page on Bolchazy.com. Just above the product description there is a list of the eTextbook providers and a direct link to purchase the eTextbook. Some eBook providers sell directly to schools—check with your school to make these purchases.
You can read eBooks on a Mac, PC, iPhone, iPad, Android, or a variety of eReaders. Review the eBook providers specifications.
The eyeVocab software leverages human memory for distinctive affective images* presented in isolation to radically improve the speed, depth, and permanence of second language vocabulary acquisition. Images are drawn from classical art, both western and eastern, from photojournalism and historical photography, great book illustration, and other sources.

*Learn how images are chosen.

Far more than a set of electronic flashcards, the multimodal vocabulary program facilitates a significantly deeper learning and retention. Students will readily master the frequent Vergil and Caesar vocabulary for the AP® Latin Exam and thereby devote far more of their study time and energy to reading and discussing De Bello Gallico and the Aeneid.

eyeVocab programs correspond to the following B-C books.

Caesar: Selections from his Commentarii De Bello Gallico
(Mueller) (218 words)

Vergil's Aeneid: Selected Readings from Books 1, 2, 4, and 6
(Boyd) (162 words)



Vergil's Aeneid: Books I–VI


(Pharr) (292 words)

Latin for the New Millennium Level 1

(423 words)





Introductory rate for each of the AP® Latin programs is $14.95. The LNM 1 and LNM 2 introductory rate is $24.95 per program. For site licenses, contact Miles Becker at sales@eyeVocab.com.




Click on each title to learn more.
The Pompeiiana Newsletter created and edited by Bernard Barcio ran from 1974 through 2003. The newsletter offered a place for Latin students to publish comics, stories, games, and articles, and was a beloved resource for Latin teachers. In 2008, Barcio granted Bolchazy-Carducci Publishers the rights for all of the Pompeiiana Newsletter. B-C is proud to serve as curator for this archive and has made the issues available for teachers, students, and friends of the classics. Check out http://pompeiiana.blogspot.com/
Each fall, Bolchazy-Carducci mails its Roman Calendar to Latin teachers across the nation. If you're not on that mailing list, send a note TODAY to info@bolchazy.com. Put Roman Calendar in the subject line and provide us the USPS address to which you wish the calendar to be sent. The calendar is also available in a digital format.
Preview Bolchazy-Carducci Titles

Preview Bolchazy-Carducci titles before you purchase using Google Preview.
---

Downloadable Products
iPodius - Bolchazy-Carducci Publishers online shop for: audio, software, video, and a treasure trove of teacher-created materials in the Agora.
---
BCP Facebook Fan Page
Become a FAN of Bolchazy-Carducci Publishers, visit our Facebook Fan page for the latest news from BCP.
---
BCP Blog
Visit the BCPublishers Blog for BCP news and information.
Check out What Makes The Other Middle Ages an "Other" Text?
---
BCPublishers on Twitter
Follow us on Twitter

---
AP® is a trademark registered and/or owned by the College Board, which was not involved in the production of, and does not endorse, this site.
These products have been developed independently from and are not endorsed by the International Baccalaureate (IB).
My goodness, here we are at the end of October already! Here at Bolchazy-Carducci, we're in the thick of the fall conference season. This issue of eLitterae includes reports from the Illinois Classical Conference and the Texas Foreign Language Association meetings. These gatherings prompt us to congratulate our teacher colleagues in Illinois and Texas who have been honored as Latin Teacher of the Year. Please send us information, don@bolchazy.com, about other Latin Teachers of the Year so we can celebrate them in future issues of eLitterae.
In the Resources and Teaching Tips section, we're happy to provide you some resources to use as we celebrate Halloween and the Day of the Dead. To complement the latter, please find some materials about Roman rituals associated with death. My colleague Bridget Dean, PhD, highly recommends Johnson's Restless Dead.
May your teaching bring you many a treat and never a trick!
Quizlet is a great site for online vocabulary practice. It's easy for both students and teachers to create a set of flash cards to study and review. For quite a few years, Quizlet has offered a few different ways of interacting with the flashcards ranging from memory games to fill-in tests. Recently, Quizlet launched a cooperative game called Quizlet Live and it's a really fun and high- energy activity. I started playing it this year to do some in-class vocab practice and I really like it, and so do the students.
Here's how it works, the teacher creates a deck of flashcards, or selects an existing deck and clicks the link to start the "live" game. Quizlet generates a six-digit key that students use to connect to the game on their internet-enabled devise. The connection process is very simple— students go to the site Quizlet Live and then enter the six-digit key. They are then prompted to input their name and, once all the students are in, the teacher starts the game. The Quizlet Live interface instantly builds random teams and the students quickly get into to a group with their team. Each team is given one of the vocabulary terms and is expected to give the English meaning or the Latin word. Members of the same team get the same word. However, each member of the team has a different answer choice and the team members have to communicate among themselves to figure out who's got the correct answer. If the team answers correctly, it is given another item from the list to try. The goal is to be the first team to identify the meaning of all the vocabulary words correctly in a row. If the team misses one word, it has to start the list again.
The competition element is great, but the real strength and unique quality is the cooperation that teams need to succeed. The rounds of the game go fairly quickly. I usually do 3–5 rounds with the class as practice and I mix up the teams between each round. It's fun, gets the students moving, and is very quick to set up. To give it a try, click here.
Lynne West
Bellarmine Jesuit College Prep
San Jose, CA

Orgy Planner Wanted
Odd Jobs and Curious Careers in the Ancient World
From the title, you know that by reading this book, you will learn about some strange jobs that existed in the ancient world. You also will learn strange things about the jobs that have a current- day equivalent, e.g., dentist. And to make the reading of this book more fun, you may want to read it out of order. For example, if you are especially interested in the ancient take on foretelling the future or interpreting dreams, you may want to read the section on astrologer or dream incubator before the section describing the jobs of slaves. But then again, you might want to go directly to the section noted in the book's title—orgy planner.
A number of jobs were related to predictions of fate: astrologers, magicians, and augers (some of whom interpreted chicken behavior to determine when to start a battle).
Jobs that to my knowledge don't exist today include
foretaster—actually, a pleasant job as long as he isn't poisoned by food intended to be eaten by a member of the imperial family

manure entrepreneur—hauled away the human waste of folks who did not have access to a sewer system

archer-cop—Scythian prisoners of war rounded up late sleepers and slackers who did not want to go to the peoples' assemblies. The archer-cop had the authority to use ropes, whips, and handcuffs on citizens and noncitizens alike.

Praetorian prefect—selected by the emperor, persecuted people accused of high treason

lictor—primarily a ceremonial bodyguard

footstool—this was Emperor Valerian's fate when he became a slave. He was used as a stool when Persia's strongman wanted to mount his horse.

war elephant commander—a short-lived viable career since enemy forces developed anti-elephant warfare

funeral clown—cheered up mourners by impersonating the deceased and mimicking his mannerisms
While we still have wine critics, today's sommeliers no longer decide how much water to add to the wine.
An aside on Cicero: Leon also discusses the darker side, from a twenty-first century perspective, of Cicero. His personal scribe Tiro, a slave from childhood, was not only challenged to keep up with Cicero's orations, according to Leon, Cicero probably used him sexually. Also, since Cicero never felt he had enough money, he divorced his first wife to marry an heiress, and then divorced her to marry another wealthy woman. Cicero was also a "slum landlord." I'm sure you'll find Orgy Planner Wanted very interesting.

Marie Carducci Bolchazy, EdD
President, Bolchazy-Carducci Publishers
Illinois Classical Conference 2016 Report
The Illinois Classical Conference met October 7–9 at Stevenson High School, Lincolnshire, IL. Chris Mural, the Latin teacher at Stevenson, served as the local host and as the organizer of the book exhibit. Laurel Draper, assistant editor, again represented Bolchazy-Carducci Publishers at the ICC annual meeting. She very much appreciated that the book exhibit, coffee and meals, and presentations all took place in the same room. This allowed her to keep an eye on the book exhibit while she also listened to the presentations and joined Latin teacher colleagues for meals.
Judy Hayes, retired Latin teacher from New Trier and coauthor of A Cicero Workbook and Elisa Denja, retired teacher from the Baker Demonstration School and volume editor for Latin for the New Millennium, Level 1, stopped by the exhibit to send their regards to the B-C staff.
Saturday's luncheon was co-hosted with the Chicago Classical Club and featured a talk from incoming CCC president Daniel Garrison of Northwestern University, who spoke on Latin as a modern language. Peter Burian of Duke University gave the keynote address, titled "The Stronger Sex: Athenian Democracy and the Case of Lysistrata." Matthew Sparapani of St. Ignatius College Prep, 2015 Latin Teacher of the Year, spoke on the importance of community within the Latin classroom and within the classics profession. He specifically mentioned Don Sprague and B-C's support of the classics community.

Local host Chris Mural received the Farrand Baker Latin Teacher of the Year award. Marilyn Brusherd, a longtime member of ICC and editor of ICC's The Augur, the organizer of the book exchange, and a perennial volunteer at classics events for high school students, received the ICC Lifetime Achievement Award.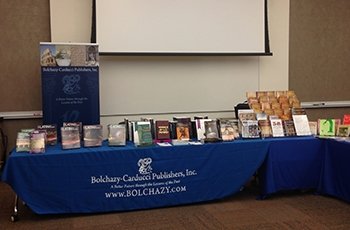 The company owl logo on banner and table cloth proudly proclaims Bolchazy-Carducci Publishers.

On Sunday morning, Nava Cohen of Chicago Public Schools' Decatur Classical Elementary School provided an overview of the new Standards for Classical Languages, which were drafted by representatives from various national and regional classical organizations, including ACL, SCS, AIA, CAAS, CAMWS, CANE, and CAPN. These standards are the classics profession's adaptation of and response to ACTFL's World-Readiness Standards for Learning Languages. The new standards are expected to be approved by ACL and SCS in January. Following approval, ACL's Standards Committee will create professional development resources, some of which will be online.

Editor's Note: For more on the awardees, see the ΚΥΔΟΣ section in the sidebar.
TFLA 2016 Conference Report

Allan Bolchazy, B-C vice president, represented the company at the 2016 Texas Foreign Language Association (TFLA) Conference, held October 13–15, 2016 in Austin, TX, at the Renaissance Hotel.
Phil Neill and Joni Dodson, Bolchazy-Carducci's sales representatives for the state of Texas (with its 1,100 school districts!), assisted Allan in staffing the B-C booth. Both Phil and Joni take pride in serving as representatives for Bolchazy-Carducci, a family-owned company with an exclusive focus on Latin and Greek texts and excellent customer service.
Thursday evening saw publishers give presentations on their programs and texts. Allan gave an illustrated presentation that provided attendees an overview of Latin for the New Millennium and its three levels and an overview of the company's Caesar and Vergil texts designed for the AP® Latin curriculum.
Coffee and pastries offered during the first hour on Friday and Saturday lured large numbers to the exhibit hall. Visitors to the B-C booth demonstrated great interest in our books. In addition to Latin teacher visitors, a Slovak gentleman, who remembered Lou and his Slovak books, visited the booth. A number of other teachers and department chairs came by seeking information for their Latin teacher colleagues. We congratulated Shelly McCormickLane of Clear Lake High School in the Houston area on being named the 2016 TFLA Latin Teacher of the Year.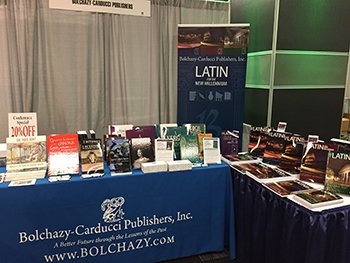 The Latin for the New Millennium banner beckons teachers to the B-C booth. For conferences like TFLA, B-C exhibits a representative sampling of its titles.
Editor's Note: For more information about TFLA Latin Teacher of the Year, see the ΚΥΔΟΣ section in the sidebar.
Resources & Teaching Tips

√ National Geographic History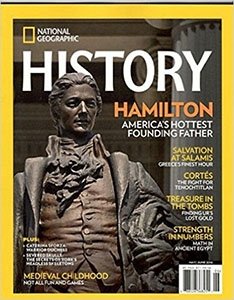 Can't help but encourage a subscription to this publication—beautiful illustrations, great information, and a very accessible presentation altogether. Every issue has one or two articles directly relevant to the classics classroom. For example, the May/June 2016 issue includes articles on Salamis and the gold of Ur. For teachers using B-C's Latin of New Spain, the piece on Cortés is a great complement to the Latin account found in the anthology of Neo-Latin writings from the "New World."

√ Halloween, Ghosts, Dia de la Muertos—Day of the Dead . . .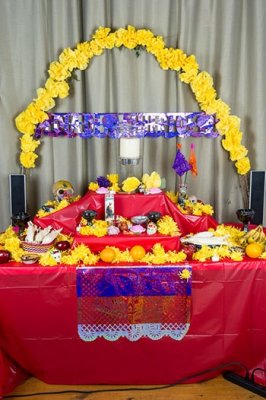 A Day of the Dead altar, Ofrendo, in 2012 at Vargas & Harbin Studio Gallery, Norcross, GA. Photo Courtesy of Wikimedia Commons, Creative Commons 3.0.

Connect your Latin students to the season. To help, we provide you some materials that you can download and share with your classes.
From To Be a Roman, share this information about Roman death rituals.
From Petronius: Selections from the SATYRICON, we offer Trimalchio's ghost story.
From Rest Lightly, consider the following representative epitaphs.
Editor's Note: If you don't have copies of these resources for your classroom library, take advantage of this issue's special 34% discount.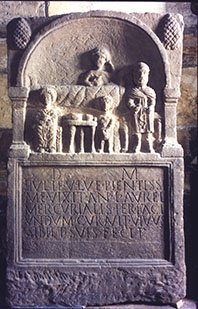 Funerary relief with Julia Velva on couch with young girl, boy servant, and Aurelius Mercurialis above inscription.
Inscription D(IS) M(ANIBVS) IVLIE VELVE PIENTISSI ME VIXIT AN(NOS) L AVREL(IVS) MERCVRIALIS HER(ES) FACI VNDVM CVRAVIT VIVVS SIBI ET SVIS FECIT "To the spirits of the departed and to Julia Velva. She lived 50 years, most dutifully. Auelius Mercurialis, her heir, had (this tombstone) made. He made it while alive for himself and his family."
Photo Courtesy of Wikimedia Commons, Creative Commons 4.0, and the York Museum Trusts Online Collection.
---
The November/December 2016 issue of Archaeology features an intriguing article on Halloween's Celtic origins.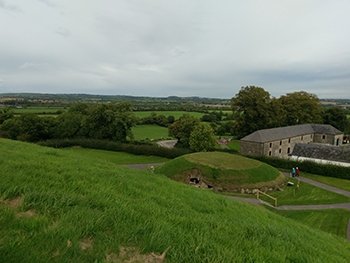 Knowth burial site, Boyne Valley, County Meath, Ireland. Photo courtesy of Donald Sprague.

Fall 2016 Schedule
Webinar Registration Form




Tuesday, November 1, 2016 6:00–7:00 PM ET


Latin for the New Millennium: Using the Aural/Oral Component
Presenter: Terence Tunberg, Professor of Classics, University of Kentucky, Lexington, KY
Let an accomplished educator and living Latin enthusiast gently walk you through the aural/oral opportunities presented by Latin for the New Millennium, Levels 1 and 2. Coauthor, Dr. Terence Tunberg, will set you at ease as they provide various suggestions and strategies for implementing or enhancing the spoken Latin component of your classes. He will share with you the bounty of aural/oral activities and exercises in the LNM Teacher Manuals and demonstrate how teacher-friendly they are!



Tuesday, November 8, 2016 6:00–7:00 PM ET




Ease the Transition to Reading Unadapted Latin with the Latin of the New Testament


Presenter: Dale A. Grote, Associate Professor of Classics, University of North Carolina at Charlotte

Professor Grote will share his experience using the Latin of the New Testament as an ideal vehicle for building student confidence and success in reading Latin. Dr. Grote will present several pericopes from his newly published The Vulgate of Mark with the Synoptic Parallels (Bolchazy-Carducci, 2016) to model introducing students to this very accessible Latin and to a historical-textual approach to reading and interpreting these texts.
Tuesday, November 15, 2016 6:00–7:00 PM ET
From Salius to Augur: Julius Caesar's Priestly Career
Presenter: Hans-Friedrich Mueller, Thomas B. Lamont Professor of Ancient & Modern Literature at Union College, NY

Salius, Flamen Dialis, Pontifex, Pontifex Maximus, Augur. These are not the offices that we generally associate with Caesar's cursus honorum. A single issue of coin attests to one priesthood. Scholars famously regard another as a potentially crippling impediment. Rome's leading statesmen routinely coveted the others. We shall in this talk explore the priesthoods Caesar held as well the implications of what evidence we have for his devotions to the religious scruples that, according to ancient consensus, guaranteed Rome's earthly triumphs.

Tuesday, November 29, 2016 6:00–7:00 PM ET




Exploring the Delights of Medieval Latin


Presenter: Kenneth F. Kitchell Jr., Professor of Classics Emeritus and former Director of the MAT Program at University of Massachusetts

Professor Kitchell will provide an insider's, i.e., author's, perspective on the development of and rationale for his recently published The Other Middle Ages (Bolchazy-Carducci, 2016). He will share his insights on the utility of reading Medieval Latin and why it makes good sense to read this Latin with students who have just finished the basics. Students will find the grammar very manageable and many of the selections rather fun. Dr. Kitchell will present several representative readings to illustrate these points.



Next Semester Webinar Preview


ACTFL 2015 Teacher of the Year Ed Zarrow, PhD, joins active Latin master/enthusiast TJ Howell to give a webinar on using Roman coins in the active Latin classroom. Coming in early spring!
---
What Equipment Do I Need for B-C Webinars?

To participate in Bolchazy-Carducci Publisher sponsored webinars you will need high-speed internet access, computer speakers/headphones, current web browser, and the link to the webinar virtual meeting space, which is provided in your webinar invitation.
Webinars Make for User-Friendly Professional Development

Participation is free. All webinars provide opportunity for participants to ask questions. Learn lots—attend as many presentations as you can. Bolchazy-Carducci Publishers provides documentation for your participation. You can share this with your supervisors. Many webinar presenters provide handouts, etc.
eLitterae Subscribers Special Discount

Special 34% Discount


Every classroom should have a set of
these great resource texts!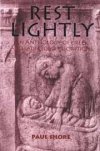 xi + 75 pp. (1997) Paperback, ISBN 978-0-86516-355-3

xvi + 260 pp. (1995) Paperback, ISBN 978-0-86516-288-4

By Margaret A. Brucia and Gregory N. Daugherty
viii + 155 pp. (2007) Paperback, ISBN 978-0-86516-633-2
This offer is valid for up to (5) copies, prepaid, no returns.
Discount is not available to distributors or
on products distributed by Bolchazy-Carducci Publishers.
This offer expires 11/22/16.
(Please note that there will be no adjustments on previous purchases.
Offer is non-transferable and subject to change without notice.)
Enter coupon code eLit1016
on the payment page. The special

eLitterae offer pricing will be charged at checkout.