Last Call for North Country Student Film Festival
It's not too late for your school to participate. There are several options under this year's theme to enable the film-making to be tied into any discipline. The deadline to submit films is just over a month away, February 17th. Get those students rolling film!
Entry into the film festival is free. There are two levels for participation, a grades 4-5-6 competition and a grades 7 & 8 competition (can include 6th grade if a 6-8 school). Eligible schools are NH SAUs 3, 7, 9, 20, 23, 35, 36, 58, 68, 77 & 84, as well as bordering schools in Vermont and Maine. Charter and private schools and homeschoolers from the North Country region are invited to participate as well.
A modest stipend will be provided for the local school coordinator. This must be a person on staff at the school, but does not have to be a teacher. For films that will be created as in-class projects, there is a $150 stipend for the coordinator. For those who will supervise teams outside of the normal school day, the stipend will be $350.
This year's theme is Through Our Eyes with the following category options:
Innovation North of the 44th
A clever solution to a problem tied either to a problem found North of the 44th or highlighting a solution of an inventor/business person/entrepreneur who lives or hails from the region.

A story about innovation in the region (renewable energy projects, local foods movement, economic or community development strategies, and much more).
People: The story of someone who has made a positive difference, overcome adversity, or excelled in some way.

Places: Special natural or man-made places in the North Country.

Pastimes & Passions: From hobbies, to sports, to special events, this category could include stories about local festivals to indoor and outdoor activities people enjoy in the region. Activities unique to this region are a plus.
The Future We Envision North of the 44th
We face many challenges in the modern world. These include inequality, racism, poverty, substance misuse, bullying, affordable health care, and climate change, to name a few. Films in this category should highlight the importance of addressing the issue and ideally tie into one of the following:
Communities coming together to work towards solutions

School groups or activities that address issues

A new idea you have to address an issue
For rules, guidelines and the school registration form, please visit:
http://www.ncedservices.org/film
Lori Langlois
Executive Director
lori@ncedservices.org
---
Elementary Science PD for FREE!
Welcome to 2017! Perhaps your New Year's resolution was to find K-5 Earth and Space Science content aligned to NGSS! Or perhaps you are looking to prepare for field trips in 2017 with great Earth and Space Science content. If so, this two-workshop series is for you!

Leveraging a unique partnership, instructors from the Appalachian Mountain Club (AMC) and White Mountain Science Inc (WMSI) will give you new tricks for Earth and Space Science content from both placed-based and design based approaches.


Workshop #1

Design a Geologic Timeline Like No Other

Date/Time: Monday, February 13th, from 4:00-8:00 at NCES
For: NGSS Grade span focus Grades 2-4, others welcome

In this workshop, you will start with snow and end with technology stars to design a very unique geologic timeline. We will explore past geologic events in earth's history, the current slow motion North/South magnetic pole reversal, and geologic events that happen over years, days, or even minutes. We will use AMC and WMSI's blend of using place-based curriculum techniques with design and technology based learning tools. If you want to spice up the slow crawl of geologic time for your students, this is the workshop for you. Dinner will be provided. Please come dressed to be outside for a portion of the time.


Workshop #2

Weathering and Erosion in the North Country -- Year Round, All Around!

Date/Time: Monday, March 6, 2017, from 4:00 to 800 at NCES
For: NGSS Grade span focus Grades 2-4, others welcome

Join NCES, WMSI and AMC in our second joint workshop. Find "your place" in the NGSS and prepare for your next field trips! While the workshop is open to all, we'll have a 2nd-4th grade curriculum focus as we explore ways to incorporate experiential, place-based, outdoor and STEM-based methods for bringing weathering and erosion lessons to life in your classroom. Connect with other educators in the area who share your passion for teaching "outside the kit" and creating meaningful connections for your students to increase the impact of what you teach. Dinner will be provided. Please come dressed to be outside for a portion of the time.


Registration: Online at ncedservices.org/elem-sci-pd or email lisa@ncedservices.org or call 466-5437 (M-F, 8-4).

You may take the workshops together or sign-up for them individually. Participation is free. An optional $200 stipend will be available for presenting a small place-based project that was the result of your participation in an online "virtual meet-up" in May.

---
NCES' Educational Technology Users Group
Join fellow educators who are passionate about integrating technology into the curriculum with NCES' Educational Technology Users Group for our second meeting. The Ed Tech Users Group is open to anyone who works with students and technology or has a stake in how that looks in their district and/or building. The goal of this group is to create a support system for one another that will allow us to share ideas and get questions answered about anything that is related to using technology in education. For example, how are you currently using Chromebooks in your schools, how does your school teach students to create short videos, what are schools using for tech standards currently and are they assessing them?
Date: Thursday, February 2, 2017
Time: 4:00 – 6:30 PM
Location: NCES Conference Room, Gorham, NH (Too far to drive? You are welcome to attend virtually.)
Cost: $8.00
Questions: Call 466-5437 or email Matt at matt@ncedservices.org
Register: Online or email lisa@ncedservices.org or call 466-5437 (M-F, 8-4).
---
North Country Code Leaders Project
NCES and WMSI are excited to announce our latest professional development opportunity that will kick-off for the next school year. We are announcing it now to give schools ample time to strategize who to involve.
Many of you may already be engaging with the "Hour of Code" activity through Code.org. The intent of this PD opportunity is to give North Country Code Leaders the skills and curriculum ideas to bring back and teach to their colleagues in order to take the school to the next steps beyond the "hour of code".
The purpose of this professional development series is to begin integrating coding literacy in the elementary grades as a key element of developing robust computer science programs K-12. The PD is a "train the code leader" model and focus on curriculum for K-8. Depending on the structure of your school(s)/district, this could involve a high school educator if there is a means for to work on implementation in the earlier grades.
Ideally we are seeking two person teams per school to participate. The commitment would be 8 evenings, one a month at NCES beginning in the fall of 2017.
Principals should contact NCES to reserve seats for their school participant(s). Registration is first-come, first serve.
Learn more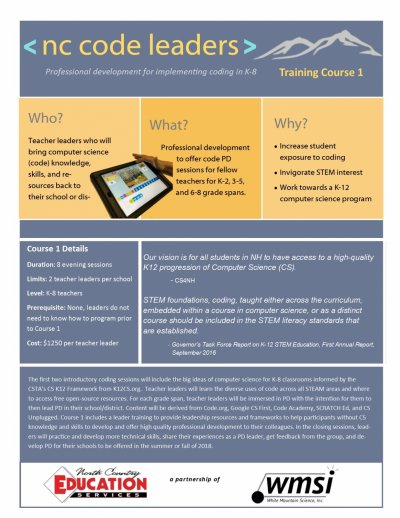 ---
Professional Development for Para-Educators
Thanks to support from Jane's Trust, NCES will be offering a series of free professional development sessions one evening a month from October through May from 4:00 to 8:00 PM. The presenter will be live at NCES in Gorham with video conference locations in Madison, Colebrook, and Lisbon.
Cost: FREE and $35 stipend for the first 40 registered paras (must be employed by a NH school). For the sake of fairness, no shows and cancellations will be bumped to the bottom of the list for the following month
.
Remaining monthly topics and presenters:
Thursday, January 26, 2017 from 4-8 PM with Chelsea Hunnewell

Thursday, February 16, 2017 from 4-8 PM with Deborah Stewart

Thursday, March 9, 2017 from 4-8 PM with Chelsea Hunnewell

Zones Regulation: Part II



Thursday, April 6, 2017 from 4-8 PM with David Freschi

The Role of the Para in Working with Autistic Students



Thursday, May 11, 2017 from 4-8 PM with Deborah Stuart

The Paraprofessional's Role in Promoting Success in Arts Classrooms
Registration for the next workshop will open at the conclusion of the prior month's session. For January, register here.
---
Coos Adult Learner Services
Did you know there are 14 Adult Learner Services (ALS) programs in NH? Once known as the Adult Tutorial Program, the programs, with funding through the Bureau of Adult Education, provide free classes to adults and students (under the age of 18, ALS can still provide services with approval of the attending school). One of the main roles of these ALS programs is to give adults and out-of-school youth an opportunity to demonstrate their academic skills and to earn the New Hampshire High School Equivalency Certificate.
In 2014, NH began using the HiSET, High School Equivalency Test, in place of the GED. The HiSET is geared towards the new College and Career Readiness Standards that many states have adopted. Students do not need to have college pursuits to participate.
Many seek the HISET for better employment opportunities or simply to achieve a lifelong goal.
Whatever the reason, those goals can be achieved through the Adult Learner Services program.
Adult Learner Services can also assist any individual with English as a Second Language, reading, tutoring in math, and assistance with college applications. Adult Learner Services, through the NH Department of Education, offers the Accuplacer (college entry test) to any student who has passed the HISET.
Have questions? Not sure what path you wish to take? For Coös County, there is an ALS office in Berlin with satellite offices in Lancaster and Colebrook NH.
Call Peggy Blais or Gayle Theberge at 603-752-1927, email pblaiscoosals@myfairpoint.net or gthebergecoosals@myfairpoint.net , or s
top in at 166 Main St, Berlin NH 03570. For other ALS offices in NH, visit the NHDOE ALS page.
---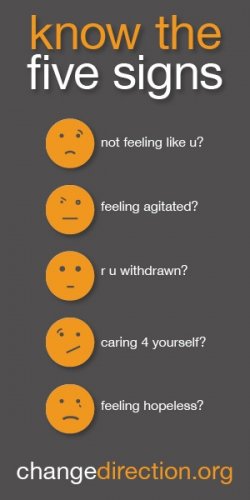 The Campaign to Change Direction has made the above rack-cards available to all students and teachers in NH schools. For the North Country, these were distributed through the superintendents. Learn more about this campaign to change the culture of mental health in America.


---
Comprehensive School Mental Health System Assessment
"Over the past several years, we have seen the role of the public school system expand to meet the needs of the students who come through the door each day," commented Mary Steady, Administrator of the Office of Student Wellness at the NH Department of Education. "These needs are often fundamental to the student's ability to succeed and yet, our system is not always prepared to handle them. In an environment of limited resources, the SHAPE system has been an invaluable tool; supporting districts as they assess their current approach to comprehensive school mental health and to develop plans for strengthening and sustaining these efforts."
Learn more at https://theshapesystem.com/

---
NH's Strategy for Reducing the Misuse of Alcohol and Other Drugs
Check out Collective Action > Collective Impact, an extensive document published by the Governor's Commission on Alcohol and Drug Abuse Prevention, Intervention, and Treatment. There's a section specifically devoted to Education.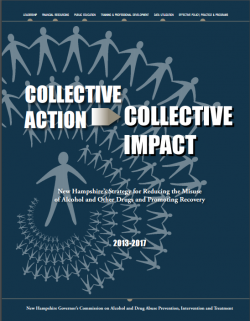 ---
The 22nd Annual Integrated Arts Conference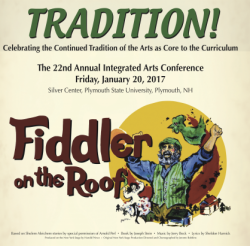 Plymouth State University and the New Hampshire Department of Education in partnership with the Arts Alliance of Northern New Hampshire and with support from the NH State Council on the Arts and the New Hampshire Arts Learning Network are presenting an exciting day-long Conference exploring the power of the arts for all learners on January 20, 2017.
Learn more
---

The annual reading/writing conference for educators dedicated to the memory and legacy of Donald Graves will be held on Saturday, April 8, 2017, 8:30 to 2:00 at Kennett High School. Presented in partnership by the Arts Alliance of Northern New Hampshire and Conway School District, the 2017 conference features Katie Muhtaris & Kristin Ziemke, authors of Amplify: Digital Teaching and Learning in the K-6 Classroom, published by Heinemann.
Learn more
---
North of the 44th placemakers pledge to...
Share resources and passion to strengthen the region.

Highlight what is inspiring and right in the region while recognizing that challenges exist.

A

ttend to relationships and networks to build trust, optimism and a common sense of purpose across the region.
Practice Asset-Based Thinking and building from strength in daily work and life.

E

mphasize inclusion, reaching beyond traditional barriers of age, class and education.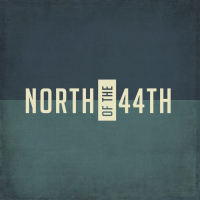 ---




Support NCES with a tax deductible donation






Your tax deductible gift helps support the work of the organization in being a leader in providing professional development and educational services, facilitating partnerships and fostering collaborations that benefit member schools, advocating for resources for teachers and students, and continuously creating opportunities that enhance education in the North Country.



---



Support NCES through AmazonSmile



Please consider supporting NCES by shopping through AmazonSmile. Amazon will donate to NCES every time you shop through this link: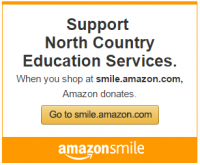 ---
Contact Information
North Country Education Services
300 Gorham Hill Road
Gorham, NH 03581
ncedservices.org
603-466-5437
nces@ncedservices.org
NCES is an equal opportunity employer and provider.