Classical Conferences and Meetings in 2016

2017
AIA/SCS—Archaeological Institue of America and Society for Classical Studies Joint Annual Meeting
January 5–8, 2017
Sheraton Centre Toronto Hotel
Toronto, ON
Representatives: Allan Bolchazy, Bridget Dean, and Donald Sprague

CANE—Classical Association of New England
March 17–18, 2017
Philips Exeter Academy
Exeter, NH
Representative:
Donald Sprague
CAMWS—The Classical Association of the Middle West and South
April 5-8, 2017
At the Invitation of the University of Waterloo
Holiday Inn, Kitchener, Ontario Canada
Representatives: Bridget Dean and Donald Sprague
The 52nd International Congress on Medieval Studies
May 11–14, 2017
Western Michgan University
Kalamazoo, MI
Representatives: Adam Velez and Laurel Draper
ACL—American Classical League
70th Annual Institute
June 29–July 1, 2017
Grand Valley State University
Grand Rapids, MI
Representatives: Allan Bolchazy, Laurel Draper, and Donald Sprague
NJCL - National Junior Classical League
July 24–29, 2017
Troy University
Troy, AL
Representatives: Connor Hart and Donald Sprague
Saturnalia Redux?
From Benjamin Haller, classics professor at Virginia Wesleyan, who posted this photograph on Facebook with the caption "Io Saturnalia!" and a reference to Santa's thyrsus. This sign of Santa's enthousiasmos was photographed at the CVS at 11127 Jefferson Ave, Newport News, VA.
---
The ubiquity of plays on the famous phrase Carpe Diem!
https://www.youtube.com/watch?v=1mwJhJ2rNtw
Walgreen's ad urges "carpe med diem."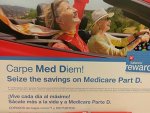 Volkswagen's all-track proclaims "carpe dirt."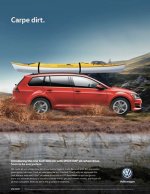 ---
The Battle of Zama: 26,000 Pieces Strong
Check out this amazing Playmobil diorama!
Congratulations to Bolchazy-Carducci's Laurel Draper, who was promoted to "editor." Laurel edits books at all stages of production and is involved in managing textbook adoptions. Laurel's perspicacious eye and terrific command of the Chicago Manual of Style have served this publication and Bolchazy-Carducci's other publications quite well. Most recently she played a lead role in shepherding Bolchazy-Carducci's successful placement on the State of Texas textbook adoption list. To that end, she was also a major contributor to the revisions in the second edition of Latin for the New Millennium. Laurel serves as the editor for B-C's Lectiones Memorabiles texts created for the International Baccalaureate curriculum.* Laurel has regularly represented B-C at the Medieval Congress and the Illinois Classical Conference annual meetings. She is responsible for production of the company's high school catalog. Laurel interned with Bolchazy-Carducci in 2010 prior to joining the company in 2011. She graduated from Calvin College with a BA in classical languages (honors) and English. For more about Laurel, see a profile in the July/August 2015 eLitterae.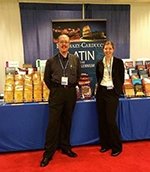 Editor Laurel Draper and senior designer Adam Velez at Medieval Congress 2015.
---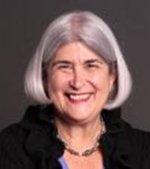 Congratulations to Judith P. Hallett of the University of Maryland who has been named the Suzanne Deal Booth Scholar in Residence at the Intercollegiate Center for Classical Studies in Rome. ICCS is a consortium program for classics students across the country who spend a semester in Rome using the city and its sites as their classroom. Scholars in Residence deliver a special lecture, visit classes, and join excursions with faculty and students at the center and elsewhere. Professor Hallett is the coauthor of A Roman Women Reader: Selections from the Second Century BCE through the Second Century CE. She also served as a consultant and contributing editor to Latin for the New Millennium, Levels 1 and 2.
Thanks to our five fall webinar presenters and to our colleagues who participated in the Tuesday webinars. We'll be announcing our spring series in the January issue of eLitterae. So stay tuned!
We are pleased to have engaged ACTFL 2015 Teacher of the Year Ed Zarrow, PhD, and active Latin master/ enthusiast TJ Howell, who will give a webinar on using Roman coins in the active Latin classroom. Coming in early spring!
---
What Equipment Do I Need for B-C Webinars?

To participate in Bolchazy-Carducci Publisher sponsored webinars you will need high-speed internet access, computer speakers/headphones, current web browser, and the link to the webinar virtual meeting space, which is provided in your webinar invitation.
Webinars Make for User-Friendly Professional Development

Participation is free. All webinars provide opportunity for participants to ask questions. Learn lots—attend as many presentations as you can. Bolchazy-Carducci Publishers provides documentation for your participation. You can share this with your supervisors. Many webinar presenters provide handouts, etc.
National Greek Exam
Deadline: January 20, 2017 regular* Administration: February 27–March 4, 2017
---
National Mythology Exam
Deadline: January 15, 2017 Administration: February 20–March 3, 2017
---
National Latin Exam
Deadline: January 20, 2017 regular* Administration: March 13–17, 2017
---
National Roman Civilization Exam
Deadline: February 6, 2017 Administration: February 10–March 18, 2017
---
National Latin Vocabulary Exam
Deadline: January 31, 2016 Administration: February 10–March 18, 2016
---
Bernice L. Fox Classics Writing Contest
Deadline: March 15, 2017 postmark
*check online for early administration dates.
Bolchazy-Carducci Publishers provides eTextbooks on a variety of eBook platforms. Bolchazy-Carducci textbooks are available through VitalSource,

GooglePlay

,

Chegg

, Copia, RedShelf, Adams Book, Follett,

MBSDirect Digital

, and ESCO. Each eBook platform offers a variety of tools to enhance the learning process. eBooks have the same content as our traditional books in print.
eBooks are purchased from the eBook provider. For direct links to purchase Bolchazy-Carducci eTextbooks, visit the title's product page on Bolchazy.com. Just above the product description there is a list of the eTextbook providers and a direct link to purchase the eTextbook. Some eBook providers sell directly to schools—check with your school to make these purchases.
You can read eBooks on a Mac, PC, iPhone, iPad, Android, or a variety of eReaders. Review the eBook providers specifications.
The eyeVocab software leverages human memory for distinctive affective images* presented in isolation to radically improve the speed, depth, and permanence of second language vocabulary acquisition. Images are drawn from classical art, both western and eastern, from photojournalism and historical photography, great book illustration, and other sources.

*Learn how images are chosen.

Far more than a set of electronic flashcards, the multimodal vocabulary program facilitates a significantly deeper learning and retention. Students will readily master the frequent Vergil and Caesar vocabulary for the AP® Latin Exam and thereby devote far more of their study time and energy to reading and discussing De Bello Gallico and the Aeneid.

eyeVocab programs correspond to the following B-C books.

Caesar: Selections from his Commentarii De Bello Gallico
(Mueller) (218 words)

Vergil's Aeneid: Selected Readings from Books 1, 2, 4, and 6
(Boyd) (162 words)



Vergil's Aeneid: Books I–VI


(Pharr) (292 words)

Latin for the New Millennium Level 1

(423 words)





Introductory rate for each of the AP® Latin programs is $14.95. The LNM 1 and LNM 2 introductory rate is $24.95 per program. For site licenses, contact Miles Becker at sales@eyeVocab.com.




Click on each title to learn more.
The Pompeiiana Newsletter created and edited by Bernard Barcio ran from 1974 through 2003. The newsletter offered a place for Latin students to publish comics, stories, games, and articles, and was a beloved resource for Latin teachers. In 2008, Barcio granted Bolchazy-Carducci Publishers the rights for all of the Pompeiiana Newsletter. B-C is proud to serve as curator for this archive and has made the issues available for teachers, students, and friends of the classics. Check out http://pompeiiana.blogspot.com/
Each fall, Bolchazy-Carducci mails its Roman Calendar to Latin teachers across the nation. If you're not on that mailing list, send a note TODAY to info@bolchazy.com. Put Roman Calendar in the subject line and provide us the USPS address to which you wish the calendar to be sent. The calendar is also available in a digital format.
Preview Bolchazy-Carducci Titles

Preview Bolchazy-Carducci titles before you purchase using Google Preview.
---

Downloadable Products
iPodius - Bolchazy-Carducci Publishers online shop for: audio, software, video, and a treasure trove of teacher-created materials in the Agora.
---
BCP Facebook Fan Page
Become a FAN of Bolchazy-Carducci Publishers, visit our Facebook Fan page for the latest news from BCP.
---
BCP Blog
Visit the BCPublishers Blog for BCP news and information.
Check out What Makes The Other Middle Ages an "Other" Text?
---
BCPublishers on Twitter
Follow us on Twitter

---
AP® is a trademark registered and/or owned by the College Board, which was not involved in the production of, and does not endorse, this site.
These products have been developed independently from and are not endorsed by the International Baccalaureate (IB).
Despite the winter cold that has descended on Chicagoland, all of us at Bolchazy-Carducci are warmed by the delights of the holiday season. The office staff gathered for the annual holiday luncheon to celebrate the year in a resplendently transformed conference/library room. A highlight of the luncheon was the announcement that assistant editor Laurel Draper had been promoted and had earned the title of "editor." Read more about Laurel's work at B-C later in this issue of eLitterae.

To you, your families, your students, and their families, we extend our warmest wishes for a happy holiday season. May the break from school be a relaxing and restorative one.
We look forward to serving you in the New Year and seeing many of you in Toronto for the annual meeting of the Society for Classical Studies and Archaeological Institute of America.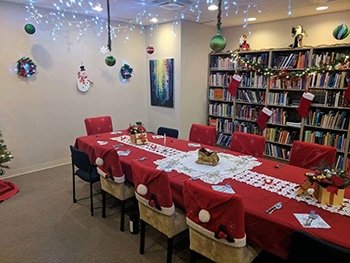 The conference table in the B-C library decked out for the holidays awaits the celebratory luncheon.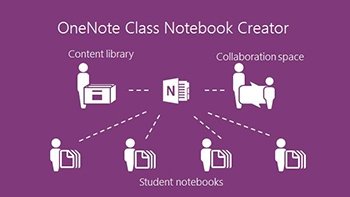 This fall, my school moved from away from the iPad to the Microsoft Surface as our 1:1 device. I have spent the semester getting used to the new devices and operating systems on campus. I have to say that my absolute favorite thing about this change has been the class notebooks that I have set up using Microsoft OneNote. I used OneNote a number of years ago to keep my lesson plans organized as well as to annotate texts for my students. But, this year, Microsoft released an add-in to the program that has some really great features for schools. In a nutshell, as the teacher, I can create a notebook in OneNote for each of my students to download. This notebook has three different areas:

the collaboration space—all students can contribute to any page located in this section of the notebook.

the content library—this section is for handouts that students don't need to personalize or complete in any way.

a student specific section—each student has an individual section that only he/she and the teacher can access. This area is where students can do homework assignments, complete worksheets, and take course notes.
The add-in allows the teacher to distribute materials virtually to students with the click of a button.
Let me share some of the ways that I've been using each section of the class notebook. I have used the collaboration space for peer editing of assignments and signing up for presentation times and topics. The content library has been the place that I use to introduce a new topic. I do my board work on a new page within this section each day and give the page a useful title. Then, when students want to go back and review, they know exactly where to go to find what we've done. For my AP class, I prepare pages with the day's Latin text and annotate in real time for my students. These annotations live in the content library for students to refer to as needed. The student-specific section is where my students take any notes and do assignments. As the teacher, from my own computer, I am able to check out what students are doing in this section. If I've been working with John on his notetaking, I can simply click on John's notebook and see how he's doing and give some encouragement or feedback.
Each day, my class starts with a "Do-Now" activity. At the start of the week, I quickly populate the students' notebooks with the "Do-Now" activities for the week, each on a separate page. When class starts, the students know to find the activity for today and get going. After about five minutes of working, I ask the students who's feeling confident in their work and, from my computer, pull up and display that particular student's work to review with the class. I love OneNote class notebooks because they are paperless, quick to set up, easy to keep organized, and really flexible. I'm looking forward to finding more ways to use them next semester. Check out this site for more information: https://www.onenote.com/classnotebook
Lynne West
Bellarmine Jesuit College Prep
San Jose, CA

New Pompeii

Recently released in paperback, this science fiction novel features an interesting plot. Nick, a researcher of Pompeii, is hired by a company that has developed some controversial technology and learns that the company has transported the people of ancient Pompeii to the present day to live in a New Pompeii, a replica of the original Pompeii as it was just before the eruption.
Nick learns all he can about this newly created Pompeii. For example, he listens to recordings of people of New Pompeii speaking Latin—not classical Latin, but the Latin of ordinary people. He rereads the description of the eruption of Vesuvius in 79 CE by Pliny the Younger.
Godfrey provides a second plot line: a woman named Kristine finds herself in a bath time and again but most people can't see her. Is she dead? And if so, who killed her?
The author peppers the story with information about Romans: providing a couple of Roman not so funny jokes, discussing how Romans may not have believed in all the gods they wrote about, noting for those new to learning about Pompeii that Pompeii had suffered an earthquake in 62 CE and was severely damaged. Godfrey enjoys viewing the sarcasm of Roman politics, e.g., one sign over a taverna door reads, "The drunks of the Firebird endorse Merula as aedile." He raises the concept of deus ex machina and quotes Cicero and Seneca on various matters.

Ultimately, the residents of New Pompeii are suspicious. After all, the architects of the town didn't get everything right. A resident asks why the chickens are so large and the carrots orange, which was not the case in the Pompeii of antiquity. The company has clearly underestimated the intelligence of their captives. Thus, Nick often finds himself in danger.
The author connects the plight of Kristine to the residents of New Pompeii. This thriller is an original and fascinating take on the time travel genre with all the complications that implies. It brings ancient Rome into the world of today. Readers won't be able to put the book down.
Marie Carducci Bolchazy, EdD
President, Bolchazy-Carducci Publishers
Virginia Junior Classical League (VJCL) Convention
Approximately 2,000 Latin students, teachers, and parent chaperones attended the 2016 VJCL convention, which was held at the Greater Richmond Convention Center, November 20–21, 2016. Editor Laurel Draper represented Bolchazy-Carducci as it exhibited at is first state JCL gathering. A teacher at this summer's NJCL convention at Indiana University encouraged B-C to attend VJCL, and we decided to do so in part because of the size of VJCL and the number of local textbook adoptions taking place in Virginia this year.
The book display was set up next to the registration desk in a large hall that also housed a café and tables where students could congregate between events. Legio XX, a historical reenactment group that portrays legionaries based in Britain in the first century CE, had a display at the other end of the hall.

Virginia JCL students show their enthusiasm and spirit. Photos courtesy of Ian Hochberg.
Heavy traffic kept the booth humming on Sunday; the only quiet time was during the mandatory Salvete Assembly. The buttons, coloring books, and Ubi Fera Sunt attracted many students and teachers to the booth. A few parent chaperones stopped by looking for gifts for their children or for their students' Latin teachers. On Sunday evening, students donned their Roman attire for the banquet, which featured a generous spread of salads, vegetable dishes, lasagnas, and desserts.

By mid-day on Monday, nearly all of the 150 buttons that were brought to the convention had been purchased. Several students paged through the button brochures to read the translations and expressed interest in ordering some of the buttons that had sold out.
American Council on the Teaching of Foreign Language (ACTFL) 2016

Some 8,500 foreign language teachers, department chairs, curriculum directors, and other educational professionals assembled at Boston's Convention and Exhibition Center in the newly developed seaport area. Allan Bolchazy and Don Sprague represented Bolchazy-Carducci.
The B-C booth was on a major corner and could be seen from the escalator that brought participants down from street level to the exhibit hall. The American Classical League and National Latin Examination shared the booth beside us. Being neighbors meant folks coming to the B-C booth checked out ACL and the NLE and vice versa. The location also afforded Don and Allan the opportunity to chat with ACL's Sherwin Little and Kathy Elifrits and with NLE's Deb Heaton, Joe Davenport, and Lauren Rogers.
This ACTFL drew a record 280+ Latin teachers! A larger number was anticipated because of the concentration of Latin programs in New England and the Northeast, the publicity given to Latin with Ed Zarrow, Latin teacher from Westwood, MA, being named the 2015 ACTFL Teacher of the Year, a significantly expanded number of Latin presentations, and an interest in learning to apply modern language learning techniques to the active Latin classroom. The students from the MAT programs at UMass Boston and UMass Amherst attended. The Massachusetts Foreign Language Association (MAFLA) held its annual fall conference in conjunction with ACTFL. So, many factors contributed to the growth in Latin teacher attendance.
When the doors opened to the exhibit hall on Friday at 10 am, the escalators delivered a tsunami of attendees who were greeted by a francophone Afro beat. Within minutes, the B-C booth was slammed with attendees—some three deep—eager to see what we had on display. For two straight hours it was non-stop. The ten copies of Ubi Fera Sunt that we brought with us sold out within the two hours!
Traffic at the booth was steady especially during the period each day dedicated to exhibit visit time. Don, nonetheless, was able to carve some time to attend two sessions—one on geography and the National Latin Exam and another on using standards to direct one's curriculum.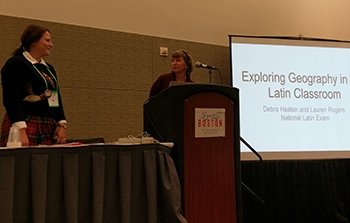 National Latin Exam's Lauren Rogers and Debra Heaton provided attendees insight into the NLE and teaching geography in the Latin classroom.
We sold out the copies of the Gods and Goddesses Coloring Book, all the children's books, and all the popularization of Latin titles like Alma Arbor. Both Latina Mythica and Latina Mythica II were big sellers. The Other Middle Ages also attracted lots of attention. The buttons were a hit and favorite item for department chairs or modern language colleagues to purchase for their Latin teacher colleague who was unable to attend. Interest in Latin for the New Millennium was strong and we ran out of the 32-page Latin for the New Millennium brochures. In addition to exam copy requests for LNM, we also processed requests for the IB, AP, and other texts.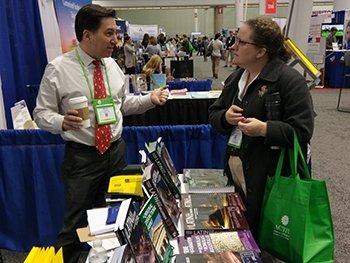 Allan Bolchazy and Mary Richards, who teaches Latin at the Academy at Penguin Hall in Wenham, MA, catch up with one another. Mary is the daughter of Berkeley Peabody, who was Lou Bolchazy's dissertation advisor at SUNY-Albany.
Saturday night saw ACL roll out the red carpet with a splendid spread of hors d'oeuvres including luscious Italian charcuterie and formaggio and an open bar to celebrate Ed Zarrow's year as National Teacher of the Year. Sherwin Little estimated that about a hundred folks dropped by during the two-hour reception. The reception featured a drawing for ACL's Teaching Materials Resource Center gift certificates.
NLE's Lauren Rogers, drawing winner Dante Beretta (Baltimore's Garrison Forest School), ACTFL 2015 Teacher of the Year Ed Zarrow, and ACL President Kathy Elifrits at ACL reception.
A conference in Boston meant an opportunity to explore some great Italian food in the North End and some seafood delights. Allan and Don finished off their "Bahston" visit with lunch at the No Name, a Boston staple on the historic Fish Pier since 1916. It was once hidden among the wharves, warehouses, and factories of the area but is now in the heart of the new seaport neighborhood with the convention center, hotels, and restaurants.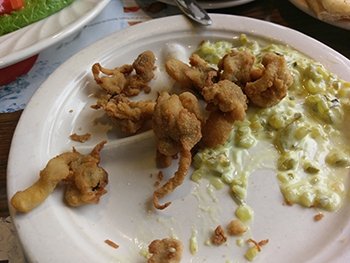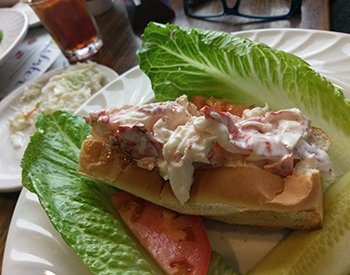 No Name's fried clams with homemade sweet pickle relish and luscious "lobstah" roll.
Resources & Teaching Tips

√ Io Saturnalia!

We're pleased to offer a couple resources on
Saturnalia
from prolific author and colleague Rose Williams. Her handout on the feast of Saturnalia includes two Latin readings—from Seneca and Aulus Gellius—that you are free to share with your students. Rose also offers the Latin for "Good King Wencelaus," a traditional
carol
that celebrates the king's kindness.
Columbia University history professor Nathan Pilkington
debunks
five myths about the decline and fall of Rome.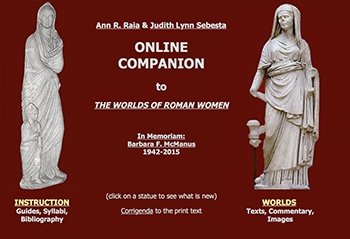 Professor Mary Pendergraft reviews the online companion on Roman women that complement the book The Worlds of Roman Women.

√ Gladiators Were Vegetarians
More research about gladiators provides evidence for their
diet
.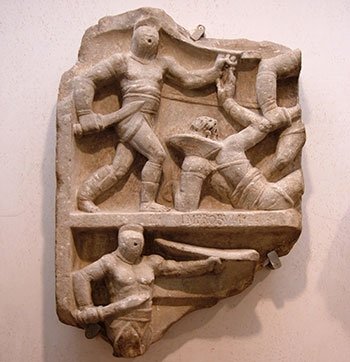 Secutor fighting a Retiarius on the ground. Roman relief 2nd century CE, Museo Nazionale Romano, Terme di Diocleziano, Rome. Photo courtesy of Creative Commons 3.0

Coliseum
caught in struggle over municipal priorities.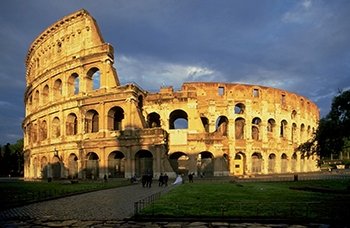 Photo courtesy of Creative Commons 4.0
eLitterae Subscribers Special Discount

eLitterae Subscribers Special Discount
Special 33% Discount
Every classroom should have these engaging "Follow Your Fate" titles!
The three-title set makes for a great holiday gift!
For more information, click here.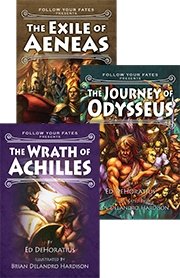 Follow Your Fates Series: Wrath of Achilles, Journey of Odysseus, and
Exile of Aeneas
by Ed DeHoratius
Illustrated by Brian Delandro Hardison
Paperback, ISBN: 978-0-86516-756-8
Purchased individually, $12.00 each
3-Title Bundle

$32.00

$24.00
Ed DeHoratius's three dramatic action adventures let YOU experience firsthand the wrenching decisions of the ancient Mediterranean world's most illustrious heroes.
This offer is valid for up to five (5) sets (not by individual title),
prepaid, no returns.
Discount is not available to distributors or
on products distributed by Bolchazy-Carducci Publishers.
This offer expires 01/19/17.
(Please note that there will be no adjustments on previous purchases.
Offer is non-transferable and subject to change without notice.)
Enter coupon code eLit1216
on the payment page. The special

offer pricing will be charged at checkout.