Classical Conferences and Meetings in 2016




2017



CANE—Classical Association of New England
March 17–18, 2017
Philips Exeter Academy
Exeter, NH
Representative: Donald Sprague


CAMWS—The Classical Association of the Middle West and South


April 5-8, 2017




At the Invitation of the University of Waterloo




Holiday Inn, Kitchener, Ontario Canada


Representatives: Bridget Dean and Donald Sprague


Presentations:


Thursday, April 6, 2017
8:00–9:40 a.m.


"Miss Me But Let Me Go: Dido Sings Farewell"


Philip Barnes (John Burroughs School), conductor: Rome's Golden Poets CD

10:00–11:50 a.m.


"Iphigenia among the Barbarians: Tr.4.4b"


Helena R. Dettmer (University of Iowa), coauthor: A Catullus Workbook; Latin for the New Millennium, Level 3; Latin for the New Millennium Latin 3: Select Latin Enrichment Readings

12:50–1:35 p.m.
Round Table: "Testing and Assessing Ancient Greek"
Leader: Wilfred E. Major (Louisiana State University), coauthor: Plato: A Transitional Greek Reader

3:30–5:15 p.m.


"Unconscious Bias in the Hiring Process"


Alison Keith (University of Toronto), author: A Latin Epic Reader: Selections from Ten Epics

Friday, April 7, 2017
"Teaching Ablaut in Elementary Ancient Greek"
Rex Wallace (University of Massachusetts Amherst), author, Res Gestae Divi Augusti and An Introduction to Wall Inscriptions from Pompeii and Herculaneum

"Sailing through Practice in Elementary Greek: How to Use Psuedo-Skylax's Periplous"
Wilfred E. Major (Louisiana State University), coauthor: Plato: A Transitional Greek Reader

"The Politics of Greek Online Courses"
Anthony Hollingsworth (Roger Williams University), author: Cicero's First Catilinarian Oration: A Digital Tutor

Saturday, April 8, 2017
9:30–10:55 a.m.
"College Professors and the New Standards for Classical Language Learning"
Ronnie Ancona (Hunter College and CUNY Graduate Center), author: Writing Passion: A Catullus Reader, Writing Passion Plus: A Catullus Reader Supplement, Horace: Selected Odes and Satire 1.9; coauthor: Horace: A LEGAMUS Transitional Reader and A Horace Workbook

"Ignorant is Bliss?"
James V. Lowe (John Burroughs School), conductor: Rome's Golden Poets CD

"All My Children: The Offspring of Cleopatra in Recent Fiction"
Gregory N. Daugherty (Randolph-MaconCollege), coauthor: To Be a Roman

11:10 a.m.–12:40 p.m.
"Festive Allusions: Ovid on the Ides of March"
Carole E. Newlands (University of Colorado), author: An Ovid Reader: Selections from Seven Works

The 52nd International Congress on Medieval Studies
May 11–14, 2017
Western Michgan University
Kalamazoo, MI
Representatives: Adam Velez and Laurel Draper

ACL—American Classical League
70th Annual Institute
June 29–July 1, 2017
Grand Valley State University
Grand Rapids, MI
Representatives: Allan Bolchazy, Laurel Draper, and Donald Sprague

NJCL - National Junior Classical League


July 24–29, 2017




Troy University




Troy, AL


Representatives: Connor Hart and Donald Sprague

Aeschylus Quoted
In the December 9, 2016 episode of Blue Bloods, Frank Reagan, played by Tom Selleck, quotes Aeschylus in remarks at a funeral service.
That even in our sleep, pain that cannot forget falls drop by drop on the heart, and in our own despair, against our will, comes wisdom to us by the awful grace of God.
AGAMEMNON (lines 179–183)
Robert F. Kennedy used the same quote in announcing Martin Luther King, Jr.'s assassination. For classicist commentary on that speech, click here.
Click here for a review of the episode and here for an interesting discussion of the episode, RFK, and Aeschylus's interpretation of myth.
---
Carpe Diem
Here's yet another variation on this famous phrase from Horace. Want to try the coffee?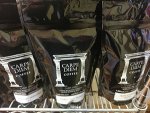 From this North Berwick, Maine, coffee roaster's website: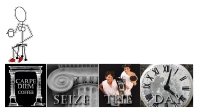 ---
Auctoritas
Note how this Chilean winery draws on the Roman term in its branding.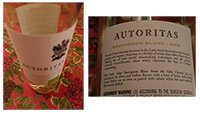 Bolchazy-Carducci Publishers is pleased to announce the arrival of Medieval Mosaic Second Edition. The second edition of this anthology includes forty-one new illustrations and seven new passages. The new passages include The Passion of the Saints Perpetua and Felicity, Proba, Ausonius, Claudian, Elpis, Agnes of Assisi, and Constance of Hungary. To learn more, click on the book cover.
Kenneth Kitchell's Teacher's Guide for The Other Middle Ages is now in stock. The TG provides translations for the Latin readings and a "Before Reading" section for each passage that gives background information and offers suggestions for classroom activities and further background reading.
We are also pleased that the Teacher's Guide for Ecclesiastical, Medieval, and Neo-Latin Sentences has arrived for the popular complement to Wheelock's Latin. To learn more, click on the book cover.
An Introduction to Wall Inscriptions is back in print. To learn more, click on the book cover.
Bolchazy-Carducci Publishers provides eTextbooks on a variety of eBook platforms. Bolchazy-Carducci textbooks are available through VitalSource,

GooglePlay

,

Chegg

, Copia, RedShelf, Adams Book, Follett,

MBSDirect Digital

, and ESCO. Each eBook platform offers a variety of tools to enhance the learning process. eBooks have the same content as our traditional books in print.
eBooks are purchased from the eBook provider. For direct links to purchase Bolchazy-Carducci eTextbooks, visit the title's product page on Bolchazy.com. Just above the product description there is a list of the eTextbook providers and a direct link to purchase the eTextbook. Some eBook providers sell directly to schools—check with your school to make these purchases.
You can read eBooks on a Mac, PC, iPhone, iPad, Android, or a variety of eReaders. Review the eBook providers specifications.
The eyeVocab software leverages human memory for distinctive affective images* presented in isolation to radically improve the speed, depth, and permanence of second language vocabulary acquisition. Images are drawn from classical art, both western and eastern, from photojournalism and historical photography, great book illustration, and other sources.

*Learn how images are chosen.

Far more than a set of electronic flashcards, the multimodal vocabulary program facilitates a significantly deeper learning and retention. Students will readily master the frequent Vergil and Caesar vocabulary for the AP® Latin Exam and thereby devote far more of their study time and energy to reading and discussing De Bello Gallico and the Aeneid.

eyeVocab programs correspond to the following B-C books.

Caesar: Selections from his Commentarii De Bello Gallico
(Mueller) (218 words)

Vergil's Aeneid: Selected Readings from Books 1, 2, 4, and 6
(Boyd) (162 words)



Vergil's Aeneid: Books I–VI


(Pharr) (292 words)

Latin for the New Millennium Level 1

(423 words)





Introductory rate for each of the AP® Latin programs is $14.95. The LNM 1 and LNM 2 introductory rate is $24.95 per program. For site licenses, contact Miles Becker at sales@eyeVocab.com.




Click on each title to learn more.
The Pompeiiana Newsletter created and edited by Bernard Barcio ran from 1974 through 2003. The newsletter offered a place for Latin students to publish comics, stories, games, and articles, and was a beloved resource for Latin teachers. In 2008, Barcio granted Bolchazy-Carducci Publishers the rights for all of the Pompeiiana Newsletter. B-C is proud to serve as curator for this archive and has made the issues available for teachers, students, and friends of the classics. Check out http://pompeiiana.blogspot.com/
Each fall, Bolchazy-Carducci mails its Roman Calendar to Latin teachers across the nation. If you're not on that mailing list, send a note TODAY to info@bolchazy.com. Put Roman Calendar in the subject line and provide us the USPS address to which you wish the calendar to be sent. The calendar is also available in a digital format.
Preview Bolchazy-Carducci Titles

Preview Bolchazy-Carducci titles before you purchase using Google Preview.
---

Downloadable Products
iPodius - Bolchazy-Carducci Publishers online shop for: audio, software, video, and a treasure trove of teacher-created materials in the Agora.
---
BCP Facebook Fan Page
Become a FAN of Bolchazy-Carducci Publishers, visit our Facebook Fan page for the latest news from BCP.
---
BCP Blog
Visit the BCPublishers Blog for B-C news and information.
Follow the B-C blog to learn about the changes in Latin for the New Millennium, Levels 1 and 2.
For instance, learn about the enhanced derivative coverage in the Second Edition.
---
BCPublishers on Twitter
Follow us on Twitter

---
AP® is a trademark registered and/or owned by the College Board, which was not involved in the production of, and does not endorse, this site.
These products have been developed independently from and are not endorsed by the International Baccalaureate (IB).
The New Year brings resolutions, plans for doing things differently, promises to embrace the new, reflections on the past, and the challenges of new beginnings.
All of us at Bolchazy-Carducci Publishers wish you all best for the New Year and the new semester. And, as always, do not hesitate to contact us with your concerns, suggestions, and queries.

Formative is a website that enables teachers to create a variety of types of formative assessments and both gather and respond to student answers in real time. It works with any internet-ready device: PC, Mac, iPad, tablet, or smart phone. I have used it to do quick exit tickets at the end of class as well as to check in with students about what questions they have about previously learned material.
I really like how easy it is to create so many different types of assessments. I especially like having the ability to upload a document or PDF of my own and add response fields. Another great feature is the "show your work" field that teachers can add to the formative activity. I love asking my students to make a drawing of a selection from the reading and label it with Latin from the text. This feature is also great for having students show how they might break down a complex sentence. It is very easy for me to give them quick feedback on their work. Formative has a very active online community that is a wonderful source of information and inspiration. To get started visit www.goformative.com
Lynne West
Bellarmine Jesuit College Prep
San Jose, CA

Eats, Shoots & Leaves

A panda walks into a restaurant, sits down and orders a sandwich. After he finishes eating the sandwich, the panda pulls out a gun and shoots the waiter, and then stands up to go. "Hey!" shouts the manager. "Where are you going? You just shot my waiter and you didn't pay for your sandwich!"

The panda yells back at the manager, "Hey man, I am a PANDA! Look it up!" The manager turns to the relevant entry and, sure enough, finds an explanation. Panda. Large black-and-white bear-like mammal, native to China. Eats, shoots and leaves." So, punctuation really does matter, even if it is only occasionally a matter of life and death.

I would guess that Latin teachers, who have a special interest in grammar and syntax, also value correct punctuation. Who would have thought that a book about punctuation would be a best seller? Author Lynne Truss attracts her readers with her slogan, "Sticklers unite!"
Now about commas—our lead anecdote makes the case that adding a comma can be life-threatening. How about a misplaced comma as in the sentence, "Leonora walked on her head, a little higher than usual." This sentence would make sense if the comma were placed after the word "on." And a missing comma can be laughable, as in the sentence, "The driver managed to escape from the vehicle before it sank and swam to the river-bank."
And apostrophes. Once the fifth graders I taught learned about them, they wanted to use them every time they saw an "s": "Cyclist's only"; "Pupil's entry." The author also cites "an unintentional meaning from an unmarked possessive: Dicks in tray (try not to think about it)."
This delightful book has quotes from such authors as Charles Dickens and Virginia Woolf using semicolons, colons, dashes, and hyphens properly. Of course, the quotes are contrasted with laughable misuse of such punctuation.
Eats, Shoots & Leaves is a very enjoyable read but it is also most informative. Latin teachers will want to read it for fun and may want to recommend it to their punctuation-challenged students.

Marie Carducci Bolchazy, EdD
President, Bolchazy-Carducci Publishers
2017 Joint Annual Meeting Archaeological Institute of America AIA & Society for Classical Studies SCS

Bolchazy-Carducci Publishers sent Bridget Dean, Allan Bolchazy, and Don Sprague to Toronto, ON, for the 2017 AIA/SCS Joint Annual meeting held at the Sheraton Toronto City Centre Hotel, January 5–8, 2017.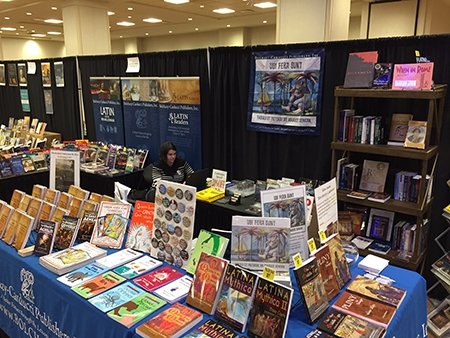 The conference attracted over 2,200 people. B-C was pleased to introduce a number of Canadian undergrads and grad students to the company's publications and to greet Canadian professors whom we don't see as regularly. The students liked our books and eagerly signed up for the book drawing of The Other Middle Ages, The Vulgate of Mark with the Synoptic Parallels, and Pliny the Younger: Selected Letters. These new books, prominently displayed on the counter at the front of the booth, along with Ubi Fera Sunt, Latina Mythica, and Latina Mythica II, drew quite a bit of attention. We also prominently displayed the children's books and responsible popularization books—think Seuss, Alma Arbor, etc.—along with the buttons on the tall counter in front.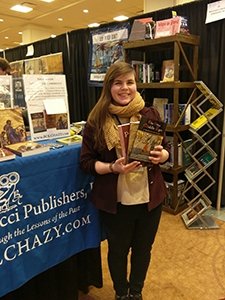 Congratulations to Danielle Hammes of Iowa State for winning the book drawing!
Conferences provide editors the opportunity to recharge and refresh by attending presentations and papers as well as to generate new ideas based on their interactions with professors and teachers. Thursday evening Bridget attended a performance of Plautus's Truculentus sponsored by the SCS Committee on Ancient and Modern Performance. Bridget's student colleague from grad school at Ohio State, Chris Bungard, now teaching at Butler University, translated the play and punctuated it with amusing-to-the-classicist asides.

Friday saw Don attending a paper entitled "Methods, Assumptions, and Starting Points in Studies of 'the Christians' and 'the Romans' " delivered by his former student Doug Boin of St. Louis University. Don also enjoyed former honors program student Caitlin Gillespie of Columbia University presenting "Boudica's Revolt: An Act of Imitation?" Saturday Bridget attended the session entitled "Theorizing Ideologies of the Classical: Turning Corners on the Textual, the Masculine, the Imperial, and the Western" organized by the Committee on Classical Tradition and Reception. Sunday she caught papers at the sessions on "Women and Agency" and "Ethnicity and Identity."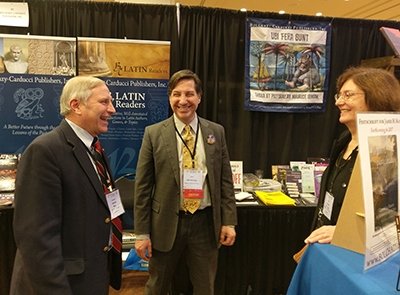 Jim May, Allan Bolchazy, and Ronnie Ancona share a hearty chuckle after Jim delivered a humorous anecdote. Just to Ronnie's right, one can see the edge of the poster announcing the Festschrift Ab Omni Parte Beatus that celebrates Jim's distinguished career as he retires this spring from St. Olaf College. Jim is the author of A Cicero Reader and is coauthor with colleague Anne Groton of Thirty-Eight Latin Stories (first published 1987; fifth edition, 1995). The Festschrift will first be available at CAMWS.

While the weather in Toronto was similar to Chicago's—cold, but dry—the wonderful surprise the B-C crew encountered was Toronto's PATH—a system of underground walkways through the downtown area. These were not just boring walkways, but a system of shops, coffee shops, and food courts. This worked delightfully well for Thursday and Friday lunches, but not quite as well for Saturday and Sunday as many places were closed on the weekend.
AIA/SCS whet Bridget and Don's appetite for experiencing more of Ontario. Indeed, they will be representing Bolchazy-Carducci Publishers at the Classical Association of the Middle West's annual meeting, April 5–8, 2017, in Kitchener, Ontario, at the invitation of Waterloo University.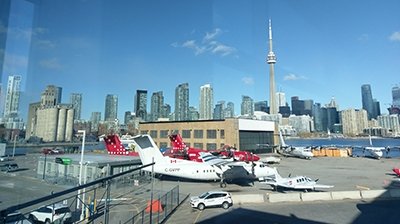 Vale, Toronto! The cityscape as seen from Billy Bishop Airport on Lake Ontario. Allan Bolchazy and Don Sprague flew roundtrip from Chicago Midway to Toronto Billy Bishop on Porter Airlines.
Editor's Note: See the KUDOS section below to read about SCS Excellence in Teaching Award winners.
On Sunday, January 15, 2017, the Executive Committee of the American Classical League in its Philadelphia meeting made a bold, visionary, and future-oriented decision when it officially proclaimed Sherwin Little the inaugural Executive Director for ACL. Bravo, ACL Executive Committee! Bravo, Sherwin Little!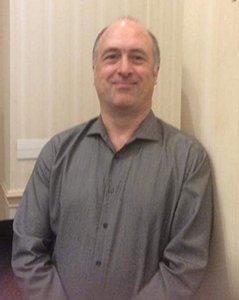 Following the announcement of his new title, Sherwin's smile reveals a deserved satisfaction.
The new title better reflects the duties and responsibilities that Sherwin has undertaken since 2013 when he became the ACL administrator. After retiring from teaching, Sherwin joined the ACL staff as an administrative assistant. While teaching at Indian Hill High School in Cincinnati, Sherwin served as president, vice president, and placement director for ACL. In his twenty-nine-year career, he taught the full range of Latin classes from middle school to Advanced Placement as well as independent studies in Greek. In 2011 the Society for Classical Studies recognized Sherwin with its Award for Excellence in Teaching at the Precollegiate Level. Sherwin holds a masters in the teaching of Latin from the University of Colorado and a BA in classics and education from the University of Cincinnati.
---
SCS Excellence in Teaching Awards
Annually, the Society for Classical Studies celebrates outstanding teaching on both the collegiate level and the precollegiate level. The American Classical League joins the SCS as the Joint Committee on the Classics in American Education in recognizing the precollegiate teachers.

All of us at Bolchazy-Carducci Publishers heartily congratulate and salute our colleagues for their well-earned national recognition.


The precollegiate winners are Jane Brinley of Washington DC's School Without Walls and Andrea Weiskopf of the River Bend and Seneca Ridge Middle Schools in Loudon County, VA.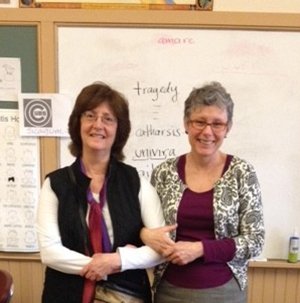 Then Classical Association of the Atlantic States president Ronnie Ancona with Jane Brinley, recipient of a CAAS 2015 Leadership Initiative Award.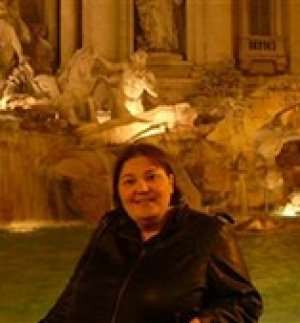 Andrea Weiskopf poses in front of the Trevi Fountain in Rome.
The SCS Committee on the Awards for Excellence in the Teaching of Classics at the College Level recognized Jacqueline Carlon of the University of Massachusetts Boston; Gordon P. Kelly of Lewis and Clark College, Portland, Oregon; and Stacie Raucci of Union College, Schenectady, New York. Click on each name to read their citations. Doing so makes one feel so good about the classics profession!

SCS Excellence in Teaching Award Winners Carlon, Kelly, and Raucci
Thanks to a very generous gift to the Society's Gatekeeper to Gateway Campaign for the Future of Classics from Daniel and Joanna Rose, the amounts to be awarded have been increased substantially. Winners of both the precollegiate and the collegiate awards receive a certificate of award and a cash prize of $500. In addition, each winner's institution will receive $200 to purchase educational resources selected by the winner.
Winter / Spring Webinar Series
Tuesday, January 31, 6–7:00 pm ET
Using Roman Coins in the Active Classroom
Presenters: Thomas "TJ" Howell, Belchertown High School (MA), and Edward Zarrow, PhD, Westwood High School (MA), ACTFL 2015 Teacher of the Year
These two seasoned high school Latin instructors enthusiastically incorporate spoken Latin in their classrooms. In this webinar, they demonstrate a lesson using a set of representative Roman coins as a stimulus for active Latin.
TJ Howell has taught Latin and Greek for seventeen years at Belchertown High School. He conducts a weekly Latin Conversation Hour in Amherst, MA. He was a 2010 finalist for Massachusetts Teacher of the Year. The Classical Association of New England recognized Howell for excellence in teaching and service to the classics with its prestigious Matthew Wiencke Award in 2015. Howell earned his MAT from the University of Massachusetts Amherst.
Edward Zarrow, PhD, has taught Latin at Westwood High School for a decade. He won the Wolverine Award in 2012, an annual honor the district's Parent-Teacher Association gives to an educator who consistently uses innovative methods to get youth to learn. He served as president of the Classical Association of Massachusetts, 2014–2016 and has served as CANE Coordinator of Educational Programs since 2014. In 2015, Zarrow was named Massachusetts 2015 Foreign Language Teacher of the Year by the Massachusetts Foreign Language Association. As ACTFL 2016 National Foreign Language Teacher of the Year, Zarrow has crisscrossed the country speaking at regional associations of foreign language teachers. He earned his PhD at Yale University. Check out the The Boston Globe's feature on Zarrow.
Tuesday, February 21, 6–7:00 pm ET
The Art of Translating Latin

Presenter: Robert Cape, PhD, Professor of Classics, Austin College, Texas

The current AP® Latin Exam expects students to "translate" using different approaches to translation. This webinar explains those different ways translation works and equips teachers with strategies to help students express their comprehension of Latin texts as specifically directed. The strategies are relevant for students in all Latin courses and help them understand how and why teachers do, indeed, sometimes require a "literal" translation.

Professor Cape is professor of classics at Austin College, Texas. He earned a BA and an MA at the University of Arizona and an MA and PhD from the University of California, Los Angeles. As instructor and researcher, Cape examines elements of Greco-Roman culture from the perspectives of language (Greek and Latin), history, material culture, theory, and reception. His primary areas of interest are Roman oratory and the negotiation of social values, gendered speech and action in Roman/Hellenic culture, Latin pedagogy, and receptions of the ancient world in science fiction. He has served as Chief Reader for the AP Latin Advanced Placement Program. He earned a Society for Classical Studies Excellence in Collegiate Teaching Award, an Ovatio for distinguished professional service from the Classical Association of the Middle West and South, and an Austin College Teaching Excellence and Campus Leadership Award. Professor Cape is presently authoring, for Bolchazy-Carducci, a text on Cicero geared to the IB Latin curriculum.

Tuesday, February 28, 6:00 –7:00 pm ET
Introducing the NEW Second Edition of Latin for the Millennium Levels One and Two

Presenter: Donald Sprague, Editor, Bolchazy-Carducci Publishers

LNM Editor Donald Sprague will lead participants through a visual tour of the additions made to the Second Edition of Latin for the New Millennium, Levels 1 and 2. In providing this overview of LNM, Second Edition, Sprague will also delineate the student- and teacher-friendly features of this series.

This presentation is ideal for those wishing to learn more about Latin for the New Millennium, Second Edition, and for those considering its adoption for their school or classes.

Donald Sprague serves as an editor and director of high school outreach for Bolchazy-Carducci Publishers. He produces the monthly B-C eNewsletter, eLitterae, and serves as the point person for Latin for the New Millennium. Previously, he taught Latin and Greek and served in various administrative positions at Loyola Academy in Wilmette, IL, for 26 years. At Loyola, he founded the school's classics summer study tour and the honors program. He taught humanities and ethics at Kennedy-King College, City Colleges of Chicago, for eleven years. Sprague has served as president of the Chicago Classical Club and treasurer of the Illinois Classical Conference. In 1990, he was Illinois Latin Teacher of the Year. Sprague regularly leads groups to Rome and places classical.

Stay tuned for webinars later in the spring!


---
What Equipment Do I Need for B-C Webinars?

To participate in Bolchazy-Carducci Publisher sponsored webinars you will need high-speed internet access, computer speakers/headphones, current web browser, and the link to the webinar virtual meeting space, which is provided in your webinar invitation.
Webinars Make for User-Friendly Professional Development

Participation is free. All webinars provide opportunity for participants to ask questions. Learn lots—attend as many presentations as you can. Bolchazy-Carducci Publishers provides documentation for your participation. You can share this with your supervisors. Many webinar presenters provide handouts, etc.
Resources & Teaching Tips

√ Classics and Social Justice
The success of the Medea Project presentation at the fall meeting of the Classical Association of the Atlantic States and the interest it generated has led to the formation of the Society for Classical Studies' Classics and Social Justice Affiliated Group. For more about the Medea Project check out the November issue of eLitterae.
Teachers and students interested in ancient geography should check out Pleiades, an online gazetteer of ancient places. Search the 35,233 places in the gazetteer.
The month of January provides an opportunity to teach about this Roman god. Brush up with the VRoma site. Have your students read Augustus's mention of the Temple of Janus in his Res Gestae.
Res Gestae 13

Ianum
Quirinum, quem claussum esse maiores nostri voluerunt, cum per totum imperium populi Romani terra marique esset parta victoriis pax, cum prius, quam nascerer, a condita urbe bis omnino clausum fuisse prodatur memoriae, ter me principe senatus claudendum esse censuit.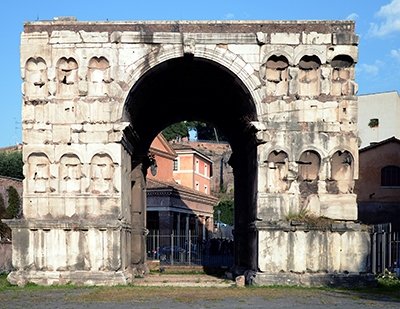 The Arch of Janus, near the Forum Boarium in Rome, from the fourth century CE, probably served as a boundary marker. Photo Courtesy of Wikimedia Creative Commons 4.0.
Feel free to share the following material on the Shrine of Janus excerpted from Rome Alive Volumes I and II.
eLitterae Subscribers Special Discount

eLitterae Subscribers Special Discount
Special 40% Discount


This offer is valid for up to three (3) copies of each title, prepaid, no returns.
Discount is not available to distributors or
on products distributed by Bolchazy-Carducci Publishers.
This offer expires 02/19/17.
(Please note that there will be no adjustments on previous purchases.
Offer is non-transferable and subject to change without notice.)
Enter coupon code eLit0117
on the payment page. The special

offer pricing will be charged at checkout.