NISL Cohort III Graduates
Congratulations to our 25 newest National Institute for School Leadership Executive Development Program graduates!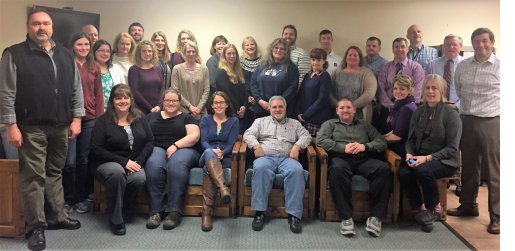 Seated: Tammy Fauteux, Kate Landry, Stephanie Antonucci, Mark Fiorentino, Todd Lamarque, Lisa Perras, Martha Miller. Middle: Roland Pinette, Peggy Bromley, Lorna Holcombe, Erica Sieberg, Michelle Fox, Shelley Koehler, Danielle Whitcomb, Sherri Gregory, Elaine Sherry, Jackie Daniels, Paul Bousquet (co-facilitator), Eliot Larson (national facilitator), Dave Backler (co-facilitator). Back: Dan Mackin, Eric Daffinrud, Shelli Robert (facilitator trainee), Bridget Gagne (facilitator trainee), Kerry Sheehan, Sue Greenlaw, Kevin Carpenter, Greg Fillion, Mike Berry, and Christopher Blair.

Free Winter Writing Series
We were excited to learn, and be able to share, the news of the Arts Alliance of Northern NH and Vermont College of Fine Arts Young Writers Network collaboration that will bring a series of free workshops for educators to the North Country. The project, Telling Our Stories, will work directly with students in 6 schools in SAUs 58 and 7, but the professional development programs are open to all educators. Two of the free workshops are outlined at the end of this newsletter.

Lori Langlois


Executive Director




lori@ncedservices.org



---
Elementary Science PD for FREE!
Leveraging a unique partnership, instructors Lisa Gilbert from the Appalachian Mountain Club (AMC) and Bill Church from White Mountain Science Inc (WMSI) will give you new tricks for Earth and Space Science content from both placed-based and design based approaches.

Design a Geologic Timeline Like No Other

Date/Time: Monday, February 13th, from 4:00-8:00 at NCES
For: NGSS Grade span focus Grades 2-4, others welcome

In this workshop, you will start with snow and end with technology stars to design a very unique geologic timeline. We will explore past geologic events in earth's history, the current slow motion North/South magnetic pole reversal, and geologic events that happen over years, days, or even minutes. We will use AMC and WMSI's blend of using place-based curriculum techniques with design and technology based learning tools. If you want to spice up the slow crawl of geologic time for your students, this is the workshop for you. Dinner will be provided. Please come dressed to be outside for a portion of the time.


Weathering and Erosion in the North Country --
Year Round, All Around!

Date/Time: Monday, March 6, 2017, from 4:00 to 800 at NCES
For: NGSS Grade span focus Grades 2-4, others welcome

Find "your place" in the NGSS and prepare for your next field trips! While the workshop is open to all, we'll have a 2nd-4th grade curriculum focus as we explore ways to incorporate experiential, place-based, outdoor and STEM-based methods for bringing weathering and erosion lessons to life in your classroom. Connect with other educators in the area who share your passion for teaching "outside the kit" and creating meaningful connections for your students to increase the impact of what you teach. Dinner will be provided. Please come dressed to be outside for a portion of the time.


Registration: Online at ncedservices.org/elem-sci-pd or email lisa@ncedservices.org or call 466-5437 (M-F, 8-4).

You may take the workshops together or sign-up for them individually. Participation is free. An optional $200 stipend will be available for presenting a small place-based project that was the result of your participation in an online "virtual meet-up" in May.

---
NCES' Educational Technology Users Group
Join fellow educators who are passionate about integrating technology into the curriculum with NCES' Educational Technology Users Group for our second meeting. The Ed Tech Users Group is open to anyone who works with students and technology or has a stake in how that looks in their district and/or building. The goal of this group is to create a support system for one another that will allow us to share ideas and get questions answered about anything that is related to using technology in education. For example, how are you currently using Chromebooks in your schools, how does your school teach students to create short videos, what are schools using for tech standards currently and are they assessing them?
Date: Thursday, February 2, 2017
Time: 4:00 – 6:30 PM
Location: NCES Conference Room, Gorham, NH (Too far to drive? You are welcome to attend virtually.)
Cost: $8.00
Questions: Call 466-5437 or email Matt at matt@ncedservices.org
Register: Online or email lisa@ncedservices.org or call 466-5437 (M-F, 8-4).
---
North Country Code Leaders Project
NCES and WMSI are excited to announce our latest professional development opportunity that will kick-off for the next school year. We are announcing it now to give schools ample time to strategize who to involve.
Many of you may already be engaging with the "Hour of Code" activity through Code.org. The intent of this PD opportunity is to give North Country Code Leaders the skills and curriculum ideas to bring back and teach to their colleagues in order to take the school to the next steps beyond the "hour of code".
The purpose of this professional development series is to begin integrating coding literacy in the elementary grades as a key element of developing robust computer science programs K-12. The PD is a "train the code leader" model and focus on curriculum for K-8. Depending on the structure of your school(s)/district, this could involve a high school educator if there is a means for to work on implementation in the earlier grades.
Ideally we are seeking two person teams per school to participate. The commitment would be 8 evenings, one a month at NCES beginning in the fall of 2017.
Principals should contact NCES to reserve seats for their school participant(s). Registration is first-come, first serve.
Learn more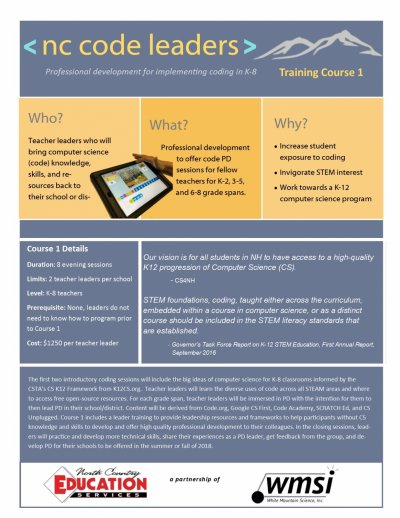 ---
Professional Development for Para-Educators
Thanks to support from Jane's Trust, NCES will be offering a series of free professional development sessions one evening a month from October through May from 4:00 to 8:00 PM. The presenter will be live at NCES in Gorham with video conference locations in Madison, Colebrook, and Lisbon.
Cost: FREE and $35 stipend for the first 40 registered paras (must be employed by a NH school). For the sake of fairness, no shows and cancellations will be bumped to the bottom of the list for the following month
.
Remaining monthly topics and presenters
Thursday, February 16, 2017 from 4-8 PM with Chelsea Hunnewell

Zones of Regulation: Part I



Thursday, March 9, 2017 from 4-8 PM with Chelsea Hunnewell

Zones of Regulation: Part II



Thursday, April 6, 2017 from 4-8 PM with David Freschi

The Role of the Para in Working with Autistic Students



Thursday, May 11, 2017 from 4-8 PM with Deborah Stuart

Successful Inclusion of Students with Unique Learning Needs in Art and Music Classrooms
Registration for the next workshop will open at the conclusion of the prior month's session. For February, register here.
---
Winter 2017 Writing Series
The following workshops are offered for free through a project of the Arts Alliance of Northern NH and the Vermont College of Fine Arts' Young Writers Network. Register by emailing programs@aannh.org.

Using Books to Build Problem Solving Skills: An Educator Workshop with N. Griffin
Date: Thursday, February 2, 3:30 p.m.
Location: Groveton Elementary School, Groveton
For: Best suited for K-5 educators

Teachers will work on the process of solving problems, using Smashie McPerter and the Mystery of Room 11 as a mentor text (you do not need to have read the book to enjoy and benefit from the workshop). Participants will learn how to connect books and their content to the Math Practices in the Common Core Standards. It will be fun, too!


Turning Empathy into Action: A Professional Development Workshop with Tamara Ellis Smith
Date: Thursday, February 9, 4 p.m.
Location: Colebrook Public Library, 126 Main St., Colebrook
For: Educators and nonprofit and social-service professionals

This workshop, centered around Tamara's middle grade novel, Another Kind of Hurricane, will examine the essential ingredients every person must cultivate to do what he or she loves to do. Through writing exercises and discussion, participants will explore these things—passion, grit, self-discipline, curiosity and community—and how to best inspire kids to explore them, too. In the second part of the workshop, Tamara will explain her Another Kind of Hurricane Project, which bridges the space (and the differences) between students in one culture and region of the country and another and turns empathy into action. She'll talk about researching natural disaster, pinpointing communities in need and creating and implementing a drive (food, clothing or other).and describe various writing and art projects, focusing on sharing stories, building empathy and making connections.

Register by emailing programs@aannh.org.

---
Competency-based Assessment in the Arts
Presenter: Marcia McCaffrey, Arts Consultant, NH Dept. of Ed
Date: May 10, 2017 from 8:30 AM to 3:00 PM
Location: NCES, Gorham

Join your colleagues for an all-day workshop on competency-based assessment in the arts. This workshop has been created in response to the many questions teachers are asking about how to implement and assess the New Hampshire Arts Model Competencies. The day will be a combination of instruction, discovery, learning from each other, discussion, and activity. Emphasis will be placed on applying Universal Design for Learning and multiple modalities as an assessment strategy.

Learn what a performance task is and what goes into designing a valid and reliable performance task.
Examine Model Cornerstone Assessments and accompanying student work.
Respond to resources on Universal Design for Learning and arts assessment.
In small groups, discuss main components of a task and analyze tasks to determine what is being measured.
Discuss the difference between scoring tasks and grading tasks, especially for students with individualized learning plans (IEP's)
Get tools to help identify rigor and establish alignment of performance tasks.
Learn about the New Hampshire Arts PACE work.
Practice scoring student work.
Get acquainted with task bank resources from other states.
Ask questions.
Learn from other teachers.
Details, fees and registration information will be posted at nhartslearningnetwork.org and aannh.org by the first week of February. For questions about content contact Marcia McCaffrey at 603-271-3193 or marcia.mccaffrey@doe.nh.gov. For questions about registration and logistics contact Frumie Selchen at 603-323-7302 or frumie@aannh.org.

Presented by the New Hampshire Arts Learning Network as part of the "Arts in Inclusive Learning" partnership of the Arts Alliance of Northern New Hampshire and VSA New Hampshire, offered under a contract with the John F. Kennedy Center. Also offered in Concord on May 4th.

---
Vote for Whitefield School!


A Whitefield School team won Best in State in the Verizon App Challenge! Their concept is an app called Community Buddy that helps you find community service in your area and keeps track of the community service hours you have completed.You can vote for the team as Fan Favorites and help them win $15,000 for their school and an all-expense-paid trip to the TSA Conference. Text COMBUD to 22333 to vote for them by February 14th!

Learn more





---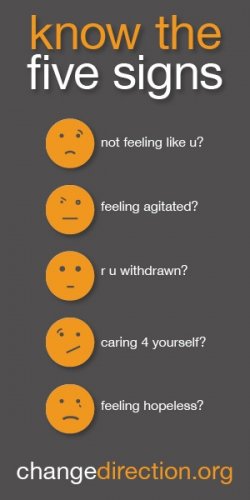 The Campaign to Change Direction has made the above rack-cards available to all students and teachers in NH schools. For the North Country, these were distributed through the superintendents. Learn more about this campaign to change the culture of mental health in America.


---
Comprehensive School Mental Health System Assessment
"Over the past several years, we have seen the role of the public school system expand to meet the needs of the students who come through the door each day," commented Mary Steady, Administrator of the Office of Student Wellness at the NH Department of Education. "These needs are often fundamental to the student's ability to succeed and yet, our system is not always prepared to handle them. In an environment of limited resources, the SHAPE system has been an invaluable tool; supporting districts as they assess their current approach to comprehensive school mental health and to develop plans for strengthening and sustaining these efforts."
Learn more at https://theshapesystem.com/

---
Free Webinar on Children with Serious Behavioral Health Concerns
February 8, 2017 from 11:00 - 12:30
Learn about the System of Care and NH's Wraparound Model for culturally responsive practices concerning our most vulnerable children, youth, and families. This will include why Wraparound is important, how it works, and the results of the initial implementation in New Hampshire.

Presenters include representatives from NH DHHS, NAMI-NH, and the Institute on Disability at UNH who have helped to design and deliver Wraparound in NH's Fast Forward System of Care project.

This webinar is designed expressly for regional collaboratives, individuals, and entities that support children and youth with emotional and behavioral challenges and their families. This webinar will be recorded and archived on the NH CHBC website NH4youth.org. Use this link to participate in the webinar.
---




The Four Seasons: Feeling Hot, Cold & Wet Arts in Early Learning Conference



The Arts Alliance of Northern NH & VSA New Hampshire offer a conference Saturday, March 11, in Franconia, that provides creative ways to use the arts to help young children explore the wonderful world of weather and the seasons of the year. We'll share movement, music, drama and visual arts activities that are engaging and joyful and that can be readily adapted for immediate use in the early childhood (pre-k to grade 2) classroom , day-care center, library or home.

Learn more


---

The annual reading/writing conference for educators dedicated to the memory and legacy of Donald Graves will be held on Saturday, April 8, 2017, 8:30 to 2:00 at Kennett High School. Presented in partnership by the Arts Alliance of Northern New Hampshire and Conway School District, the 2017 conference features Katie Muhtaris & Kristin Ziemke, authors of Amplify: Digital Teaching and Learning in the K-6 Classroom, published by Heinemann.
Learn more
---
North of the 44th placemakers pledge to...
Share resources and passion to strengthen the region.

Highlight what is inspiring and right in the region while recognizing that challenges exist.

A

ttend to relationships and networks to build trust, optimism and a common sense of purpose across the region.
Practice Asset-Based Thinking and building from strength in daily work and life.

E

mphasize inclusion, reaching beyond traditional barriers of age, class and education.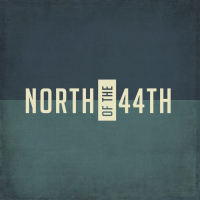 ---




Support NCES with a tax deductible donation






Your tax deductible gift helps support the work of the organization in being a leader in providing professional development and educational services, facilitating partnerships and fostering collaborations that benefit member schools, advocating for resources for teachers and students, and continuously creating opportunities that enhance education in the North Country.



---



Support NCES through AmazonSmile



Please consider supporting NCES by shopping through AmazonSmile. Amazon will donate to NCES every time you shop through this link: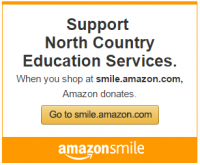 ---
Contact Information
North Country Education Services
300 Gorham Hill Road
Gorham, NH 03581
ncedservices.org
603-466-5437
nces@ncedservices.org
NCES is an equal opportunity employer and provider.