Classical Conferences and Meetings in 2016




2017



CANE—Classical Association of New England
March 17–18, 2017
Philips Exeter Academy
Exeter, NH
Representative: Donald Sprague


CAMWS—The Classical Association of the Middle West and South


April 5-8, 2017




At the Invitation of the University of Waterloo




Holiday Inn, Kitchener, Ontario Canada


Representatives: Bridget Dean and Donald Sprague


Presentations:


Thursday, April 6, 2017
8:00–9:40 a.m.


"Miss Me But Let Me Go: Dido Sings Farewell"


Philip Barnes (John Burroughs School), conductor: Rome's Golden Poets CD

10:00–11:50 a.m.


"Iphigenia among the Barbarians: Tr.4.4b"


Helena R. Dettmer (University of Iowa), coauthor: A Catullus Workbook; Latin for the New Millennium, Level 3; Latin for the New Millennium Latin 3: Select Latin Enrichment Readings

12:50–1:35 p.m.
Round Table: "Testing and Assessing Ancient Greek"
Leader: Wilfred E. Major (Louisiana State University), coauthor: Plato: A Transitional Greek Reader

3:30–5:15 p.m.


"Unconscious Bias in the Hiring Process"


Alison Keith (University of Toronto), author: A Latin Epic Reader: Selections from Ten Epics

Friday, April 7, 2017
"Teaching Ablaut in Elementary Ancient Greek"
Rex Wallace (University of Massachusetts Amherst), author, Res Gestae Divi Augusti and An Introduction to Wall Inscriptions from Pompeii and Herculaneum

"Sailing through Practice in Elementary Greek: How to Use Psuedo-Skylax's Periplous"
Wilfred E. Major (Louisiana State University), coauthor: Plato: A Transitional Greek Reader

"The Politics of Greek Online Courses"
Anthony Hollingsworth (Roger Williams University), author: Cicero's First Catilinarian Oration: A Digital Tutor

Saturday, April 8, 2017
9:30–10:55 a.m.
"College Professors and the New Standards for Classical Language Learning"
Ronnie Ancona (Hunter College and CUNY Graduate Center), author: Writing Passion: A Catullus Reader, Writing Passion Plus: A Catullus Reader Supplement, Horace: Selected Odes and Satire 1.9; coauthor: Horace: A LEGAMUS Transitional Reader and A Horace Workbook

"Ignorant is Bliss?"
James V. Lowe (John Burroughs School), conductor: Rome's Golden Poets CD

"All My Children: The Offspring of Cleopatra in Recent Fiction"
Gregory N. Daugherty (Randolph-MaconCollege), coauthor: To Be a Roman

11:10 a.m.–12:40 p.m.
"Festive Allusions: Ovid on the Ides of March"
Carole E. Newlands (University of Colorado), author: An Ovid Reader: Selections from Seven Works

The 52nd International Congress on Medieval Studies
May 11–14, 2017
Western Michgan University
Kalamazoo, MI
Representatives: Adam Velez and Laurel Draper

ACL—American Classical League
70th Annual Institute
June 29–July 1, 2017
Grand Valley State University
Grand Rapids, MI
Representatives: Allan Bolchazy, Laurel Draper, and Donald Sprague

NJCL - National Junior Classical League


July 24–29, 2017




Troy University




Troy, AL


Representatives: Connor Hart and Donald Sprague

Playmobil's Rome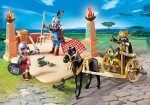 Playmobil's line of history-related models includes Roman gladiators and, coming in August, a Roman warrior ship
.
---
Lagunitas Beer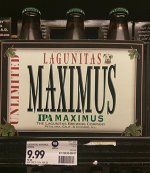 The photo speaks for itself!
---
Clever Stephen Colbert
Latin teachers will enjoy Colbert's piece on the Lupercalia. Caveat: May not be appropriate for all classrooms.
Bolchazy-Carducci Publishers provides eTextbooks on a variety of eBook platforms. Bolchazy-Carducci textbooks are available through VitalSource,

GooglePlay

,

Chegg

, Copia, RedShelf, Adams Book, Follett,

MBSDirect Digital

, and ESCO. Each eBook platform offers a variety of tools to enhance the learning process. eBooks have the same content as our traditional books in print.
eBooks are purchased from the eBook provider. For direct links to purchase Bolchazy-Carducci eTextbooks, visit the title's product page on Bolchazy.com. Just above the product description there is a list of the eTextbook providers and a direct link to purchase the eTextbook. Some eBook providers sell directly to schools—check with your school to make these purchases.
You can read eBooks on a Mac, PC, iPhone, iPad, Android, or a variety of eReaders. Review the eBook providers specifications.
The eyeVocab software leverages human memory for distinctive affective images* presented in isolation to radically improve the speed, depth, and permanence of second language vocabulary acquisition. Images are drawn from classical art, both western and eastern, from photojournalism and historical photography, great book illustration, and other sources.

*Learn how images are chosen.

Far more than a set of electronic flashcards, the multimodal vocabulary program facilitates a significantly deeper learning and retention. Students will readily master the frequent Vergil and Caesar vocabulary for the AP® Latin Exam and thereby devote far more of their study time and energy to reading and discussing De Bello Gallico and the Aeneid.

eyeVocab programs correspond to the following B-C books.

Caesar: Selections from his Commentarii De Bello Gallico
(Mueller) (218 words)

Vergil's Aeneid: Selected Readings from Books 1, 2, 4, and 6
(Boyd) (162 words)



Vergil's Aeneid: Books I–VI


(Pharr) (292 words)

Latin for the New Millennium Level 1

(423 words)





Introductory rate for each of the AP® Latin programs is $14.95. The LNM 1 and LNM 2 introductory rate is $24.95 per program. For site licenses, contact Miles Becker at sales@eyeVocab.com.




Click on each title to learn more.
The Pompeiiana Newsletter created and edited by Bernard Barcio ran from 1974 through 2003. The newsletter offered a place for Latin students to publish comics, stories, games, and articles, and was a beloved resource for Latin teachers. In 2008, Barcio granted Bolchazy-Carducci Publishers the rights for all of the Pompeiiana Newsletter. B-C is proud to serve as curator for this archive and has made the issues available for teachers, students, and friends of the classics. Check out http://pompeiiana.blogspot.com/
Each fall, Bolchazy-Carducci mails its Roman Calendar to Latin teachers across the nation. If you're not on that mailing list, send a note TODAY to info@bolchazy.com. Put Roman Calendar in the subject line and provide us the USPS address to which you wish the calendar to be sent. The calendar is also available in a digital format.
Preview Bolchazy-Carducci Titles

Preview Bolchazy-Carducci titles before you purchase using Google Preview.
---

Downloadable Products
iPodius - Bolchazy-Carducci Publishers online shop for: audio, software, video, and a treasure trove of teacher-created materials in the Agora.
---
BCP Facebook Fan Page
Become a FAN of Bolchazy-Carducci Publishers, visit our Facebook Fan page for the latest news from BCP.
---
BCP Blog
Visit the BCPublishers Blog for B-C news and information.
Follow the B-C blog to learn about the changes in Latin for the New Millennium, Levels 1 and 2.
For instance, learn about the enhanced derivative coverage in the Second Edition.
---
BCPublishers on Twitter
Follow us on Twitter

---
AP® is a trademark registered and/or owned by the College Board, which was not involved in the production of, and does not endorse, this site.
These products have been developed independently from and are not endorsed by the International Baccalaureate (IB).
A belated happy Lupercalia to you and your students!
Know that all of us at Bolchazy-Carducci Publishers

As you begin to think about book orders for next year, don't hesitate to reach out with questions that might arise. As we look ahead to March, this issue includes some Latin selections from St. Patrick that you might use in class. The island of saints and scholars has a long tradition of studying the classics. Sometime before the 14th century, Vergil's Aeneid was translated into Middle Irish.

Wishing you a happy Presidents' Day weekend!

For several years, I have been using the great videos posted by LatinTutorial on YouTube as a resource for my students. These high-quality videos are clear and well-planned, and they cover a variety of topics. I have used the grammar videos to enable flipped instruction and also as a review tool. The culture videos are a great warm-up or enrichment activity that my students find fascinating. These videos are now located on a clean, well-organized, and easily searchable website.
While perusing the site a couple of months ago, I discovered a nice vocabulary practice tool. The vocabulary activity gives students the opportunity to practice the 1,000 most common Latin words. In addition to the practice mode, there's also a quiz mode that gives a twenty-five-word assessment and generates a score based on accuracy, speed, and word difficulty. I like to ask my students to practice for ten minutes as part of a homework assignment and then take a quiz. They can email their quiz results to me, but I usually ask them to keep track of their scores to see how they are progressing. My students find the quiz feature fun and the scores motivate them to practice regularly.
Lynne West
Bellarmine Jesuit College Prep
San Jose, CA

Sister Bernadette's Barking Dog
The Quirky History and Lost Art of Diagramming Sentences
Whenever I read a book that I'm thinking of reviewing, I make little check marks in pencil to note passages that intrigue me. Well, in this short book (only 150 pages), I checked thirty passages. Florey gives an offbeat history of diagramming sentences. She begins by detailing her experience diagramming such sentences as "The dog barked" in Sister Bernadette's sixth grade class. Florey has a comic flair. For example, she compares "trying to stuff the complexities of the English language into flat visual structures" to "trying to force a cat into the carrier for a trip to the vet." Another example of her comic flair is her comment that the world's most famous copy editor found four grammatical errors in a three-word sentence—alas; no one remembers what the sentence was.
The focus of diagramming is on grammar, not on sense. She notes that Noam Chomsky indicated that nonsense can be grammatical as in the sentence, "Colorless green ideas sleep furiously." And of course, Lewis Carroll's nonsense poem Jabberwocky is quite grammatical. She easily diagrammed its first line, " 'Twas brillig and the slithy toves did gyre and gimble in the wabe."

I found the author's discussion of the writing of Ernest Hemingway, Henry James, Marcel Proust, Joyce Carol Oates, Jack Kerouac, and F. Scott Fitzgerald fascinating. And I loved her Mark Twain quotes. But I was even more enchanted with her analysis of the writing of Gertrude Stein (must not refer to her as just Gertrude or just Stein) and Eudora Welty. All of Florey's discussion of authors was in the context of diagramming sentences of theirs.
Gertrude Stein loved diagramming sentences and not only wrote that she did but also said so in front of large audiences. Her writing, according to the author, is always thought provoking and sometimes not intelligible. In The Paris Wife, Ernest Hemingway is quoted as saying that he couldn't make sense of some of Gertrude Stein's writing. She loathed commas and refused to use question marks but now and then did use an apostrophe.

Gertrude Stein adored Henry James and wrote, "Henry James nobody has forgotten Henry James even if I have but I have not." Florey quoted a sentence of James taken from The Portrait of a Lady: "His attention was called to her by the conduct of his dog, who had suddenly darted forward with a little volley of shrill barks, in which the note of welcome, however, was more sensible than that of defiance." Florey proclaims that Sister Bernadette would have loved to diagram this sentence and, therefore, provides the diagram that the Sister would have constructed.

Of special interest to Latin teachers is the coverage on Eudora Welty. Her interest in the intricacies of language developed when she studied Latin, "which made her understand 'the beautiful, sober accretion of a sentence.' " She noted that once you have mastered the "elegantly succinct ablative absolute in Latin (and incidentally, seen how clumsy its English equivalent can be: 'With the dog barking furiously, the girl drew a diagram' versus 'Cane fortiter latrante, puella diagramma describebat),' you will probably never have trouble with your own language again." So Latin teachers and language lovers—read this book for fun and be sure to recommend it to your students.

Marie Carducci Bolchazy, EdD
President, Bolchazy-Carducci Publishers
Carpe Dementiam!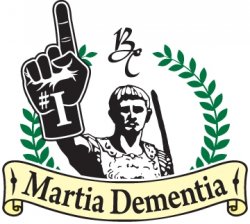 Don't leave your students out! Carpe Martiam Dementiam! Encourage them to enter the third annual Martia Dementia contest that will pit gods, goddesses, authors, and politicians against one another. Students can enter individually or make it a class activity and submit a class entry.
Winter / Spring Webinar Series
Tuesday, February 21, 6–7:00 pm ET
The Art of Translating Latin

Presenter: Robert Cape, PhD, Professor of Classics, Austin College, Texas

The current AP® Latin Exam expects students to "translate" using different approaches to translation. This webinar explains those different ways translation works and equips teachers with strategies to help students express their comprehension of Latin texts as specifically directed. The strategies are relevant for students in all Latin courses and help them understand how and why teachers do, indeed, sometimes require a "literal" translation.

Professor Cape is professor of classics at Austin College, Texas. He earned a BA and an MA at the University of Arizona and an MA and PhD from the University of California, Los Angeles. As instructor and researcher, Cape examines elements of Greco-Roman culture from the perspectives of language (Greek and Latin), history, material culture, theory, and reception. His primary areas of interest are Roman oratory and the negotiation of social values, gendered speech and action in Roman/Hellenic culture, Latin pedagogy, and receptions of the ancient world in science fiction. He has served as Chief Reader for the AP Latin Advanced Placement Program. He earned a Society for Classical Studies Excellence in Collegiate Teaching Award, an Ovatio for distinguished professional service from the Classical Association of the Middle West and South, and an Austin College Teaching Excellence and Campus Leadership Award. Professor Cape is presently authoring, for Bolchazy-Carducci, a text on Cicero geared to the IB Latin curriculum.

Tuesday, February 28, 6:00 –7:00 pm ET
Introducing the NEW Second Edition of Latin for the Millennium Levels One and Two

Presenter: Donald Sprague, Editor, Bolchazy-Carducci Publishers

LNM Editor Donald Sprague will lead participants through a visual tour of the additions made to the Second Edition of Latin for the New Millennium, Levels 1 and 2. In providing this overview of LNM, Second Edition, Sprague will also delineate the student- and teacher-friendly features of this series.

This presentation is ideal for those wishing to learn more about Latin for the New Millennium, Second Edition, and for those considering its adoption for their school or classes.

Donald Sprague serves as an editor and director of high school outreach for Bolchazy-Carducci Publishers. He produces the monthly B-C eNewsletter, eLitterae, and serves as the point person for Latin for the New Millennium. Previously, he taught Latin and Greek and served in various administrative positions at Loyola Academy in Wilmette, IL, for 26 years. At Loyola, he founded the school's classics summer study tour and the honors program. He taught humanities and ethics at Kennedy-King College, City Colleges of Chicago, for eleven years. Sprague has served as president of the Chicago Classical Club and treasurer of the Illinois Classical Conference. In 1990, he was Illinois Latin Teacher of the Year. Sprague regularly leads groups to Rome and places classical.

Stay tuned for webinars later in the spring!


---
What Equipment Do I Need for B-C Webinars?

To participate in Bolchazy-Carducci Publisher sponsored webinars you will need high-speed internet access, computer speakers/headphones, current web browser, and the link to the webinar virtual meeting space, which is provided in your webinar invitation.
Webinars Make for User-Friendly Professional Development

Participation is free. All webinars provide opportunity for participants to ask questions. Learn lots—attend as many presentations as you can. Bolchazy-Carducci Publishers provides documentation for your participation. You can share this with your supervisors. Many webinar presenters provide handouts, etc.
Resources & Teaching Tips

Make a 2017 connection for students reading the Latin for the New Millennium, Level 2, Latin selection from Lorenzo Valla's Ēlegantiārum linguae Latīnae librī sex (Six Books Concerning the Proper Uses of the Latin Language). Valla held the position of secretary to the pope, Nicholas V. This position evolved to the current position of Latin secretary to the pope. The two most recent secretaries have been Americans—Monsignor Reginald Foster and Monsignor Daniel Gallagher. This article about Gallagher's appointment as Professor of the Practice of Latin at Cornell University may help students connect the humanist Valla to his successor.
√ Patrick of Ireland


As the final part of their millennium celebrations, the people of Aghagower, County Mayo, Ireland, commissioned this statue. It commemorates St. Patrick's founding a church in Aghagower and his gathering before spending forty days on Croagh Patrick. Photo courtesy of Andreas F. Borchert, Creative Commons 3.0.
Latin for the New Millennium provides a Latin reading about Patrick in the first chapter of the LNM 2 workbook as a complement to the text's reading from Bede. Teachers may download the workbook selection and duplicate for their students.
For upper-level students, we offer a selection from Patrick's Confessio, one of the unadapted Latin readings from the fifth and sixth centuries provided in A.W. Godfrey's Medieval Mosaic Second Edition.
√ Daphnis and Chloe

Catch this podcast (forty-five minutes) that tells the story of the lovers Daphnis and Chloe. Make sure you do so in the next twenty days before the podcast is removed from the internet!
√ Gaming the Classics: Rome via Board Games

Our CANE colleagues offer a review of board games that you can use in the Latin classroom.
√ John Hurt as Caligula

This three-minute YouTube clip comes from the BBC's classic series based on Robert Graves's I Claudius.
√ Selections from Smithsonian Magazine

This overview of the archaeology of an ancient incense route provides insight into the interconnectedness of the ancient world.
The intriguing story of a Roman gravestone found in the Macy's mansion in New York will interest budding archaeologists and fans of problem-solving.
For a change of pace, a special period of Latin literature, and some interdisciplinary reading, check out Latin of New Spain. This article about Mexico's floating gardens complements the Latin readings in Latin of New Spain.
Latin for the New Millennium, Level 2, introduces students to the cultural connections between early Europe and Islam. Heloise and Abelard's son is named Astralabe (a variation on astrolabe). This article connects the astrolabe to the smartphone!
eLitterae Subscribers Special Discount

eLitterae Subscribers Special Discount
Special 40% Discount

This offer is valid for up to five (5) copies of each title,
prepaid, no returns.
Discount is not available to distributors or
on products distributed by Bolchazy-Carducci Publishers.
This offer expires 03/19/17.
(Please note that there will be no adjustments on previous purchases.
Offer is non-transferable and subject to change without notice.)
Enter coupon code eLit0217
on the payment page. The special

offer pricing will be charged at checkout.