Our Paypal account is
amigosdelosanimalespr@mail.
com

if you already have a PayPal acct set up, and if you click on the "Family and Friends" tab, Amigos de los Animales will receive 100%
of your donation. Here is the login link:

https://www.paypal.com/home

Funds from both options will be available immediately to ADLA.

If you choose to donate through


the PayPal Giving Fund no one

will pay a fee but it takes a month for us to receive your donation at:

At the Paypal Giving Fund site, select Amigos de los Animales in Puerto Rico as your charity before donating and after your donation you will receive an

email with your tax deductible receipt for your donation and we will definitely receive your donation at the end of the

next month.

If you like, you can also set up an automatic monthly Paypal donation through any of the before mentioned options, and most banks have a monthly payment option or 'Automatic Bill Pay' on their online internet pages where you can program our address and send a monthly donation to:

Amigos de los Animales

HC 2, Box 7622

Loiza, PR 00772.
(787) 313-5653.

You may also send a check or money order to to this address:

Amigos de los Animales

HC 2, Box 7622

Loiza, PR 00772

However you give,

Our EIN number is 66-067-3931 and we will happily send you a receipt and thank you note for your kindness and generosity.
Thanks and God Bless!!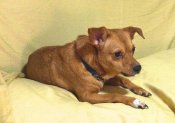 Buster is my saucy loving 4 yr old couch potato! He needs an experienced dog person as his cuddly bum.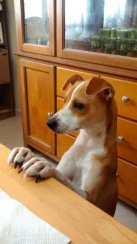 Piccolo boy only weighs about 12 lbs. He is such a hilarious little sweet boy!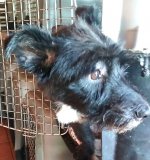 Sonny is a friendly 2 yr old Schnauzer who loves cuddling.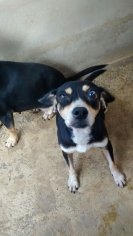 Fela and her sister Lula are here now waiting for a loving 'Furever' home.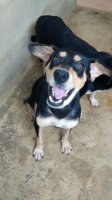 Lula is Fela's sister. They are young little loving girls.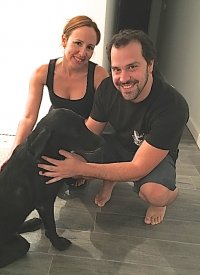 Married ADLA Friends and Volunteers Yoelli and Gian Paolo have adopted the most distinguished and adorable Black Lab name Lucy. She has a new sister and a sister too! Lucy never knew how great it would be to have her own humans! Awwwwww.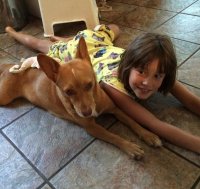 Other sister, Sofi with Manchita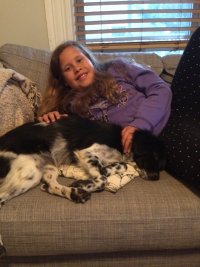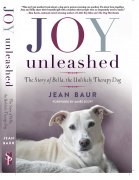 Don't forget to buy this amazing book about a very unlikely therapy dog rescued by us.
Signed Copies can be bought from Amigos de Animales for a $20 donation or buy it from Amazon - Jean Baur's writing is touching and very funny.
** Dry & Canned Cat Food -
Help Glen feed 250 cats
daily
** Dry & Canned Dog food
** Nyla Bones of all sizes
** Newspaper for Bedding
** Chlorine Bleach
**
Odo
Ban
** Lysol & Aromatic Cleanser
** Black Contractor Bags and
Large trash Bags
** Doxycicline Antibiotic
** Heartgard Plus or any
Heartworm Prevention
** Rimadyl or any pain meds
for a
ll sized dogs
** FrontLine Plus or Tick
Prevention Meds
** Old Towels, sheets and
comforters
** Lime Dip, Mitaban,
Paramite, Dog
Flea
Shampoos
** NuStock Ointment
** Volunteers to help on
Saturdays and dog
walkers every day
throughout the week
** Dog Fosters in PR for our
more frightened dogs
** Brooms and Dustpans,
Micro
Fibre Mop Heads
and Sticks
Hi Folks! This has been a tough year for the entire world, it seems, but thanks to you, our wonderful supporters, our shelter 'kids' are all doing well and we were able to re-open our doors to continue rescuing.
Hulk and Cosita, our senior
bonded couple are being adopted together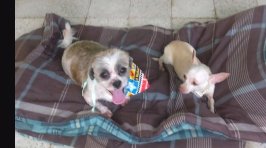 Every month when bills come due and we still have vet bills and medical needs that we can not afford, I get this nervous lump in my throat knowing that I need to cover our operating expenses which include medical, food, shipping, utility and emergency expenses for our pups, so I am asking for your help.
Please send anything you can - no donation is ever too small and your donation is tax deductible.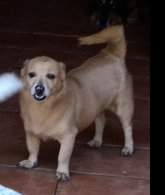 Amigos de los Animales (ADLA) is a non-profit 501c(3) animal rescue organization so any time you give, it is tax deductible. If you are searching for a non-profit for 2017, we really need your help and we hope you will consider donating to us. Many giving options are listed in this edition. Thank you so much for your generosity and caring.
Diego is an adorable middle aged Corgi mix
and his best friend and bonded buddy is
Great News For a Successful 2017

Dear friends and supporters,

It's that time again when we need your donations to continue our efforts. So many 4 legged
babies need our help
to leave the misery and suffering they are facing every day of their lives. We need your help so we can keep saving lives and making a difference for the animals we rescue the people who they rescue. We are fighting the good fight in Puerto Rico!
But we really need your help
to be able to continue in our mission. We are hoping that we can count on you to help us fix the shelter but more importantly, we have growing vet bills and all kinds of operational costs we must cover.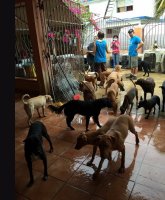 Keep praying, visualising and working for the changes you want to see in 2017.
1)
$5000 monthly to pay our monthly shelter budget: utilities, keep our vet bills paid and up to date and food and medication for the babies. This al
so covers our shipping expenses to send them
to our shelter partners for adoption in the northeast US.

2)
A huge shelter rehab.
We need $30,000.00 to start. If you would like to donate to our shelter fund please let us know that on your donation.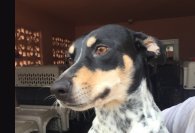 We are proud to have done great work for the past ten years; we have rescued, rehabbed and re-homed thousands of dogs, cats and horses and have brought to PR an amazing Animal Control Officer / Cruelty Investigator certification course in collaboration with the PR Health Dept. and Career Development Institute.
Amigos de los Animales has done everything possible to help independent rescuers and other animal rescue
organisations in PR and we have been firm supporters of Puerto Rico's excellent Animal Welfare Law 154. We all have the capacity to give love and help others"give back".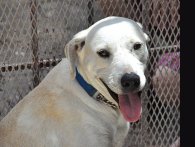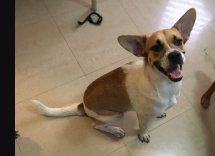 Please
donate

"Donate" from the button on our website below: You'll be glad you did!!
Chulo is wonderful pet for a Tammy is a great girl for kids
young active male 25 to 40 who from 4 to 14. She also likes
l
ikes to hike with a mate!
to snuggle with her adults:-)
www.amigosdelosanimalespr.org

or make a donation to ADLA through the PayPal Giving Fund
at
https://www.paypal.com/givenow
or send your check or money order to
Amigos de los Animales, HC 2, Box 7622, Loiza, PR 00772.
If we haven't received your support, we could really use it. Please help the animals here and those still waiting to be rescued, with your donation of any amount. No donation is too small and we are always grateful for your help! You'll receive our thank you note and receipt and the satisfaction of knowing that you are helping sick and abandoned street dogs in Puerto Rico.

See ya later!

Love,
Adri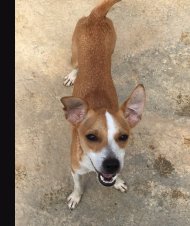 Adrienne Galler Lastra
Amigos de los Animales
Voice for Abused and Abandoned Animals
HC 2 Box 7622
Loiza, PR 00772-9654

787-313-5653

adri@amigosdelosanimalespr.or
www.amigosdelosanimalespr.org
(Piccolo is an adorable 10 lb ball of energy!)

A Fit Way to Give for Free:

Download the latest free app and register Amigos de los Animales in Puerto Rico as your charity. Then remember to login BEFORE every mile you walk, run, skip, hop or jump and keep your phone on you. In order for your hard work to reach us, you must be consistent and run at least 1 mile per week for "Walk for a Dog" to donate to Amigos de los Animales. We already received a check so THANKS guys!!!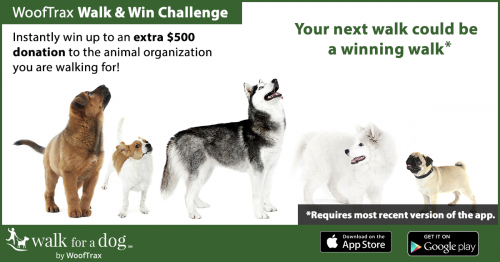 Introducing 2 of Our New Board Members: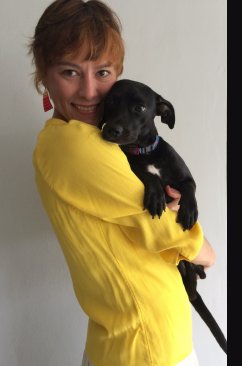 President, Attorney Amanda Rose Collazo Maguire, Mandy (as she's called by those who love her) grew up in Ponce, Puerto Rico where she lived for about 25 years. She moved to New Jersey to study at Princeton and moved to California for a few years after that, before returning to Puerto Rico. She now lives in the metro area and works as an attorney. She got involved with Amigos de los Animales through her friend Ela who asked if she wanted to come volunteer one Saturday. She fostered and adopted Wendy Bee from Amigos in March 2016. Wendy's a cute little black "Sato" who also has two sibling kitties: Bandit and Gigi.
Mandy has always been aware of the devastating animal welfare situation in Puerto Rico. She became more enthusiastic about helping change the situation when she became involved in Amigos. "The more I learn, the more people I meet that care and are involved in making a difference, and the more needy animals I see finding good homes;
the more inspired I become."
I say Amen to that!!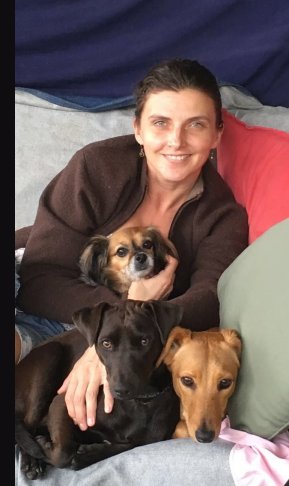 Vice President, Dr. Ela Stolarczyk was born in Poland where, during her
childhood the site of a homeless dog on the street was not uncommon. She grew up observing the end of communism, and how it changed lives of people…apparently also lives of animals! Nowadays when she visits her homeland she no longer sees homeless animals on the streets. She moved to the United States to earn her PhD and since then she's been working as a research scientist in the biomedical field. During 10 years of living in Kentucky she never saw a homeless dog on the streets, perhaps because of highly efficient animal control agencies? In Kentucky she adopted Leo, her first dog and best friend. Leo has travelled with Ela a lot, within the US, Poland and Puerto Rico. The first time she came to Puerto Rico on vacation she was enchanted by the warmth of the people and undeniable beauty of this little island. However, this image contrasted dramatically with the number of homeless, often sick and malnourished dogs and cats wandering the streets, and the number of animal corpuses on the sides of the highways. It was (and is) heartbreaking…Once Ela moved to Puerto Rico she decided to actively do something towards improving the welfare of animals and reducing the overpopulation. This is when she wrote to us and came to ADLA for a Saturday cleanup…and stayed. The rest is history!
" From ADLA I adopted Kimba and Bongo, the children of the first dog I rescued with Adri. Now my days are brightened by my pack of 3 happy dogs, each, very different characters.

Glen Venezio, my brother......
Please help Glen feed 250 cats a day. He is a trouper who goes out every evening come rain holidays or storms, and he's out there feeding and checking on his 4 legged babies. We need help to sterilise and vaccinate them also so if you would like to be part of this effort, please let us know on your donations! You may donate to Glen directly through his ATH Movil App. to 787-231-4981 or through PayPal at:
Thanks so much for reading!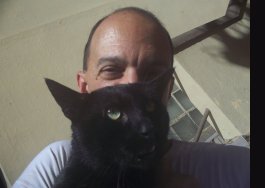 Sonny is a sensitive good little schnauzer boy.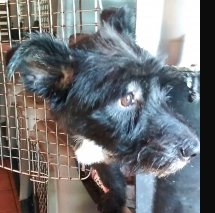 Maya is finished her chemo for cancer AND
now she is waiting for her Heartworm Treatment so she can be released to go to her new family in Massachusetts!