Free verse or rhyme,
poetry plays with
words, images, and sounds.


Come!

Celebrate
Poetry Month
with us.

Carole Boston Weatherford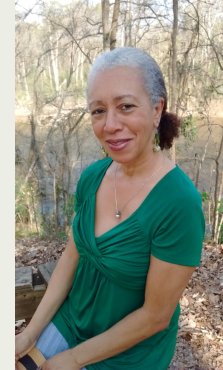 For me, poetry makes music with words. I composed my first poem at age six and dictated it to my mother on the ride from school. My father printed my early poems on the press in his classroom. Poetry is my first literary language. I am more apt to compose poetry than prose.
Poetry trains the ear, tickles the tongue, teases the brain and fosters reading fluency. Children and adults enjoy poetry read-alouds. My repertoire, particularly for K-6, often includes rhyming poems. My book, Jazz Baby—a jazz pat-a-cake—is always a hit.
Photo Credit: Darryl Hopkins
Poetry can pack a powerful punch. Teachers have said that my books lend texture and depth to the study of history and they often get creative with my verse. Inspired by Sidewalk Chalk: Poems of the City, librarians have held poetry fests complete with penny drives, cardboard robots and puppet stages. Students have staged my verse in readers theater (Moses: When Harriet Tubman Led Her People to Freedom and You Can Fly: The Tuskegee Airmen) and multimedia productions (Remember the Bridge: Poems of a People).
I almost always use free verse when writing verse novels or profiling historical figures like Lena Horne, Fannie Lou Hamer, Matthew Henson, or the Obamas. I lean toward rhyme when writing for early readers or when tackling a meaty or musical topic, such as slavery or jazz.
Writers of all genres should read what they want to write. Aspiring poets can find help at the Academy of Poets,

Poetry Foundation

, and VersePerfect (free software). Keep a poem in your pocket!
New York Times best-selling author
Carole Boston Weatherford
has received many awards including the Caldecott Honor, Coretta Scott King Award, and the Lee Bennett Hopkins Poetry Award. Her 40-plus titles include Birmingham, 1963; Freedom in Congo Square; Becoming Billie Holiday; and her latest releases (see giveaways). A Baltimore native, she teaches at Fayetteville State University.
Noted poet
L
ee Bennet Hopkins
said, "One of the richest gifts we give our children is the gift of poetry." We do this by reading poetry to them from an early age and by encouraging them to write it.
Ask students to bring a favorite book written in poetry to class. This can be a rhyming picture book they enjoyed as a child, or a middle grade or young adult book written in verse. Ask them to be prepared to read a poem or portion of the novel to the class and to share what they liked about it.
Instruct students to choose one of the following writing assignments:
1. Write the same type of poem (i.e., rhyming, free verse, haiku, limerick, cinquain, sonnet, diamante, acrostic, concrete etc.) that you selected. Your poem should be a response to the selected poem. It can be either a continuation of the poem (more verses, for example in a rhyming poem); a personal reaction to the poem; or a "letter" to the author.
2. Write a poem (in your preferred form) about a memory, vacation, dream, family member, animal, food, sport, an important place or event in your life. Consider the mood you hope to create and, beginning with a free write, list words associated with the topic. Use all senses and don't edit while writing! See this
link
,
teacher's guide
,
and
website
for help.
A Pre-Teen's Take on Three Verse Novels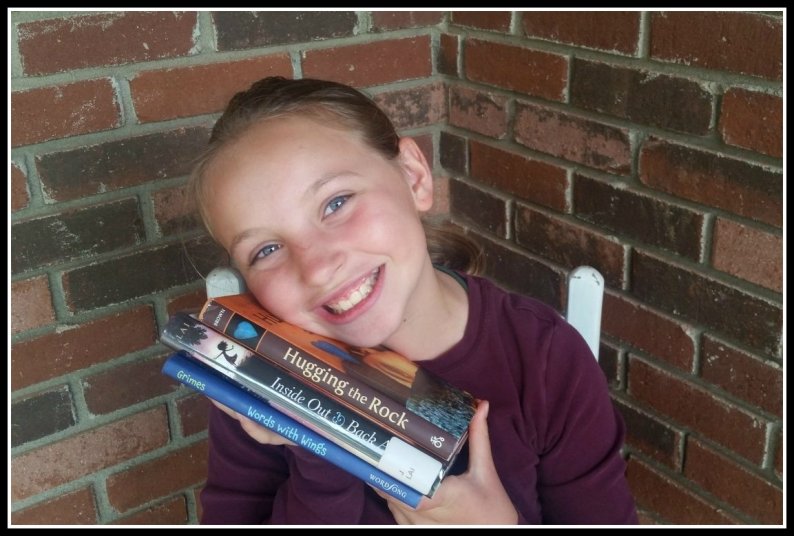 Hugging the Rock
by Susan Taylor Brown
Hugging the Rock is about a girl named Rachel whose mother left her and her dad. Rachel wants to find out why her mom left. She has to get through what she thinks will be a horrible year without her mother. In the end Rachel finds out that dads are not that bad.
Inside Out and Back Again
by Thanhha Lai
Inside Out and Back Again is about Ha, a girl from Vietnam who has to flee from her home because of war. Ha and her family have to ride in a cramped boat to get away. Later, they move to Alabama and start a new life. Ha has to go to a new school, learn a new language, and face bullies.
Words With Wings
by Nikki Grimes
Words With Wings is about a girl named Gabby who is always daydreaming. Everybody always tells her to stop daydreaming, but Gabby wonders how they do not see how wonderful daydreaming is. Eventually she helps everyone see how great daydreaming really is.
Lily is a 10 year old homeschooler and avid reader who normally chooses to read adventure and fantasy. She loves sports and plays on a community softball team.
We love to hear from our readers!

You can contact us through the newsletter or individually at the following addresses and websites.

We're also both available for school visits.

Joyce

Have you noticed the "Share" button on the top of this newsletter? If you share TALKING STORY either on social media or email it to a friend, we will enter your name in our giveaway. Please
email
by April 23, tell us what you have done, and your book preference (we try to honor requests) and we will add your name to the hat!
We like to focus on light topics for our summer issue.

Our next theme will be

FOOD!

Send us an

and we'll enter your name to win one of the three books below.

Each will intrigue a young reader in your life.

If you have a book preference, please mention that. We try to honor requests.

Enter by

April 18
(Or better yet, enter right now!)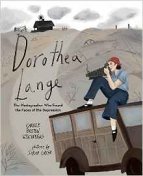 by

Carole Boston Weatherford


by

Carole Boston Weatherford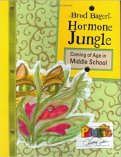 by

Brad Bogart

(Poems about middle school)

I tried writing a novel in verse - but oh, my - let's just say my prose is more poetic!
However, each book in my
Bakers Mountain Stories
does include a free verse prologue and epilogue. I love the challenge and success of capturing the essence of the
story in those poems.
You can read the prologue to AIM here at my blog.
Congratulations to the winners from our Winter issue.

Linda Phillips won AIM

Robin Parish won TIGER BOY

Jessica Jacobson won SOLDIER BOYS
Joanne Hunsberger for proofreading

.

Carole Boston Weatherford for her article.

Leslie Stall Widener for her illustration.

Lily Davis for her reviews.

Maupin House for HORMONE JUNGLE

Simon and Schuster for THE LEGENDARY MISS LENA HORNE

Albert Whitman for DOROTHY LANGE: The Photographer Who Found the Faces of the Depression